Story highlights
The UN estimates tens of thousands more people may still flee Myanmar
Criticism is growing of Myanmar leader and Nobel laureate Aung San Suu Kyi
Thousands of people took to the streets across Asia Friday to denounce Myanmar's treatment of its Rohingya Muslim minority.
At least 270,000 Rohingya have fled northern Myanmar into Bangladesh in the past two weeks, according to the United Nations refugee agency, roughly a third of all Rohingya living in the predominantly Buddhist country. More than 1,000 people have been killed in the violence, the UN estimates.
Political and Islamic groups, along with other civil society organizations, joined protests in Bangladesh's capital Dhaka Friday to urge Myanmar to "stop committing genocide" and take back those who have sought refuge elsewhere.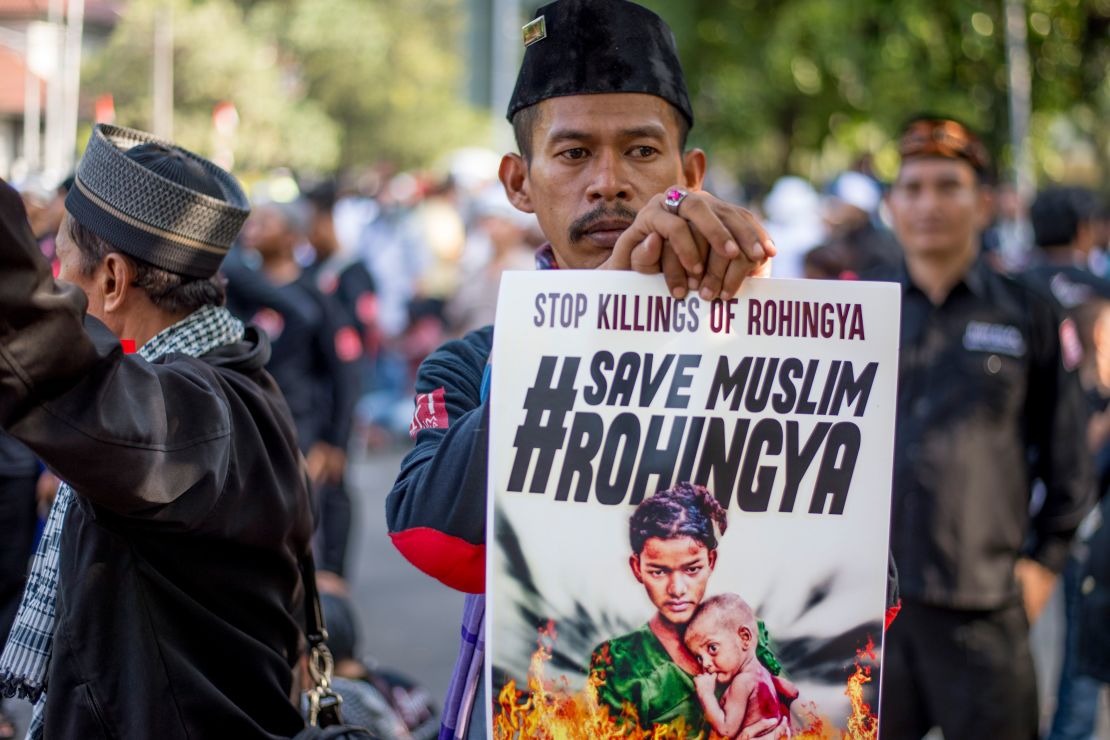 Placards and banners criticized Nobel Peace Prize laureate and Myanmar's de facto leader Aung San Suu Kyi.
Protests also took place in Malaysia, the Philippines, Indonesia and Pakistan.
The government of Myanmar, formerly known as Burma, blames terrorists for starting the violence. Rohingya militants killed 12 security officers in border post attacks two weeks ago.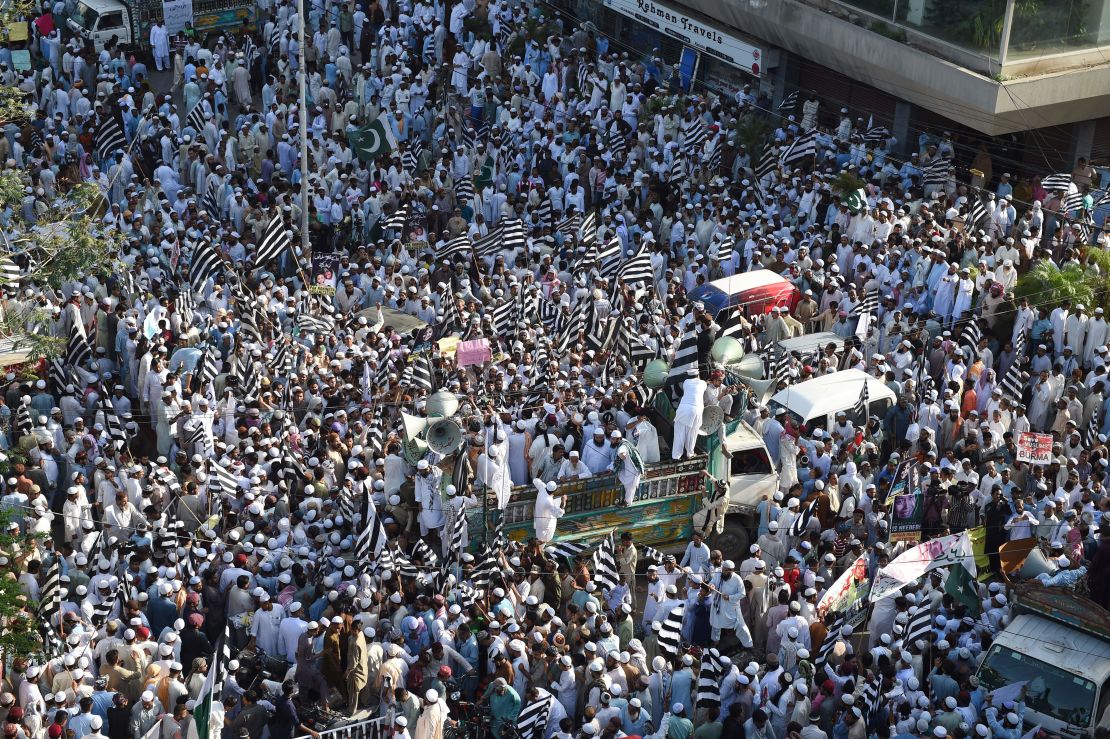 'Everyone should stand beside Rohingya'
Marchers in Dhaka expressed their outrage at reports of abuse coming from Myanmar.
"I've joined the rally to express my solidarity with the Rohingya people," activist Mahfuza Haque Neela told CNN.
"The Rohingya people, including women and children, are being killed … women are being raped."
He added that "everyone should stand beside the Rohingya people."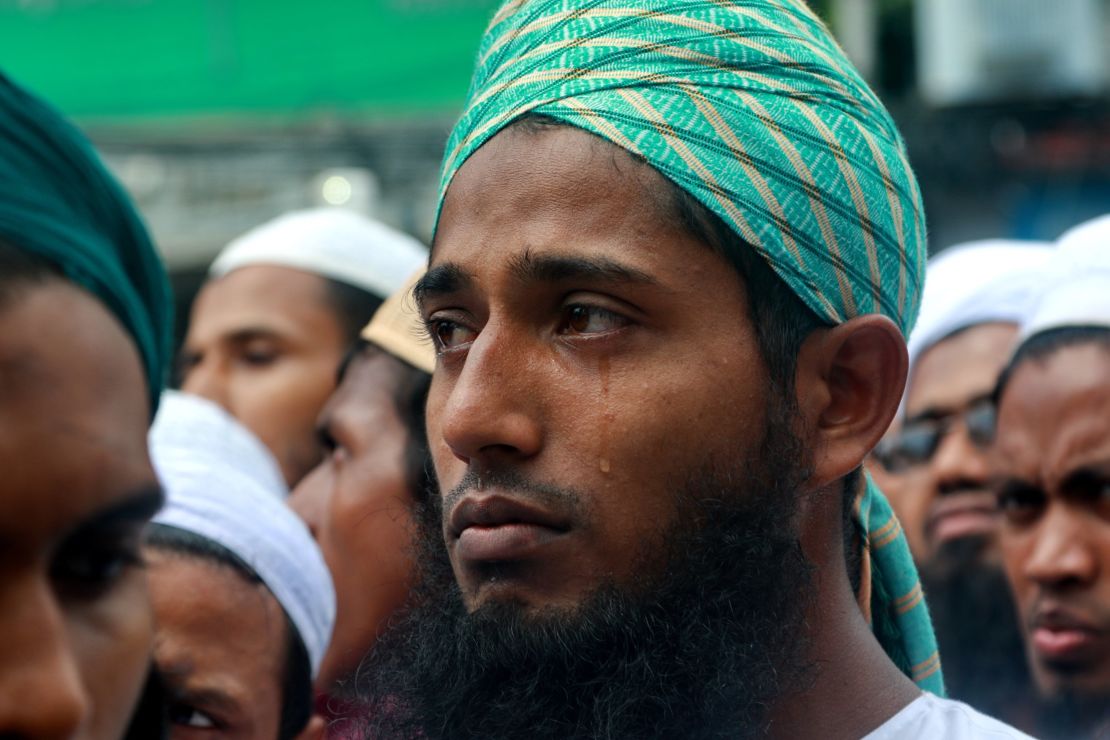 The rally was partly organized by protest group Gonojagoron Mancha, whose leaders have said they plan to besiege Myanmar's embassy in Dhaka on Monday if the government does not take action.
Shaila Ahmed, a 10-year-old school student, said she wanted to join the rally after she saw TV reports on the plight of the Rohingya.
Over a thousand Muslim devotees belonging to the organization Islamic Movement Bangladesh joined a rally in the capital's downtown Paltan area after Friday's noon prayer.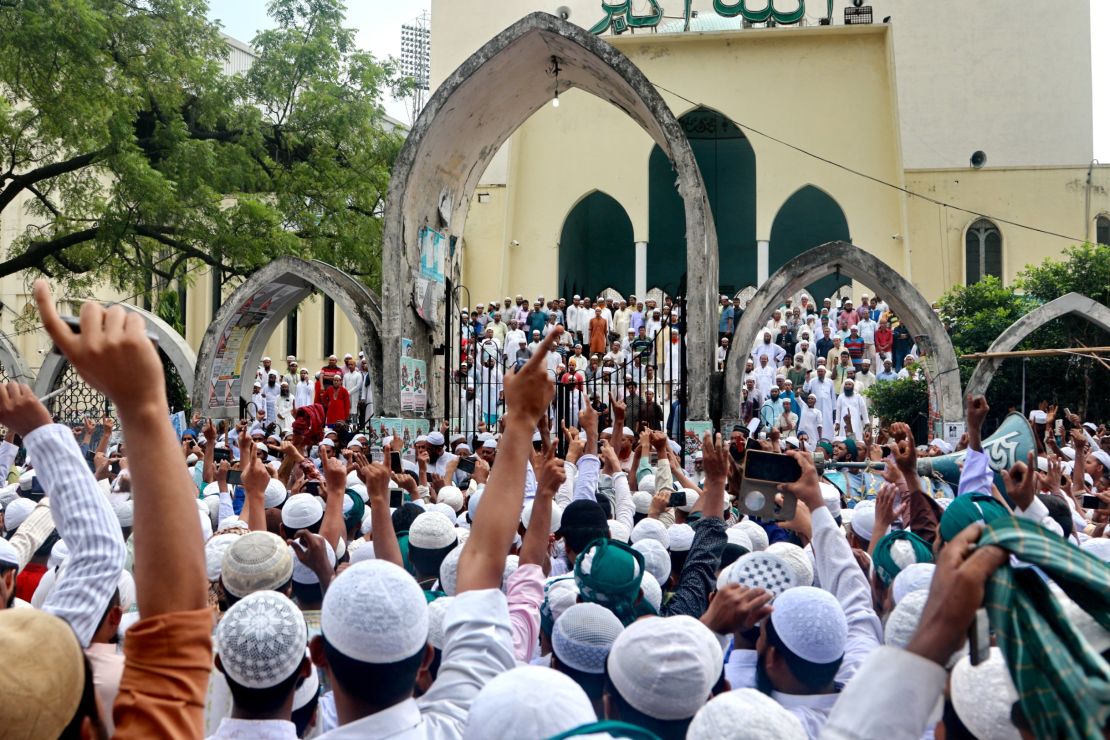 The movement's leaders demanded the immediate deployment of UN peacekeepers in Rakhine state and the implementation of the recommendations made by a commission led by former UN head Kofi Annan, which warned unrest in the state could spiral out of control unless concrete action is taken soon.
The Bangladesh Nationalist Party, which also organized rallies in Dhaka and elsewhere, has urged the country's government to "force Myanmar to take back the Rohingya."
The party's secretary general, Mirza Fakhrul Islam Alamgir, has criticized Bangladesh Prime Minister Sheikh Hasina for "failing to deal with the issue."
On Thursday, Hasina denounced insurgent activities in Rakhine state which the Myanmar government has blamed for causing the recent violence, though she also criticized the actions of the country's army.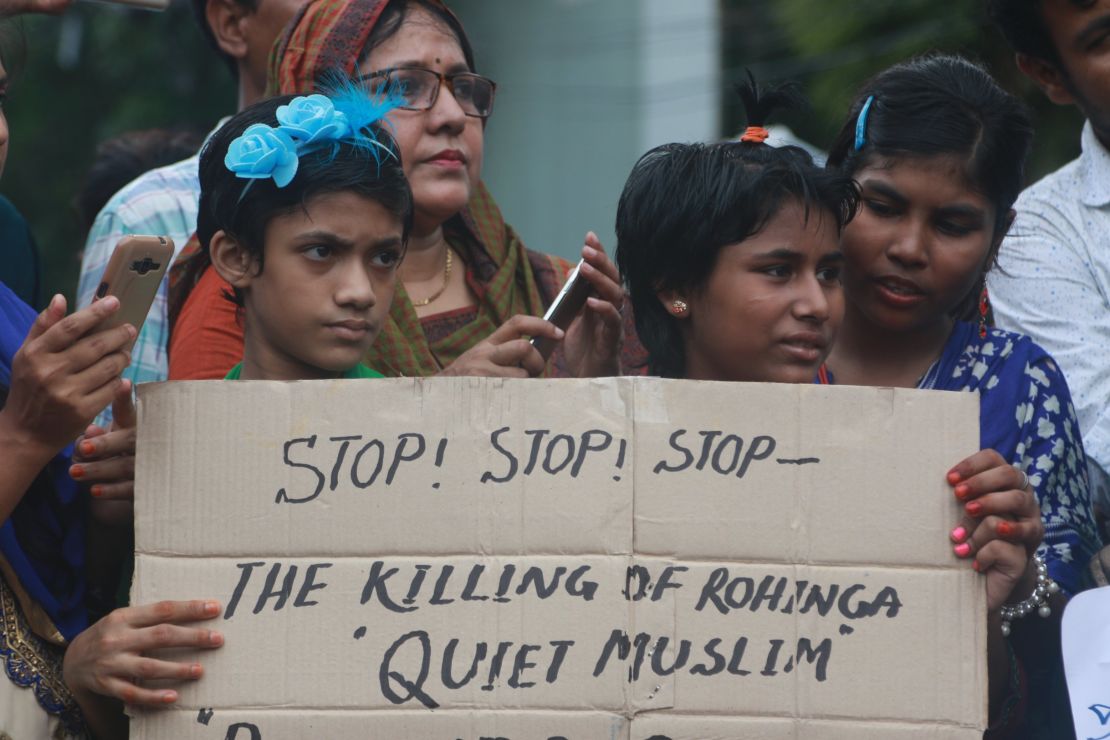 Dhaka's Buddhist community also protested Myanmar's treatment of the Rohingya Friday, and warned the crisis was being used to inflame feelings against Buddhists in Bangladesh.
Security has been beefed up around Buddhist temples and other institutions in Dhaka and elsewhere.
Hardline Buddhist groups in Myanmar have been accused of inciting racial hatred against Rohingya.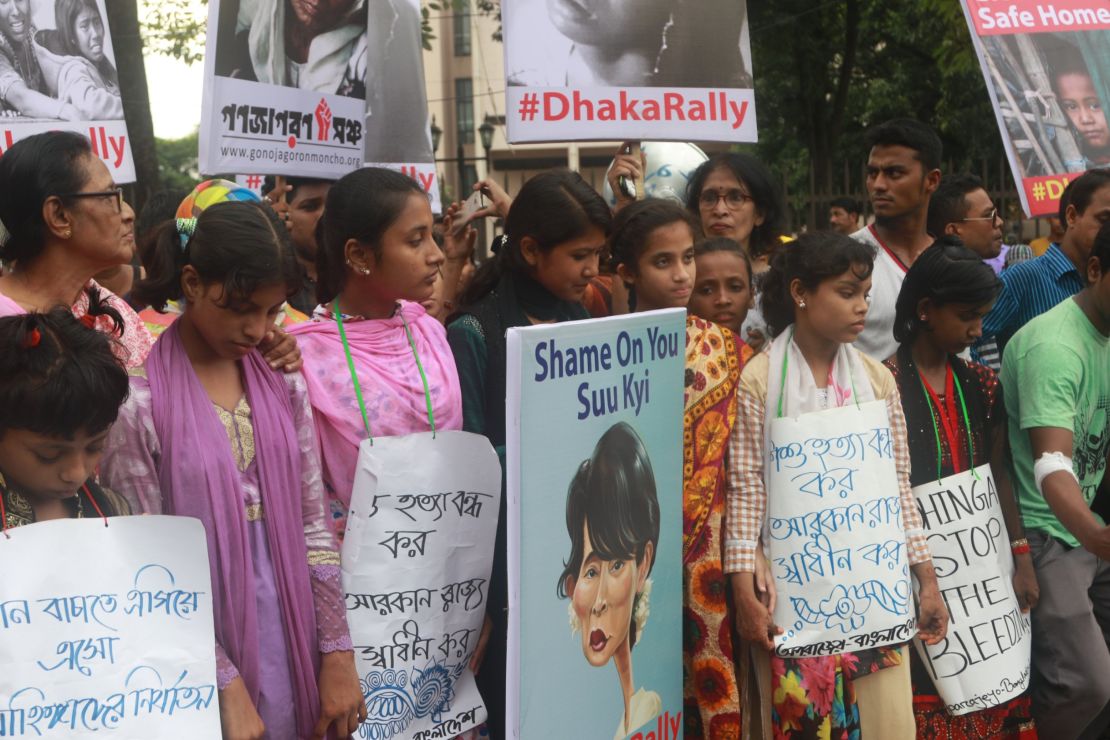 Outrage over landmines
Outrage has been growing in Bangladesh over the continued exodus of Rohingya into the country, and recent reports of landmines being placed on the border in the path of refugees.
The Bangladeshi government summoned the Myanmar ambassador Wednesday to raise concerns about the reports, which include stories of Rohingya being crippled after stepping on the hidden mines while making their way to safety across the border.
"The Myanmar Army is one of only a handful of state forces worldwide, along with North Korea and Syria, to still openly use antipersonnel landmines. Authorities must immediately end this abhorrent practice against people who are already fleeing persecution," Tirana Hassan, Amnesty International's Crisis Response Director, who is currently near the Bangladesh-Myanmar border, said in a statement.
Amnesty said it had reviewed graphic images showing an elderly woman's shredded legs immediately after a blast, which medical experts agreed were consistent with a landmine.
Four other suspected mine blasts have also taken place this week, the group added, seriously injuring two boys aged between 10 and 13 and reportedly killing one man, it said citing multiple witnesses.
A closer look at the Rohingya crisis in Burma
Criticism grows
Many protesters criticized Suu Kyi personally in Friday's marches, and called for her Nobel Prize to be withdrawn.
The former political prisoner has repeatedly come under criticism for her lack of action to help the Rohingya, a stark contrast to her previous image as a champion of human rights.
On Friday, Archbishop Emeritus Desmond Tutu joined fellow Nobel laureate Malala Yousafzai in criticizing Suu Kyi.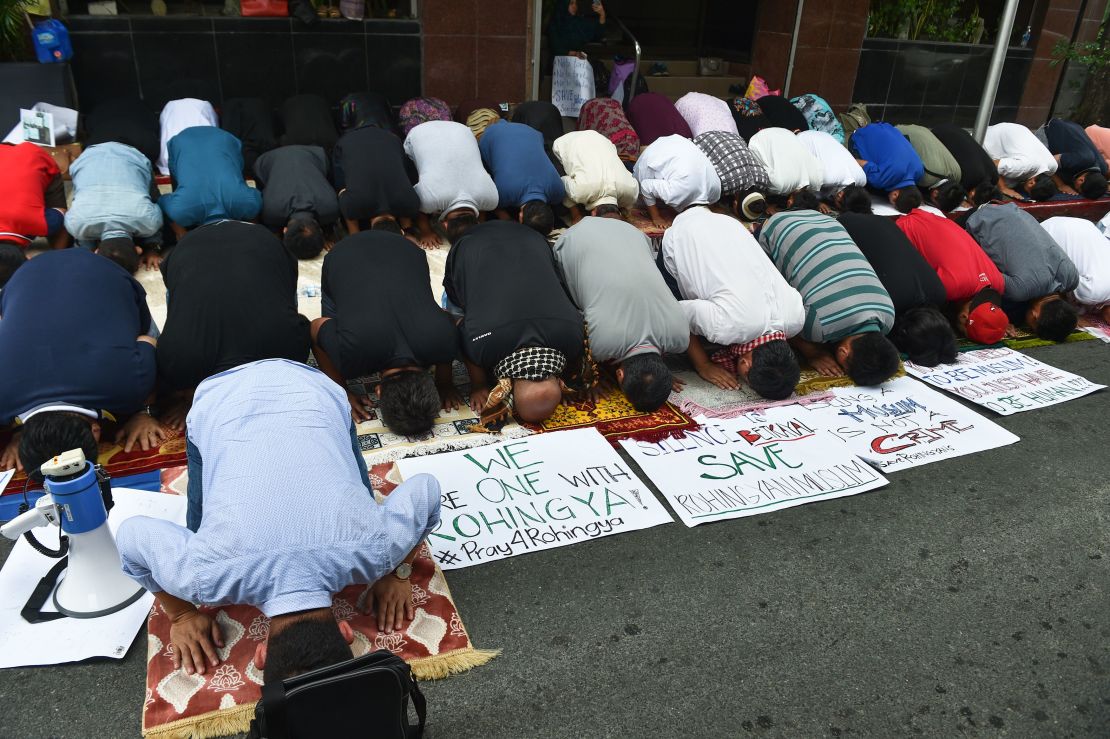 "I am … breaking my vow of silence on public affairs out of profound sadness about the plight of the Muslim minority in your country, the Rohingya," Tutu wrote in an open letter, posted on his official Twitter.
"What some have called 'ethnic cleansing' and others 'a slow genocide' has persisted – and recently accelerated. The images we are seeing of the suffering of the Rohingya fill us with pain and dread … If the political price of your ascension to the highest office in Myanmar is your silence, the price is surely too steep."
Suu Kyi has said her government is trying to help "everybody who is our our country, whether or not they are our citizens."
"Our resources are not as complete and adequate as we would like them to be but still, we try our best and we want to make sure that everyone is entitled to the protection of the law," she said this week.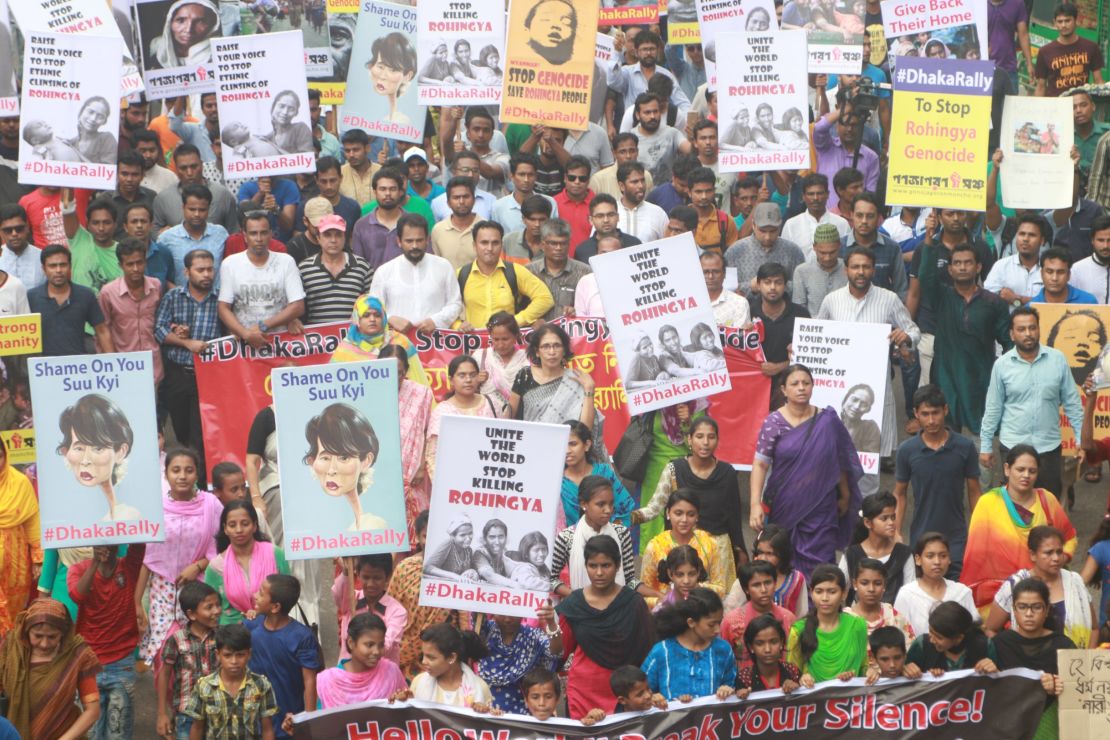 In a statement Friday, US ambassador to the UN Nikki Haley urged Myanmar to implement the Annan commission's recommendations.
Washington "remains deeply troubled by continued reports of attacks against innocent civilians and will continue to urge Burmese security forces to respect those civilians as it conducts security operations," the statement said.
US President Donald Trump is monitoring the situation, a spokeswoman said.
Farid Ahmed reported and wrote from Dhaka, Bangladesh. James Griffiths reported and wrote from Hong Kong. CNN's Bex Wright and Ben Westcott contributed reporting.