Story highlights
Rafael Nadal wins his 16th grand slam title, second only to Roger Federer
Kevin Anderson was the first South African in a major singles final since 1984
The King of Clay has once again assumed his throne – this time on a hard court.
Rafael Nadal won his third US Open and 16th career grand slam title Sunday, beating No. 28 seed Kevin Anderson of South Africa, 6-3, 6-3, 6-4 at Arthur Ashe Stadium in Flushing, New York.
Nadal further solidified his standing as the world's No. 1 male player and trails only Roger Federer, who has 19 major titles, on the all-time men's grand slam singles list.
Nadal's 23 career appearances in slam finals also are second to Federer, who has 29.
"It's just unbelievable what happened this year, no?" Nadal said on the court after the win.
This win also signals the end of an era, as it's Nadal's final major with his uncle, Toni, as his coach. Toni Nadal is stepping aside to focus on his work at Nadal's tennis academy in Mallorca, Spain. Carlos Moya, a former world No. 1, joined Nadal's coaching team in December.
"I can't thank him enough for all the things that he did for me," Nadal said. "Probably, without him, I will never be playing tennis. It's great that I had somebody like him just pushing me all the time. I think because he was strong and he had that great motivation to practice with me since I was a kid, I was able to get through all these problems that I had during my career in terms of injuries."
"That makes me stronger," he continued. "I just say thank you very much to him because he's for sure one of the most important persons in my life."
Nadal also said a few words about the recent earthquake that hit Mexico and those impacted by Hurricane Irma.
"I'm just sorry for all the victims, and just keep going for everybody," he said. "It's very sad moments for our world, but at the moment to be strong and to fight to be back. That's impossible to control this natural disasters, so just all the best for all the victims and to all the people that are suffering."
At age 31, Anderson was the oldest first-time grand slam tournament finalist since Nikola Pilic (33) at the 1973 French Open and the lowest-ranked US Open finalist since the inception of the ATP rankings in 1973.
His reward after his long wait: Facing one of the best players of all time in the 31-year-old Nadal, whom he's never beaten. He falls to 0-5 against the Spaniard.
Nadal dominated the match overall. He never faced a break point and finished with 11 unforced errors to Anderson's 40. Nadal also won all of his net points, with 16.
The two players are just 16 days apart in age and have known each other since they competed together on the youth tennis circuit two decades ago.
"I know we're the same age, but I feel like I've been watching you my whole life," Anderson said to Nadal. "You've really been an idol of mine. It's tough playing you. You proved it again tonight. You're one of the great ambassadors of our sport."
Nadal now has won at least two grand slam tournament titles in a season for the fourth time in his career. This year, he lost the Australian Open to Federer before defeating Stan Wawrinka on clay for a 10th French Open title, making him the only man or woman in the Open Era to win a single grand slam event 10 times. Nadal won three majors in 2010 and two apiece in 2008 and 2013. He last made it to three major finals in one year in 2011.
With Federer, who also won Wimbledon, and Nadal each winning two majors this year, both further distance themselves from the rest of the men on the all-time grand slam titles list: Pete Sampras is third with 14, while Novak Djokovic is the next active player on the list with 12, tied with Roy Emerson.
After a few injury-plagued years Nadal returned to No. 1 in the ATP rankings on August 21, his fourth career stint at the top.
This year's US Open, the last major on the tennis calendar, was missing several big names because of injuries: Djokovic (elbow), Andy Murray (hip), Wawrinka (knee), Milos Raonic (wrist) and Kei Nishikori (wrist). A rash of upsets further opened up the draw.
In the top half, where Nadal was situated, he dodged playing No. 3 Federer, who lost to No. 24 seed Juan Martin del Potro in the quarterfinals. Nadal didn't face an opponent in the top 20 in his run to the title.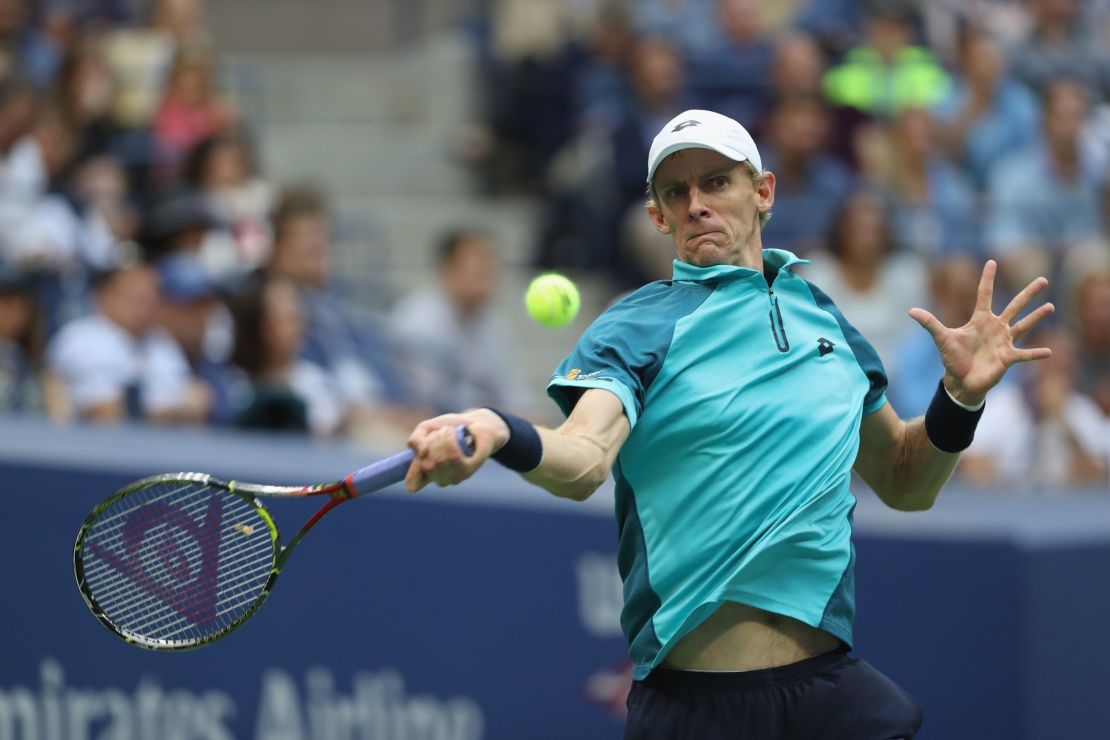 The bottom half of the draw created an opportunity early for the likes of Anderson, ranked No. 32, to reach a grand slam final for the first time. No. 8 seed Jo-Wilfried Tsonga and Alexander Zverev, seeded fourth, got bounced in the second round. No. 5 seed Marin Cilic was gone after the third. Anderson defeated No. 17 seed Sam Querrey in the quarterfinals and No. 12 seed Pablo Carreno Busta in the semifinals.
Earlier this year, Anderson missed the Australian Open because of a hip injury and was forced to retire during his fourth-round match at Roland Garros because of a left thigh injury.
"It's been an amazing two weeks for me, "Anderson said. "Last year was difficult for me. It's tough when you're injured as a tennis player. The competition is so strong. To come back and make my first finals of a grand slam has been a special two weeks."
Anderson is the first South African man to reach the US Open final in the Open Era; Cliff Drysdale was runner-up at the US Championships in 1965. He is the first South African in a grand slam singles final since Kevin Curren at the 1984 Australian Open.
The last South African to win a major remains Johan Kriek, who won the 1981 Australian Open. Kriek represented the US when he won the 1982 Australian Open.
This was the seventh time in the Open Era that a grand slam final featured a pair of players aged 30 and over. It's the fifth straight grand slam in which the winner is over 30 years old, as Wawrinka won the US Open in 2016.
By Jill Martin, CNN