Hurricane Irma was a Category 5 storm when it crashed through the Caribbean, leaving at least 36 people dead in its wake before moving on to Florida.
The storm carved out a path of devastation, leaving a trail of extensive damage in small islands like St. Martin/St. Maarten, the twin-island state of Antigua and Barbuda, the British territories of Anguilla and the Turks and Caicos Islands, the British Virgin Islands, and the US Virgin Islands.
Many islands are still assessing the damage, as they begin to pick up the pieces.
Here's a look at just a few stories from the hardest hit areas, where residents are still reeling.
Do you live in the Caribbean and have been affected by Irma? We would like to hear from you. WhatsApp or text us on +1-347-322-0415.
Antigua and Barbuda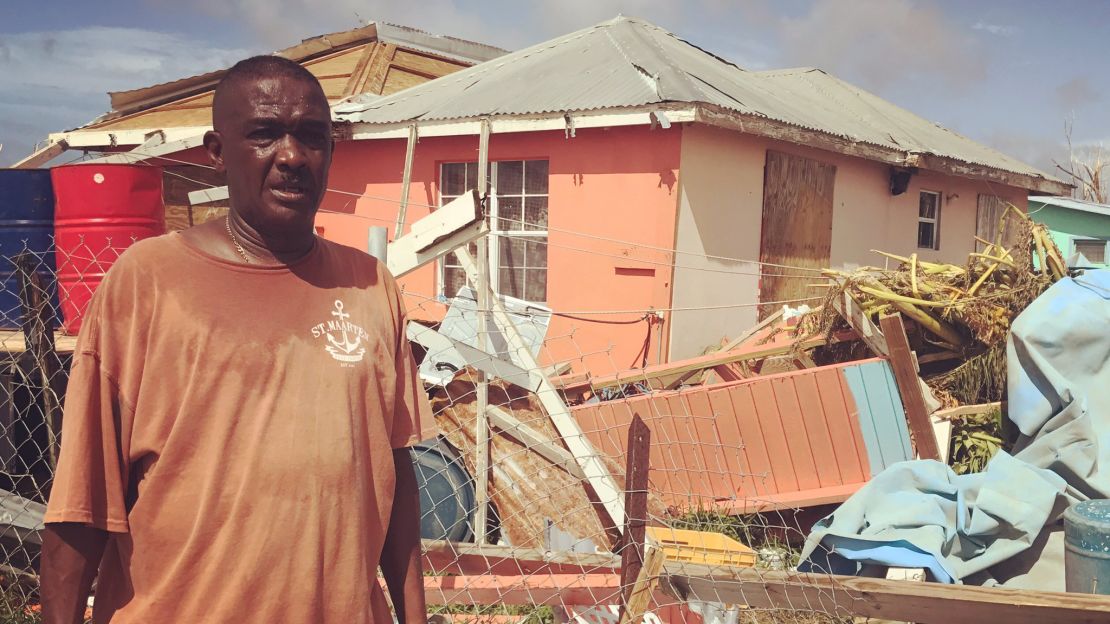 Elvis Burton, 57, was born in Barbuda but lived most of his life in the Bronx, New York. In 2005 he returned home. Irma was his first major storm.
Burton and most of the island's 1,800 residents were evacuated on Friday to Antigua. Burton has not been able to return home.
Looking at pictures from the island, he said, "I think it's going to take a long time for Barbuda to get back on its foot. Everything is completely destroyed."
"Most of the people left with just the clothes on their backs."
"I want to get back because I want to start to rebuild. It's sinking in, you're feeling the impact of the hurricane. After a day or two you realize you have lost everything."
Burton is staying with a friend in Antigua, while many others are in shelters on the island.
"The people of Antigua have done so much to make us feel comfortable, but I just want to get home. It is human nature."
St. Martin/St. Maarten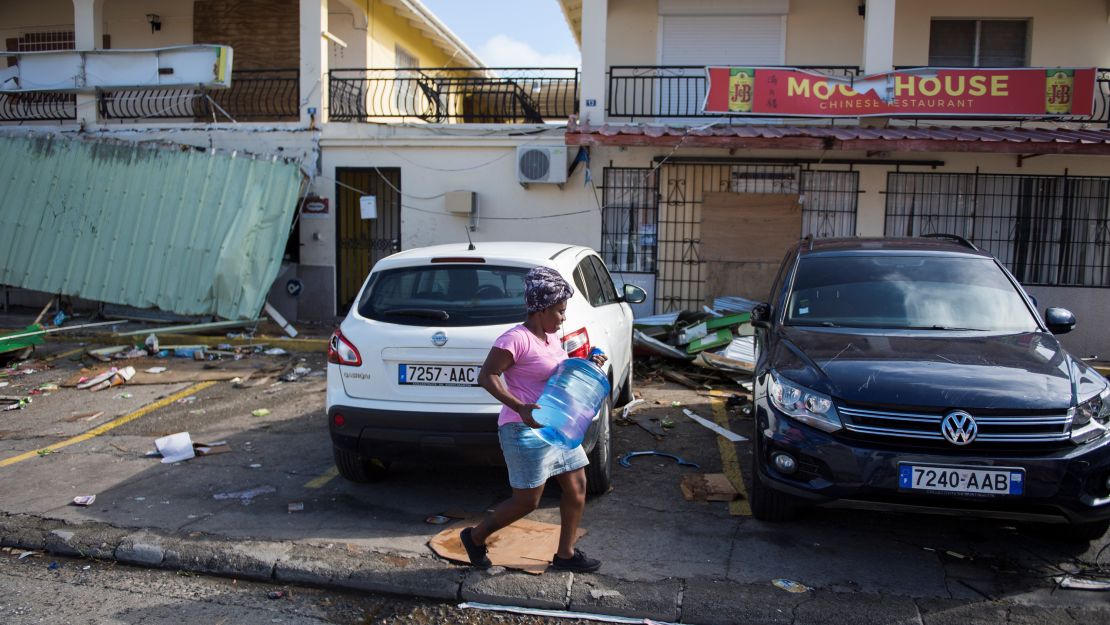 "We survived, we survived," Stacy-Ann Taylor said in a Facebook Live video on Wednesday, after Hurricane Irma hit the Dutch Caribbean island of St. Maarten, where the storm left at least four people dead and caused widespread devastation.
The storm ravaged the island on Wednesday, and Taylor, who lives with her husband and two children in the capital, Philipsburg, told CNN that people there were still in dire need of security and supplies.
"We are in great need of supplies, food and water, and more security," Taylor told CNN in a Facebook message, adding that she was fearful of looters and had heard stories of people being held at gunpoint in their homes.
"It is so freaking scary. Right now, I wish my children could leave so they would not have to experience – and also my husband and I can focus on each other. It's not easy here," she said, adding that the Dutch marines and police force were doing their best to cope with the situation.
Anguilla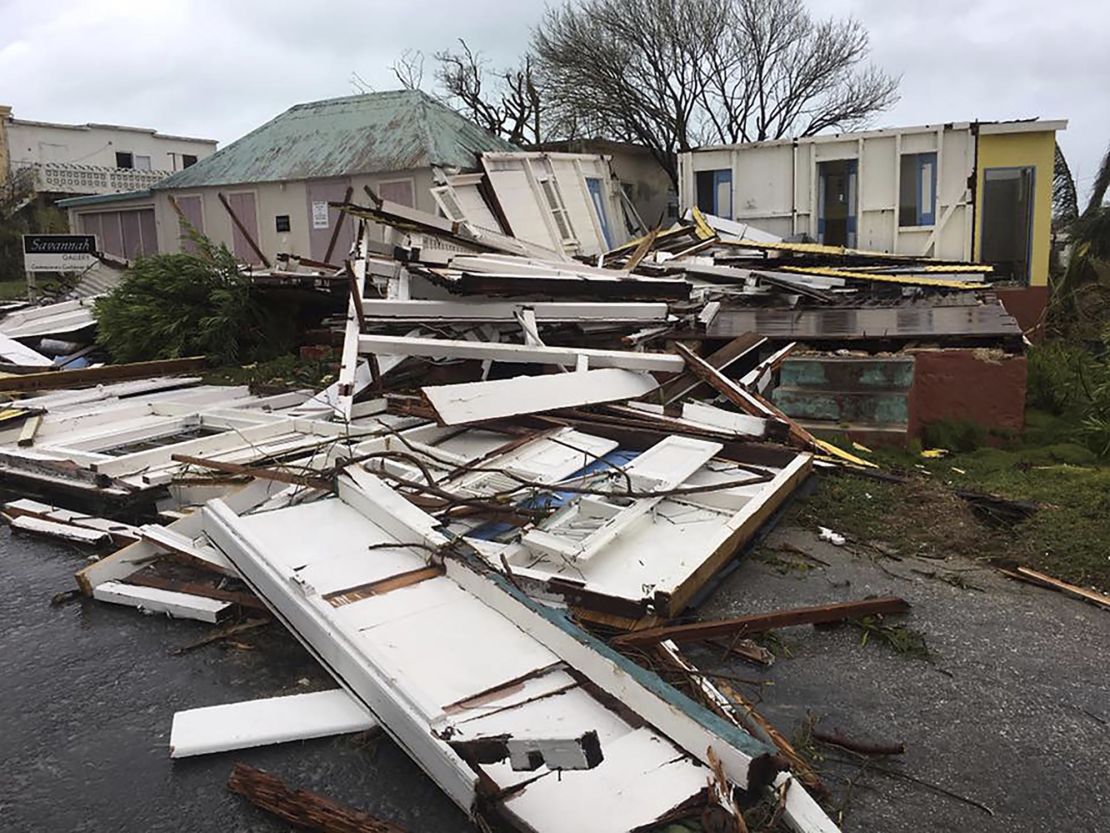 Lloyd Gumbs was born in Anguilla, where he has lived for most of his life.
"We were prepared for the hurricane," he said, "but this wasn't a normal hurricane."
The storm left at least one person dead on the island.
Gumbs says he was on Anguilla, a British territory, in 1995 when Hurricane Luis hit. "Luis was a Cat 4 storm, and lasted for something like 36 hours, Irma last a shorter time but it caused more damage."
Gumbs, who has 6-year-old twins and a 3-year-old, is without electricity and running water. He says he stocked up on drums of water in advance of the storm but it's beginning to run low.
"It's a challenge," he said, "we are using candles at night."
Cellphone networks on the island have remained online and Gumbs has been documenting the destruction Irma left behind on his Facebook page.
He charges his phone every day at a nearby hotel that has a generator.
"I would estimate that 70% of the electricity poles on the island are down," he said.
Cellphone network Flow has set up charging stations on the island, he said.
"We need water, we need toiletries, we need nonperishable foodstuff, we need candles," he said.
US Virgin Islands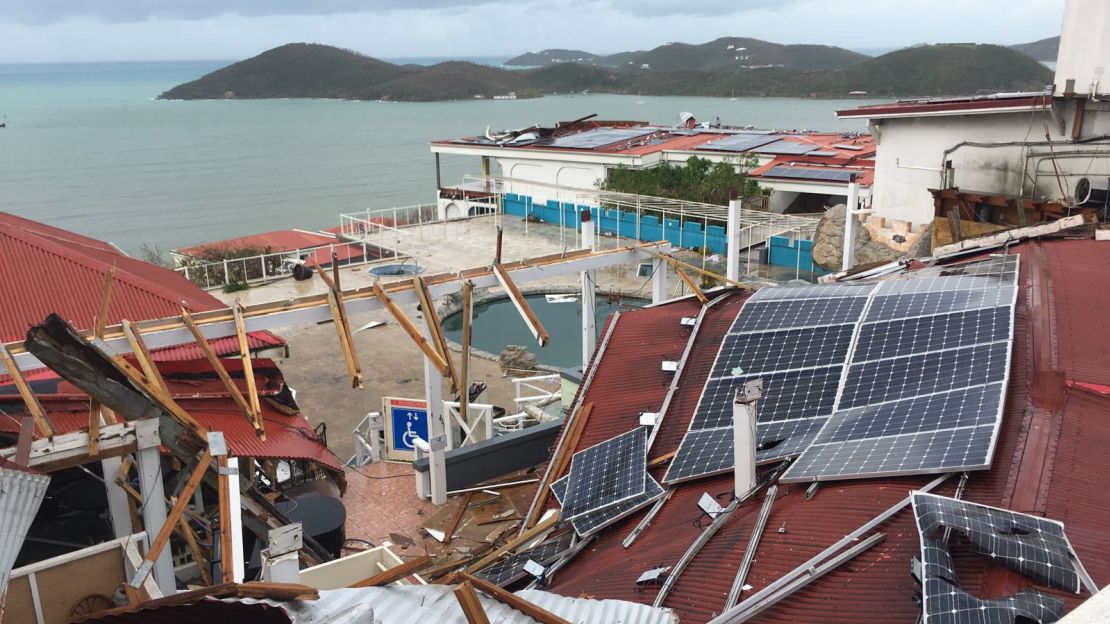 Irma killed four people in the US Virgin Islands and caused widespread damage, hitting three of the largest islands; St. Croix, St. John and St. Thomas, the hardest.
Jennifer Stephens Cooper, a nurse at Schneider Regional Medical Center, moved to St. Thomas with her husband and their two children this summer from Washington, D.C. Her home and the hospital where she works were both destroyed in the storm.
"We're staying in our shell of the house at the moment," Cooper said over the phone. "The first floor is a concrete apartment, which is where we were staying during the storm. Everything above that, which was wooden, blew apart. If we hadn't been downstairs we wouldn't be here anymore."
"My husband is in the Army. As he says, it looks like a war zone. There's not one tree left standing," she added.
Cooper, who lives in Peterborg, on St. Thomas, said many of the homes in their neighborhood were destroyed in the storm. Cooper has been walking a mile down the road twice a day to get cell service and call her family in North Carolina, their only source of news.
"We're hearing rumors that people are posing as police officers and robbing people. We spoke with another nurse who was robbed at machete-point a few days ago," Cooper said. "We're terrified. It's a desperate situation. When people run out of water and food, tempers flare. It's just going to get worse."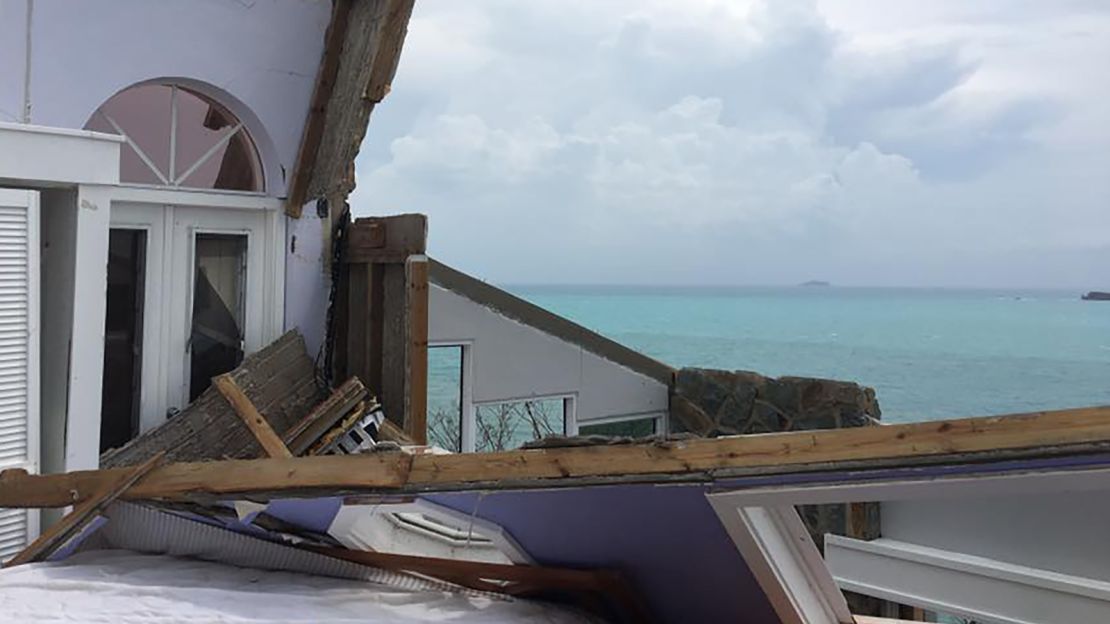 John Obbagy and his wife fell in love with St. John on their first trip there in the '90s. Now they manage four villa rentals on the island, where they've lived for the last six years.
"It's a magical place. We want to see it bounce back. There's nowhere like it," Obbagy said.
The Obbagys were evacuated late on Sunday night to Puerto Rico, where they've since been able to connect with clients and family members. For days, the porch on Ronnie's Pizza parlor was the only spot on St. John where anyone could get enough service to make calls.
"About 80 percent of all structures, not just homes, have either suffered severe damage or are destroyed. The two major resorts are pretty much out of commission too," Obbagy said. "We know a lot of people who lived through [Hurricanes] Hugo and Marilyn, and they say this was worse than both combined."
The local community has pulled together to start picking up the pieces, with many people clearing trees and pulling power lines from the road, Obbagy said. He shared a photo showing a local restaurant handing out burgers and fried chicken for free, one of many acts of kindness seen in the aftermath of the storm.
British Virgin Islands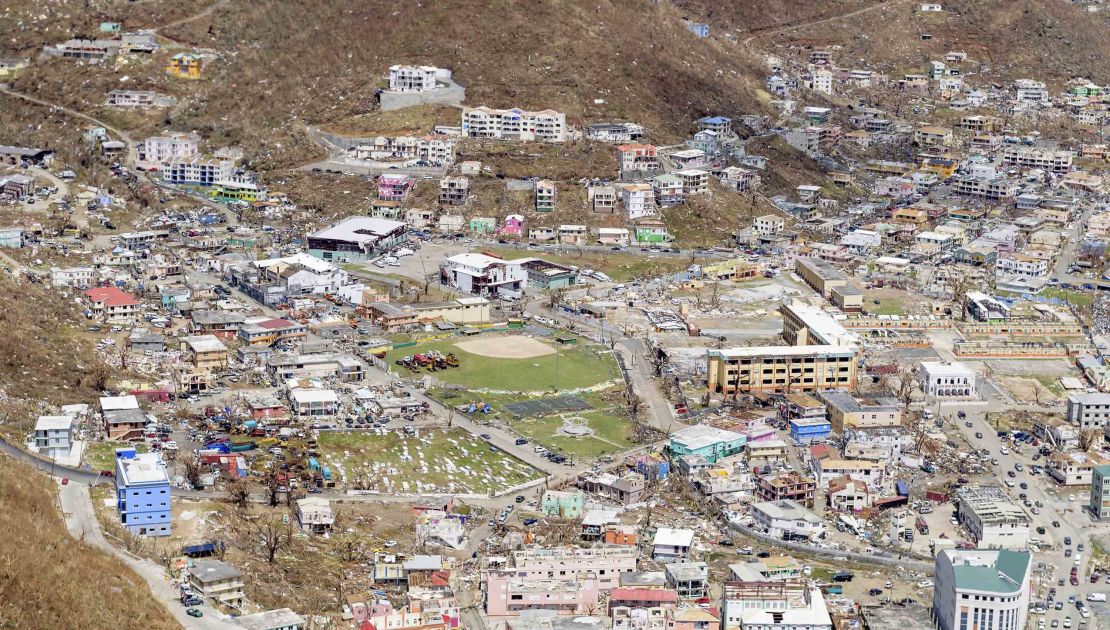 "My house is completely gone," Kennedy Banda, from Tortola, said by phone. Banda made the last-minute decision to shelter at a hotel in Tortola with his wife, their four children, and his elderly mother-in-law. They barricaded themselves in their room, using mattresses and chairs to block the glass doors.
"I went back to the house and the fridge was in the water. Our beds, the clothes, everything was blown out," said Banda, who shared a video on Facebook of the scene.
He said that now, five days after the storm hit the British Virgin Islands, killing four people, everyone is on edge. On Sunday, he went to a gas station to fill up on diesel and a man on a scooter cut the line of cars, pulling out a gun. His children were in the car with him at the time.
"It's scary. Give us a week, a couple more days from now, people are going to start looting other people's houses. I have a 1-year-old, 2-year-old, 5-year-old, 8-year-old, and a mother-in-law who is pretty old. I'm worried for their safety."
Banda said he's hoping to get his children, who have British passports, evacuated to the United Kingdom to stay with family.
"We can't stay in the hotel forever. Where are we going to go next? When the looting starts getting heavier, where am I going to go? It's scary for me to think of my kids. Where am I going to put them? Is the government going to help me? I just want to get my kids out."
"Nothing's ever happened like this here before, my head is spinning," Banda said.
Puerto Rico
Maria Rivas, who has lived in Puerto Rico for 18 years, camped out in her Toa Baja home with her husband, their two children, her mother and mother-in-law, during the hurricane.
"I wanted to make sure everyone was under one roof. My kids' anxiety level was through the roof, so it was important for us to maintain calm. We played a lot of games, colored," Rivas said.
The island avoided a direct hit, but high winds and torrential rains knocked out power.
"The way the wind sounded was terrible. I've never heard wind like that," she said. "We're relieved, and happy we're all well, and that the storm didn't cause more damage."
"We got very lucky after seeing what happened in Culebra and Loiza," two towns hit hardest in Puerto Rico.
Rivas said the community has come together in the storm's aftermath. A hotel in San Juan has been collecting donations, which will be distributed to families in Loiza who lost their homes.
Turks and Caicos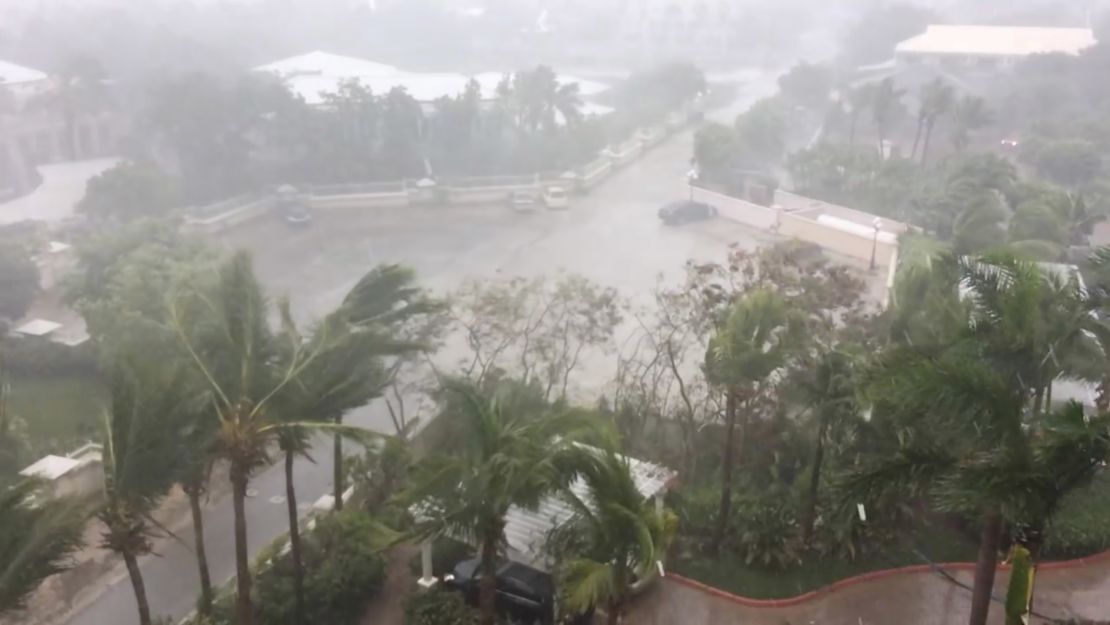 Ken Adams, the 61-year-old owner of Building Materials Do It Center in Providenciales, reopened his hardware store on Sunday, three days after the storm hit Turks and Caicos.
"On Sunday we opened with a prayer, giving God thanks for life," Adams said, adding that his store is now sold out of reconstruction materials, like plywood. "We are trying our best because we're in a position to help."
He said he hopes to get new supplies in by the weekend, but after storms in Texas, and now in Florida, it could take a while.
Hurricane Irma barreled through the British overseas territory, home to about 52,000 people, overnight Thursday into Friday.
"At the moment, we have a lot of houses with roof damage. We have major infrastructure damage. There's no electricity, a lot of the cell towers are down. Gas stations have very little gasoline," Adams said.
Adams, who was born and raised in Turks and Caicos, said he's never seen a storm like Irma.
"We've seen many hurricanes before, but this was more than anything we've ever experienced. We saw something like 200 mph wind gusts. It was a scary experience," Adams said. "But it could have been worse. It's not nearly as bad as some of the other islands."
Cuba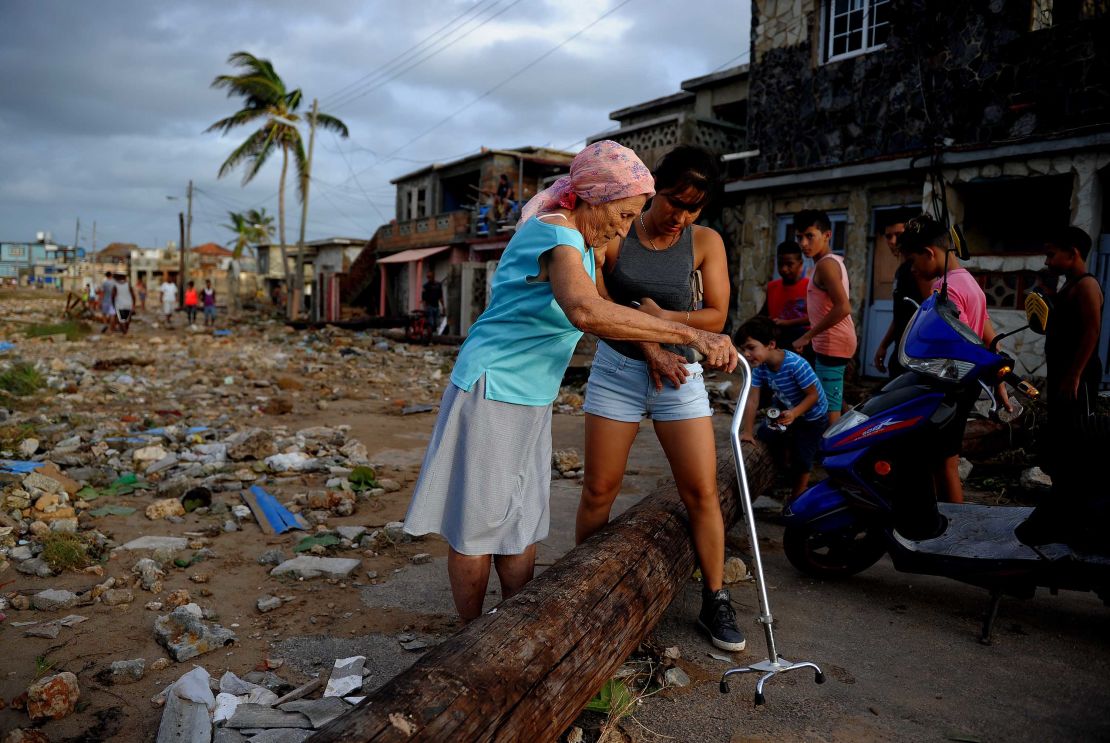 Irma made landfall in Cuba overnight on Friday as a Category 5 storm, blasting into seaside towns and causing flooding in low-lying areas of the capital. Winds of 125 mph whipped roofs clean off buildings, ripped trees from the ground and forced evacuations along the coast. Authorities said 10 people died as a result of Irma.
Maykel Galindo runs a bed and breakfast in Havana, where seven people died as a result of building collapses.
Galindo said most of his guests for the coming weeks have canceled their visits due to the storm.
"Don't cancel," he said. "Our emerging private sector really needs the support to grow."
Telecommunications on the island have been poor due to the storm, he said, and when CNN attempted to call him the line dropped several times.
On the other end of the island, US military staff and their families also avoided the worst of the storm. Danielle Nicole Debano, who lives at the Guantanamo Bay Naval Base, posted video on Friday evening of thunder and lightning as Irma neared. "Everyone here at GTMO is safe and sound, and Irma has been kind to us compared to others in her path," she said by text.
Correction: This story has been corrected to reflect that Barbuda is part of Antigua and Barbuda, which is an independent state.