Here's what you need to know to Get Up to Speed and Out the Door. You can also get "5 Things You Need to Know Today" delivered to your inbox daily. Sign up here.
1. Climate change
Florida's only now starting to come to grips with the devastation that Hurricane Irma left behind. Almost every home in the Florida Keys is damaged, FEMA estimates. There are still 4.4 million customers in the state without electricity. And there have been at least 16 deaths connected to Irma in the US.
High winds create massive power outage
2. Tax overhaul
The Supreme Court gave the Trump administration another win on the President's controversial travel ban. It granted a request to continue to bar most refugees under the ban. The court blocked a lower court's ruling that would have exempted from the ban refugees who have contractual commitments from resettlement agencies – about 24,000 people. The court, however, didn't rule on the legality of the ban itself. It's expected to take that up on October 10.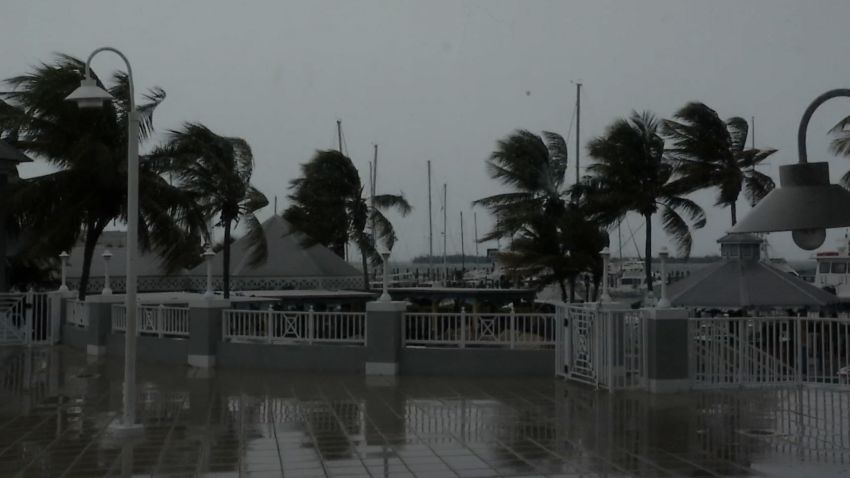 Key West mayor offers reassurance to residents
3. Migrant crisis
Three-fourths of Miami doesn't have power. Officials are trying to clear roads as thousands of trees are down. Marco Island, where Irma made a second landfall, is back open but doesn't have water or electricity. Jacksonville was hit with flash flooding as the St. Johns River rose to record levels. About a dozen homes in Tampa were damaged by falling trees, and flooding from rising rivers will be a problem in the coming days. Naples' mayor says his city, which mostly is without power, faces a "massive cleanup" as many trees are down and streets are flooded.
Many airports in Florida plan to reopen today, and so do Disney World and the state's other theme parks.
Damage assesments underway in Miami Beach
Aung San Suu Kyi has canceled a trip to the UN this month so she can deal with the growing crisis in her country. A spokesman for Suu Kyi, Myanmar's de facto leader, said she'd stay home to deal with "terrorist attacks" and the humanitarian crisis in the country's Rakhine state, where at least 370,000 people – members of the persecuted Rohingya Muslim minority – have fled to escape violence. Suu Kyi's been repeatedly criticized over her response to the crisis, especially since she won a Nobel Peace Prize for her previous work on human rights. The UN Security Council plans to talk about the crisis today.
5. Home invasion
Millions without power after Irma
5. Tropical Storm Franklin
And don't forget about what Irma did to the Caribbean. Irma, as a Category 5 storm, left at least 36 people dead there and a trail of destruction from Barbuda to Cuba. People on St. Martin/St. Maarten, Anguilla, and the US and British Virgin Islands are in desperate need of supplies and also more security as there are reports of looting. Trees were ripped from the ground and roofs were torn from buildings in Cuba, where there was also flooding in low-lying areas.
Hurricane Irma leaves Caribbean devastated
Seattle's mayor is quitting. Mayor Ed Murray announced his resignation hours after new sex abuse allegations against him surfaced. A cousin of Murray told a Seattle newspaper that Murray abused him when the cousin was a teen in the 1970s. Murray denied the allegations, just as he has denied five other claims against him. Murray, the city's first openly gay mayor, says he's stepping down for the good of the city. He'd previously said the allegations were efforts to stop his agenda and halt support for LGBTQ and immigrant rights.
BREAKFAST BROWSE
People are talking about these. Read up. Join in.
The UN Security Council imposed new sanctions on North Korea after its latest nuclear test. The North promised a strong response and "unbearable consequences."
Dismal training records
The two US Navy destroyers involved in deadly collisions in the Pacific this summer both had lengthy records of failure to fulfill key training requirements, CNN has learned.
Brexit bill
Brexit looks like it's still on track after British lawmakers passed a European Union withdrawal bill.
UK government wins vote on EU withdrawal bill
Time to get up
A new study says sitting for long periods of time can kill you, even if you exercise.
It's showtime
Apple will unveil its latest iPhone – and show off its shiny, new Silicon Valley headquarters – later today.
Would you pay $1,000 for the next iPhone?
NUMBER OF THE DAY
25%
That's the percentage of any future revenue made from the "monkey selfie" that the photographer involved in a dispute with PETA will donate to animal charities.
6.2 million
AND FINALLY …
Bon appetit