Story highlights
South Korean President Moon Jae-in was elected in May
His first months in office have been dominated by the growing North Korea crisis
(CNN) —
If South Korean President Moon Jae-in has one thing in common with his US counterpart Donald Trump, it's that neither were expected to be in the positions they currently hold.
Moon entered Seoul's Blue House in May after a snap election called in the wake of a spectacular and bizarre corruption scandal involving his predecessor, conservative Park Geun-hye, who was impeached and faces criminal trial.
That left the liberal Moon, a former special forces soldier and human rights lawyer who has advocated for greater engagement with North Korea, in charge of attempting just that, as an increasingly aggressive Pyongyang has ramped up missile testing and, earlier this month, conducted its biggest nuclear test.
"North Korea continues to make very wrong decisions, so I'm very frustrated and I'm saddened to see this," Moon told CNN Thursday. "It's a very reckless choice made by North Korea that is not helpful to North Korea itself or inter-Korean relations and threatens world peace."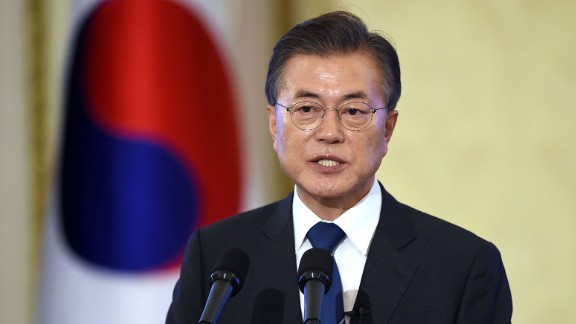 Pool/Getty Images AsiaPac/Getty Images
In office, Trump has pursued a more belligerent US approach to North Korea and talk of a rift between Washington and Seoul has grown.
Trump has accused Moon of seeking "appeasement" with North Korea, though the South Korean leader has tilted more in Washington's direction in recent weeks, fully deploying a controversial US missile defense system and saying the time is not now right for dialog.
"He is in a 'no-win' situation, just like his predecessors," said Kim Hyung-A, an associate professor of Korean politics at Australian National University. "No matter what they say, when US pressure gets really serious, then there is very little (they) can do but whatever the US wants."
Policy shift
During the campaign, Moon advocated for greater diplomacy to end the North Korea crisis and called for greater economic ties between the two Koreas.
His stance was compared to the so-called "Sunshine Policy" of the liberal governments of 1998 to 2008. By no coincidence, he was a key adviser to those administrations.
Under the Sunshine Policy, Seoul actively engaged Pyongyang, which led to closer relations on both sides of the border and saw two South Korean Presidents visit the North Korean capital. However, the approach ultimately failed to halt North Korea's nuclear weapons program.
In office, Moon's administration froze deployment of the THAAD missile defense system, a move that has now been reversed, and reached out to Pyongyang to set up talks between the two countries, but that olive branch was rebuffed.
Moon Chung-in, a senior adviser to President Moon, said the pressure from both Pyongyang and Washington has altered thinking from the Blue House.
"(President Moon) was against the deployment of THAAD," he told CNN this month. "At the same time, he was a strong proponent of dialogue and negotiation with North Korea. But … North Korea (has) continued to show unruly behavior and provocation."
By attempting to walk a line between Washington's hardline approach and his previous pro-dialog angle, Moon may be doomed to lose twice over, according to academics Markus Bell and Marco Milani.
"Moon's 'dual-track' policy of seeking North Korea's denuclearisation while also calling for dialogue, is preventing gains on either," they wrote last month.
Nor is there any indication that Pyongyang is willing to meet Moon close to half way, according to Yonsei University professor John Delury.
"For Kim (Jong Un) and the North Korean system, a friendly liberal South Korean government is more threatening than a hostile conservative one," he said.
"The Moon government offered a few trial balloons, but Pyongyang has popped them one by one."
Strong support, for now
A longtime activist and adviser to the liberal Roh Moo-hyun administration, which ran South Korea from 2003 to 2008, Moon is an experienced politician, used to walking the delicate balancing act of the country's coalition politics.
While North Korea may have dominated headlines abroad throughout the campaign and his early presidency, Moon ran largely on economic and anti-corruption policies, promising to reform the country's politics and chaebols, the huge family-run conglomerates that dominate the country's economy.
According to a regular Gallup Korea poll, Moon's approval rating remains high, at over 70%. He is also benefited that increased pressure from North Korea is seeing public opinion trending towards the more conservative approach Moon appears to be adopting.
But that popularity belies a degree of weakness in the President's position, said ANU's Kim.
Moon was buoyed by the "candlelight revolution" of centrists and progressives, named for the mass protests which help drive Park from office, but his ruling Democratic Party only holds 40% of the seats in the National Assembly, and is dependent on support from smaller parties, in particular the centrist People's Party.
Any drop in popularity could see increased opposition in the Assembly, according to Kim. "How forgiving the Korean public will be is entirely up to how quickly (Moon) can perform and improve Korea's economic conditions," she said.
She pointed to gubernatorial votes in June as a key test of Moon's administration: "If he doesn't get a majority from those elections, the rest of his term will be pretty rough."
CNN's Pamela Boykoff, Paula Hancocks, Taehoon Lee, and KJ Kwon contributed reporting.