The trial of two incarcerated Turkish teachers who have been on hunger strike for the last six months started in Ankara on Thursday. Neither of the accused were in court.
Nuriye Gulmen and Semih Ozakca — who are charged with terror-related offenses — were fired from their jobs in a crackdown following the failed coup against President Recep Tayyip Erdogan last year.
The gendarmerie (or military police) claimed the two could try to escape if brought to court, according to Reuters.
Since November, the pair had protested the government-imposed suspensions, according to Amnesty International, and called upon the government to return jobs to the thousands of public employees who had been dismissed following the coup attempt.
The two teachers were remanded in custody in May and charged with ties to the radical leftist DHKP-C group – which has been designated a terrorist organization in the country.
The pair's original lawyers were also not present in court after detention warrants for 18 of them were issued by Turkish authorities earlier this week, Reuters reported. Instead, at least 100 lawyers were present at the courthouse to defend the teachers, Reuters said. Following the first hearing, the case was adjourned until September 28.
As proceedings got underway, Reuters said, police used tear gas to disperse demonstrators who had gathered outside the courthouse. At least 20 protesters were taken away following the clashes with authorities.
About 250 people died standing up to the soldiers who took part in the uprising, and thousands of alleged plotters were rounded up the next day. Erdogan says exiled former ally Fethullah Gulen was behind the attempt, a charge the US-based cleric has denied.
Related: Nearly 500 in court in Turkey's biggest trial over coup attempt
Erdogan's purge
Since the failed coup, Turkey has been under a state of emergency and Erdogan has orchestrated a series of controversial constitutional reforms while overseeing a massive purge, which critics argue is simply a pretense to silence opposition voices.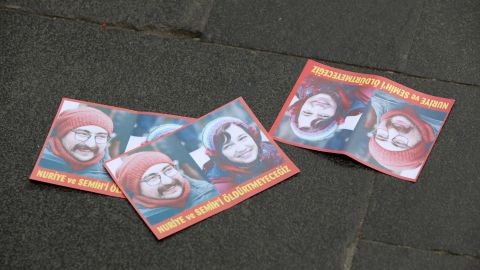 European Union officials expressed concern over the government's clampdown of civil liberties during a press conference with Turkish Foreign Minister Mevlut Cavusoglu in Brussels in July.
"We have witnessed a worrying pattern of imprisonments of large numbers of members of the democratic opposition, journalists and human rights defenders," said EU Foreign Policy Chief Federica Mogherini.
Cavusoglu responded, saying that "We should distinguish between 'real journalists' and 'pseudo-journalists' who help terrorist activities." He said that those who were involved the coup last year should "face the sentences that are necessary."
More than 169,000 people have faced "judicial action" ranging from travel restrictions and detentions to arrest warrants since the coup attempt, according to state media outlet Anadolu, citing the Justice Ministry.
That figure includes the ongoing high-profile Cumhuriyet newspaper trial, in which six journalists and managers from one of the country's last remaining opposition publications remain imprisoned on charges of supporting various terror organizations operating in Turkey.
Seven others from the paper who had been indicted were released under judicial supervision in July.
But the trial – which many observers are calling a crucial test of press freedom – continues for their colleagues who were denied release by an Istanbul court on Monday.
After evaluating the demands, the court board ruled Akin Atalay, Ahmet Sik, Kadri Gursel, Mehmet Murat Sabuncu, Ahmet Kemal Aydogdu and Yusuf Emre Iper should remain under arrest until more evidence is presented. The next hearing in that case is due to take place on September 25.
Correction: This story has been corrected to reflect the absence of the two accused teachers from court on Thursday.