Story highlights
98 Wireless is located in one of the most prestigious areas of Bangkok.
It is designed in the neoclassical Beaux-Arts style popularized in the 1800s in Europe.
The uber luxurious interiors and mod-cons target Bangkok's affluent elite.
Wireless Road is one of the most desirable addresses in Bangkok.
In the heart of the Thai capital's downtown district, foreign embassies, five-star hotels and upmarket malls line the leafy nearby streets, while Lumpini Park, the area's largest green space, provides precious escape from the congested city's traffic.
Modern high-rises dominate the skyline, though perhaps none rival 98 Wireless, a new residential project by one of Thailand's biggest property developers, Sansiri.
Priced at $17,576 per square meter, its units are currently among the most expensive in Bangkok, and certainly some of the most luxurious.
Ralph Lauren crystal chandeliers, butlers, private elevators for each unit, and a chauffeured Bentley limousine service are all part of the package.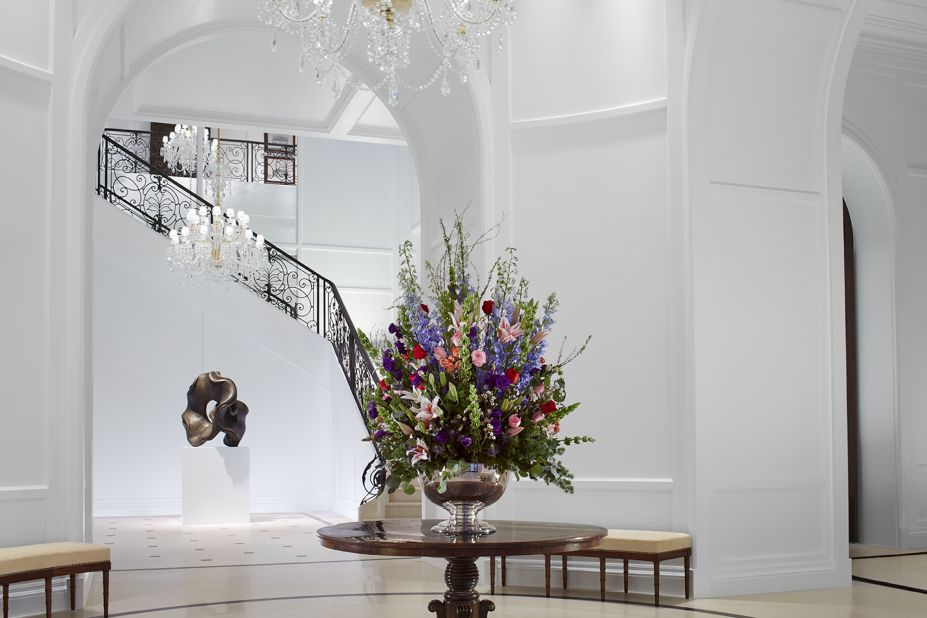 How 98 Wireless brought a piece of European living to Bangkok
Grand designs
The 3,200-square-meter (34,445 square feet) plot 98 Wireless stands on was previously home to a private house and horse stables.
Sansiri acquired it for $36.4 million in 2010, and spent seven years and $270 million on constructing the 77 luxury condos, which were styled by Ralph Lauren Home furnishings.
Split across 25 levels, the condos range in size from 119 to 245 square meters (1,288 to 2,642 square feet). Two penthouses of 553 square meters (5,952 square feet), and a "super penthouse" dubbed "The One" – of 948 square meters (10,204 square feet) – sprawl across the top floors.
The penthouses were all snapped up before the official launch of 98 Wireless in March 2017, and 65% of the other units have been sold.
A tall order
"Wireless Road is a unique part of the city, with embassies and ambassador residences – so there is a need to feel like it's a very, very high level," Kirk Ellis of architectural firm Design Worldwide Partnership (DWP), who spearheaded the design, tells CNN.
The building, therefore, had to pay tribute to its surroundings.
Ceilings much higher than other residential buildings in the city provide a sense of grandeur while the Beaux-Arts architecture – a neoclassical style that finds its roots in Roman times, and was later reinterpreted by the French and Americans in the 1800s and 1900s – has brought grand entrances, classical details and streamlined embellishments to the project: the style is a rare sight in Bangkok.
"The style … projects a sense of solidity, permanence and calm stature," says Ellis.
"There is no building near that is similar, but also it's not just a reflection of Europe. There's something unique about that composition."
"The Beaux-Arts style was chosen as the theme concept because it represents timelessness … ensuring that the property would still look grand and stately even a century from now," Khun Apichart Chutrakul, CEO of Sansiri, tells CNN.
The international theme also took inspiration from the location's greenery, with the building's style echoing other famous leafy addresses around the world.
"We looked at other cities that have a great sense of tree-lined boulevards. So Fifth Avenue in Manhattan came up; the streets of Paris; even some streets of Shanghai," says Ellis.
"I think this land is very rare – (it's) right in the middle of the city, right in the middle of a business district," says Chutrakul, who compares it to Orchard Road in Singapore and parts of Kensington in London.
Luxury living
Naturally, 98 Wireless caters to a high net worth clientele.
Ralph Lauren Home pieces, for example, styled by New York-based interior designer Anne Carson, decorate residences and communal areas such as the lobby, while a handmade crystal chandelier features prominently in the lobby lounge and the tea room.
Chutrakul believes that all of this is necessary for 98 Wireless's target audience.
"I see it this way – real estate is like a trophy in a way for the rich and the famous," he says.
So does the completion of 98 Wireless signal that Bangkok's wealthy elite are relocating from homes in the suburbs to the heart of the city?
"Maybe they have a house, they are comfortable there," he says. "But when they want to come into Bangkok and stay some place where they feel like at home (this is it)."