Story highlights
Los Topos was formed after cataclysmic earthquake killed thousands 32 years ago
The idea was to bring a rapid civilian response to assist rescues
Members of "Los Topos," or the moles, at times emerge from the ruins of collapsed buildings too traumatized to speak. The cries from those entombed in brick and concrete can be haunting.
"They're waiting for you, at times in agonizing pain and you're outside feeling the pressure to find them," said Rafael Lopez, a member of the volunteer Mexican rescue group since 1985.
"They beg for help. They cry. They scream. You try to get them to calm down so they can give you a reference of where to find them. Are they near stairs, a hallway?"
The group was founded after the 1985 earthquake that killed an estimated 9,500 people in and around Mexico City.
Two hours after simulations and drills marked the 32nd anniversary of that disaster, central Mexico on Tuesday was hit with a magnitude-7.1 quake.
At least 280 people were killed and dozens of buildings turned into dust, Mexico City Mayor Miguel Angel Mancera told CNN affiliate Foro TV.
Members pay a psychological toll
Members of Los Topos, the Mexican navy and marines and other groups have been burrowing into the ruins after the country's second major temblor in less than two weeks. Some members of Los Topos said they were on the street within an hour.
"You try to handle the victim with a lot of respect," said Ivan Barientos Salas, 35, a member since 2006.
"You try to pull them out carefully. The psychological shock hits you later."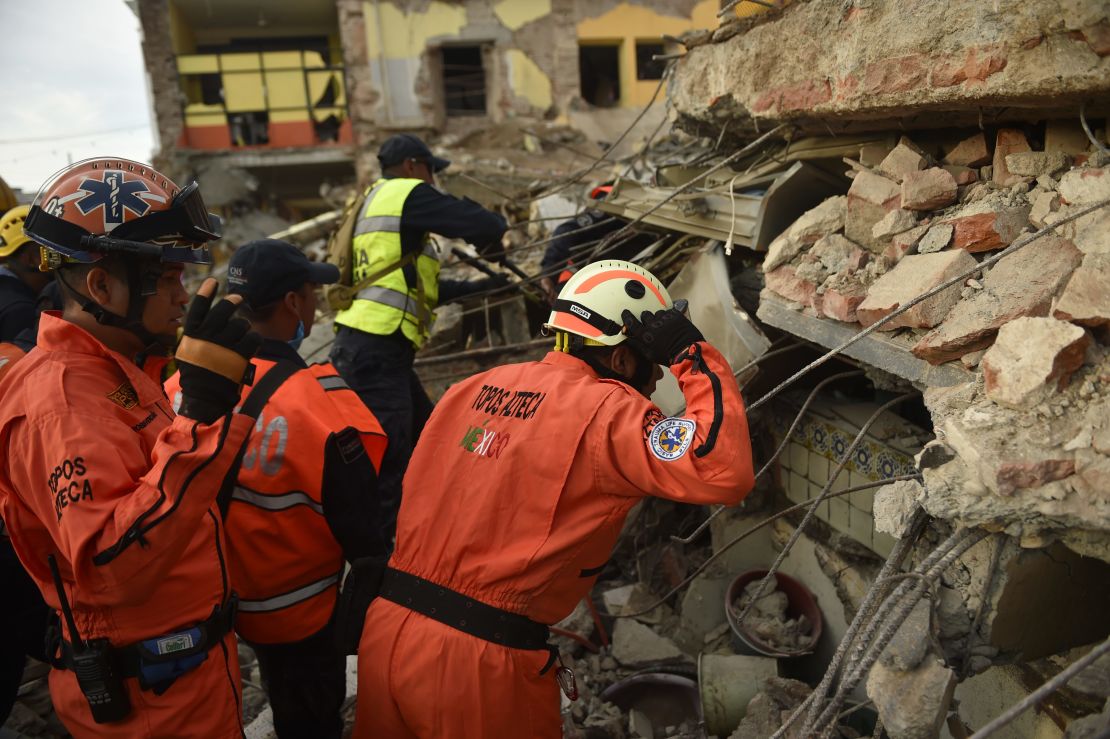 Sometimes, bodies are gently placed on the ground. Some rescue group members say a brief prayer. Counselors are available before they return to the piles of debris.
The chance of reaching survivors diminish with each day.
There could be people trapped in at least 10 buildings in Mexico City, President Enrique Peña Nieto said Thursday. Search and rescue efforts were continuing.
'You feel a lot of uncertainty but no fear'
In the neighborhood of Lindavista, north of the city center, Barrientos late Wednesday crawled into a narrow space created after the first two floors of a building collapsed