This didn't start with a knee. Everyone seems to forget that before Colin Kaepernick knelt, he sat.
After sitting for the national anthem during the first three preseason games of the 2016 NFL season, the then-San Francisco 49ers quarterback met with former NFL player and Army veteran Nate Boyer to discuss the optics of his protest.
It was Boyer who helped him and his teammates come to the decision to kneel, a more respectful option. Kaepernick was on board.
Because then, as now, kneeling during the National Anthem was never about the anthem itself. It wasn't about the flag, or the military.
It was about race, and all of the struggles that come with being a minority in America.
The protest's black roots
There was no way the protests that Kaepernick started, which have gained new momentum in recent days, could ever be centered around anything other than race.
"I am not going to stand up to show pride in a flag for a country that oppresses black people and people of color," Kaepernick told NFL Media at the outset of the controversy.
In 2016, almost 70% of active players on NFL rosters were black. Until last month, when a handful of white players joined in public sideline displays, every player who participated, whether with a bended knee or a raised fist, was black.
In November 2016 Kaepernick broadened the scope.
"I've been very clear from the beginning that I'm against systematic oppression," he told CSN Chicago. "Police violence is just one of the symptoms of that oppression. For me, that is something that needs to be addressed, but it's not the whole issue."
By that time, he and the handful of other players who had taken a knee were being excoriated, their jerseys used as doormats and bonfire fodder. They were called unpatriotic, ungrateful, disrespectful of flag, military and country.
The backlash may have been painted with broad strokes of red white and blue, but it couldn't hide the color line below. A 2016 poll about American's perceptions of NFL players revealed Kaepernick was the league's most disliked player. Of the results, 37% of white respondents said they disliked him "a lot." Only 2% of black respondents did.
Conversely, 42% of black respondents said they liked him "a lot" – a huge jump from two years prior, when only 16% said so.
The need to prove their patriotism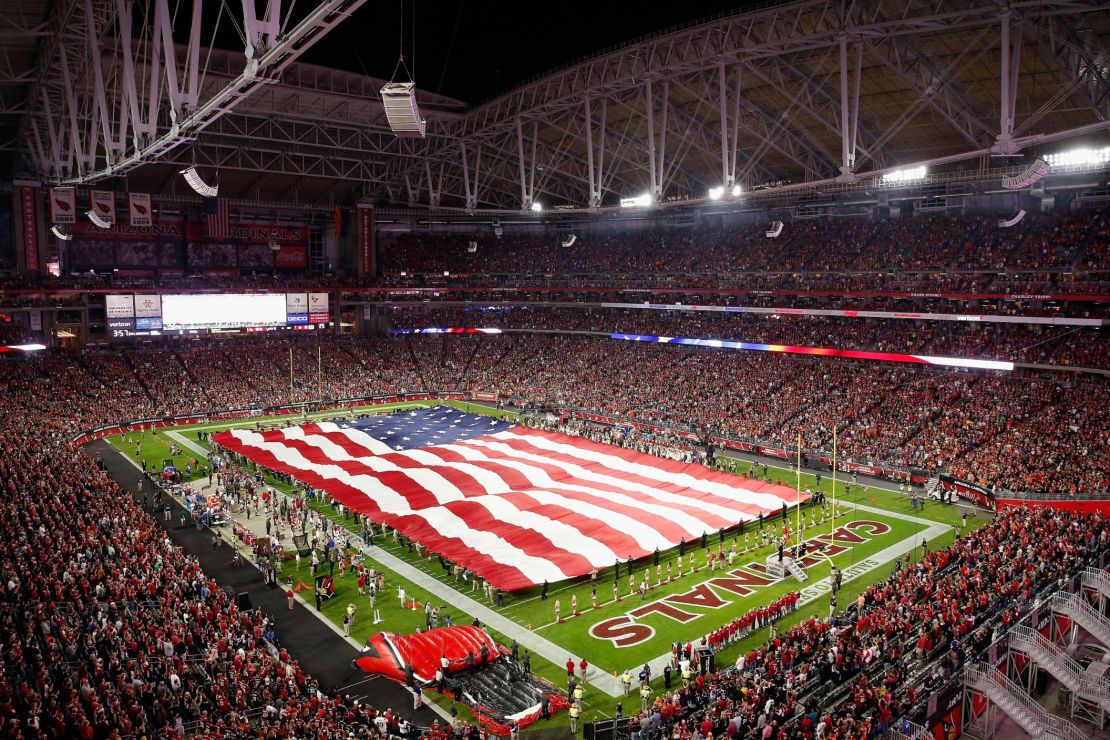 It is often forgotten that Kaepernick and other early adopters, maligned as un-American and disrespectful, chose their form of protest carefully and with outside consultation.
"It baffles me that our protest is still being misconstrued as disrespectful to the country, flag and military personnel," 49ers safety Eric Reid wrote in an op-ed for the New York Times this week. Reid was one of the first to adopt Kaepernick's protest, kneeling beside his then-teammate during the last pre-season game of 2016. He was also privy to the perspective of Boyer, the veteran who counseled Kaepernick.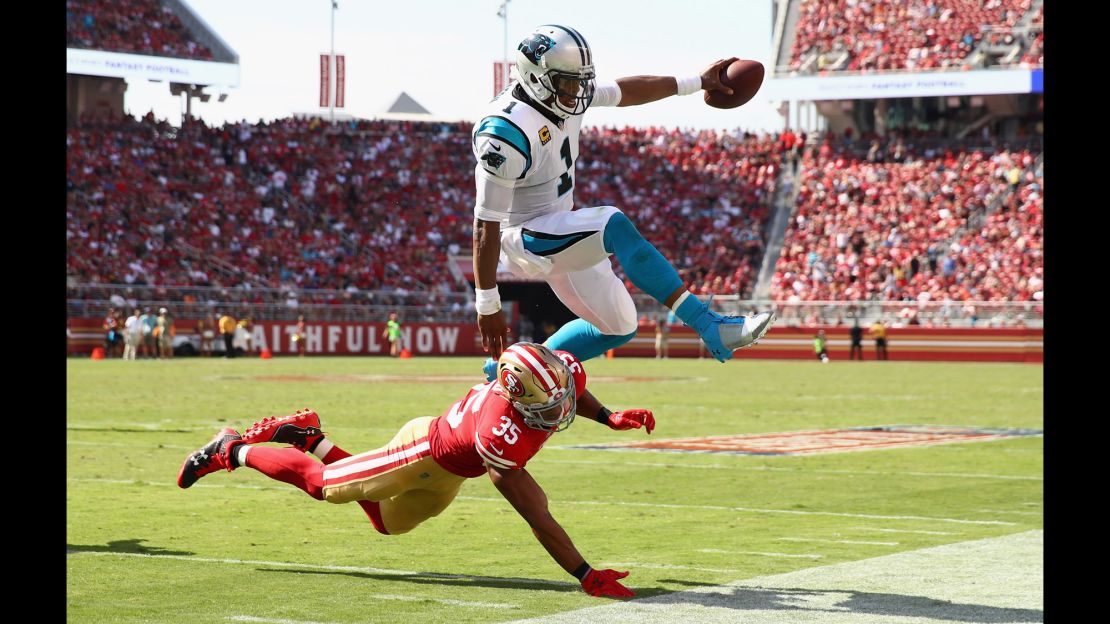 "We chose to kneel because it's a respectful gesture," Reid wrote. "I remember thinking our posture was like a flag flown at half-mast to mark a tragedy."
It was as if players had to prove their patriotism to legitimize their message.
Even now, every wave of red-blooded American backlash seems to drag the message back to where it began. Rarely does a player or sports figure speak in support of the protests without reiterating their essential American-ness.
"I understand why people are offended by people protesting the National Anthem," Eagles wide receiver Torrey Smith told ESPN.
"My father served 25 years. When he dies, he's going to be wrapped in an American flag. But my dad is also out of the Army, and he drives trucks all over the country, and he's a black man everywhere he goes, and sometimes he has racial incidents still today. That doesn't protect him, just because he served our country. And I think that's important."
The few white players who have joined the protests have also emphasized their patriotism when describing their reasons for joining the protest, while still placing race at the center of their reasoning.
"I, myself, will be raising children who don't look like me," said Seth DeValve, who is white and is married to a black woman. "I want to do my part as well to do everything I can to raise them in a better environment (than) we have right now."
The President's indictment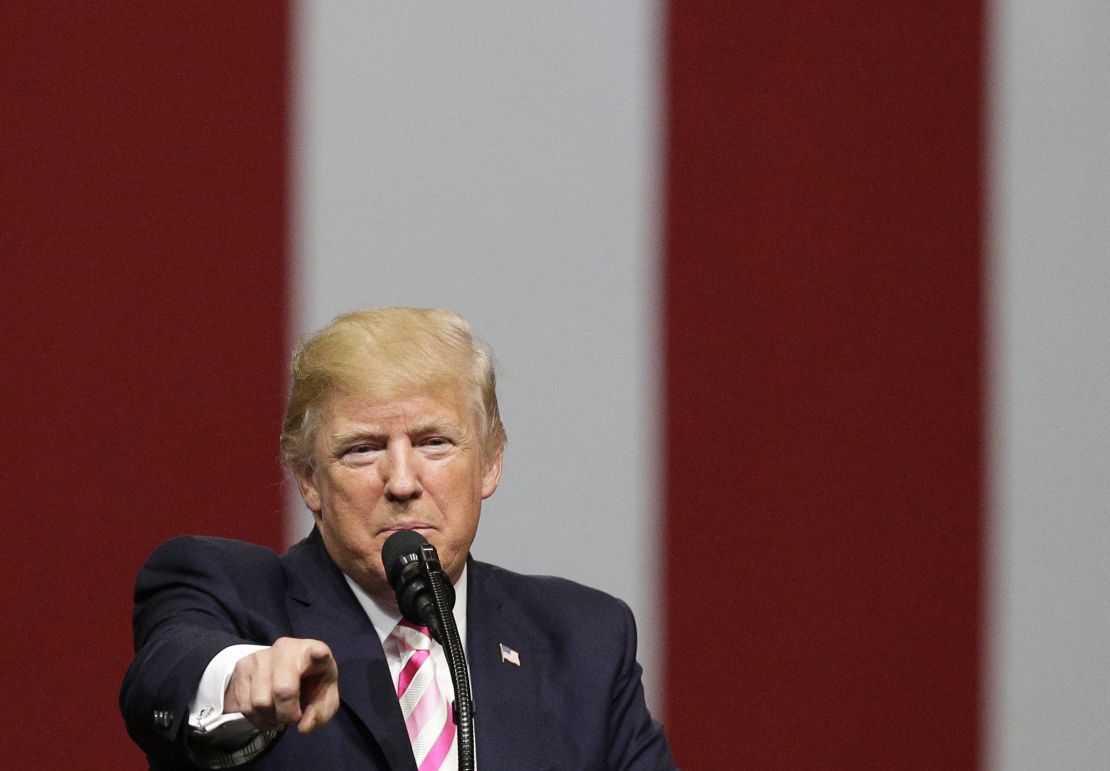 But then, at a rally for an Alabama Republican Senate candidate, President Donald Trump delivered comments to an overwhelmingly white audience that forced the movement in a different direction.
Upon seeing a player kneel, Trump said NFL owners should say, "Get that son of a bitch off the field right now, he's fired. He's fired!"
"That's a total disrespect of our heritage. That's a total disrespect for everything we stand for," he continued.
To the audience in the room, it was a patriotic comment, and they erupted in cheers. Many who saw the event on TV heard it as a deeply coded indictment.
NFL owners are overwhelmingly white. And with few exceptions, these "sons of bitches" were black men. The inclusion of the word "heritage" also perked up ears as a loaded term often used in racist rhetoric that positions whiteness as the favored American condition.
Some of Trump's critics saw echoes of Charlottesville, where he was slow to disavow white supremacists and claimed there were "fine people" on both sides.
"What I had concern about was why in the world…he couldn't call those individuals – the neo-Nazis, the white supremacists – why couldn't he call them sons of bitches?" said Mark O'Brien, a Trump supporter disheartened by some of the President's latest comments.
With Trump's inflammatory comments on that Alabama stage, the President forced himself into the issue front and center. He forced the hand of NFL owners, coaches, teams and players, who now had to choose a side in a movement whose meaning was in danger of being diluted and distorted as it reached more and more corners.
And his words, instead of emboldening NFL owners to sanction players who kneel during the anthem, had the opposite effect.
The show of unity
#TakeAKnee heats up on and off the field
A year after Kaepernick first took a knee, the gifted player – who struggled on the field at times last season – remains out of a job, ostracized by the league that once celebrated him.
The photos of the quarterback, defiant and largely alone in his gesture, seem like an ancient predecessor of the sudden images of unity that filled TV screens and social media after President Trump's comments. Entire NFL franchises stood arm in arm, with owners in suits wedged between their uniformed players. As before, the crowds sometimes jeered as players knelt, but there was an air of anticipation.
Suddenly, a fringe movement – so divisive only days before – was must-see TV. Announcers hyped the National Anthem preceding each game, the cameras lingering on each face as the music swelled. The NFL noted the moment by re-running a themed ad, titled "Unity."
A majority of teams disavowed Trump's statements while defending their players and the constitutional right to free speech. Only a few directly mentioned complaints about systemic racism that were central to the original protests.
Regardless, the reanimated controversy gave players a fresh opportunity to assert their beliefs.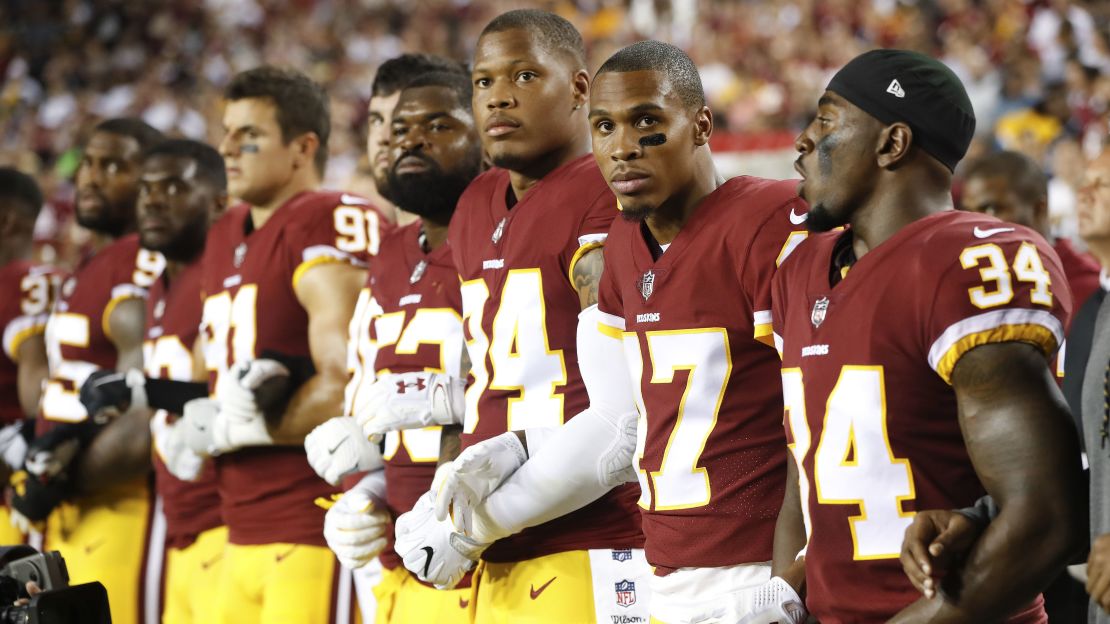 "As a man, as a father, as an African American man, as somebody in the NFL, as one of those 'sons of bitches,' you know, yeah I take it personally," Miami Dolphins safety Michael Thomas told CNN Monday. "It's bigger than me, I have a daughter. She's going to have to live in this world. And I'm going to do whatever I have to do to make sure that she can look at her dad and be like, 'You did something. You tried to make a change.'"
The moment also became an opportunity for white allies to express their support. Dallas sportscaster Dale Hansen in particular, issued a strong statement about the protests.
"The young, black athletes are not disrespecting America or the military by taking a knee during the anthem. They are respecting the best thing about America. It's a dog whistle to the racists among us to say otherwise," he said on air.
"They, and all of us, should protest how black Americans are treated in this country."
The tipping point?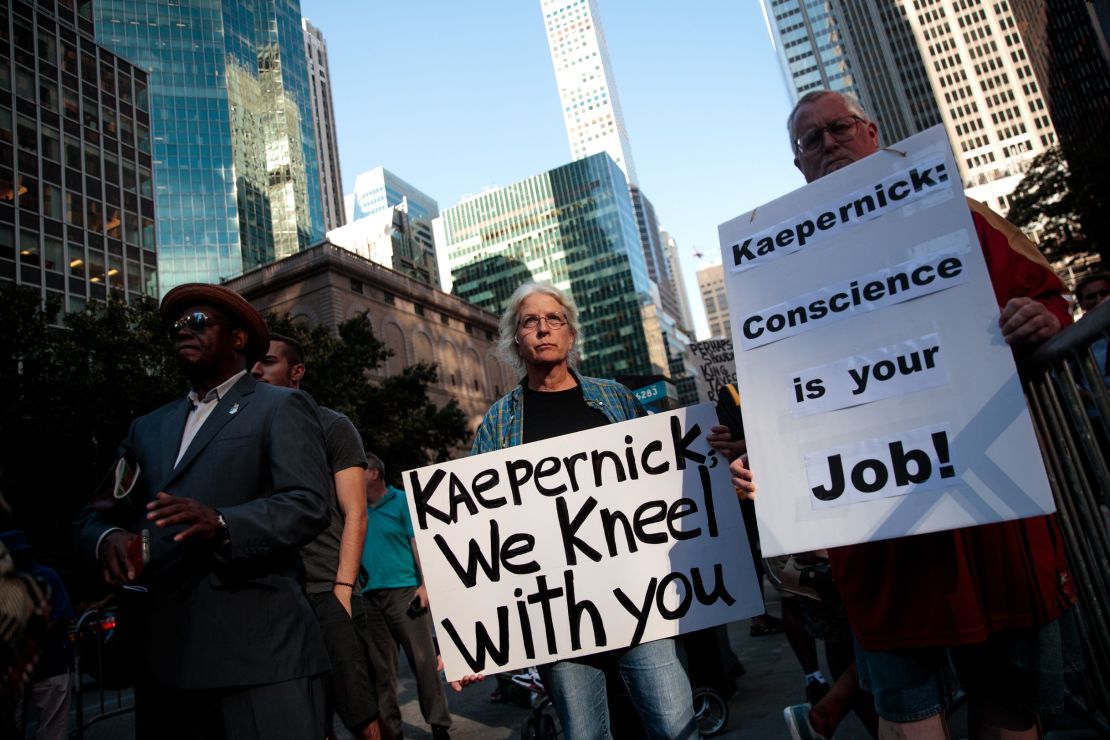 When some owners in NASCAR, a traditionally white sport, came out and said they would fire any drivers or staff who did not stand for the anthem, President Trump praised them on Twitter – moves that, in both cases, many commentators read as being inextricable from American notions about race.
The same day Trump tweeted, "The issue of kneeling has nothing to do with race. It is about respect for our Country, Flag and National Anthem. NFL must respect this!"
So between the social media hashtags, the intense TV coverage and criticism from the highest office in the land, the #TakeAKnee movement has officially reached the mainstream.
But will it continue to gain steam? Will it keep its focus?
Will the more palatable notions of patriotism and unity eclipse the original protest against racism?
Some of the movement's biggest proponents see an opportunity for growth. Maybe a movement that began around issues of racial inequality can be strengthened by newfound unity.
"Yes, it is about race," the Dolphins' Thomas said. "It is about any of the inequalities in our communities, and people are going to continue to voice their opinion."
"I think we have a responsibility as athletes, as role models, as leaders in our communities, to really engage in these conversations," Philadelphia Eagles safety Malcolm Jenkins told CNN Monday.
"And what brings people together more than football?"