A Spanish court has ordered Google to remove a voting location app from its Play Store, saying that it was helping Catalan separatists to organize in advance of Sunday's disputed independence referendum vote.
On Friday, Joan Maria Piqué, international communications director for the government of Catalonia, told CNN that police entered the offices of a company that works for Google to execute the Catalonia high court order to delete the "On Votar 1-Oct" app and that some people were held for a few hours.
Google also was ordered to block other future applications put forward by the developer, which had used an email that includes the vote's date.
A Google spokesperson told CNN that Google doesn't have an office in Barcelona and no one from the company has been detained. In a statement, Google Spain wrote: "We only remove content from our platforms to comply with a valid court order or when it violates our policies."
Still, the independence movement continued to gather steam on Friday night, as thousands of people marched through the streets of Barcelona amid the growing threats from the central Spanish government.
Catalonia's separatist government is adamant it will go ahead with Sunday's referendum despite the country's highest court barring it as unconstitutional.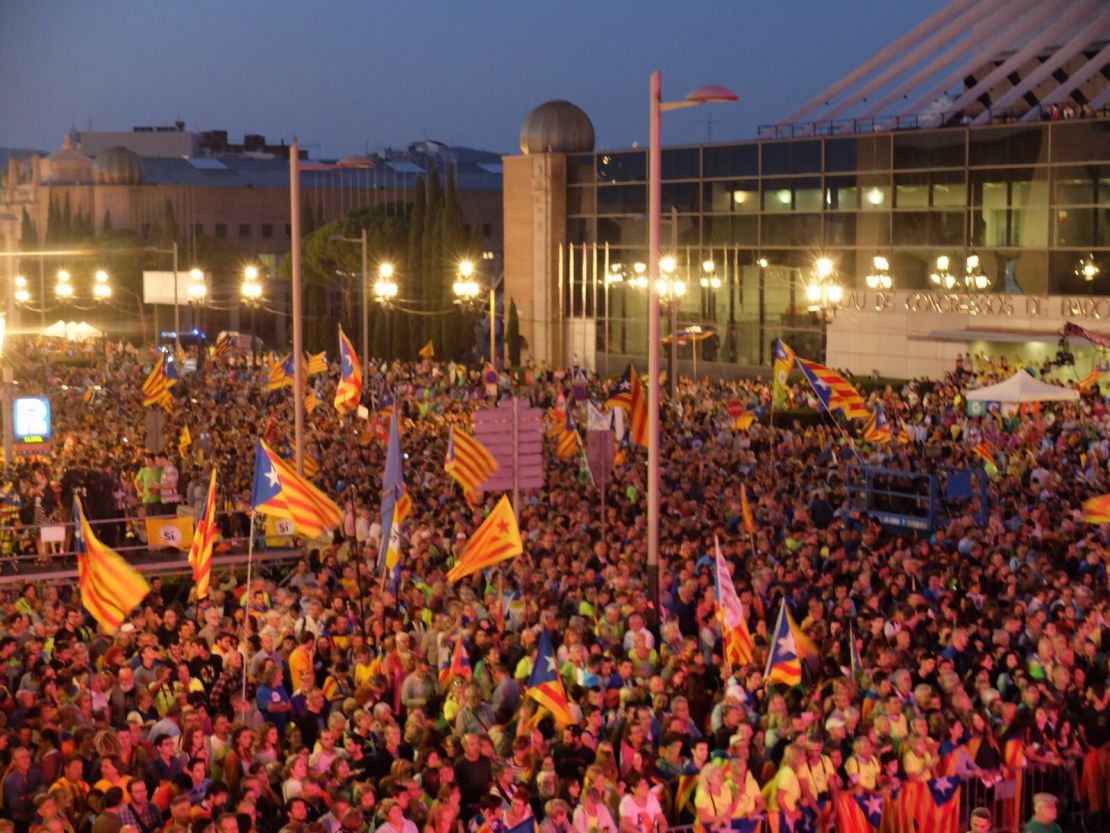 Spain's central government insists the referendum is illegal, must not go ahead and that the result will not be recognized. It has drafted in thousands of extra police to try to prevent the vote taking place.
In the run-up to the vote, Catalan officials have accused Spanish authorities of trying to suppress the people's democratic rights.
Piqué told CNN that 200,000 ballot papers had been confiscated this week – on top of almost 10 million the Spanish government said it had seized on September 20, along with voter lists and other paperwork.
According to Piqué, 14 Catalan government officials have been arrested over the referendum and 150 websites suspended. Mobile phones have also been seized.
The Spanish Data Protection Agency said in a statement that people working in polling stations could be fined up to 300,000 euros ($354,000) for doing so.
Despite the government's warnings, Catalan government spokesman Jordi Turull told reporters that there would be 2,315 polling stations where people can vote, mostly inside schools.
José Maria Salvatierra, a 55-year-old public worker is a polling coordinator at one of those schools. He told CNN that parents have planned activities such as soccer games and karaoke discos over the weekend so that police wouldn't have a legal reason to close the schools. Parents have coordinated to sleep at schools in shifts as an additional precaution.
"What we want, most of all, is to be able to vote. Then, if 'Yes' or 'No' it's up to each person," Salvatierra said.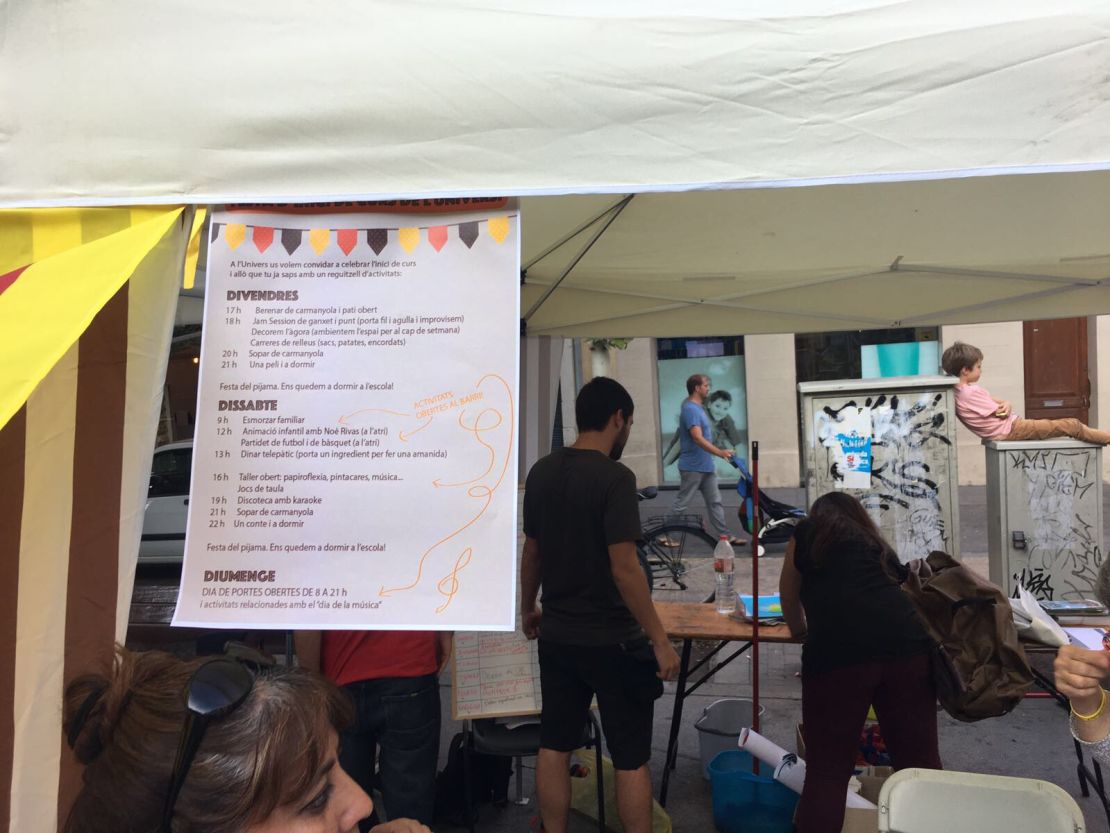 More than 5.3 million voters are on the electoral roll, according to the Catalan government.
Voters will be asked to respond yes or no to the question: "Do you want Catalonia to be an independent state, in the form of a Republic?"
Public support for the referendum within Catalonia, a wealthy region in Spain's northeast, has become increasingly vocal as the vote has neared.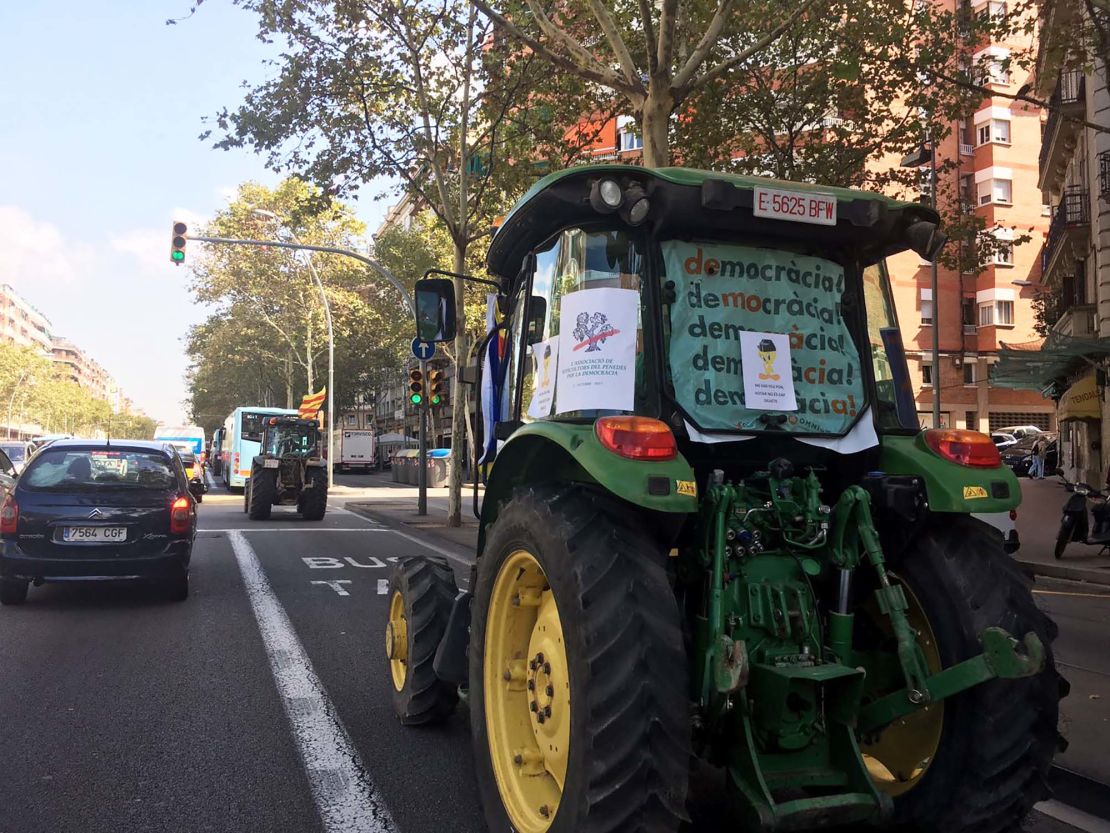 A stream of tractors adorned with Catalan flags and pro-independence posters drove through the streets of Barcelona on Friday, as agricultural workers became the latest to turn out in support of the plebiscite.
One tractor displayed a sign reading, "You don't scare us. Voting is not a felony."
People applauded or banged pots and pans from their windows as the tractors passed by. Some wore flags saying "Sí," or "yes," draped round their shoulders.
Pro-independence campaigners were due to hold a closing rally Friday evening in the Montjuic area of Barcelona, the regional capital of Catalonia.
'Democracy and liberty'
Some student associations have been handing out ballot papers to make sure all those who want to vote have one.
Speaking to CNN near the University of Barcelona, Ramon Hernández, 80, said: "I think it's about democracy and liberty. We want to be able to express our opinion, even the ones who don't want to be independent."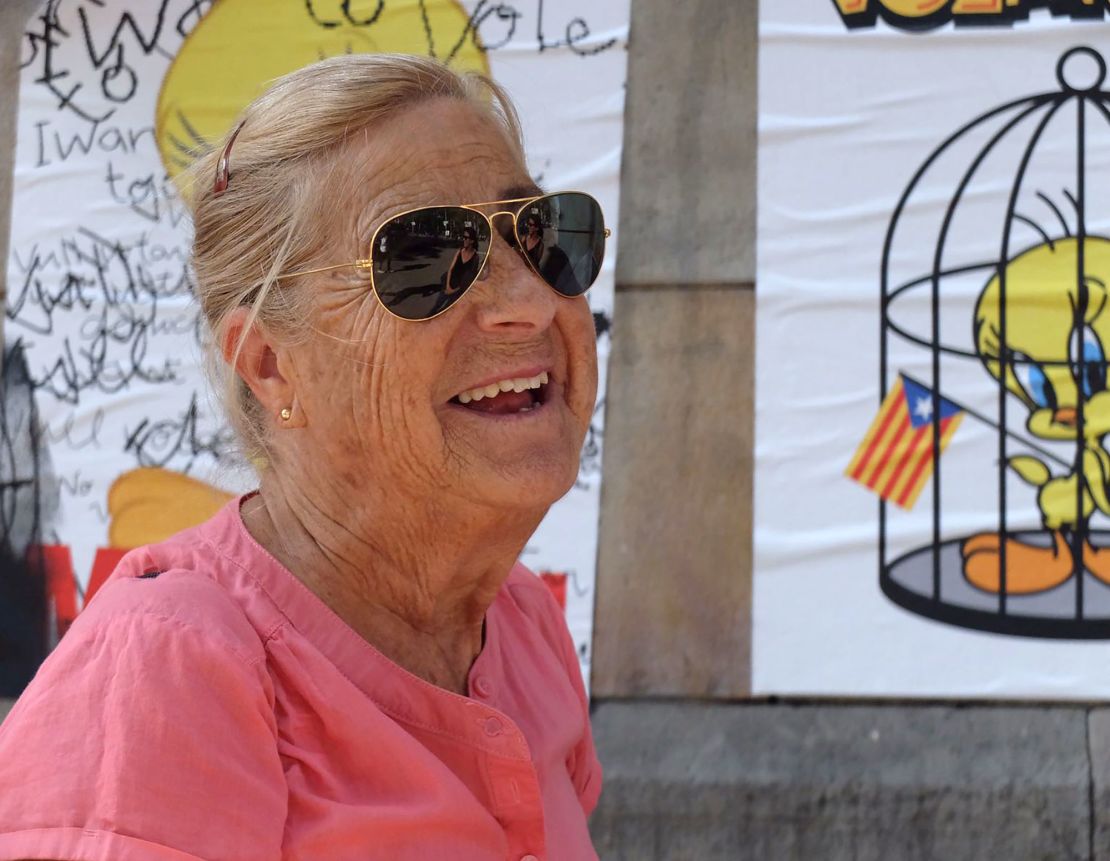 Isabel Martinez, 79, said she and her husband Ramon had come there to collect ballot papers in case more get seized.
"I used to feel both Catalan and Spanish," she said. "Until now, because things have changed a lot in the past five years. I used to feel both but not anymore. I no longer feel Spanish."
She said the couple knew where their local polling station was, but preferred not to share its location.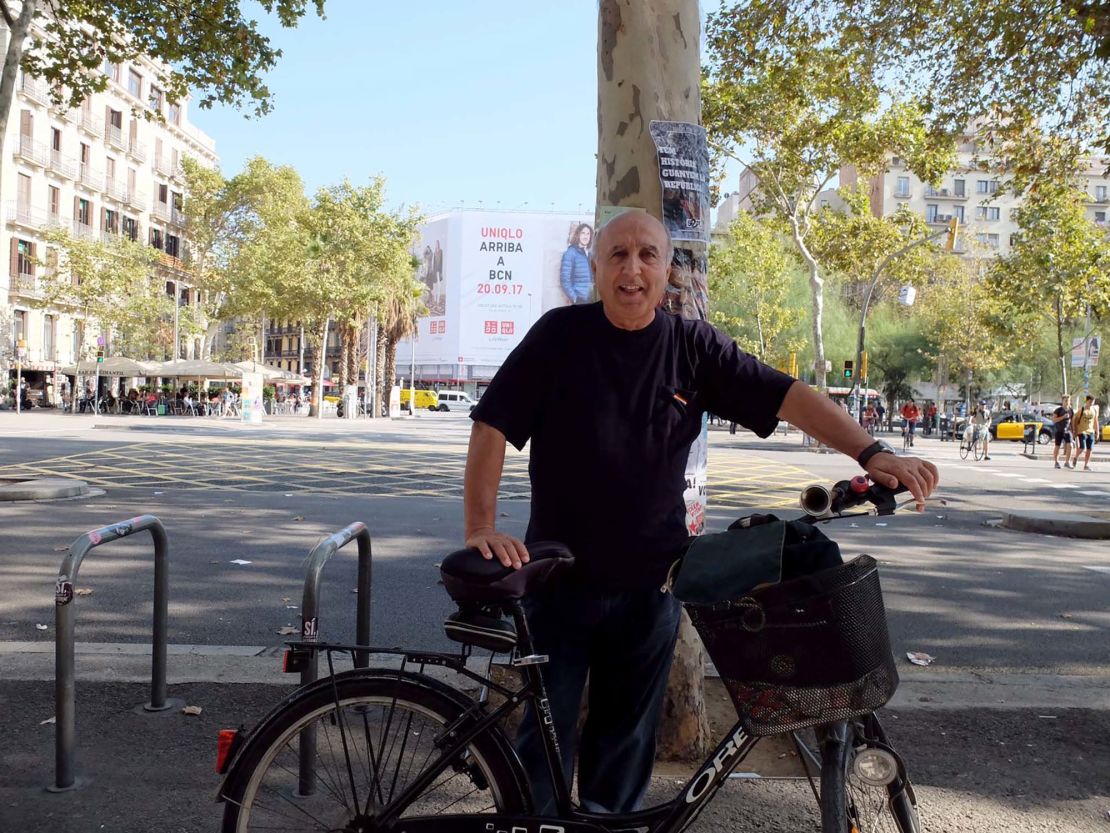 Pepe Márquez, 67, is originally from Andalucia but has been living in Catalonia for 53 years.
"Every people has the need to choose its own path and Catalans want to choose their own path. And that's what will happen. Catalonia will be what the people of Catalonia want it to be," he said.
Márquez said the Spanish authorities' argument that the referendum was illegal under the constitution made no sense, because the law dated to 1978.
'Charade of a referendum'
The government in Madrid has remained implacably opposed to the referendum, despite mounting tensions.
"We have to make it clear that there will not be a referendum," Spanish Foreign Minister Alfonso Dastis told CNN's Christiane Amanpour from Madrid on Thursday.
Spain does not "want a part to decide for the whole," Dastis said, dismissing the idea that the vote is about "some romantic right to decide."
Madrid is "more than ready to talk," said Dastis, once the Catalan regional government stops "this charade of a referendum."
Raul Romeva, Catalonia's Minister of Foreign Affairs, condemned what he called "repressive measures," and said the Catalan government just wants to be able to negotiate with Madrid on an equal footing.
"This is not about independence of Catalonia," he told Amanpour from Barcelona. "It is basically [about] how Catalonians decide its future."
Romeva added that there were "7,000 police officers simply waiting to impede the referendum to happen," in an apparent reference to the police drafted in from elsewhere.
Local media reports have claimed as many as 14,000 Guardia Civil officers are sitting on cruise ships in Barcelona's harbor, awaiting deployment.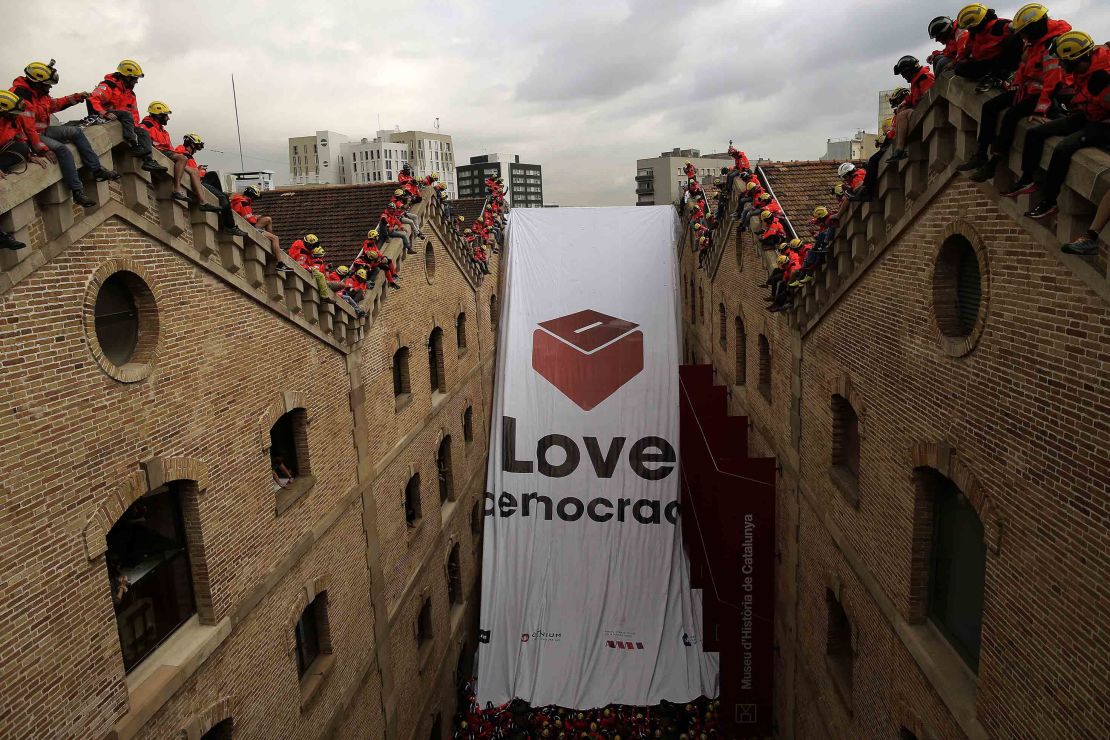 Catalan police role
It's not clear what role Catalonia's own regional police force, the Mossos d'Esquadra, will play in policing the contested vote.
Spanish newspaper El Pais reported Friday that the force has objected to instructions from the public prosecutor to ensure that schools, medical centers and other public places are not used for voting stations, on the grounds this could cause public unrest.
Polling stations will open at 9 a.m. and close at 8 p.m. on Sunday, Piqué told CNN, with results expected around 10 p.m. local time (4 p.m. ET).
Carles Mundo, Catalonia's Minister of Justice, told reporters there was no minimum participation level required for the referendum result to be binding.
Catalonia has its own regional government – or Generalitat – which already has considerable powers over healthcare, education and tax collection.
But Catalan nationalists want more, arguing that they are a separate nation with their own history, culture and language and that they should have increased fiscal independence. Many complain that Catalonia ends up subsidizing other parts of Spain.
CNN's Isa Soares and Vasco Cotovio reported from Barcelona and Laura Smith-Spark wrote from London. CNN's Kara Fox and Mick Krever contributed to this report.