Story highlights
Iran orders fuel embargo on Iraqi Kurdistan region, state media reports
International flights were suspended Friday from airports in the region
The United States does not recognize the independence referendum held this week in Iraqi Kurdistan, US Secretary of State Rex Tillerson said Friday.
"The vote and the results lack legitimacy and we continue to support a united, federal, democratic and prosperous Iraq," Tillerson said in a statement.
The United States is among several global players that have publicly opposed the Kurdish vote to secede from Iraq, with regional powerhouses Turkey and Iran saying they'll halt trade with the Kurdish region. The United Nations Security Council had warned Kurdish authorities against holding the plebiscite.
Iran has ordered a fuel embargo on the Iraqi Kurdistan region, according to Iranian state news agency IRNA. The ban, announced Wednesday, stops international shipping companies and drivers from loading and shipping fuel products from or to the Iraqi Kurdistan area until further notice, it reported.
Meanwhile, the semi-autonomous Kurdish Regional Government, or KRG, said Friday that Baghdad's punitive measures against its plebiscite amounted to "collective punishment against the people of Kurdistan."
International flights were indefinitely suspended from Erbil and Sulaimaniya airports in Iraqi Kurdistan at 6 p.m. Friday (11 a.m. ET) by order of the Iraqi Civil Aviation Authority.
The order, sent in an email seen by CNN, said domestic flights operated by Iraqi airlines were exempt from the decision.
"The closure of the Kurdistan Region airports is a collective punishment and blockade against the entire population of Kurdistan," read a statement released Friday by KRG spokesman Safeen Dizayee.
More than 92% of the roughly 3 million people who went to the polls this week in Iraqi Kurdish-controlled areas opted for independence from Baghdad, according to official results announced Wednesday by the Kurdish electoral commission.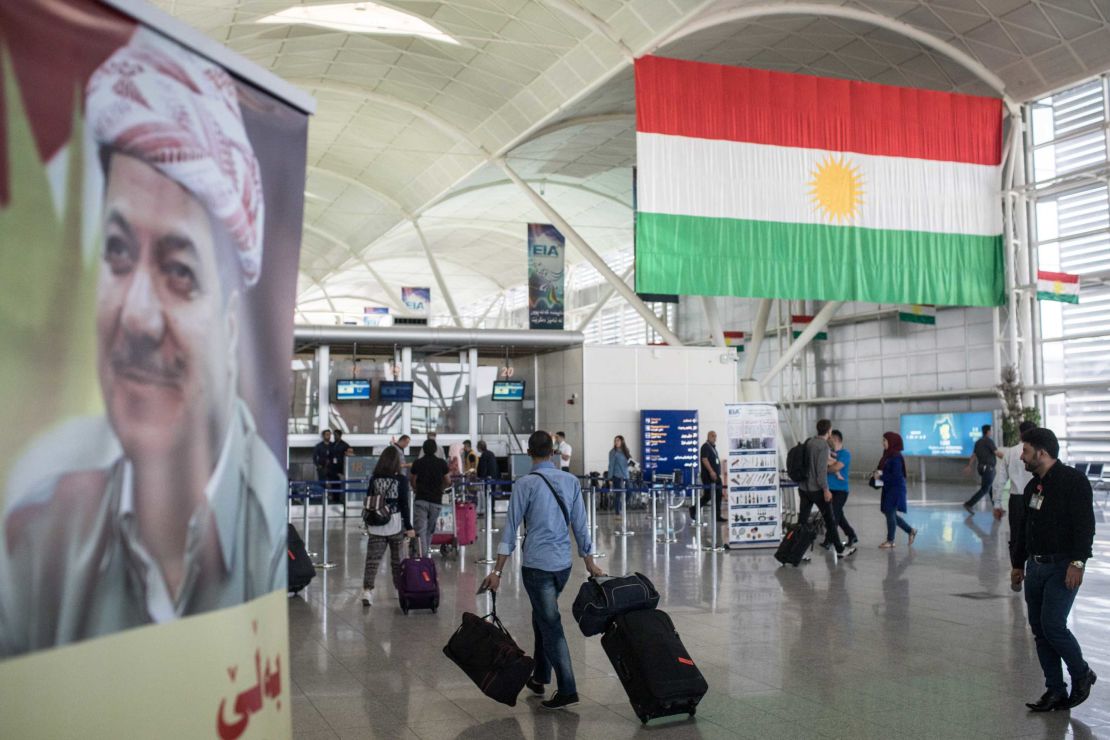 The vote was held across the semi-autonomous region and disputed territories, including the oil-rich, ethnically mixed of Kirkuk, a flashpoint city claimed by both Iraqi Kurdistan and the central government.
The vote has put Kurdish authorities on a collision course with the central government in Baghdad.
On Wednesday, the Iraqi Council of Representatives approved a number of punitive measures against the KRG for going ahead with the vote.
Turkey, which hosts a sizable Kurdish minority and fears the ballot could spur separatist movements there, has also consistently condemned the referendum. It agreed on Wednesday to deal only with Baghdad on oil exports.
CNN's Hamdi Alkhshali contributed to this report.