Story highlights
The global surfing industry brings in approximately $50 billion dollars a year
Africa has the potential to be the world's next top surfing destination.
A recent study estimates the global surfing industry pulls in around $50 billion dollars a year, and some African countries are keen to tap into this economic growth.
Although the surfing industry on the continent is still relatively young, with a coastline of over 19,000 miles, it has the potential to become the world's next top surfing destination.
Africa's surf spots have become an attraction to surfers who desire less crowded waves, with South Africa leading the charge.
South Africa
With a variety of waves and a relatively developed surf culture, South Africa is a huge attraction for surf tourists around the world.
One of its many surf spots, Jeffery's Bay, is ranked as one of the top 10 surfing spots in the world with a swell consistency of 96% and an average swell height of 12ft.
Catching waves with top-ranked African surfer
South Africa's 2,000 kilometres of waves and relatively warm weather conditions have earned it the tag of "surfers paradise."
However, shark attacks have been known to stop some surfing activities. The country has a reputation of having the world's third highest shark attack rate with a total of 790 incidents since 1900.
Ghana
Although the surfing scene in Ghana is still relatively small, its uncrowded 550 kilometres of coastline, is an attraction to tourists around the world.
There are many surf spots in the country, however, the small fishing village of Busua, west of Takoradi, has slowly becoming the country's surfing capital. Surf camps, schools, shops and the likes are springing up across the village. Only a handful of surfers in Ghana are locals with most being tourists from around the world.
Its swells range from two to six feet reaching its highest at eight feet typically around April to September.
Other surf spots in Ghana like Dixcove, Takoradi, Mutrakni are relatively empty even though they boast of swell sizes of about three to five feet.
Senegal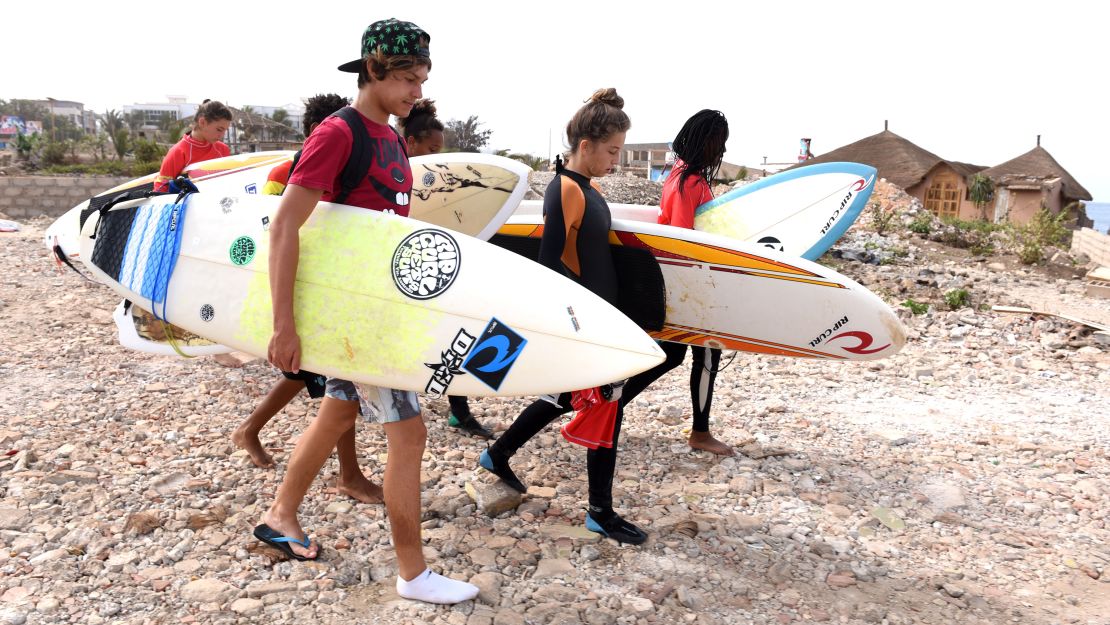 In Sengal surf spots are uncrowded despite seeing north and west swells between two to 10 feet. Some of it's popular surf camps like N'gor and Malika surf camp make an average of $125,000 annually.
The geographic location of Dakar, Senegal exposes it to northern and southern hemisphere swells patterns, which ensures that the city sees decent waves all year round.