It has become a predictable affair. A mass shooting happens, there is a call for tighter gun laws and then it's business as usual.
Gun-control advocates around the world are closely watching the US after Sunday's shooting in Las Vegas – the deadliest in the country's modern history – wondering if it will be the one that prompts change in the world's most armed nation.
Here's a look at how the United Kingdom and Australia, where firearms deaths are notably low, responded to their own mass shootings.
United Kingdom
The UK has some of the world's strictest gun-ownership laws and it is now rare for civilians to own private firearms.
The turning point for the country came in 1996, when 43-year-old Thomas Hamilton used legally owned handguns to kill 16 children, all ages 5 and 6, as well as a teacher, before taking his own life.
The massacre in Dunblane, Scotland, prompted widespread outrage and a surge in public support to ban handguns.
"There was a turn in the tide of public opinion and there was a revulsion against guns," said Gill Marshall-Andrews, chair of the Gun Control Network (GCN), which was established after the shooting and spearheaded the campaign.
"We were flooded with so many offers of help. We had no money at the time, but we didn't even need it. Everyone wanted to help," she told CNN.
"It looked like we were going down the American route of gun violence at the time, and it just wasn't what people wanted."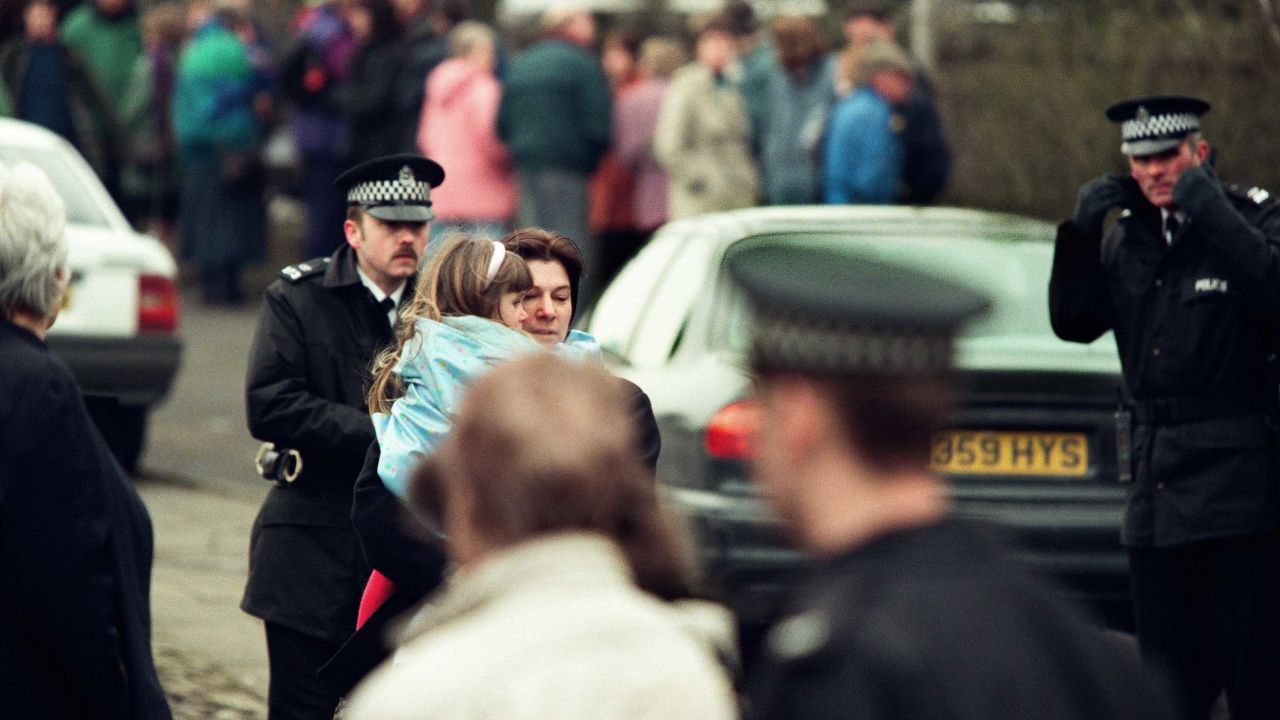 The GCN worked closely with the Snowdrop Campaign, which emerged in Scotland after the shooting and gained 750,000 signatures for a petition to ban private gun ownership.
But the campaign had its opponents too.
Pistol shooting was a fast-growing sport at the time, and Marshall-Andrews said she and her team received death threats over their proposed ban.
The UK held a public inquiry into the shooting, which resulted in 28 recommendations to tighten gun control legislation, many of them centered around improving the licensing system.
But the Conservative government went one step further and banned all handguns, with the exception of .22 caliber single-shot weapons, in England, Scotland and Wales. The Labour government that followed banned the .22 caliber guns as well.
More powerful guns had already been banned after a mass shooting in southern England's Hungerford in 1987, in which 27-year-old Michael Ryan killed 16 people, as well as himself, in an hours-long rampage. He was armed with a pistol, a hand grenade and an automatic rifle.
After both shootings the government called a gun amnesty, compensating owners for their weapons. After Dunblane, more than 162,000 handguns were surrendered.
There has been one mass shooting in the country since the laws were tightened. Derrick Bird killed 12 people in northern England's Whitehaven in 2010.
Australia
Australia had a similar turning point, also in 1996, when Martin Bryant went on a shooting spree in Tasmania and killed 35 people with a semi-automatic rifle.
The massacre began at a historical prison site in Port Arthur – where the British once kept their most violent criminals when the country was a penal colony – and continued as Bryant fled. Bryant, who was 28 at the time, was captured alive after an 18-hour standoff with police and is serving 35 life sentences in prison with no parole.
A gun-control campaign was already well underway in Australia, but the shooting provided the political opportunity to get gun control laws in place, activists say.
Australia, which at the time had a population of less than 20 million people, had already witnessed shooting sprees involving semi-automatic rifles.
"There was a series of smaller massacres that had gone on in the decade before, and people had gotten increasingly angry," said Simon Chapman, a prominent public health activist, who was a member of the Coalition for Gun Control 21 years ago.
"State governments had been really weak in their responses," Chapman told CNN.
"It was (fortuitous) that we had a politician at the beginning of his political term – you do more radical things at the start than you can at the end."
Chapman was referring to Australian Prime Minister John Howard, the conservative leader who was six weeks into his new job when the Port Arthur massacre occurred. He led the effort against a vociferous gun lobby and resistant state governments to push through a federal gun amnesty, in which the government compensated gun owners for the weapons they turned in.
He also oversaw changes to gun laws that included lengthy background and identification checks for would-be gun buyers, and a ban on automatic and semi-automatic weapons.
The disarmament is seen by many as Howard's greatest achievement in his 11 years as the country's leader. But there were political costs, Howard has acknowledged.
"It was difficult with two of the states, one in particular that had a conservative government, but they came to the party. But it was quite hard and it probably contributed to the rise of a right-wing populist party, called One Nation, which did us some damage in the subsequent election, but we were able to overcome that," Howard told CNN in an interview in 2013. Howard was himself a conservative.
"I think at the end of the day those who opposed it realized that if we hadn't gotten our way we would have probably held a referendum or a national plebiscite to transfer the constitutional power from the state to the federal government. And the mood of the nation at the time was such that that referendum would have been carried."
Since the buyback and reforms have been implemented, gun deaths have continued to decline.