Story highlights
Fires ignited quickly around the same time on Sunday night in Northern California
High winds, dry conditions have fanned the flames in wine country
It's unclear what caused fires to form suddenly around the same time in one night, blazing through California's wine country while many residents were caught unaware as they headed to bed.
But authorities point to a perfect storm of factors that have fanned the wildfires that began Sunday night, leaving at left 17 people dead, forcing 20,000 to evacuate and causing widespread devastation in Northern California.
The investigation remains "very early in the process," Ken Pimlott, director of the California Department of Forestry and Fire Protection, said Tuesday.
"These are all fires that were in areas that are populated, and 95% of the fires in our state are started by people" in some way, he said, downplaying the chances that lightning may have played a role.
Among the factors cited behind the fires' ferocity are high winds, the start of fires at night, heavy vegetation that dried out after a hot summer and dry conditions.
1. Really strong winds
High-speed winds have played a role in the fires. The region saw powerful gusts of 50 mph, making it easier for the blazes to spread, with hurricane-force gusts of 79 mph reported in Sonoma County.
The winds also knocked down power lines in the areas where the fires started.
"The historic wind event that swept across PG&E's service area late Sunday and early Monday packed hurricane-strength winds in excess of 75 mph in some cases," Pacific Gas and Electric Co. said in a statement.
"These destructive winds, along with millions of trees weakened by years of drought and recent renewed vegetation growth from winter storms, all contributed to some trees, branches and debris impacting our electric lines across the North Bay. In some cases we have found instances of wires down, broken poles and impacted infrastructure."
Pacific Gas and Electric said it reported those events to the state utility regulator and Cal Fire.
Before and after: Images of California devastation
"When we have a wind event like this … where you have 50-mph winds bearing down on an area … every fire that starts has a significant potential to grow into a large fire very, very quickly," Pimlott told reporters Tuesday.
Winds are likely to pick back up Wednesday, with a possibility of gusts up to 50 mph, according to the National Weather Service.
2. Timing at night
The three largest fires started between 9 and 11 p.m. Sunday, according to Cal Fire, ripping into neighborhoods when many residents had started to go to bed.
• The Tubbs fire, which has burned 28,000 acres in Sonoma and Napa counties, started at 9:45 p.m.
• The Atlas fire, which has burned 26,000 acres in Napa and Solano counties, started at 9:20 p.m.
• The Redwood/Potter fires, which have burned 21,000 acres in Mendocino County, started at 10:36 p.m.
"A fire starting after 10 o'clock at night, under 50-plus mph winds, under absolutely dry, dry fuel beds, every one of those fires had a fighting chance to get going long before our firefighters could even be able to get there. So they all grew into major fires very quickly," Pimlott said.
Survivors said they didn't know a huge fire was bearing down on their houses until the last second.
Some have raised questions about whether early notifications and alerts were adequate.
"Understand these fires started after 10 p.m. around midnight on a Sunday night," Pimlott said when reporters asked about this issue Tuesday. "They burned so quickly. There was no time to notify anybody. These fires came down into neighborhoods before anybody realized the fires were occurring in many cases."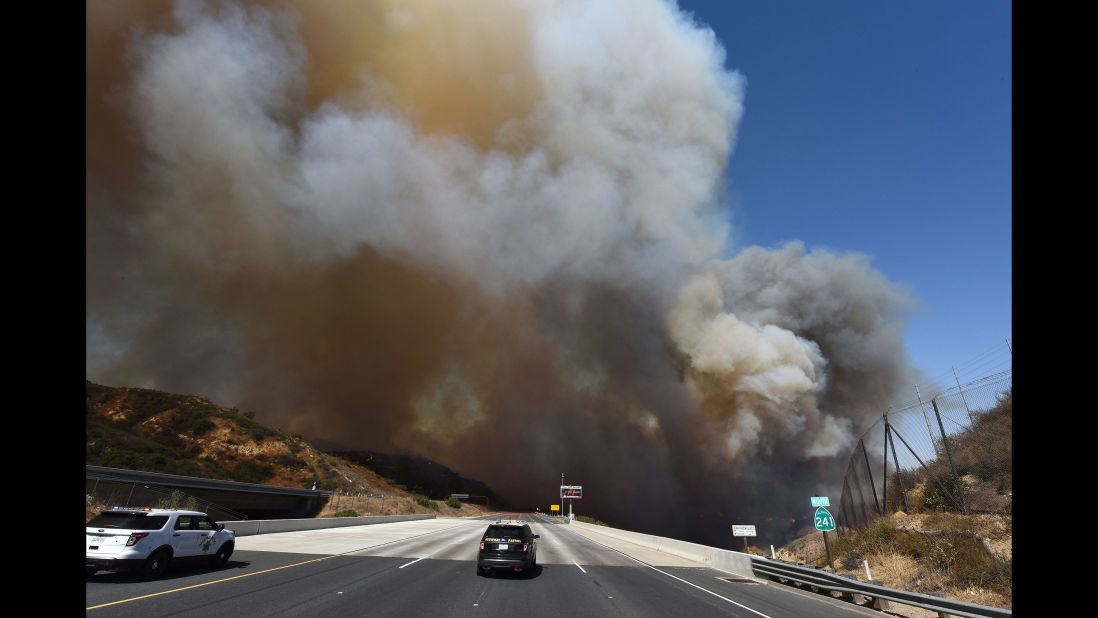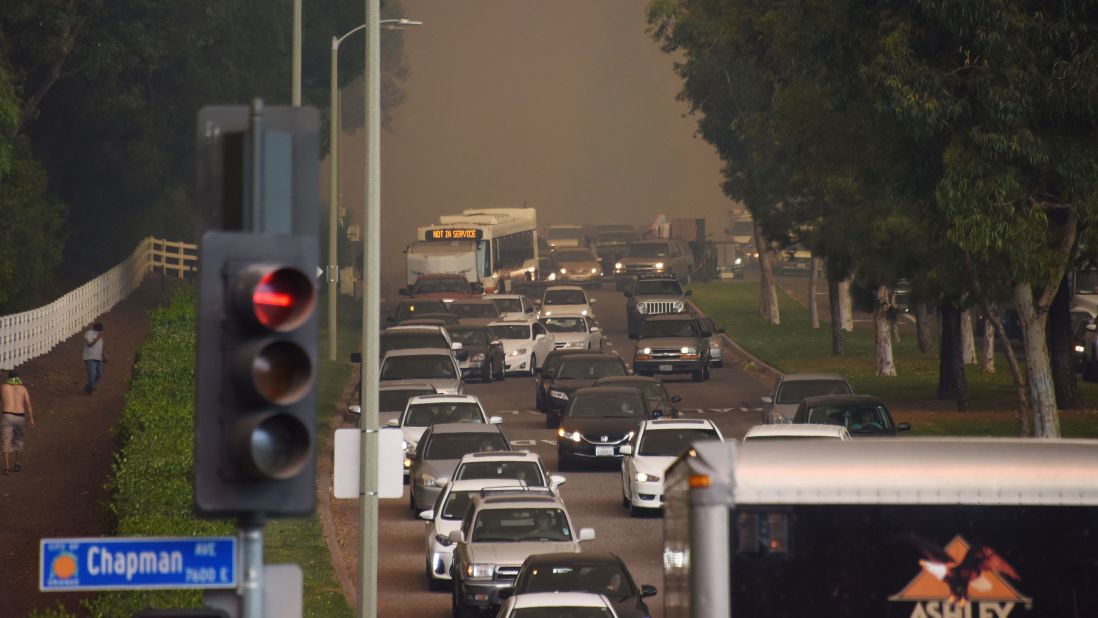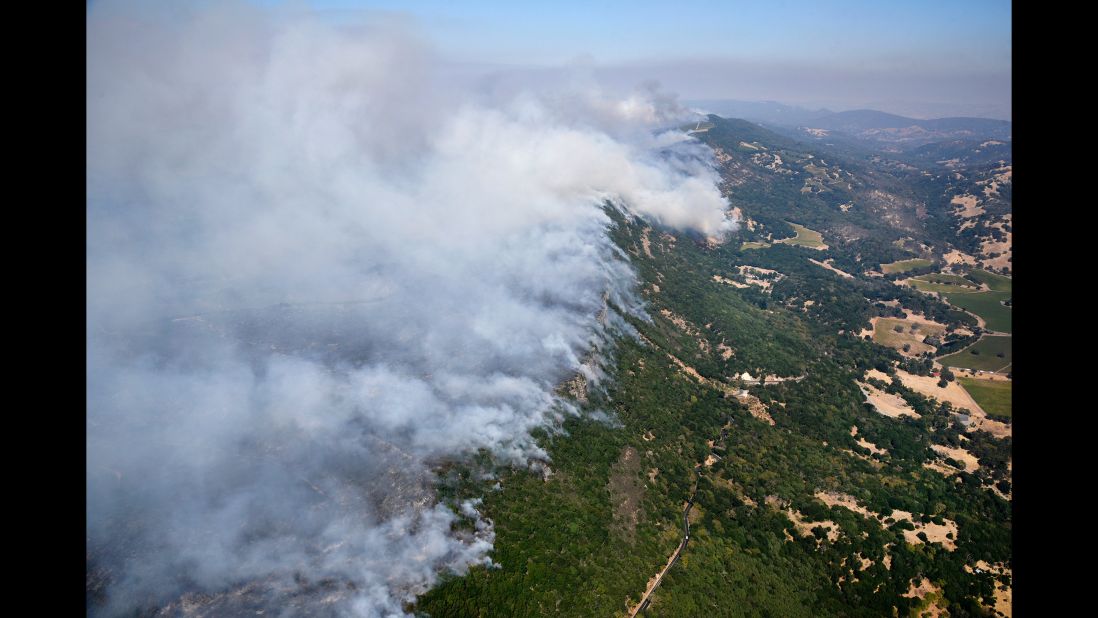 Wildfires blaze in California
3. Lots of vegetation
A lot of dried vegetation has been fueling the flames.
California's multiyear drought ended in April after a heavy rainy season. With the bounty of rain, lots of plants flourished and bloomed across the state.
But there hasn't been much rain during the summer, causing many of the plants to wilt and dry out.
The dead vegetation "has accumulated and increases the likelihood of unusually large wildland fires," according to Cal Fire.
The fires torched 20,000 acres in about 12 hours Monday alone, meaning they advanced at a rate of more than a football field every three seconds.
4. Dry conditions
October is typically when California gets its largest and most damaging wildfires.
So far, the fires have been thriving on low humidity and dry conditions.
There's no rain in the forecast for the next seven days, meaning these conditions are expected to persist.
CNN's Keith Allen and Michael Guy contributed to this report.