Seoul needs nuclear weapons of its own if it is to negotiate with North Korea on an equal footing, a leading South Korean opposition figure says.
A once marginal call for South Korea to add nuclear weapons to its arsenal has gained momentum and support in recent months as Pyongyang's nuclear capabilities have gone from theoretical threat to present danger.
"Only by deploying tactical (nuclear) weapons on South Korean territory can we negotiate with North Korea on an equal footing," said Hong Jun-pyo, who will travel to Washington next week to press his case to US lawmakers.
Hong leads the conservative Liberty Korea Party, which was formed from the rump of President Park Geun-hye's Saenuri Party after it collapsed amid infighting and finger pointing in the wake of her impeachment on corruption and other charges.
While Moon Jae-in, who beat Hong to replace Park as President in May, still has widespread support, Hong represents a growing swell of dissent from conservative South Koreans, who have long accused Moon and his liberal Democratic Party of being too soft on Pyongyang.
Moon has outright dismissed the possibility of deploying nuclear weapons in his country, warning it could "lead to a nuclear arms race in northeast Asia."
However, US President Donald Trump – who visits Seoul next month – voiced support for the move during the campaign, and Republican Sen. John McCain said in September the US should consider deploying nukes to South Korea.
Official: N. Korean hackers stole war plans
Public opinion
Hong told CNN he was traveling to the US "out of desperation over what we're seeing with North Korea and what we're seeing in terms of our security threat."
"What I'm doing is to try to convey the public opinion of South Korea to US lawmakers," he said.
While Moon's popularity rating is still around 70%, according to Gallup Korea, there does seem to be increasing support for greater militarization of South Korea in response to the threat from the north.
A Gallup survey in September found 60% of South Koreans supported some form of nuclear capability for the country. At present, South Korea is defended by the US nuclear umbrella, a guarantee by Washington to defend the country in the wake of an attack.
On Wednesday, the country's unification minister, who oversees North Korea policy, reiterated Moon's view.
"The deployment of tactical nukes is an impossible solution," Cho Myoung-gyon said, adding that doing so would be a tacit acceptance of a nuclear North Korea.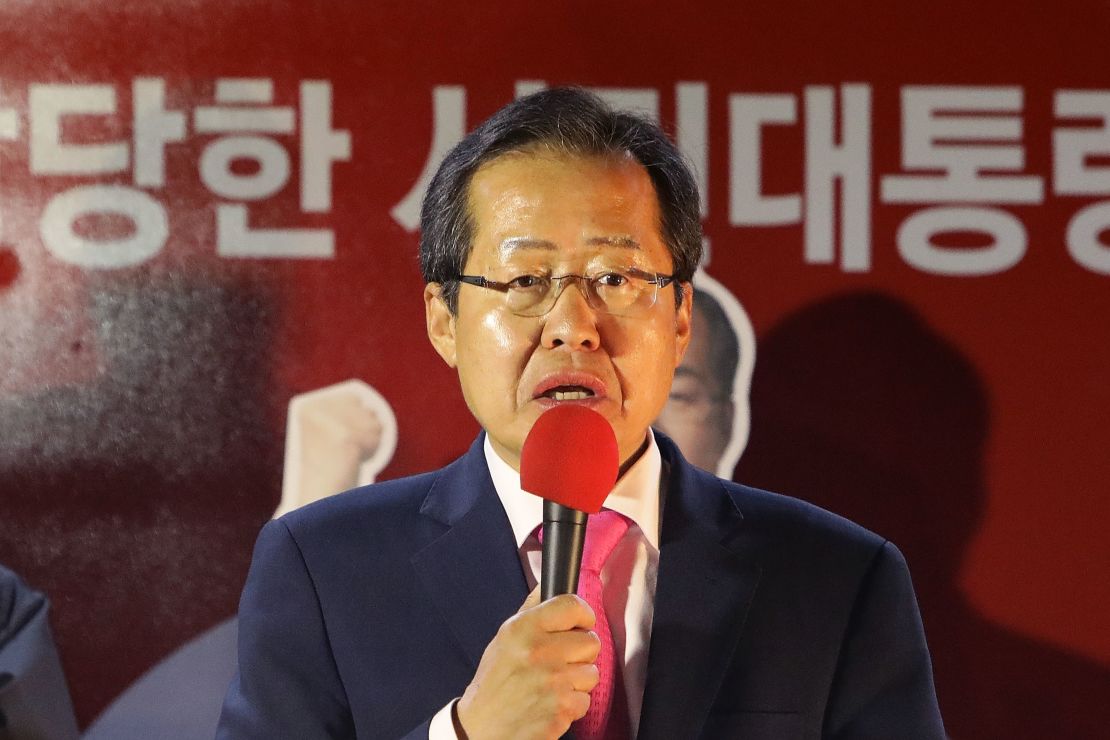 Hong Trump
While Moon's government is opposed to any further nuclearization of the Korean Peninsula, Hong's stance echoes comments Trump made on the campaign trail, when he spoke approvingly of South Korea and Japan getting nuclear weapons.
Nicknamed "Hong Trump," he has been compared to the US President in the past for his outspoken, sometimes offensive campaigning style.
Hong says he hopes Trump will address the issue of nuclear weapons during the US leader's visit to South Korea next month, and encouraged him to visit the demilitarized zone between South and North Korea. The White House is said to be undecided whether Trump will go.
However, despite being supportive of the Trump administration's hardline policy on North Korea, Hong said he was worried by the potential for conflict between the three countries.
"I'm nervous and I'm concerned (when the US talks about a military option)," he said. "If there was a balance of nuclear power between North Korea and South Korea then there would be no war and no cause for anxiety."
Like Trump, Hong attracted criticism during the campaign over his attitudes towards women, after he was quoted as saying washing dishes was women's work. Controversy also erupted over an anecdote in Hong's autobiography in which he described helping a friend drug a girl he was on a date with.
Hong later distanced himself from the story, saying he had not actually taken part in the attempted date rape but was only recounting a story he heard second-hand as a student.
Paula Hancocks interviews S. Korean president
Clinton in Seoul
Also speaking in Seoul Wednesday, Trump's erstwhile opponent Hillary Clinton was far more critical of his foreign policy.
"Picking fights with Kim Jong Un just puts a smile on his face," she said at the World Knowledge Forum.
She called out Trump for slinging insults at North Korea on Twitter, saying doing so benefits "a regime that is thrilled to get (that) kind of personal attention from the leader of our country."
"I think that's a grave error because it makes any kind of negotiation more difficult (in future)," Clinton added.