Black is a color you won't find on the walls of Ron Sugano's tattoo parlor in the upmarket Meguro district of south-west Tokyo, where quaint geometric houses line quiet streets.
Also absent are the laminated pictures of stretched lobe piercings and extreme ink work that are typically flaunted in grungy tattoo parlors around the world.
With its wooden Balinese art, Lonely Planet travel guides, and bright natural lighting, Shi Ryu Doh feels more like a spa.
And that's no accident.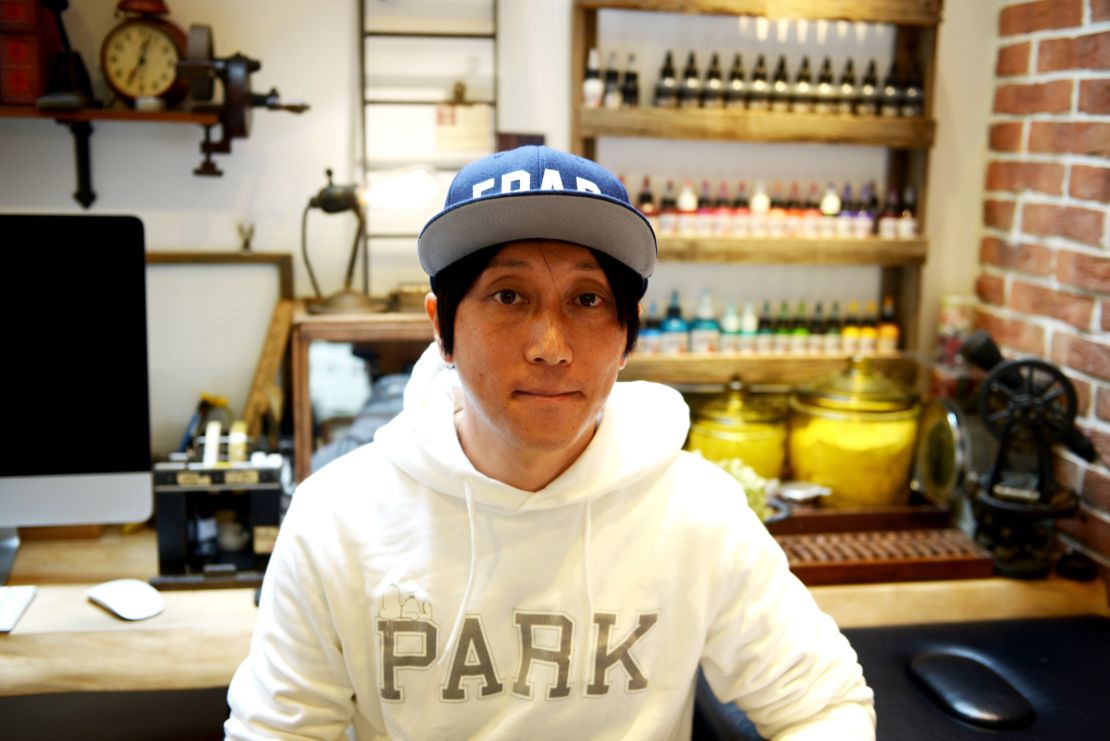 In Japan tattoos have long been stigmatized for their association with organized crime gangs, the Yakuza, who pledge their allegiance with full-body markings. Consequently, anyone with ink – regardless of their profession – cannot usually use public swimming pools, hot springs, beaches and even some gyms.
Sugano's clean, zen decor is a way of distinguishing his artistic practice, which mainly attracts foreign customers, from establishments that issue the Yakuza's ink work.
But it might not be enough to convince the Japanese government to allow his business to survive.
In a controversial move, an Osaka court last month upheld at appeal a ruling that only medical doctors can legally administer tattoos, meaning that artists such as Sugano are now technically committing a crime every time they pick up their tattoo gun.
An inkling of a crisis
An inkling of a crisis arose in 2015, when tattoo artist Taiki Masuda was convicted of a little-known law.
Police initially visited his parlor in relation to a criminal case brought against a pharmacy he had bought supplies from. Masuda's name was on the pharmacy's list of clients.
Officers then pivoted their investigation to his tattoo business and Masuda, now aged 29, was arrested for violating the Medical Practitioner's Act, which forbids anyone other than a licenced doctor from performing "medical practices."
A Health, Labor, and Welfare Ministry notice in 2001 ruled that tattooing, along with laser hair removal and chemical peels, is medical work because it involves a needle piercing the skin.
That notice has since been used to crackdown on tattoo artists, who claim their work is a form of self expression and therefore protected under Japan's constitution.
"Becoming a medical doctor costs a lot of time and money. It is ridiculous to think that you'd get a medical license to become a tattoo artist," Masuda says.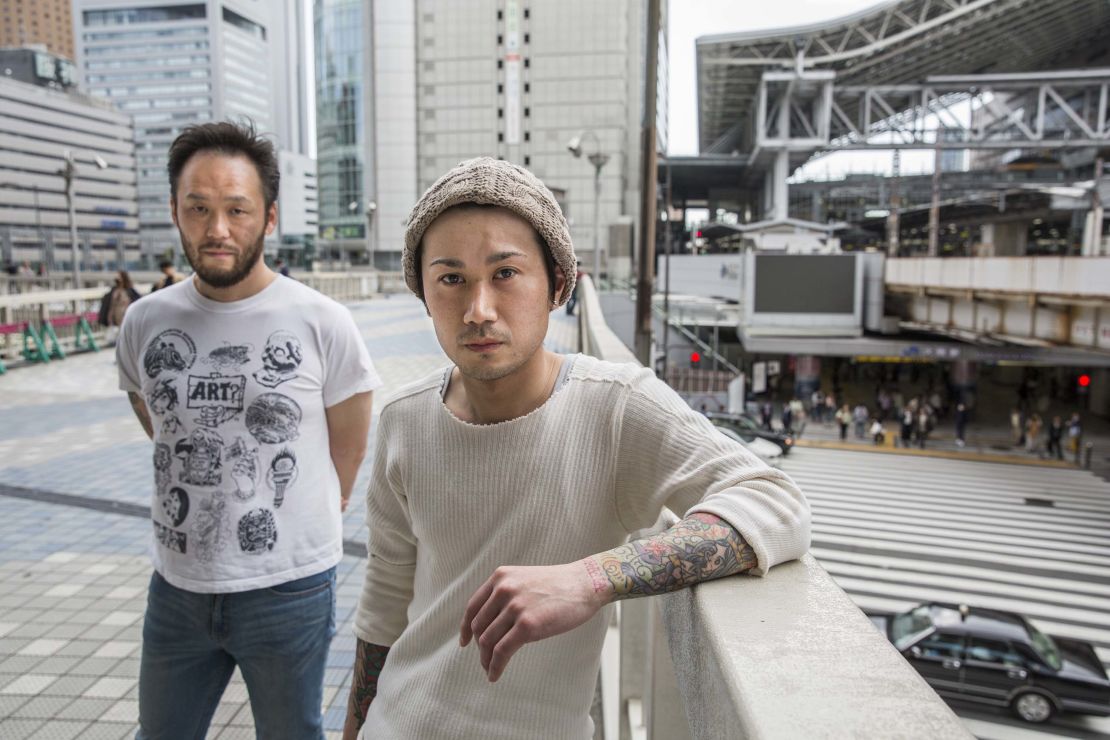 In 2015, after Masuda was fined 300,000 yen ($2,700), he decided to appeal (he lost that case last month, although his fine was halved) and co-founded an NGO called "Save Tattooing in Japan."
The NGO says it is now affiliated with around 200 tattoo artists, and campaigns for their right to practice their craft and for freedom of choice regarding body art.
Kiyoshi Shimizu, who co-runs the group with Masuda, says that, to his knowledge, about 20 other tattoo artists have faced the same charge, 10 of whom have been fined 300,000 yen.
Violation of the Medical Practitioner's Act can result in 3 years in prison or a fine of up to 1 million yen.
"No visible tattoos"
As Japan braces itself for 40 million inbound visitors annually in the run up to the 2020 Summer Olympics, one has to wonder: how many foreigners realize that having a tattoo could negatively affect their trip?
Welsh teacher Kelly Thorp last year went on vacation to Okinawa, a cluster of idyllic semitropical islands dubbed "the Hawaii of Japan." Thorp, who lives in Hong Kong, was warned by friends that the large butterfly tattoo on her back would spark discrimination.
"We rang around the hotels to see if I could use the pool or the onsen (natural hot springs) with a tattoo. They all said no," she tells CNN. At the resort she finally booked, "there were big signs saying 'No visible tattoos' at the reception desk and by the pool."
It's a policy that is widespread throughout Japan, and indicative of the deep-rooted cultural suspicion towards tattoos.
Jiuko Taniguchi is director of the Sayano Yudokoro onsen in north Tokyo. She does not admit customers with tattoos.
"This rule was originally aimed at eliminating people involved in organized crime who intimidate others by showing their tattoos," Taniguchi tells CNN.
Rather than explicitly ban the Yakuza, it was easier to reject anyone with tattoos.
Among the Japanese public, that didn't spark huge outcry: "Tattoos are generally not accepted in Japanese society," Taniguchi says. But as attitudes in Japan, particularly in the younger generation, modernize and inbound tourist numbers rise, operators have started to rethink their policies.
Taniguchi, for example, is considering providing plasters for visitors to use to cover small tattoos.
Thorp says she was offered this in Okinawa, but her tattoo is too large to be masked.
"I think it's a confusing rule," she says. "I'm obviously not in a Japanese gang."
A second tattoo prohibition?
Japan has a long, dark relationship with tattoos.
In the 17th century, criminals were branded with them as a form of punishment and to warn others of their lawlessness. Then, in the 19th century came an absolute ban on body ink that lasted until 1948 when American forces, during the US occupation, lifted the ban, says Jeff Kingston, director of Asian studies at Temple University in Tokyo.
Later, the Yakuza appropriated tattoos and began using them to mark themselves.
Men show their irezumi tattoos at the Sanja Matsuri festival in Tokyo in 2017.
Some fear that the country is now experiencing a second tattoo prohibition.
The irony is, Japan today is home to some of the world's most coveted tattoo artists.
Horiyoshi III, for example, is considered the master of irezumi – traditional Japanese tattooing. He has a museum dedicated to his work in Yokohama, and in 2012 Somerset House in London launched an exhibition of his designs.
Tokyo-based tattooist Horimitsu has 42,000 followers on Instagram, does his work by hand and reportedly counts US pop singer John Mayer among his clients.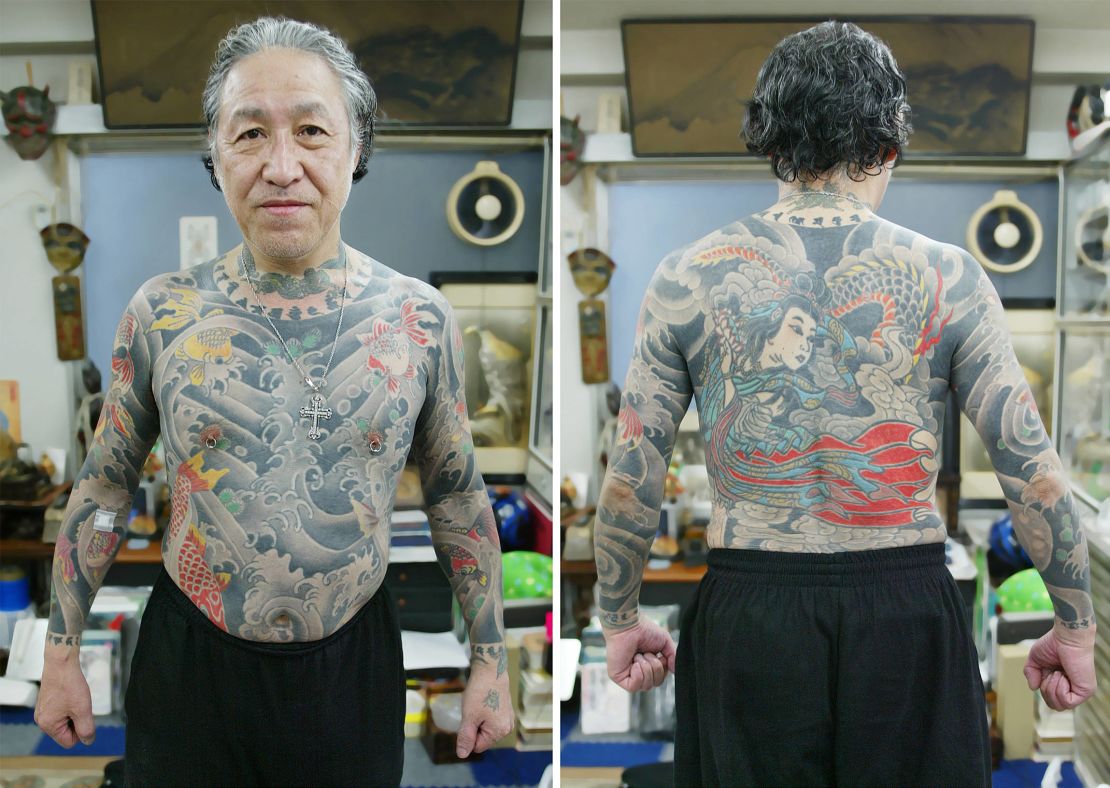 While most prominent Japanese tattooists practice irezumi, traditional tattoos that often cover much of the body and share similarities to those sported by the Yakuza, Sugano has an utterly different style.
Influenced by the time he spent studying in Bali and Thailand, and by his Indian heritage, his works cost between 32,000 yen ($285) and 100,000 yen ($892).
Sugano says his clients seek him out from the US and France, and range in profession from academics to doctors and pilots.
Ghost in the legal framework
Despite the international acclaim of Sugano, and many others among the 3,000 or so tattoo artists in Japan, there is no specific legal framework for this industry.
The Medical Practitioner's Act, Sugano says, "is to regulate doctors. It was never designed to be used for tattoo artists."
For example, when Sugano made the unusual career switch from archaeologist to tattoo artist 12 years ago, he approached the Ministry of Health and Welfare for advice on how to legally set up a tattoo parlor.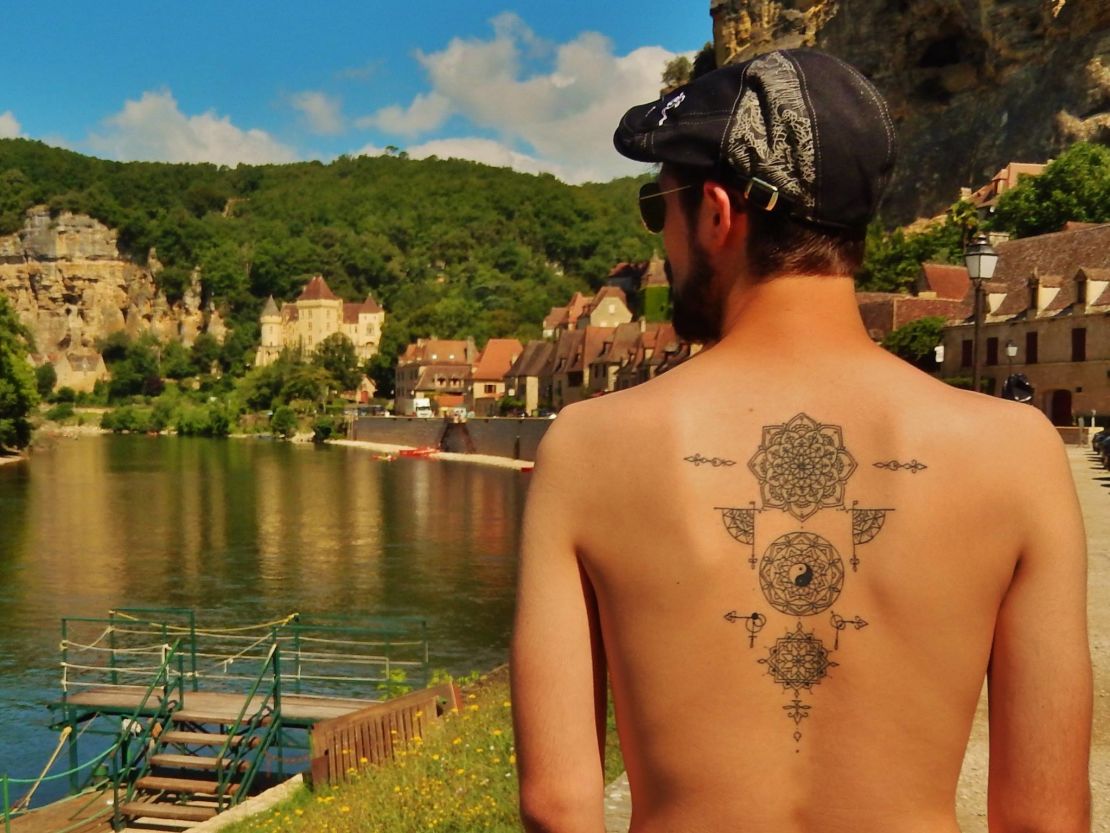 There was none to be given: Japan – unlike the United Kingdom and the United States, but not unlike China and South Korea – has no licensing system for tattoo artists, or law to regulate the industry.
As such, consumers have to blindly trust that operators are properly sterilizing their equipment and legally disposing of bloody needles.
Acupuncturists in Japan, by comparison, must train for their license at a government certified school, and are regulated under the Act on Practitioners of Massage, Finger Pressure, Acupuncture and Moxacauterization.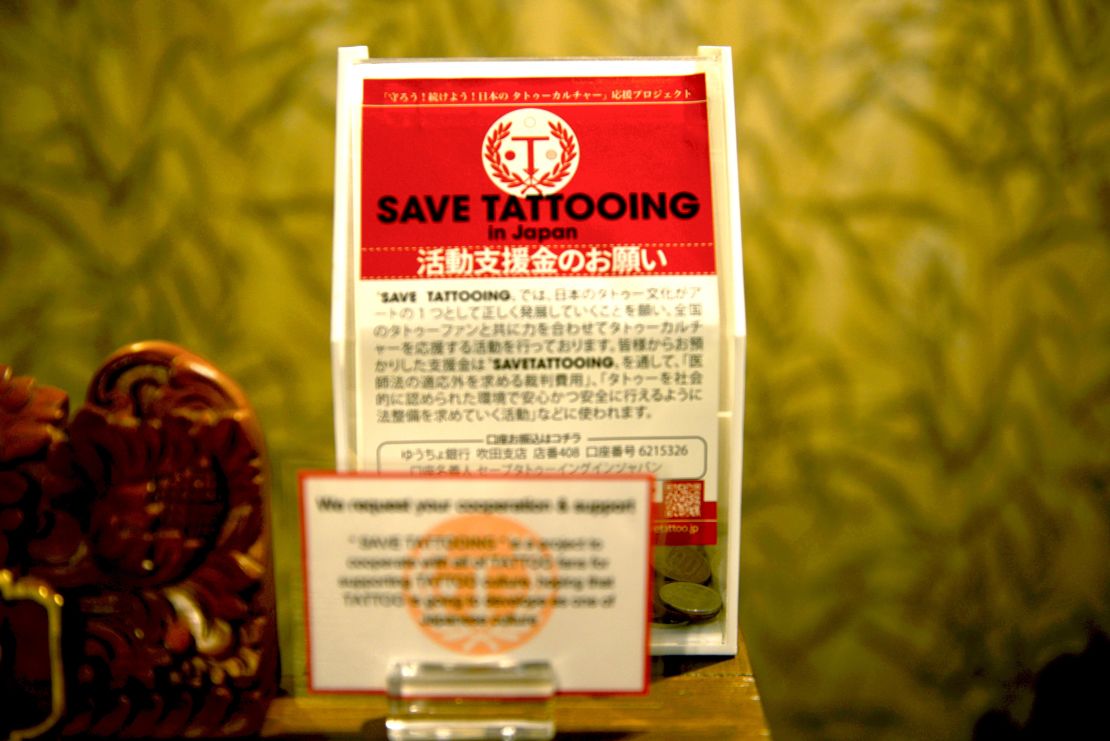 How widely and vigorously the Osaka precedent will be applied across Japan remains unclear.
Yoshiyuki Kanno, who works for the Health Policy Bureau of the Ministry of Health, Labor and Welfare, would not comment on whether the government would now implement a license system for tattoo artists. But he warned that if such an idea was proposed "cultural aspects and public opinion" should be weighed against "professional opinion about hygiene and welfare."
Masuda believes the Osaka ruling will simply drive many operators underground. Sugano says he has already heard reports of tattoo artists, particularly those with families to support, quitting the profession to avoid being landed with fines or jail time.
To Sugano, the way forward is simple. Offering a clear licensing system for tattoo artists would bring the industry out of the shadows and into the light.
Just like his bright and breezy parlor in Meguro has done.