Story highlights
Former gymnast McKayla Maroney said she was molested by a team doctor
Many women have spoken out about abuse under the "Me Too" campaign
Former Olympic gymnast McKayla Maroney alleged Wednesday that former USA Gymnastics doctor Larry Nassar repeatedly molested her, starting when she was 13 years old.
On her verified Twitter account, Maroney made the allegation under the "#MeToo" hashtag, saying that Nassar abused her under the guise of providing "medically necessary treatment." That "treatment" began when she was 13, continued during her stellar performance at the 2012 London Olympics and only ended when she left the sport in 2016, Maroney said.
"It seemed whenever and wherever this man could find the chance, I was 'treated.' It happened in London before my team and I won the gold medal, and it happened before I won my silver," she wrote.
Nassar, the former USA Gymnastics team physician and former Michigan State University associate professor, was arrested last November and accused of sexually assaulting female minors throughout his career. Nassar's attorneys did not immediately respond to CNN calls on Wednesday regarding Maroney's allegations.
Maroney is one of a number of women who have come forward with stories of sexual harassment or assault under the "Me Too" campaign in recent days.
The movement was sparked by abuse allegations against Harvey Weinstein, the former studio executive who has been accused of sexual harassment and assault by a number of women. A representative for Weinstein released a statement that "unequivocally denied" any allegations of non-consensual sex.
Maroney's post does not mention Weinstein specifically but does say that this type of abuse "is not just happening in Hollywood."
"This is happening everywhere. Wherever there is a position of power, there seems to be potential for abuse," she wrote. "I had a dream to go to the Olympics, and the things that I had to endure to get there, were unnecessary, and disgusting."
In a statement Wednesday, USA Gymnastics said it "admires the courage of those, like McKayla Maroney, who have come forward to share their personal experiences with sexual abuse."
"Because of their strength in coming forward, predators can be held accountable for their actions. We, like so many others, are outraged and disgusted by the conduct of which Larry Nassar is accused. We are sorry that any athlete has been harmed during her or his gymnastics career."
In addition, USA Gymnastics said it was strengthening and expanding its policies and procedures toward abuse.
USA Gymnastics agrees to dozens of changes amid sex abuse scandal
'The scariest night of my life'
Maroney wrote that the scariest night of her life occurred with Nassar when she was 15 years old.
"I had flown all day and night with the team to get to Tokyo. He'd given me a sleeping pill for the flight, and the next thing I know, I was all alone with him in his hotel room getting a 'treatment.' I thought I was going to die that night," she wrote.
Maroney said her dream of competing for USA Gymnastics began when she was 8 years old.
"Sure, from the outside looking in, it's an amazing story. I did it," she wrote. "I got there, but not without a price."
Maroney goes on to suggest several ways to stop this type of abuse, including speaking out, holding people in power accountable, preventing it and having zero tolerance for abusers.
"Is it possible to put an end to this type of abuse? Is it possible for survivors to speak out, without putting careers, and dreams in jeopardy? I hope so," she wrote. "Our silence has given the wrong people power for too long, and it's time to take our power back.
"And remember, it's never too late to speak up."
Charges against Nassar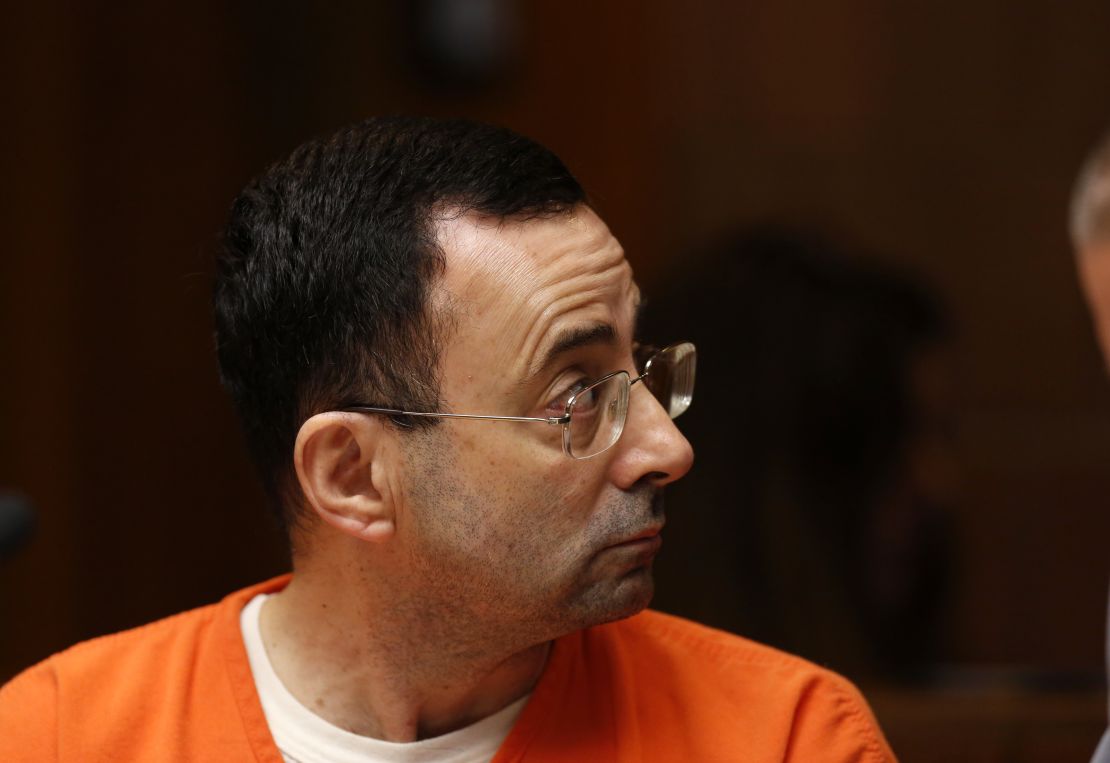 Nassar faces 22 counts of first-degree criminal sexual conduct and 11 counts of third-degree criminal sexual conduct at the state level, Megan Hawthorne, deputy press secretary for Michigan State Attorney General Bill Schuette, told CNN in July.
Nassar also pleaded guilty in July to federal charges of receiving child pornography, possessing child pornography and to a charge that he hid and destroyed evidence in the case. The guilty plea was part of an agreement with the western Michigan US Attorney's Office and was formally entered in federal court in Grand Rapids. His sentencing on the federal child pornography charges is scheduled for November 27.
In July, Nassar's attorneys, Matthew Newburg and Shannon Smith, declined to comment to CNN on the guilty plea, but issued a brief statement about the state charges he also faces.
"Dr. Nassar's position on the state cases has not changed and we intend to proceed to trial. The plea today was negotiated only to resolve the federal charges," their joint statement reads.
Dozens of women have accused Nassar of sexual misconduct. Rachael Denhollander, a former gymnast with USA Gymnastics, said in court in May that Nassar sexually abused her on five doctor's visits in 2000.
Denhollander said that Nassar put two fingers in her vagina at her first visit to see him. Given Nassar's esteemed stature, she thought at the time that it was intervaginal muscular work, a treatment she heard about from a friend.
At a follow-up treatment, Nassar unhooked her bra, rolled her onto her side on the massage table and put his hand on her left breast, she said.
"I froze, because I knew that was sexual assault," she said.
CNN's Laura Ly and Jill Martin contributed to this report.