As South Korea's Y. E. Yang strode across the 18th fairway at Hazeltine National on a sunny August afternoon eight years ago, a television commentator said what everyone was thinking.
"This could change the game forever."
Yang had done the hard work, matching and eventually getting the better of 14-time major winner Tiger Woods; all the world No. 110 had to do now was hole out, and the 2009 PGA Championship trophy would be his.
The 37-year-old made no mistake, birdying the decisive final hole to become Asia's first ever major champion.
But though his victory did indeed herald a new era in golf, it was not in the way anyone expected. Until that day Woods had never relinquished a lead after 54 holes; since, he has never won another major.
Meanwhile the predicted succession of South Korean major champions on the PGA Tour never came.
While 15 of the past 29 majors on the LPGA tour have been won by South Korean women, Yang is still the only South Korean male to win a major since records began.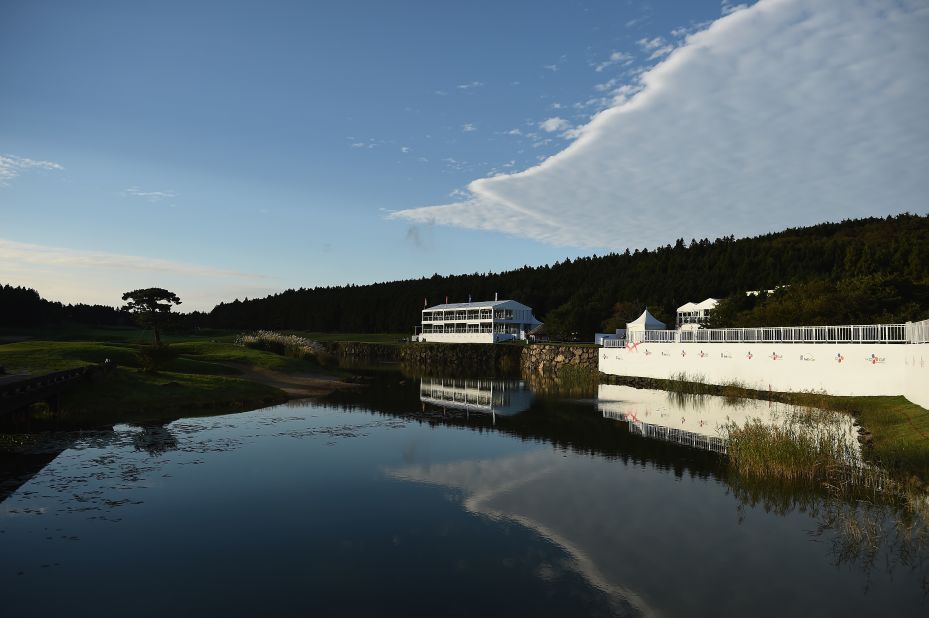 Competing for $9.25 million on South Korea's volcanic isle
Military obligation
The search for an heir to Yang's throne goes on.
Few have come closer than KJ Choi, a former powerlifter today recognized as Asia's most successful male golfer ever.
The 47-year-old, nicknamed the "Tank," has eight PGA Tour titles to his name, including the 2011 Players Championship, golf's unofficial "fifth major."
But, while he will always be remembered as the first South Korean to win on the PGA Tour – having triumphed at the Compaq Classic of New Orleans in 2002 – he was never able to capture one of golf's big four.
For Choi, an amendment to his country's mandatory military service may be required for South Korean men to mount a more consistent challenge in majors.
"I advise young players to fulfill their military obligation as quickly as possible," Choi tells CNN Sport. "This may require a change in national policies, but for sure it will help produce more and more talented players."
All able-bodied South Korean men must serve a minimum of two years between the ages of 18 and 35 as the country is still technically at war with neighbor North Korea.
While exemptions are offered to athletes who medal at the Olympics or win gold at the Asian Games, PGA Tour titles are not yet deemed sufficient.
Choi worked as a rifleman on a radar base before even earning his PGA Tour card, and was able to hit golf balls at two-day intervals.
But several contemporary players have challenged the conscription to no avail.
Hot prospect Si-woo Kim might have become the youngest ever winner of the Players Championship just this year, but the 22-year-old has already consigned himself to switching clubhouses for barracks.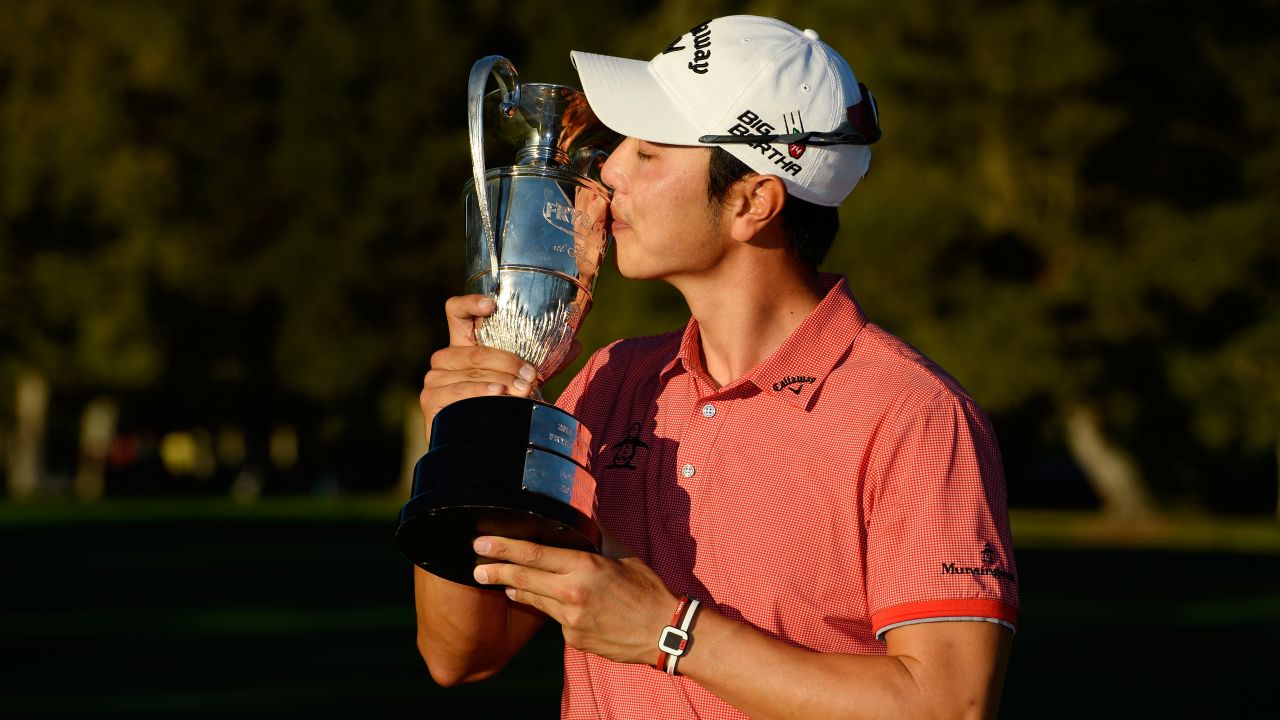 Sang-moon Bae, meanwhile, recently returned from his military commitment aged 31 – two years after a career-best season during which he won the Frys.com Open and accumulated over $2.5 million.
"This will be my first time playing four rounds since there is no cut-off for this event," said Bae, looking ahead to this week's CJ Cup on Jeju Island, the first ever PGA Tour event in South Korea. "I am trying to regain my sense of play on the field."
'Will to survive' mentality
Several Korean-born players, including American Kevin Na and New Zealand's Danny Lee, have avoided conscription by emigrating at an early age.
Even so Choi believes Korea's military history is inextricably linked to his country's love and aptitude for the game.
"When you look back into the history of Korea, we have always been a nation attacked and invaded – we fought for our independence," he says.
"Koreans possess a "will to survive" mentality and I believe this has transferred into the game of golf. We, the people in South Korea, are strong minded and strive to be successful."
Byeong-hun An, the youngest ever winner of the US Amateur, similarly praises the mental strength of South Korean golfers.
"I think our work ethic is pretty strong and that helps with preparation," the 26-year-old tells CNN Sport.
For An, who became the youngest-ever winner of the US Amateur in 2009, it's distance off the tee where he and his compatriots on the PGA Tour have struggled.
"I think men's golf needs a bit more physical ability," he contends. "We need to hit the ball farther and with more accuracy because of the long course set up.
"You see more Korean players are coming through now because they have the distance and good short games too."
READ: Is manga the miracle cure for your golf game?
Legacy
There are currently 11 South Korean women in the top 20 on the LPGA Tour, and 41 in the top 100.
By contrast, Si-Woo Kim is the highest South Korean man in the Official World Golf Rankings at No. 39. Only two compatriots – Jeung-hun Wang and Byeong-Hun An – join him in the top 100.
Choi believes it's only a matter of time before that changes.
"I'm not sure whether he will be South Korean, but I firmly believe an Asian-born golfer will become No. 1 in the world within the next 20 years," he tells CNN Sport.
"South Koreans strive to improve from a technical and academic standpoint and I know this will transfer out onto the golf course. No doubt we will see more and more Korean players compete, and win, on the world stage."
Success breeds success, says Kim, who has witnessed a succession of elite female players come to the fore in the wake of five-time major champion Se Ri Pak.
"What Choi and Pak have achieved is remarkable and they have made a huge impact on junior golfers," Kim tells CNN Sport. "So many young kids are motivated by them."
"Korean golf history is not that long but many younger generations are starting to play these days."
READ: South Korea's golfing women - 'You're either a champion, or nothing'
Those younger generations will benefit from South Korea's impressive golf infrastructure, with around 500 courses, 4,000 driving ranges and some 9,000 certified instructors at present.
And all agree that October's CJ Cup, won by Justin Thomas, will be instrumental in taking the country's game to the next level.
"With an initial one decade PGA-CJ Cup commitment set, we look forward to seeing an increase in the number of young golfers emerge at this tournament in the years ahead," Pious Jung, CEO of CJ America, tells CNN Sport.
"We are so proud of our roster of young golfers and look forward to helping South Korean golf grow more."
"It's very special," says Choi. "For my home country to host an official PGA Tour event shows how far Korean golf has come along. I'm confident that this will open doors for many up-and-rising golfers from South Korea to the world stage."
There were 16 South Korean men in the 78-player field on Jeju Island fighting for a $9.25 million prize purse, 500 FedExCup points, and a possible two-year PGA Tour exemption.
Competition was strong, with several major winners including having traveled – something Choi believes could actually be beneficial to his compatriots in the long run.
"I think that this event will help in that many players will be given the chance to gauge what they need to do to join the tour," said Choi.
"For instance, it will give them a chance to see it for themselves what they need to improve, what they lack, and what preparations they need. This event, in that sense, will push Korean golf one step ahead."
"It's fantastic to be playing in my home country on the PGA Tour," An tells CNN Sport. "I think we are getting closer to winning majors every year because there are more opportunities for us to play."
"Every aspect has improved so much compared to 20 years ago when I first came to the Tour," Choi concludes. Now any one of those young Korean guys on Tour can bump shoulder to shoulder with world-class golfers.
Will South Korean men ever dominate the golf tour like their female counterparts? Have your say on CNN Sport's Facebook page
Visit CNN.com/sport/golf for more news and features
As Kim, one such young player, puts it: "I'd like to say that the time has come."