Story highlights
Two 'artivists' are trying to change hearts and minds on the continent towards LGBT people
Homophobia is rampant on the continent and homosexuality is punishable by death in some countries
Tall and model-thin, Katlego Kolanyane-Kesupile turns heads. She receives constant compliments but in her native Botswana, she is also met with contempt and abuse.
It's simply for being who she is: an openly transgender woman.
Katlego has an ally in Adong Judith. She's a straight woman in Uganda who has made it her mission to stop the type of discrimination lesbian, gay, bisexual, trans and queer (LGBTQ) people face in African nations, where homophobia runs rampant.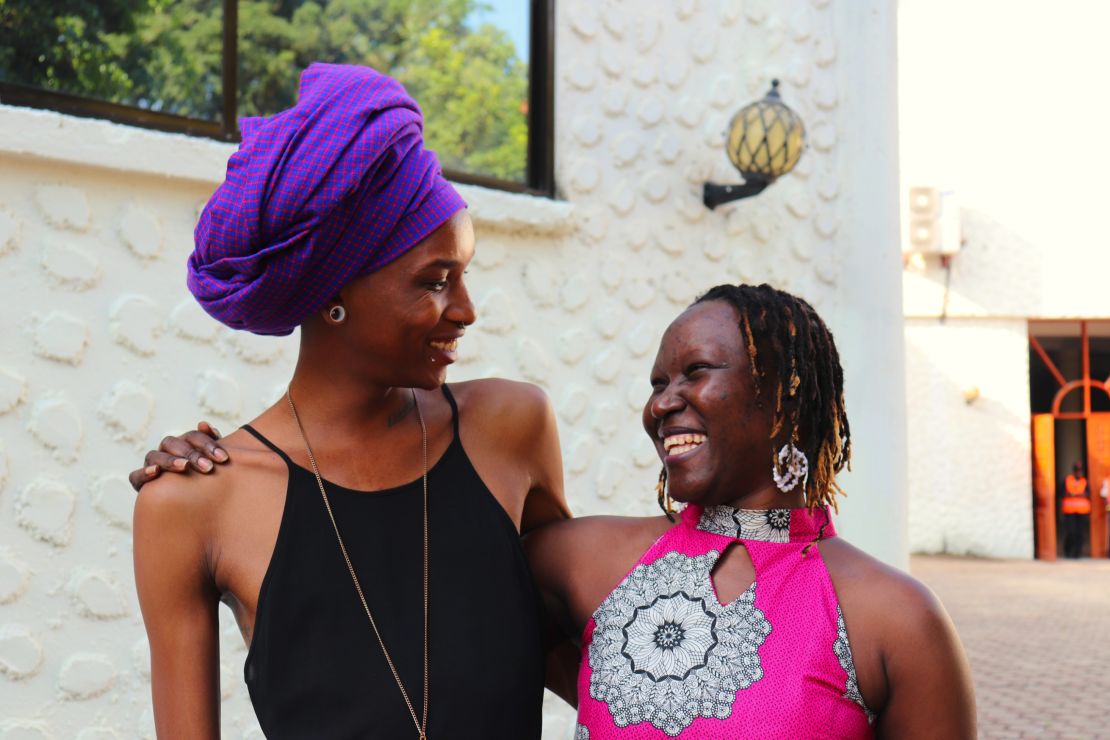 Consider that 38 out of 54 countries on the continent have enacted laws that make it illegal to be gay and in several, including Somalia and South Sudan, homosexuality is punishable by death.
A recent Pew Research survey found that 96% of people in Uganda believe LGBTQ people should not be accepted by society.
In Nigeria, that number was 98%; Senegal, 96% and Kenya, 90%.
For Katlego, not a day goes by without vitriol and verbal abuse, she says.
A man once attacked her with bricks on the streets of Gabarone, the Botswanan capital. People watched and did nothing.
A canon of "queer theater"
Katlego and Adong are united in their determination to change things. And they are doing it dramatically. Or rather, with drama.
Katlego, also known by her stage name of Kat Kai Kol-Kes, is the founding director of the Queer Shorts Showcase Festival, Botswana's first and only LGBT themed theater festival. Through her work, she strives to make "trans-visibility" a reality.
She also wants to create a canon of "queer theater" that will withstand the test of time in the vein of "Romeo and Juliet" and other Shakespeare plays.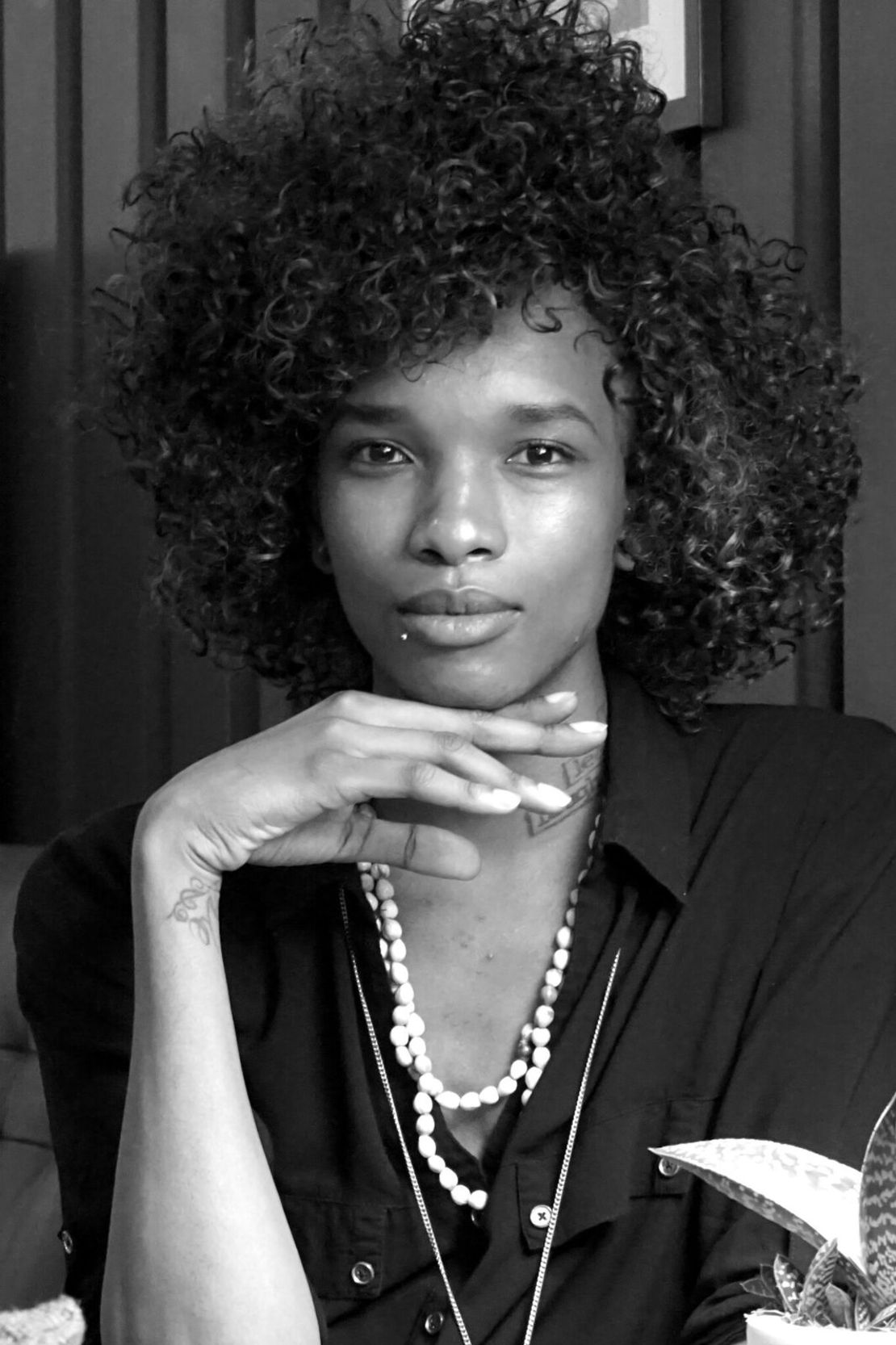 Katlego is determined to change attitudes in a continent that is particularly hostile to gay and transgender people, she says.
"I want to amplify the voices people are just not hearing," she says. "We are not being celebrated for the work that we are doing. So we keep carrying this label of brave. I am not brave for living my life."
Adong, a playwright and filmmaker whose work tries to normalize the LGBTQ experience for her fellow Ugandans, tries to create empathy and provoke dialogue by depicting everyday scenarios that present moral dilemmas.
In one of her plays, she writes about a virulent anti-gay campaigner whose son happens to be gay and comes out of the closet.
Agents for change
Adong had never even met a gay person until 2011 when one of her plays was selected for the Sundance Theater Lab in New York.
When she arrived for the three-week residential program, she was assigned a gay mentor who prompted her to think of her work as an agent for change.
The two women consider themselves "artivists" and are part of a small but growing group of Africans who are stepping out of the shadows to foster greater acceptance of the LGBTQ community in Africa.
Their paths crossed earlier this year as both were selected as TED fellows – a global community of visionaries working across disciplines to create positive change in the world.
In August, I met with Katlego and Adong at the TED Global conference in the Tanzanian city of Arusha, where they both gave rousing and powerful talks about the work they do.
We engaged in detailed conversation about the myriad hurdles they face in their mission to change hearts and minds.
Here is an edited excerpt from the conversation:

What are the biggest challenges for the LGBTQ people in your country?
Adong: The politics of homosexuality and who is using homosexuality for personal gain. The church, the pastors, presented themselves as the people who are going to save Ugandan parents and their children from being "recruited" by the gay community.
There was a lot of propaganda in the media that the LGBTQ community recruits children… there's no distinctions between what is homosexuality versus pedophilia. In Uganda the terms tend to be used synonymously and that's a really, really big challenge.
Katlego: It's a strange place to be openly queer for me. I'm essentially trying to get people to understand, that yes, there are some battles that need to be made in the court, but there are the battles that need to be taken up in our very living rooms. Find out who the homophobic uncle is, and confront the homophobic uncle, because otherwise you're going to pretend that homophobes exist everywhere else.
How did you become interested in fighting for gay rights?
Adong: When the anti-gay bill came out in 2009, it was like: 'Of course I care.' I care about human rights in general, but I didn't feel it was my priority. I was more focused on the war in northern Uganda and the effects of war and that's the story I wanted to tell. The script I wrote got selected for Sundance theater.
While I was at Sundance, the playwriting mentor I was working with at the time was gay. Here is the person I am working with to develop a play about the war. If he were Ugandan, he wouldn't be in a position to do that because of the danger and threat to his life.
My mentor personalized it for me but also challenged me in a way. I thought to myself: If many Ugandans were to meet as many gay people as possible and have a personal relationship, there would be a lot more Ugandan gay people coming out of the closet.
What has been the reaction to your plays?
Adong: One of the things that has really touched me is how many people have reached out and said, 'Your play made me feel, it made me think, it made me revisit my position.
When I wrote "Silent Voices," I was targeting the political leaders and with "Just Me and You," … my goal was not just to personalize the story, but to reach individual Ugandans, people who are not politicians.
The politicians have done their part. They created this mess so I wanted the average Ugandan to be touched by this story.

The two of you come from very different parts of Africa with differing levels of tolerance for the LGBTQ community. Botswana's image in the outside world is not so bad and Uganda is terrible on paper. What's the reality?
Katlego: Last year, I was doing the African launch of my book and my uncle, who is a member of parliament, sent me a message pretty much warning me not to go to Kampala. There are people like me who live in Uganda, so I can't now stop traveling simply because I might get killed when I arrive.
What would it be like living in Uganda? Do people live openly gay in Uganda?
Adong: There are a number of Ugandans who are openly gay. There is a Ugandan who is currently running a queer film festival, which my film is going to be showing in, and he came to my theater show. Here is the thing: it is still arbitrary in Uganda. Yes, it is horrible on paper but then it gets down to who is watching who to then alert the authorities.
There was dancer who did a queer piece and it was shut down midway through his dance. Gay pride or gay workshops are shut down because the minister of ethics and integrity has made it personal. He is on the lookout for such activities because it has become his mission to prove that he can get rid of gays in Uganda.
Some strides have been made. There is a lot of difference now compared to 2009. Right before my show, this same minister of ethics and integrity had given the gay community a meeting. They actually met and that was impossible a few years back.
Do you think international pressure has had any impact?
Adong: I would say international lobbying, not pressure, because I feel pressure yields negative results. In 2014 when the speaker of the Ugandan parliament was denied residence in a hotel in the US, it had a negative effect and that was what made the (anti-gay) bill pass because she returned to Uganda, saying, "I don't care and I don't ever want to go to their country. I am going to pass the (anti-gay) bill as a Christmas gift to Ugandans."
I think the idea of the West funding homosexuality is a huge thing in Uganda. They have coined the term, "the gay dollar." I have also been accused of chasing after the gay dollar. They say the only reason why I am doing a film is because some mafia gay Americans are throwing a lot of money into it.
How are the anti-gay laws enforced by the authorities?
Adong: The two shows that were shut down was because two artists went to the Ugandan media council and (told them that) homosexuality is being promoted in Ugandan theater. Maybe the Ugandan media council wasn't even thinking about shutting it down but now that somebody has brought it up, then they know they are being watched and they don't want to come off as people who aren't doing their job… then they get out and shut it down.
What's the situation in Botswana?
Katlego: I always say that Botswana doesn't have the poverty porn narrative that gets all the international attention, so last year we had a victory which allowed a LGBT organization to register in Botswana.
The government's case was that if you register an organization, you are admitting that these people exist and if you admit that these people exist then they go against the law. But what law exactly are we going against?
How can we be illegal when there is no outright law that criminalizes my life, except this idea of "knowing each other in carnal knowledge against the order of nature." That's a law within the penal code. It was inherited from the British but no one really enforces it.
The terrible bit is that people want to take it into their hands and they think they are experts at the law. Two years ago… I was attacked in broad daylight and no one did anything.
Is there a hate-crime law in Uganda?
Adong: No, a lot of gay Ugandans who are assaulted can't go to the police because the police will take the side of the attacker and the law takes the side of the attackers.
Katlego: There is nothing that explicitly says this is wrong. The Botswana government is being taken to court by a friend of mine who is a trans woman and because Botswana does not recognize gender, we technically don't exist in the country. She is trying to get her gender marker on her official documentation changed.
You mean Botswana is a gender-neutral country?
Katlego: Well the language is gender neutral. (But) as a trans person I don't exist… Forget gender. What this results in is me getting to an airport and then being told I am carrying false documents but I can't change those documents because the government does not acknowledge that trans people exist.
On paper, we are good, but in reality, there are so many encroachments on our lives and our freedoms.
Are there any countries in Africa you worry about visiting?
Adong: For me it's Nigeria.
(Ed's note: Nigeria has strict laws against being homosexual which carries a penalty of up to 14 years in prison.)
Katlego: In 2015, there was a report that said that out of the 52 Commonwealth states, I cannot technically travel and have the law on my side in 42 of them and those 42 are in Africa. So am I not allowed to travel my own continent just because of inherited homophobia?
I should be afraid but that has just been a motivation for me to do work and find out about work that is been done by other people in those places.
I cannot buy into the hate and live in fear and let that dictate my access to the world. Because I am no safer in New York than I am in Botswana or in Kampala.