Story highlights
US President Trump could play with world No. 4 golfer Hideki Matsuyama
Trump also "definitely open" to playing with Japanese Prime Minister Shinzo Abe
US President Donald Trump is "definitely open" to a round of golf with newly re-elected Japanese Prime Minister Shinzo Abe.
Having already played rounds of golf with Tiger Woods, Rory McIlroy and women's world No. 3 Lexi Thompson, Trump could add Abe and rising Japanese golf star Hideki Matsuyama to his list of star playing partners, although the outing isn't yet confirmed by the White House, according to a senior US official.
Earlier Monday, Abe's office confirmed to CNN that he and world No. 4 Matsuyama would take to the course with Trump when he makes his first official visit to Japan next month.
During a phone call Sunday, Trump congratulated Abe on his re-election.
Matsuyama is a five-time winner on the PGA Tour, and is hotly tipped to become Japan's first major winner.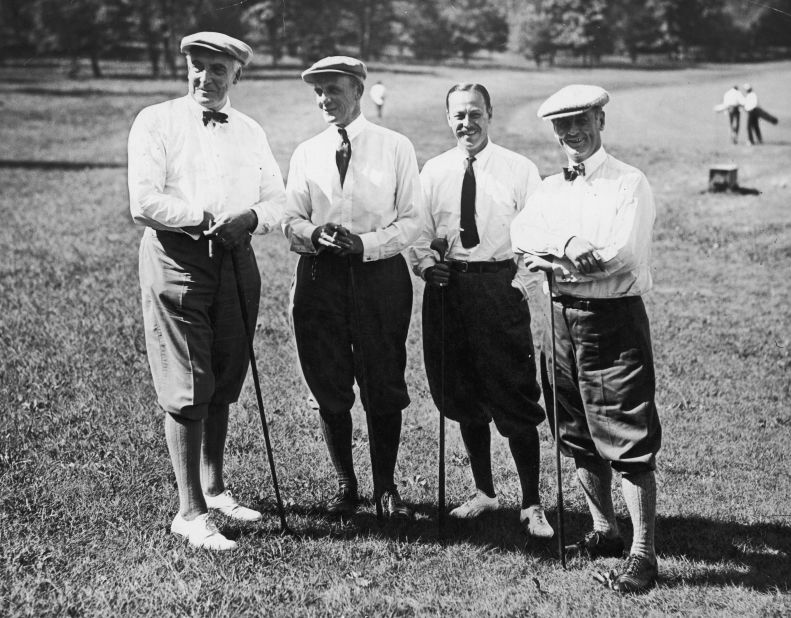 Photos: Presidents take a swing at golf
READ: The search for South Korea's next male major winner
The 25-year-old narrowly missed out on major glory at the US Open earlier this year when he tied for second behind winner Brooks Koepka.
Prime Minister Abe, also a keen golfer, joined Trump on the links last February at the President's Mar-a-Lago resort where the pair were joined by four-time major winner Ernie Els.
Earlier this month, Trump's prowess on the links earned the praise of Senator Lindsey Graham who played with the President at Trump National Golf Club in Sterling, Virginia.
"Really enjoyed a round of golf with President @realDonaldTrump today. President Trump shot a 73 in windy and wet conditions!" Graham tweeted.
"How bad did he beat me? I did better in the presidential race than today on the golf course! Great fun. Great host."
READ: Tiger Woods gets green light to step up recovery
Trump has drawn criticism for the amount of time he has spent on the golf course during his presidency, especially in light of his vocal condemnation of President Obama in October 2014.
"Can you believe that, with all of the problems and difficulties facing the U.S., President Obama spent the day playing golf. Worse that Carter," Trump tweeted.
Obama also mixed golf and foreign affairs during his time as Commander-in-Chief, taking in a round of golf with then British Prime Minister David Cameron during a trip to the UK in April 2016.
As for Abe, he is following in the footsteps of his grandfather Nobusuke Kishi who, during his time as Prime Minister, played a round with President Dwight D. Eisenhower in Maryland.
Trump dedicates trophy to hurricane victims
READ: Lexi Thompson's work-out "addiction"
Trump's 12-day trip to Asia will also includes stops in South Korea, China, Vietnam, the Philippines, and Hawaii.