Story highlights
Key political meeting concludes in Beijing, putting Xi on par with Mao
Analyst: Move means Xi Jinping can be "emperor for life"
China has elevated the stature of President Xi Jinping and cemented his grip on power by including his name and political ideology in the Communist Party constitution.
At the end of a pivotal twice-a-decade meeting, party delegates voted unanimously Tuesday to make "Xi Jinping Thought on Socialism with Chinese Characteristics for a New Era" a guiding principle for the party.
The move puts Xi on par with Chairman Mao Zedong who founded the People's Republic of China in 1949 and paramount leader Deng Xiaoping, who oversaw China's opening up to the world.
Deng Xiaoping Theory was added to the constitution six months after his death in February 1997. China's previous two presidents, Hu Jintao and Jiang Zemin, haven't had their names enshrined in the constitution in this way.
What is Xi's new era?
Socialism with Chinese Characteristics has long been used to describe how Marxism has been adapted for China. The term was closely associated with Deng Xiaoping as a way to promote economic development.
However, there's little agreement on what Xi's new spin means.
Willy Lam, at the Chinese University of Hong Kong, says domestically it's about tightening Communist Party control over all aspects of Chinese life in the internet age.
Globally, it's about making sure China becomes a superpower that gets to make the rules.
"Xi Jinping now has an institutional guarantee of support. He can be emperor for life – staying in power as long as his health allows," said Willy Lam, an adjunct professor at the Chinese University of Hong Kong's Center for China Studies.
Xi looks set to emerge from the 19th National Congress of the Communist Party of China stronger than ever, both domestically and on the international stage.
At home, Xi has taken down senior leaders in his anti-corruption drive, launched an unprecedented crackdown on free speech, and radically overhauled the two-million strong People's Liberation Army, the world's largest fighting force.
Globally, the world will now likely see China continue to step into a global leadership vacuum as the US turns inward under President Donald Trump.
As Xi presided over the closing session in the Great Hall of the People, more than 2,200 delegates raised their hands in unison to approve the party charter amendments, with staffers announcing "meiyou" ("none") to indicate the lack of dissenting or abstaining votes.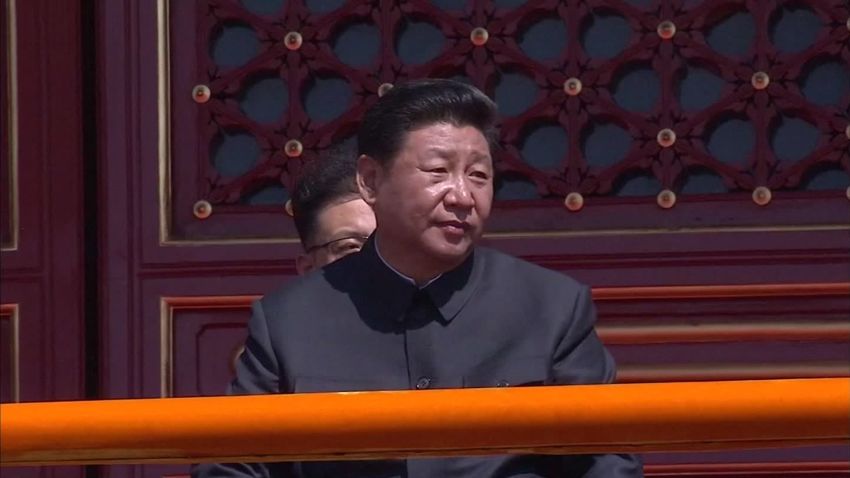 Xi Jinping's rise to power (2017)
Sweeping vision
Xi repeatedly referred to "Socialism with Chinese Characteristics for a New Era," during a three-and-a-half-hour opening speech to the National Party Congress last week. And the resolution passed Tuesday echoed many of the same themes.
The address detailed his sweeping vision for the country, charting its future in a world where China's reach is now extending – and being felt – further than ever before.
Xi declared that China should "take center stage in the world," and that its brand of socialism offers "a new choice for other countries." He added that, "no one should expect China to swallow anything that undermines its interests."
Lam said Xi's "new era" philosophy sought to establish China as a superpower that "plays a rule-setting role in global affairs."
Domestically, Lam said the move to enshrine Xi's name in the party charter would signify greater party control over all aspects of life in China.
Lam said Xi had managed to "totally repudiate" a tradition of collective leadership instituted by Deng: "It's a return to one-man rule. It's a backward step."
When asked what he thought of Xi Jinping Thought, Sun Yongkang, a 24-year-old photographer in Beijing, said: "I really like the key word New Era. President Xi is a trailblazer, he opens up a new model for China's development."
Other people said they didn't know what it meant and declined to speak to CNN.
China's push to modernize its military (2017)
Who's in, who's out
On Wednesday, Xi is expected to be formally granted a second five-year term as the party's general secretary and reveal the new members of the Politburo Standing Committee (PBSC), the top decision-making body in the one-party system.
Who's included and who's not will shed light on the magnitude of Xi's grip on power and his future plans.
Some analysts have speculated that Xi will seek to stay on beyond 2022, when his second term is due to end, breaking a tradition followed by his two predecessors and emulating Russian President Vladimir Putin.
However, it looks like that Wang Qishan, Xi's anti-corruption czar, will be retiring despite some speculation that Xi would bend the rules and allow him to stay on in the PBSC – despite being older than the customary retirement age of 68.
His name wasn't on a list of Central Committee members from which the politburo and its standing committee are named.
Retaining Wang would have set a precedent for any future power play by Xi, 64, to stay in the top job beyond 2022.
CNN's Serenitie Wang in Beijing contributed to this report