Story highlights
Hong Kong protest leaders are appealing their prison terms
The city's highest court will hear their case on November 7
Two leaders of Hong Kong's pro-democracy movement jailed in August have been released on bail.
A court ordered Joshua Wong and Nathan Law be freed Tuesday while they appeal their prison terms, their political party, Demisisto, confirmed.
Speaking outside court alongside Wong, Law said "for now there's a lot uncertainty." Their appeal will be heard next month.
Wong said the pair's time in prison was "a chance for us to strengthen our determination to fight for democracy."
"The government can lock up our bodies but they cannot lock up our minds," he added.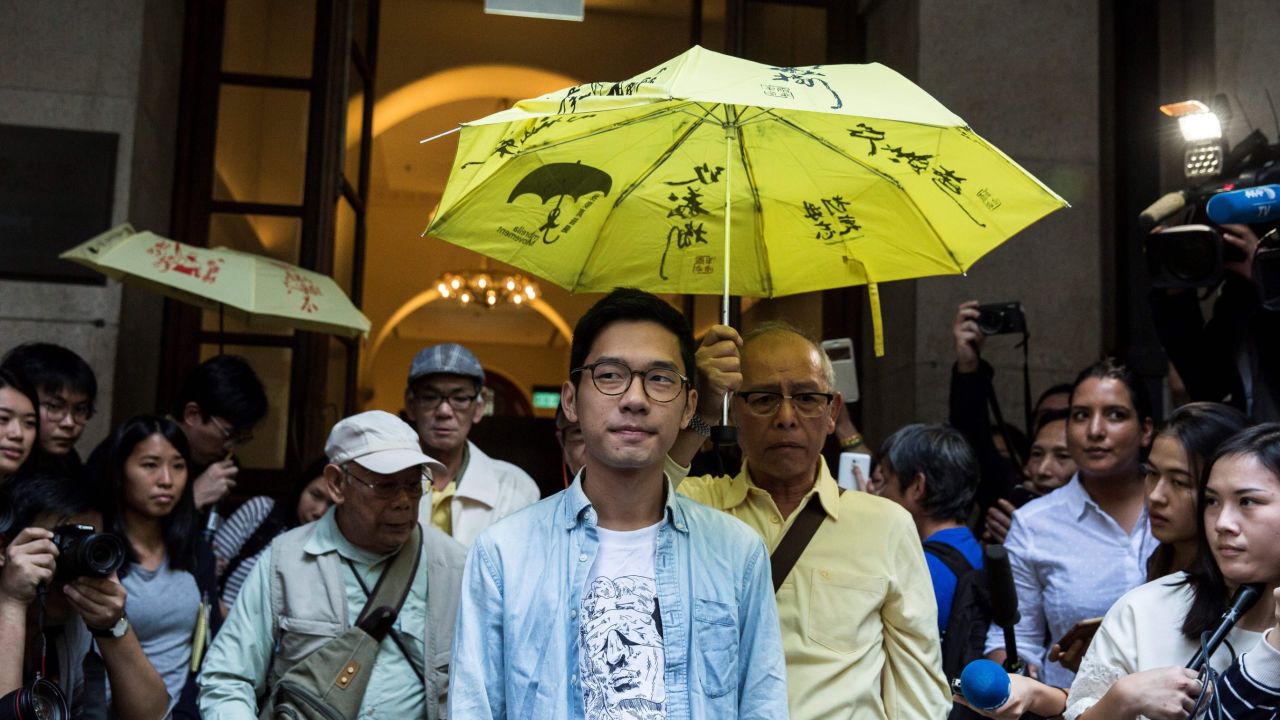 The pair were jailed after the Court of Appeals sentenced them to between six and eight months in prison, controversially upgrading the pair's previous community service sentence for offenses related to the 2014 mass pro-democracy street protests.
That decision sparked one of the largest protests since the Umbrella Movement ended, and heightened fears in Hong Kong that the city's rule of law is being undermined by increasing Chinese influence.
Wong and Law both paid $6,400 (HK$50,000) bonds and must report to the police weekly, Demosisto said in a statement. They cannot leave Hong Kong before their appeal on November 7.
A third protest leader – Alex Chow, who is serving a seven- month prison term – did not apply for bail.
Opposition under pressure
Wong and Law are two of the most famous protest leaders to come out of the 2014 demonstrations, which shut down parts of central Hong Kong for more than two months.
In legislative elections last year, Law was elected the city's youngest ever lawmaker, while Wong has been featured in a Netflix documentary about himself and the city's pro-democracy movement.
Their success, however, was short-lived: Law was one of several lawmakers disqualified from office by Hong Kong courts after Beijing enacted a rarely-used power to "reinterpret" the city's constitution, putting more stringent requirements on how legislators took their oaths of office.
Law's oath was deemed "insincere," ending his term in parliament. Unless his current conviction is overturned, he faces little chance of returning, anyone jailed for over three months is barred from standing for office in Hong Kong for five years.
The sentence also ended Wong's political hopes. He was too young to run in last year's elections, but was widely expected to compete in the byelections to replace Law and other disqualified lawmakers.
Those elections will begin in May, and some pro-democracy figures have expressed hope continued prosecutions relating to the Umbrella Movement will galvanize and unite the currently fractured opposition movement.
However, it remains to be seen whether "localist" candidates – those who support greater autonomy, self-determination or independence for Hong Kong – will be permitted to stand. Several candidates were barred from running in last year's elections.
CNN's Sandi Sidhu contributed reporting.