Story highlights
Yasuhiro Yamashita is considered the best judoka of his generation
The heavyweight star went 203 matches undefeated
The Japanese icon opens up on life in judo
With a tear of his right calf muscle, Yasuhiro Yamashita's lifelong dream was surely over.
The Japanese heavyweight judoka had envisaged himself atop the Olympic podium ever since he was "deeply moved" watching the Tokyo 1964 Games on television as a boy.
Suddenly, two decades later in Los Angeles, the 4,000 people that had crowded into a gymnasium to watch the sport's greatest star drew breath.
Yamashita, then 27 years old, had won 194 consecutive matches ahead of the 1984 Olympic Games, sweeping aside everyone that stood in his way. The gold medal seemed his to lose.
Legends of Judo: Yasuhiro Yamashita
1977 All Japan Championships: Gold1978 All Japan Championships: Gold1979 All Japan Championships: Gold1979 Paris World Championships: Gold (+95kg)1980 All Japan Championships: Gold1981 All Japan Championships: Gold1981 Maastricht World Championships: Gold (+95kg)1982 All Japan Championships: Gold1983 All Japan Championships: Gold1983 Moscow World Championships: Gold (+95kg)1984 All Japan Championships: Gold1984 Los Angeles Olympics: Gold (Open)1985 All Japan Championships: Gold
But with one injury, just two rounds into the open weight division, the reigning world champion looked vulnerable.
"I did not feel the pain during the fight because I was concentrated on the opponent in front of me," Yamashita tells CNN. "I did not lose my determination regardless of the situation."
He had sustained the injury while attempting an Uchi Mata inner thigh throw against Arthur Schnabel of Germany, but somehow managed to get through the match, defeating his opponent by choke hold submission.
Barely able to walk, he still found time to bow.
Legends of Judo: Ryoko Tani, the greatest female judoka ever?
"Even during the hardest fought battles, a judo match starts with a bow, and ends with a bow to show respect towards the opponent," says Yamashita. "Once the fight was over I focused on not making the injury worse, by walking carefully and resting as much as possible."
But Yamashita's limp was far more pronounced by 18:45 that evening when he faced Frenchman Laurent Del Colombo in the semifinal.
And sure enough, just two minutes in, the crowd witnessed a rare moment in judo: the imperious Yamashita was thrown off balance, with Del Colombo becoming the first-ever non Japanese judoka to score against him.
"In my semifinal, it was the first time I thought I might lose," Yamashita afterward admitted.
Prevented from competing at the Moscow 1980 Olympics because of the Japanese boycott, he hadn't come this far to be denied.
The 128kg Yamashita used all of his strength to pin Del Colombo for ippon after 2 minutes and 12 seconds, advancing to the final against Mohamed Ali Rashwan of Egypt – a man he had never faced before.
He only needed 65 seconds to secure gold, once again getting the better of his opponent with his unrivaled Ne-Waza technique, holding him for 30 seconds for ippon.
"The referee's call seemed to come from far away," Yamashita remembers. "I stood in the middle of the loud cheers and I felt I was the happiest man in the world."
READ: Legends of Judo – Driulis González Morales
Rashwan, for his part, famously avoided the injured leg of the opponent and won an international fair play award for his conduct.
Yamashita, who had been determined not to betray the slightest emotion all day, clenched his teeth and looked to the heavens.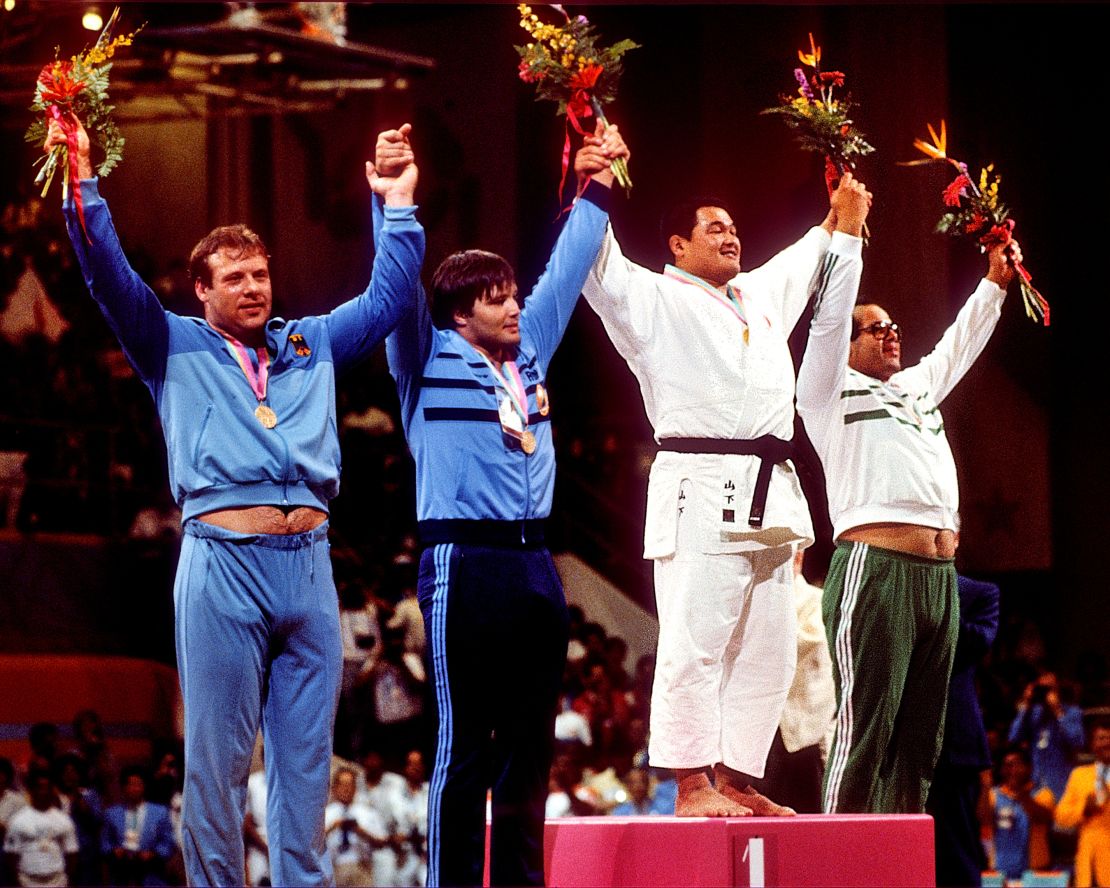 "He would have taken part in this final match even if he had a broken leg!" the commentator exclaimed.
"Oh there's no doubt about it," replied co-commentator and US coach Paul Maruyama. "The entire burden of Japan was on him and he had to win."
As the anthem begun, Yamashita had to be helped onto the podium, but his dream had come true.
'A bridge to connect the world'
The gold medalist had reached the pinnacle of his sport and, unbeaten in 203 consecutive bouts, he retired a year later aged just 28.
Since, Yamashita has occupied a number of roles, from coaching Japan's next generation to heading up the Japanese Olympic Committee ahead of Tokyo 2020.
World Judo Championships: An introduction to the 'gentle way'
"I developed a passion for Judo at a young age and it is impossible to imagine my life without this discipline," he tells CNN.
"Without Judo, I would not be the person I am today. The people I have met, the experiences I have had, the things Judo have taught me are endless.
"Today, in this fragile world, Judo gives us hope to overcome the obstacles of political tension, animosity and discrimination. By practicing Judo, people learn the core values of respect and above all, on the tatami there is no border nor religion.
"Judo is a bridge that connects the world's people, cultures and countries."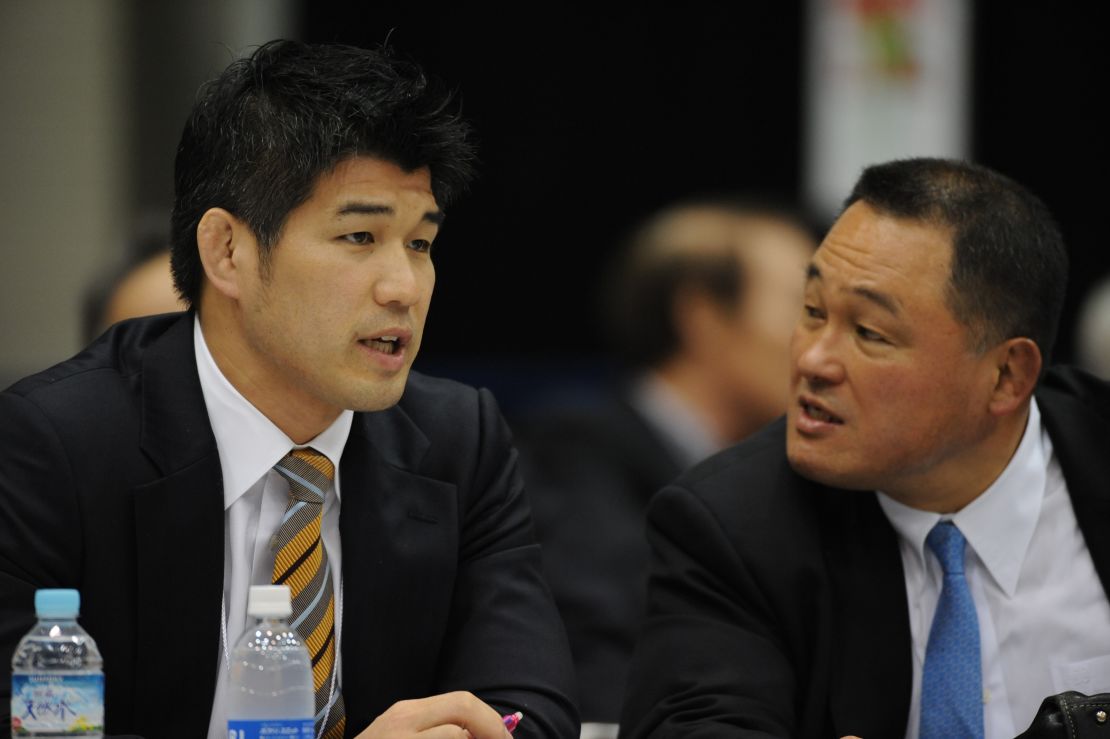 One man lucky enough to work under Yamashita was current Japan head coach Kosei Inoue – someone the 60-year-old "fully trusts" ahead of the sport's homecoming in 2020.
"The current generation are blessed to have the 2019 Tokyo World Championships and the 2020 Tokyo Olympics in their prime time," says Yamashita.
"I fully trust Mr. Inoue as men's head coach and Mr. Masuchi as women's head coach to lead the team to great success."
"I sincerely wish that their performances will give the Japanese citizens hopes and dreams. As the president of the All Japan Judo Federation I will do everything in my power to have Japan host spectacular events in 2019 and 2020."
READ: Kosei Inoue – "Judo is similar to life itself; you get thrown and you stand up again"
The greatest ever?
Continuing Yamashita's legacy, Japan won gold in seven of the 14 weight categories at the 2017 Budapest World Championships and thrashed Brazil 6-0 in the inaugural mixed team competition final.
The likes of Hifumi Abe and "Ippon Hunter" Hashimoto Soichi already adorn billboards across the country.
But, though Japan remains the team to beat, it's a Frenchman that's come closest to Yamashita in the debate about the greatest judoka ever.
Legends of judo: Teddy Riner, the best ever?
READ: Legends of Judo – Teddy Riner
Unbeaten since 2010, six-foot-eight, 140-kilogram man mountain Teddy Riner has won the past nine world titles in the heavyweight division.
Should he continue his win streak, he will break the unbeaten record Yamashita has held for over three decades.
"Judo's global reach and rise in popularity has made the international judo scene increasingly competitive," says Yamashita.
Visit CNN.com/judo for more news and features
Where does Yasuhiro Yamashita rank among Japan's greatest sportspeople ever? Have your say on CNN Sport's Facebook page
"For Teddy to accomplish what he has done over the years, and to continue his win streak in Budapest is truly commendable. Riner is a global icon and has contributed to the development and popularity of Judo as a whole.
"I believe his objective is not to pass my win streak, but merely to discover, and overcome, his own individual limits. If he does pass my record, I would like to warmly congratulate him."