Hundreds of thousands of anti-independence protesters rallied in the Catalan capital of Barcelona on Sunday after Madrid took unprecedented measures to quash the region's bid to split from Spain.
The protest comes as tensions spiked following the Catalan Parliament's vote Friday to declare unilateral independence.
In a sea of red-and-yellow Spanish and Catalan flags, protesters marched down Barcelona's Passeig de Gràcia shopping strip, some chanting for the imprisonment of deposed Catalan leader Carles Puigdemont, who led the divisive independence drive. Barcelona police say around 300,000 people attended.
Puigdemont has urged his supporters to pursue "democratic opposition" to the moves by Madrid, which have included dissolving the region's government and calling snap elections for December 21.
It was unclear on Sunday what that opposition would mean in practice. The sacked head of the Catalan police force urged officers to follow the orders of the new commanders, but there were signs that some civil servants would refuse to obey Madrid.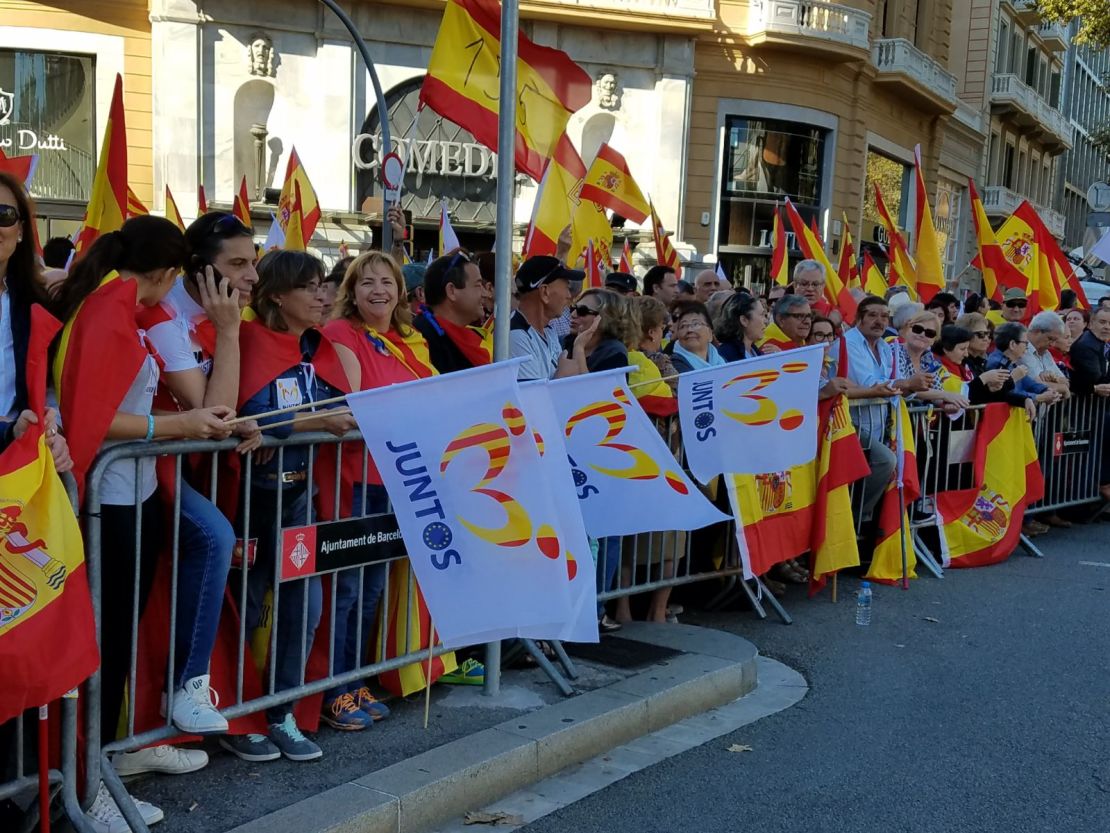 'Democratic opposition'
Puigdemont made a public statement on Saturday from his home town of Girona, apparently designed to give the impression that he was still in power.
"Let's move forward with the only winning attitude – without violence, insults, in a very inclusive way, respecting opinions and symbols and protests by other people who are against what the parliamentary majority decided," he said.
"I ask you to have patience, perseverance and perspective."
He added that the best way to defend the progress made so far was to oppose Article 155, the constitutional provision that Madrid employed to impose direct rule.
The Spanish government on Saturday also confirmed that Puigdemont would be eligible to run again for President. But at the same time, Madrid has threatened to have the suspended leader charged for "rebellion," which carries a maximum 30-year jail term.
Deeply divided
Spanish government spokesperson Inigo Mendez de Vigo said Saturday that Puigdemont's bid for independence had "ended."
In a recorded interview distributed by Reuters, Mendez de Vigo said: "It looks as if they proclaimed the republic of Catalonia, but 24 hours after, who has recognized it? No one, that's it."
Mendez de Vigo said that because Puigdemont was removed from office, he had no powers or financial means.
"If he wants to continue in politics, which is his right, he should prepare for the next elections and exercise his democratic opposition."
The spokesperson added that by fresh elections would give Catalans an opportunity to be heard "in a legal and free way."
"This is a way to tell to Catalans, if you want to vote, do it under the conditions of the law and freely."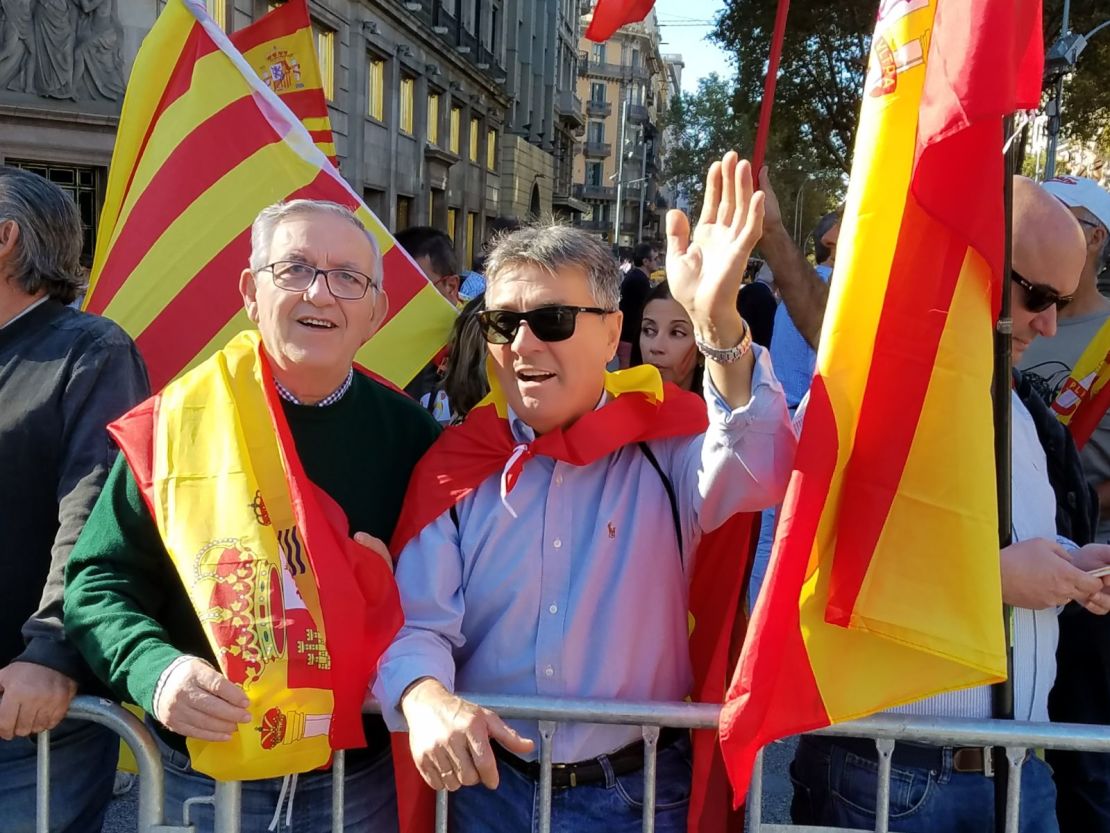 But if Puigdemont runs again and wins the next election, he will no doubt take his victory as a mandate to pursue independence.
The secessionist movement has deeply divided Catalonia, one of Spain's wealthiest regions.
Opposition lawmakers boycotted the independence vote in the Catalan Parliament. And in the past month, tens of thousands of people have protested in rallies, both in favor and against independence.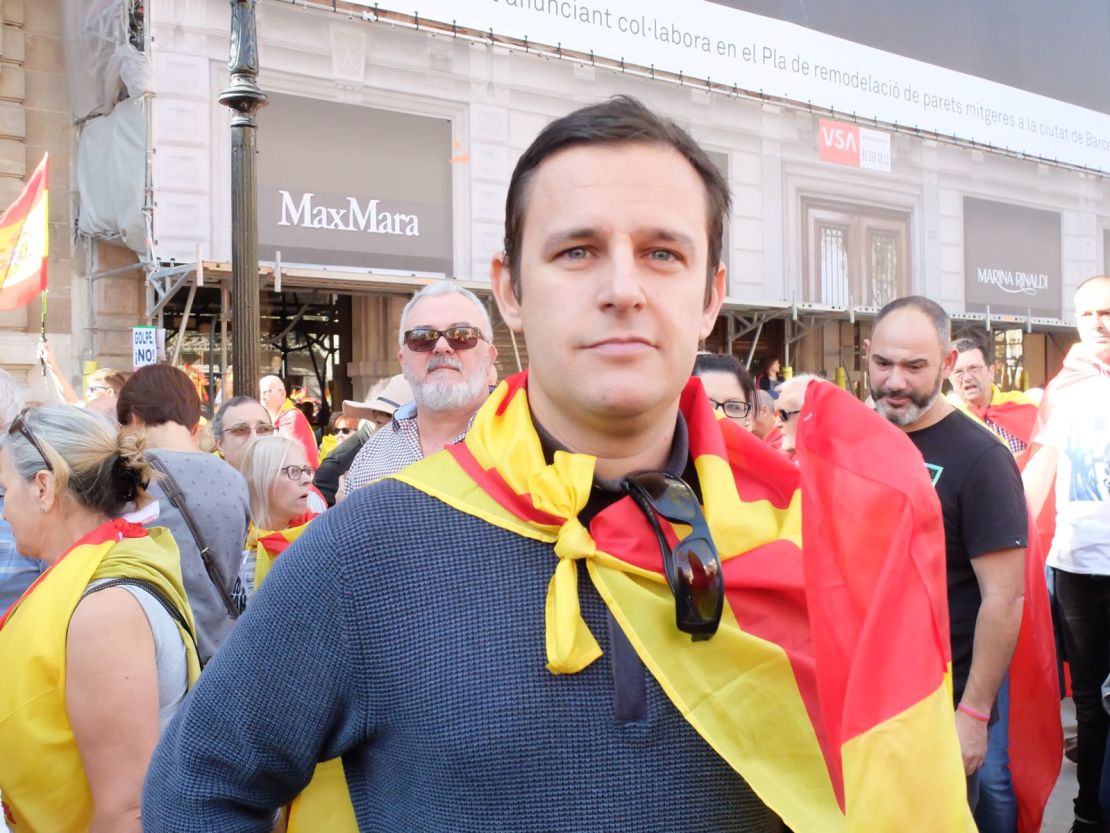 At Sunday's rally, 37-year-old Moises Santos, who lives near Barcelona, said he saw the Catalan Parliament's vote Friday as invalid and blamed the independence agenda for dividing people in the region.
"It's not a real independence declaration because half the Parliament was out of the Parliament. So they are breaking society," he said.
"I think it's 50-50. Society is breaking in two parts."
More than 2.25 million people turned out to vote in the October 1 referendum, ruled illegal by Spain's constitutional court.
Catalan authorities said 90% of voters favored a split. But the turnout was low – around 43% of the voter roll – which Catalan officials blamed on the central government's efforts to stop the referendum.
Police and force
Before its autonomy was suspended, Catalonia had been granted sweeping powers of its region. Key among them was the right for Catalonia to its own police force, known as the Mossos.
But on Saturday, Madrid sacked the region's two police chiefs, and the Mossos has called on it officers to stay neutral in the political upheaval.