Story highlights
The developments signal a dramatic new phase of Mueller's wide-ranging investigation
They are the first people in Trump's orbit charged in connection with the special counsel investigation
A former Trump campaign foreign policy adviser has pleaded guilty to making a false statement to the FBI after he lied about his interactions with foreign officials close to the Russian government – the campaign's clearest connection so far to Russia's efforts to meddle in the 2016 election.
In court records unsealed on Monday, the FBI said George Papadopoulos "falsely described his interactions with a certain foreign contact who discussed 'dirt' related to emails" concerning Democratic presidential candidate Hillary Clinton. Records also describe an email between Trump campaign officials suggesting they were considering acting on Russian invitations to go to Russia.
In addition, former Trump campaign chairman Paul Manafort and former Trump campaign official Rick Gates surrendered Monday to Justice Department special counsel Robert Mueller.
The charges against top officials from Trump's campaign signals a dramatic new phase of Mueller's wide-ranging investigation into possible collusion between the Russian government and members of Trump's team as well as potential obstruction of justice and financial crimes.
Papadopoulos' guilty plea brings the Mueller probe into actions that occurred during the 2016 campaign. The charges against Manafort and Gates are unrelated to the Trump campaign, though it's possible Mueller could add additional charges.
Gates, 45, is a longtime business associate of Manafort, 68. The pair worked together since the mid-2000s, and Gates served as Manafort's deputy on the campaign. The two were indicted under seal on Friday, a source with direct knowledge of the matter said.
President Donald Trump distanced himself from Manafort on Monday morning, asking why Clinton wasn't being investigated.
"Sorry, but this is years ago, before Paul Manafort was part of the Trump campaign. But why aren't Crooked Hillary & the Dems the focus?????" He soon added: "Also, there is NO COLLUSION!"
He tweeted before Papadopoulos' guilty plea was unsealed.
Campaign official suggested 'low level' staff should go to Russia
Papadopoulos lied to FBI agents "about the timing, extent and nature of his relationships and interactions with certain foreign nationals whom he understood to have close connections with senior Russian government officials," according to the complaint. Mueller signed a 14-page statement regarding Papadopoulos' offense, which lays out of the facts of the case.
In May, Papadopoulos sent an email to a "high-ranking campaign official" with the subject line "Request from Russia to meet Mr. Trump." The email said Russian officials were eager to meet with the candidate and had been reaching out.
In a footnote, the FBI statement notes that the email suggesting a Russia visit was forwarded from one campaign official to another. "We need someone to communicate that DT is not doing these trips. It should be someone low level in the campaign so as not to send any signal," the email read.
The FBI statement does not explain to whom the campaign officials were concerned about sending signals.
In the affidavit connected to the case, there is a reference to a July 2016 email Papadopoulos sent to a foreign contact regarding setting up a meeting with what appears to be Manafort (described in the email as his "national chairman"). Papadopoulos writes the meeting has been "approved from our side."
Mueller's statement also says that Papadopoulos met in March 2016 with a Russian woman – introduced to him as a relative of Russian President Vladimir Putin, though she was not – and he sought to use her connections to arrange a meeting between the campaign and Russian government officials.
The statement also says that Papadopoulos falsely claimed he met with an overseas professor before joining the Trump campaign about "the Russians possessing 'dirt' on then-candidate Hillary Clinton in the form of 'thousands of emails.'"
The professor only took interest in Papadopoulos because of his status on the campaign, according to the statement.
A former Trump campaign official said Papadopoulos interacted with the campaign "a significant amount" during the 2016 election cycle.
"He was a foreign policy adviser," said the official, who described Papadopoulos as an adviser who was in contact with the campaign staff via email and not a familiar face around Trump Tower. The official said Papadopoulos exchanged emails "constantly" on foreign policy matters with the Trump team during the campaign.
Another former senior campaign adviser said of Papadopoulos: "He was a zero. A non-event."
When asked about Papadopoulos' role in the campaign, White House press secretary Sarah Sanders told reporters his role was "extremely limited" and called it a "volunteer position."
Sanders said the fact that Papadopoulos did not tell the truth "has nothing to do with the campaign" and said he never acted in an official capacity.
"He reached out and nothing happened beyond that. That shows one, his level of importance in the campaign, and two, shows what little role he had within coordinating anything officially for the campaign."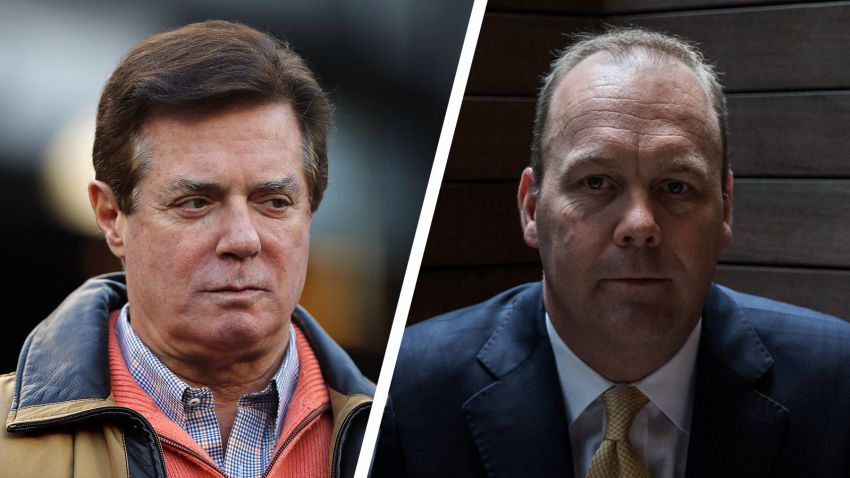 Indictment against Manafort, Gates unsealed
Manafort, Gates charged with conspiracy against the US
The indictment against Manafort and Gates contains 12 counts: conspiracy against the United States, conspiracy to launder money, unregistered agent of a foreign principal, false and misleading US Foreign Agents Registration Act statements, false statements, and seven counts of failure to file reports of foreign bank and financial accounts.
The two pleaded not guilty before US District Magistrate Judge Deborah Robinson on Monday afternoon. Other than stating their names, neither man spoke. Gates was represented by a public defender.
A federal judge ordered home confinement for Manafort and Gates and set bond at $10 million for Manafort and $5 million for Gates. The defendants will have to check in daily with law enforcement by phone, and they will only be allowed to leave their homes to see their attorneys, to appear at court or for medical and religious necessities.
Glenn Selig, a spokesman for Gates, said Monday afternoon that Gates "welcomes the opportunity to confront these charges in court" and won't comment further until he's had a chance to review the indictment with his legal team. CNN has reached out to Manafort's lawyer for comment.
Manafort and Gates were the first officials in Trump's orbit charged in connection with the special counsel investigation, which is exploring whether Trump's actions surrounding the firing of former FBI Director James Comey amount to obstruction of justice. Mueller has taken a broad approach to his mandate that includes a focus on the financial dealings of Trump's team.
Trump has been briefed on the charges against Manafort and Gates, a source close to the President told CNN.
At the briefing Monday afternoon, Sanders said Trump did not have much of a reaction to the Mueller news "because it doesn't have anything to do with us."
Two officials told CNN Trump will not call for Mueller's firing, and Sanders said there is "no intention or plan to make any changes in regards to the special counsel."
Clinton has no comment on the charges, a spokesman told CNN.
Manafort, whose work for former Ukrainian President Viktor Yanukovych has attracted scrutiny from federal investigators, has previously denied financial wrongdoing regarding his Ukraine-related payments, his bank accounts in offshore tax shelters and his various real-estate transactions over the years. Gates, who has also denied wrongdoing, was Manafort's longtime business associate in his lobbying firm before being tapped as his deputy on the Trump campaign.
Manafort's journey to center of Mueller's investigation
Manafort's Ukraine work scrutinized
Before the indictment, the FBI in July executed a so-called no-knock search warrant with guns drawn at Manafort's home in Alexandria, Virginia, seizing financial and tax documents, including some that had already been provided to congressional investigators.
Federal investigators' interest in Manafort and Gates goes back well before the special counsel was appointed. For about a decade, Manafort worked for Yanukovych and his Russia-friendly Party of Regions. Manafort's work spurred a separate federal investigation in 2014, which examined whether he and other Washington-based lobbying firms failed to register as foreign agents for the Yanukovych regime.
Gates joined Manafort's lobbying firm in the mid-2000s and handled projects in Eastern Europe, which later included work for Yanukovych.
Yanukovych was ousted amid street protests in 2014, and his pro-Russian Party of Regions was accused of corruption and laundering millions of dollars out of Ukraine. The FBI sought to learn whether those who worked for Yanukovych — Manafort's firm, as well as Washington lobbying firms Mercury LLC and the Podesta Group — played a role. The Podesta Group is headed by Tony Podesta, the brother of John Podesta, a former chief of staff of the Clinton White House, a senior adviser to President Barack Obama and Hillary Clinton's campaign chairman.
Two sources told CNN on Monday afternoon that Tony Podesta is leaving the group amid the Mueller investigation.