British Foreign Secretary Boris Johnson was forced to backtrack Tuesday amid growing criticism over his comments about a jailed British-Iranian woman, saying his remarks "could have been clearer" but insisting they should have no impact on her prison sentence.
Johnson had been urged to retract comments that could complicate the fate of Nazanin Zaghari-Ratcliffe, who is currently serving a five-year term in Iran after being accused of espionage – charges she denies.
Last week, Johnson told a British Parliament committee that Zaghari-Ratcliffe, who was detained at Tehran airport along with her young daughter in April 2016, had been teaching journalism during her visit.
"When you look at what Nazanin Zaghari-Ratcliffe was doing, she was simply teaching people journalism as I understand it," Johnson told the committee, adding that he found the situation "deeply depressing."
Both Zaghari-Ratcliffe and her employer have always maintained she was simply visiting family while on vacation.
The comments appeared to lead to Zaghari-Ratcliffe being summoned to an unscheduled court hearing in Iran over the weekend, at which Johnson's remarks were cited as proof that she had engaged in "propaganda against the regime." There are now fears that a longer sentence could be imposed.
Johnson 'could have been clearer'
On Tuesday, amid an outcry from Zaghari-Ratcliffe's husband and fellow lawmakers, Johnson held a call with his Iranian counterpart Javad Zarif in an attempt to clarify his remarks and call for her release, while admitting that his comments to the committee "could have been clearer."
During the call, Johnson "expressed concern at the suggestion from the Iranian Judiciary High Council for Human Rights that his remarks last week at the Foreign Affairs Committee 'shed new light' on the case," the UK Foreign Office said in a statement.
"The Foreign Secretary said this was absolutely not true. It was clear, as it always had been, that Mrs. Zaghari Ratcliffe had been in Iran on holiday when arrested.
"The Foreign Secretary concluded by emphasizing that his remarks could form no justifiable basis for further action in this case and urged the Iranian authorities to release Mrs Zaghari Ratcliffe on humanitarian grounds."
Johnson will travel to Iran before the end of the year to discuss the matter further, the Foreign Office said.
'Worst of both worlds'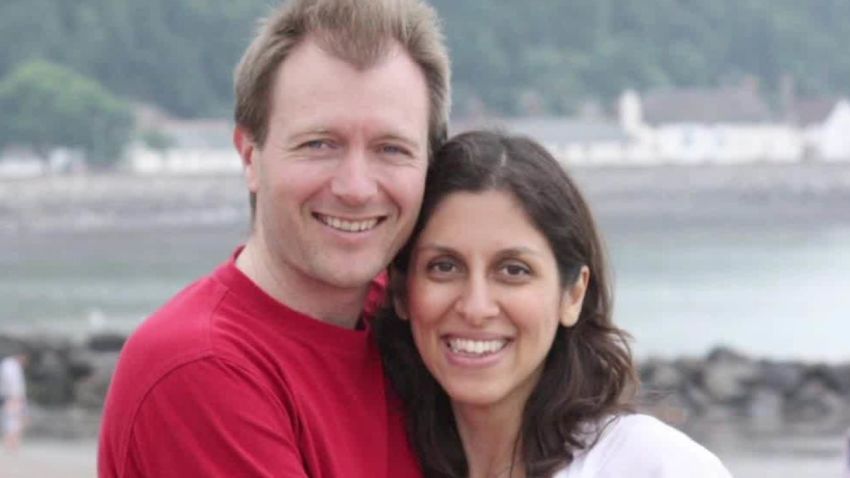 Husband: Iran detained wife without charges
The phone call came after Zaghari-Ratcliffe's husband, Richard Ratcliffe, urged Johnson to retract his comments.
"The worst thing the Foreign Secretary could do is to now suddenly go quiet and to create this problem without making any clarifications," Ratcliffe told the UK Press Association on Tuesday.
"I think that's really important. You can't make a muddle and then leave it. That would be the worst of both worlds."
Johnson's remarks were described as a "slip of the tongue" by International Trade Secretary Liam Fox, who added that he did not believe it was a "serious gaffe."
But fellow Conservative MP Anna Soubry described Johnson's remarks as "appalling," writing on Twitter that "in 'normal' times" the Foreign Secretary would have been "sacked long ago."
Opposition Labour lawmaker Yvette Cooper also registered her disgust on Twitter, writing: "Hard to find words for how appalling this is. For him it's just another lazy, arrogant failure to check facts. For her it's incarceration."
Zaghari-Ratcliffe, who is being held on allegations relating to espionage, has denied the charges, persistently maintaining that she was in Tehran to visit family and was not working in the country at the time of her arrest.
The head of the London-based media foundation that employed Zaghari-Ratcliffe welcomed Johnson's actions and urged him to meet with her in jail.
"Nazanin has never trained journalists in Iran and we are pleased that he has admitted to the Iranian Foreign Minister that she was in Iran purely on holiday," Monique Villa, CEO of Thomson Reuters Foundation, the charitable arm of the news service, said in a statement.
"It's time now for the Foreign Secretary to meet Nazanin in jail, as he proposed last week, and to bring her back home."
2016 arrest
Zaghari-Ratcliffe was detained at the airport in Tehran in April 2016 on her way back to the UK from visiting family with Gabriella, her then 22-month-old daughter.
The Iranian government accused her of working for a UK media network involved in activities against Iran. She was sentenced to five years in jail and her child was placed in the care of her parents.
Last month, Iran's Islamic Revolutionary Guard Corps (IRGC) opened a new case against her, accusing her of having joined organizations specifically working to overthrow the regime. She was also charged with having attended a demonstration outside the Iranian Embassy in London.
In September, Iranian President Hassan Rouhani told CNN's Christiane Amanpour that his hands were tied on the issue of dual nationals imprisoned in his country.
In October, when the new charges were filed, husband Richard Ratcliffe said the British government should be doing more to help his wife, and that it should not be making business deals with the regime that has imprisoned her.
CNN's Euan McKirdy and Hilary McGann contributed to this report.