Story highlights
US President Donald Trump is currently touring Asia
He flies from South Korea to China Wednesday, then to Vietnam later this week
Donald Trump will receive an honor in Beijing not granted to any US President since the founding of the People's Republic of China: official dinner inside the Forbidden City.
When Trump and his wife Melania land in the Chinese capital Wednesday, they will join President Xi Jinping and his wife, Peng Liyuan, for a tour of the Forbidden City, the historic palace that housed Chinese emperors and their families for almost 500 years.
Trump is expected to dine with Xi inside the Jianfu Palace, although the exact location of the dinner hasn't been confirmed. The building dates back to the eighteenth century and was fully restored in 2005, making it one of the most well-preserved parts of the palace complex.
Wherever he dines in the Forbidden City, Trump will be the first foreign leader to have an official dinner in the palace since the founding of the People's Republic in 1949.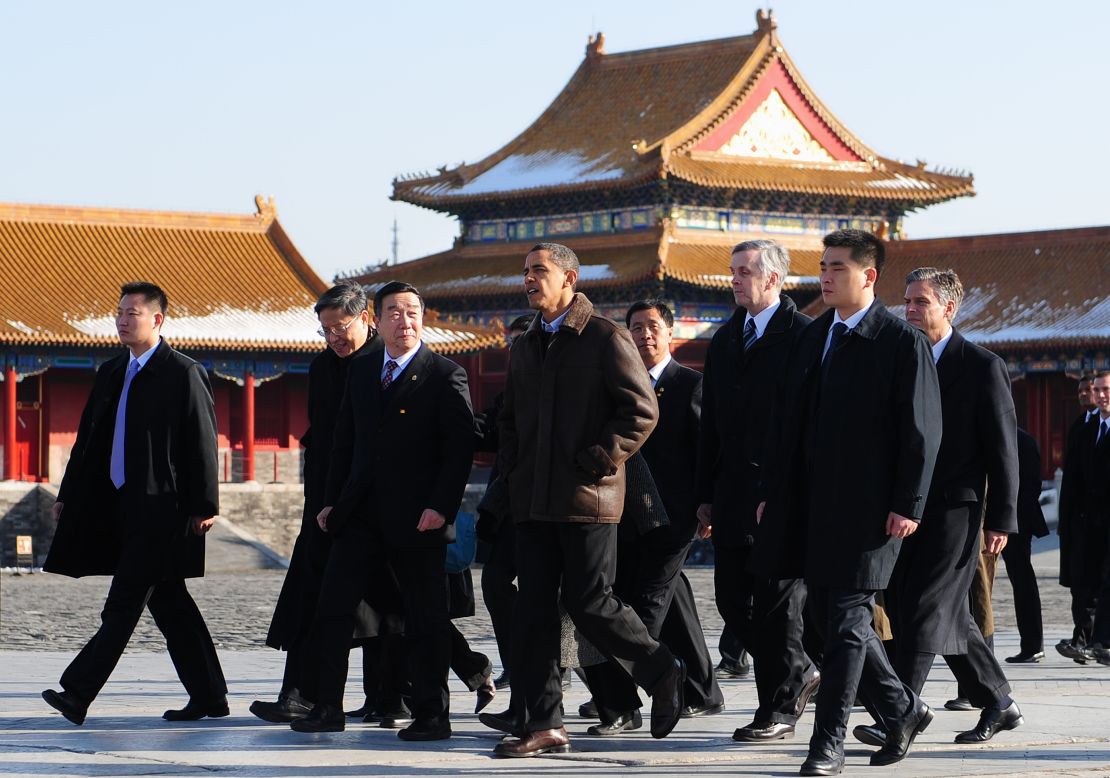 'State visit-plus'
Dining in the Forbidden City will be a significant honor for Trump, in keeping with what China's Ambassador to the US Cui Tiankai promised would be a "state visit-plus."
"The Chinese government know who they're dealing with," said Beijing-based historian Jeremiah Jenne. "It's another in a long line of fairly shrewd moves by the Chinese government and something (Trump is) going to be very impressed with."
Originally constructed in the early 1400s, the Forbidden City is considered to be among the most important architectural and cultural monuments inside China. Designed to reflect the majesty of the emperor, the vast walled complex consists of over 90 palaces and courtyards of varying significance.
The site is currently undergoing major renovations, and areas previously not accessible to the public are being opened up.
"Some of those spaces are incredibly opulent and done with a much greater level of detail than the (public areas)," Jenne said. "I'm sure he's going to be in for quite a treat."
Ming Wan, a professor of government and politics at George Mason University, said the Chinese "will give Trump an exceptional reception, essentially they'll try to make Trump happy – that will work to China's advantage."
During last year's election campaign, Trump was a critic of China, but since becoming President – and especially since meeting with President Xi in April – he has softened considerably, toning down his rhetoric which once called for harsher trade and economic policies towards Beijing.
"(Xi's) going to treat Trump almost like an emperor," said Ming.
Using the Forbidden City in this manner is a dramatic shift from how the palace was viewed in the early decades of the People's Republic, the successor to the revolutionary government which overthrew the Qing Empire.
"What was once known as the 'palace of blood and tears' is now being used for a state visit," Jenne said. "This is an example of how the narrative (within China) has shifted, particularly in the last 25 years, it's no longer about emphasizing class revolution, in recent years it's been much greater emphasis on the glories of Chinese civilization."
Trump meets with South Korean President
China visit
Trump's visit to Beijing comes on the back of successful trips to Tokyo and Seoul, where he was lavished with praise by Prime Minister Shinzo Abe and President Moon Jae-in.
While both those leaders are key US allies, Trump will be facing a much more formidable task in China, where he will be hoping to get support from Xi for reigning in North Korea's nuclear and missile programs, as well as trade issues.
Ahead of leaving Seoul Wednesday, Trump tweeted he was "very much looking forward to meeting with President Xi who is just off his great political victory," referring to the Chinese leader's shoring up of power at the 19th Communist Party Congress last month.
At a joint press conference with South Korea's Moon Tuesday, Trump emphasized how important China was to the North Korea issue, saying Xi "has been very helpful."
"We'll find out how helpful soon," he said. "China's out trying very hard to solve the problem with North Korea."
"If we get China, if we get Russia … we think that things will happen and they could happen very quickly," Trump added.
CNN's Yuli Yang, Serenitie Wang, Nanlin Fang, Kevin Liptak and Euan McKirdy contributed reporting.