Lebanon's government believes Saudi Arabia is restricting the movement and communications of its Prime Minister, Saad Hariri, a high-level ministerial source told CNN on Friday.
Hariri "isn't expressing himself freely" with the Lebanese government, and his own political bloc – which is usually aligned with Saudi interests – had "no idea what's going on," the source said.
Speculation has swirled this week that Saudi Arabia is holding Hariri against his will after he said last Saturday in a televised address from the Saudi capital, Riyadh, that he was resigning.
The remarks are likely to further rattle officials in Riyadh, who have denied forcing Hariri to resign or placing him under house arrest. Hariri holds dual Lebanese-Saudi citizenship and has a residence in Riyadh.
Hariri's office said he had received the Italian and Russian ambassadors to Saudi Arabia in his Riyadh residence on Friday, after questions were raised over his whereabouts.
Hariri's sudden departure has plunged Lebanon into a political crisis and stoked fears of a conflict, either with Saudi Arabia, which is increasingly agitated by Iran's ascendancy in the region, or Israel, which shares Saudi's fears about Iran even if it does not support Riyadh in public.
Sunni-majority Saudi Arabia has an ongoing rivalry with Shia-led Iran, and Lebanon is fast becoming the new setting for a proxy conflict between the two Middle Eastern powers.
Hariri's Future Movement party had earlier demanded its leader's safe return, saying it was "necessary to restore consideration and respect" to Lebanon.
Lebanese President Michel Aoun also demanded Hariri's return in a meeting with Saudi charge d'affaires Walid Bukhari on Friday, the official Lebanese National News Agency reported.
"The way in which Prime Minister Saad Hariri resigned was unacceptable," he said, adding he would not accept Hariri's resignation until he returns.
Saudis and Hezbollah trade barbs
Hariri, a Saudi-backed Sunni, read his Saturday resignation remarks from notes. While he did not explicitly say who he thought was plotting to kill him, he denounced Iran for meddling in the affairs of Lebanon and several other Arab states.
He also pointed to Hezbollah, the powerful Iranian-backed Shia militant group in Lebanon, whose political wing is the most powerful bloc in Lebanon's fractured coalition government.
Hezbollah's leader, Hassan Nasrallah, lambasted Riyadh Friday for interfering in Lebanese politics and repeated accusations that Saudi officials had detained Hariri and put him under house arrest.
"Saudi insulted all the Lebanese by forcing … Hariri to resign and detaining him," Nasrallah said in a televised speech.
He also made the incendiary claim that Saudi Arabia had offered Israel billions of dollars to launch a war against Lebanon and Hezbollah.
"It is clear that Saudi Arabia and officials in Saudi Arabia have declared war against Lebanon and Hezbollah," Nasrallah added.
Hezbollah commands broad popular support from Lebanon's Shia Muslims. Hundreds of people gathered Friday in southern Beirut at a pro-Hezbollah rally, where Nasrallah' speech was broadcast.
The mothers and fathers of the party's fallen fighters gathered in a room, the men on one side, the women on the other.
"I'm very happy. I know we're in good hands as long as he's around," 60-year-old Suheir Issa Bizri told CNN, referring to the Hezbollah leader.
Bizri's son died at the age of 23 while fighting in Syria. She wears a black chador, and a pendant with a portrait of her son hangs from her neck.
"As long as we continue to produce fighters as children, all will be well," she said.
Saudi Foreign Minister Adel bin Ahmed al-Jubeir earlier this week called the allegations of restrictions on Hariri "nonsense," and blamed Hezbollah for Hariri's resignation.
"Hezbollah did by its actions. Hezbollah did by hijacking the political system in Lebanon. Hezbollah did by threatening political leaders. Hezbollah did through a series of assassinations that they committed of over the years," he said in the CNN interview Monday.
When asked of Hariri was free to leave, he responded: "Of course, he is. He is in Saudi Arabia. He is a Lebanese-Saudi citizen."
US diplomat meets Hariri
The political crisis in Lebanon comes against the backdrop of turmoil in Saudi Arabia.
On the same day that Hariri announced his resignation in Riyadh, Saudi authorities arrested dozens of royals, businessmen and senior government officials in what was described as an anti-corruption sweep. Critics of Crown Prince Mohammed bin Salman accuse him of using the sweep to consolidate his power in the country.
Houthi rebels who have taken over the Yemeni government in the capital, Sanaa, fired a ballistic missile toward an airport in Riyadh, which the Saudis were able to intercept. Saudi Foreign Minister al-Jubeir told CNN that the attempted attack was "an act of war" from Iran, which is accused of supporting and arming the Houthis.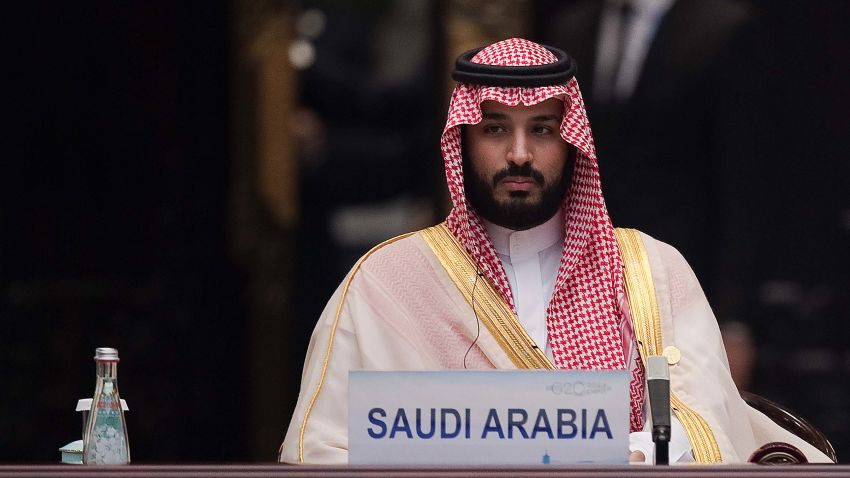 Saudi Arabia: What's going on?
Hariri's shock resignation Saturday has left many questions unanswered, and diplomats have tried to seek answers from Riyadh.
US Secretary of State Rex Tillerson said he had spoken to Foreign Minister al-Jubeir, who assured him Thursday that Hariri had himself made the decided to resign.
Tillerson on Friday warned against foreign elements intervening in Lebanon's affairs, adding Hariri was "a strong partner of the United States."
"The United States supports the stability of Lebanon and is opposed to any actions that could threaten that stability. There is no legitimate place or role in Lebanon for any foreign forces, militias or armed elements other than the legitimate security forces of the Lebanese state – which must be recognized as the sole authority for security in Lebanon.
"The United States cautions against any party, within or outside Lebanon, using Lebanon as a venue for proxy conflicts or in any manner contributing to instability in that country."
US State Department spokeswoman Heather Nauert told journalists on Thursday that the US charge d'affaires to Saudi Arabia, Chris Henzel, had met Hariri on Wednesday.
When asked what conditions he was being held in, she said: "I would have to refer you to the government of Saudi Arabia and also to Mr. Hariri's office."
French President Emmanuel Macron made an unscheduled trip to Riyadh on Thursday night and met with Saudi officials.
French Foreign Minister Jean-Yves Le Drian said Macron was invited by the Saudis, and that France believed Hariri had freedom of movement. He pointed out that Hariri had been able to travel to Abu Dhabi recently.
CNN's Ghazi Balkiz contributed to this report.