Story highlights
In 2005, Ivory Coast qualified for a World Cup for the first time
Talisman Drogba addressed the nation and helped bring peace to a country at war
Sinking to their knees, arms draped over each other's shoulders, footballers for Ivory Coast's national team began to plead with their fans and fellow Ivorians.
The players had just made history, securing Ivory Coast's place at the 2006 World Cup, their first ever appearance at the global tournament with a 3-1 victory away over Sudan.
Though the scene in the changing room was one of jubilation, the players had more pressing concerns on their minds.
At the time of the match, the Ivory Coast was embroiled in a bloody civil war which would kill an estimated 4,000 people and displaced over 1 million.
The national team captain, Cyril Domoraud, invited the media into the changing room and handed the microphone to Didier Drogba, star striker and national icon.
"Men and women of the Ivory Coast," he said down the lens, his face stern and sincere. "From the north, south, center and west, we proved today that all Ivorians can coexist and play together with a shared objective: to qualify for the World Cup.
"We promised you that the celebration would unite the people. Today, we beg you, please – on our knees – forgive. Forgive, forgive.
"The one country in Africa with so many riches must not descend into war like this. Please, lay down all weapons. Hold elections, organize elections. All will be better."
Rising to their feet, broad smiles now spread across their faces, the players started to sing.
"We want to have fun, so stop firing your guns," they chorused tunefully.
READ: Peru face World Cup test without drug-banned national hero
READ: The female referee shattering football's glass ceiling
READ: From sand, to grass, to Europe? Senegal's football dream house
READ: The football club that is also a country
Ceasefire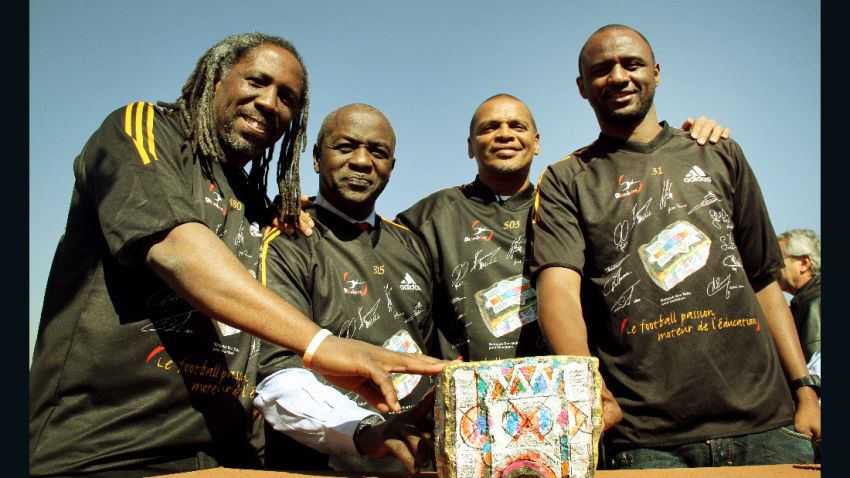 Vieira's Diambars is Senegal's football dream factory
Breaking out in 2002, Ivory Coast's first Civil War centered around national identity and 'Ivoirité' – what did it mean to be truly Ivorian?
People were denied official nationality if they could not provide documentation that both their parents were born in the Ivory Coast.
By the time Drogba addressed the nation from the Al-Merrikh Stadium in October 2005, the civil war had been raging for three years.
Drogba's speech and the team's qualification for the World Cup helped convince the government and opposing New Forces to hold a ceasefire and restart peace talks.
In early 2007, the two warring sides signed an official peace agreement, causing then president Laurent Gbagbo to declare the war was over.
The road to continued peace, however, has been a bumpy one. The elections – which were initially supposed to take place in 2005 – weren't held until 2010, the results were disputed and war soon broke out again.
Though Drogba will be remembered mostly for his exploits on the pitch, his efforts to help try and bring to an end a civil war won't be forgotten.
"Seeing both leaders side by side for the national anthems was very special," he told the Telegraph in 2007, a few months after the peace agreement.
"I felt then that the Ivory Coast was born again."
On Saturday, the country's national team missed out on a place in next year's World Cup in Russia after falling to a 2-0 home defeat by Morocco.