Ultra nationalists and fascist groups disrupted Poland's main independence day march Saturday, waving flags and burning flares as they marched down the streets of Warsaw.
Some wore masks and waved red and white Polish flags, chanting "Death to enemies of the homeland," and "Catholic Poland, not secular."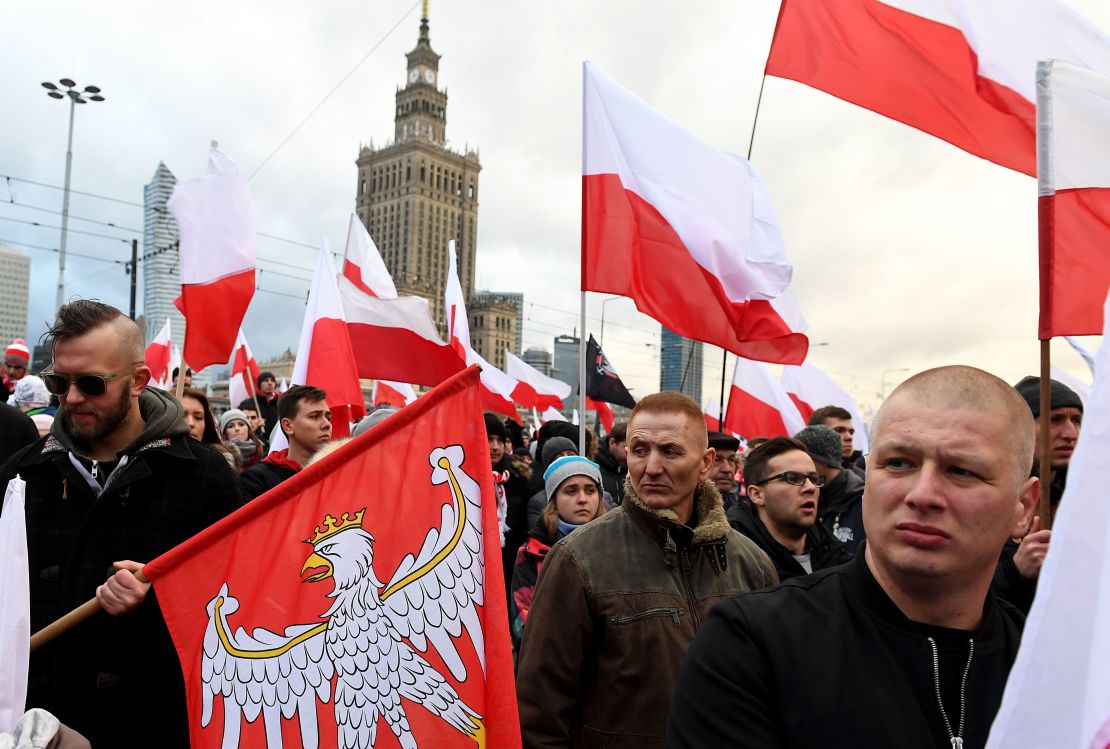 Police estimate that 60,000 people overall took part in the annual march, CNN affiliate TVN reported. While the vast majority were Poles, other protesters came from all over Europe.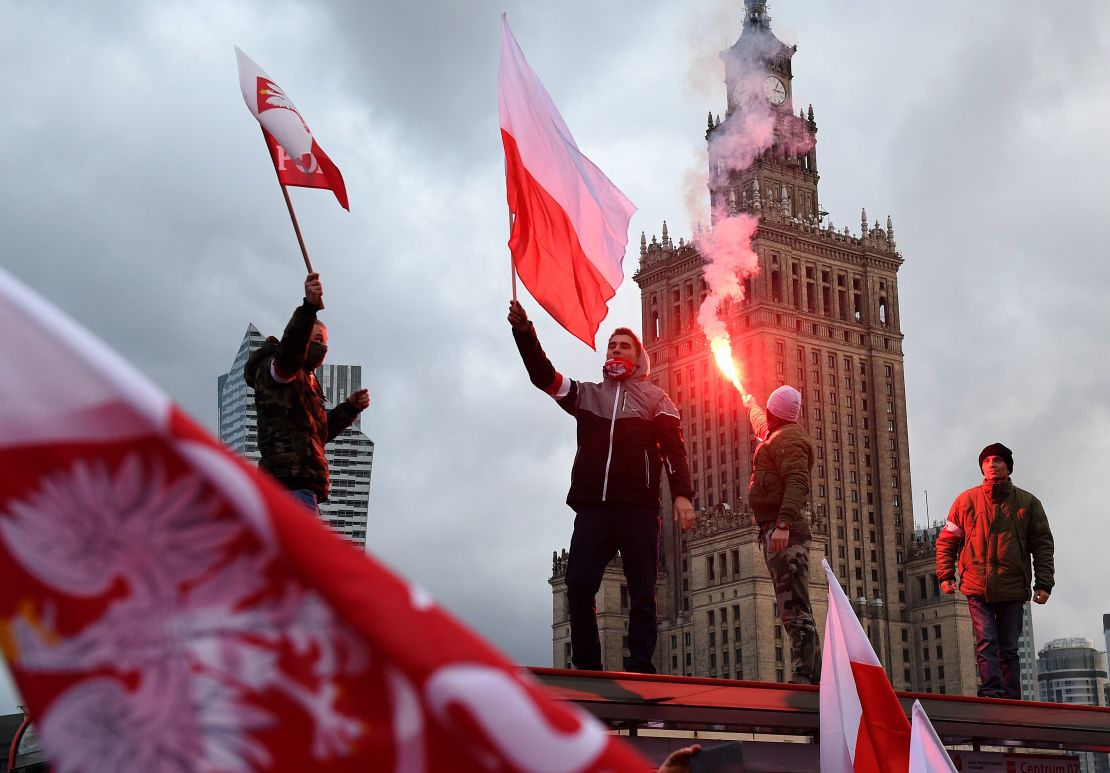 One of the lead organizations involved in the march is the National Radical Camp, which has previously taken to the streets to protest against Muslim immigration, gay rights, the EU and anything it considers undermines Polish Catholic values.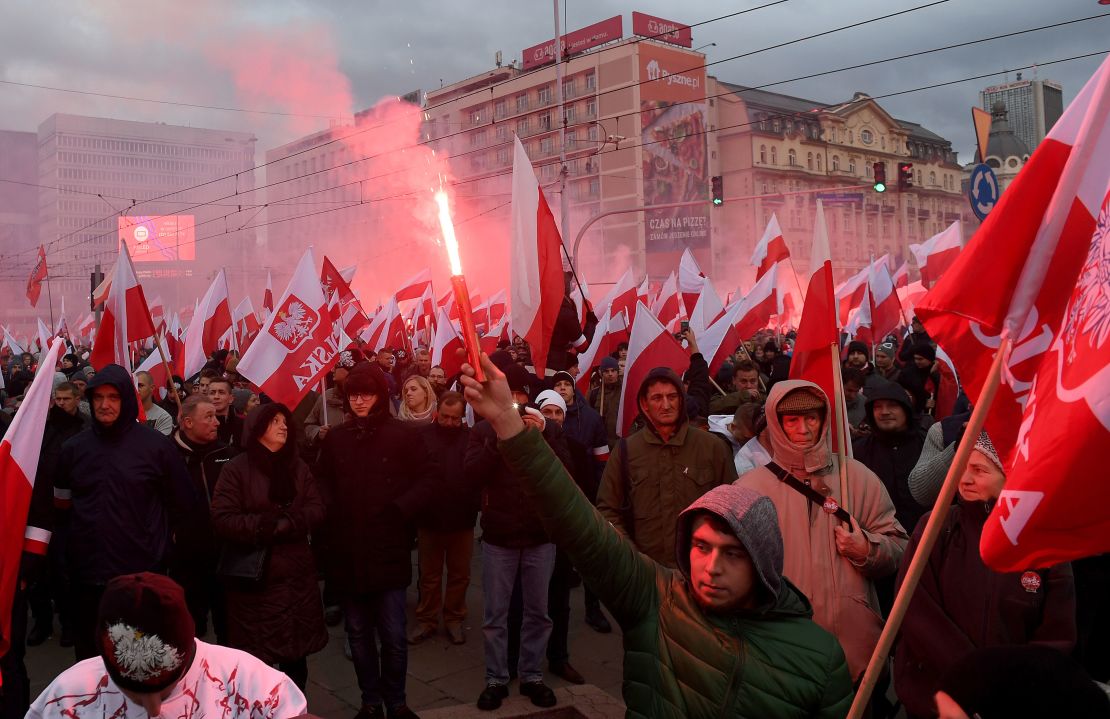 While support for the group remains small, its critics argue that the Polish government, which they say has struck a nationalistic tone and linked immigrants to crime and disease, has fostered an atmosphere of intolerance and xenophobia that has emboldened it.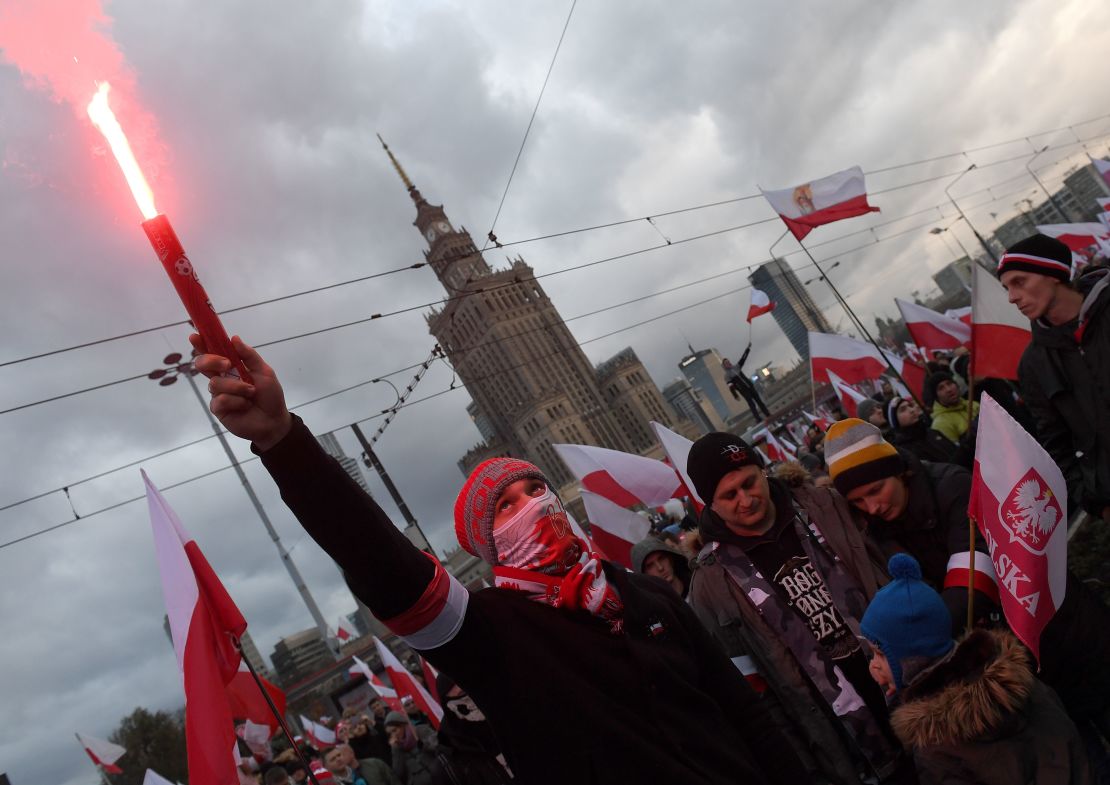 In a statement this week, Poland's Deputy Prime Minister Piotr Glinski strongly condemned the gathering saying: "We do not approve of support in the public sphere for an ethnic national community, we support the idea of a nation rooted in culture." This was echoed on Monday by Poland's President Andrzej Duda who said there was "no room or tolerance for xenophobia, sick nationalism or anti-semitism" in Polish society.
Earlier on Saturday, the Polish capital had seen a far smaller demonstration by groups condemning the hijacking of Polish independence day, which falls on November 11.
The day celebrates the re-birth of Poland in November 1918, 123 years after the Prussian, Habsburg and Russian empires carved up Poland among themselves and erased it from the map of Europe.
But in the past few years, the holiday has been overshadowed by the far-right march and fears of violence despite condemnation from key political figures in Poland.
President Duda led the formal celebrations of Polish independence day in central Warsaw. After laying a wreath at the tomb of the unknown soldier, he told the crowd to remember the price of freedom and independence.
Update: Edits have been made to this story to clarify the involvement of ultra nationalists in the march. Subsequent statements from Poland's deputy prime minister and president have been added.
Correction: An earlier version of this article reported that some of the banners at the march said, "White Europe, Europe must be white," and "Pray for Islamic Holocaust."
The freelance reporter who cited the banners got that information from other media reports. But CNN cannot independently confirm the presence of those banners at this year's march, and so that reference was removed.