Story highlights
Italy held to 0-0 draw against Sweden
Swedes qualify with 1-0 aggregate win
Italians are four-time World Cup winners
It was back in September that the president of the Italian Football Association had said that not qualifying for next year's FIFA World Cup would be "an apocalypse" for the four-time World Cup winners.
On Monday, it was as if the four horsemen had ridden into Milan as the Azzurri failed to qualify for the World Cup for the first time since 1958 after a playoff defeat against Sweden.
Italy, who will not compete in the tournament for only the second time in their history – they declined to play at the inaugural competition in 1930 – were held to a goalless draw at the San Siro, which allowed the Swedes to advance 1-0 on aggregate.
Before a World Cup, there has to be a World Cup draw.
'There must be no scapegoats'
The defeat heralds the end of the international career of goalkeeper Gianluigi Buffon, the most capped player in Italian history with 175 appearances.
A tearful Buffon said he was sorry for all of Italy and that the blame was "divided equally among us all."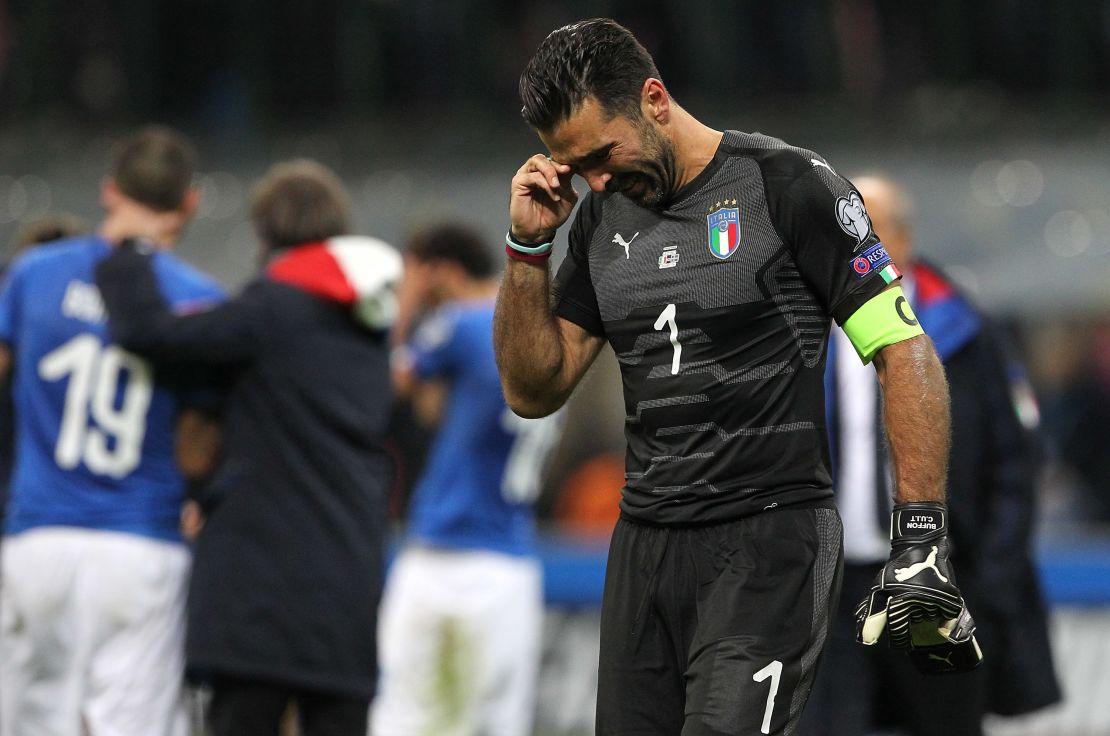 The 39-year-old, who made his international debut in October 1997, told reporters: "It is upsetting that my last match decided we didn't qualify for the World Cup.
"I'm sorry. Not for me, but for Italy. We blew something that could have meant so much. The only regret is that it ended like this.
"The blame is divided equally among us all. There must be no scapegoats."
Buffon's Juventus teammate Andrea Barzagli and Roma's Daniele De Rossi also announced their international retirements after the match, while Juve's Giorgio Chellini is also expected to retire.
"My adventure here ends," said substitute De Rossi, who refused to warm up in the second half as he wanted his manager to "bring on attacking players."
Despite their absence from football's showpiece event, Buffon – a World Cup winner in 2006 – said his country had a bright future.
"There's definitely a future, because we have pride and strength," said Buffon, who was a member of Italy's World Cup squads in 1998, 2002, 2012 and 2014.
"We're stubborn and hard-headed. After ugly falls we find a way to rise back up. A lot of these kids are talented, including Gianluigi Donnarumma and Mattia Perin. I wish them a lot of luck."
READ: US miss out, Argentina breathes sigh of relief
Pressure on Italy boss
Failure to qualify has heaped pressure on Italy boss Gian Piero Ventura, with the sport daily Corriere Dello Sport calling for him to step down, while the headline of an article in La Gazetta dello Sport was 'Italy, this is the apocalypse.'
The article continued: "We will not be with you and you will not be with us. A love so great must be reserved for other things. There will be inevitable consequences but let's just see if they stop with Ventura or go further."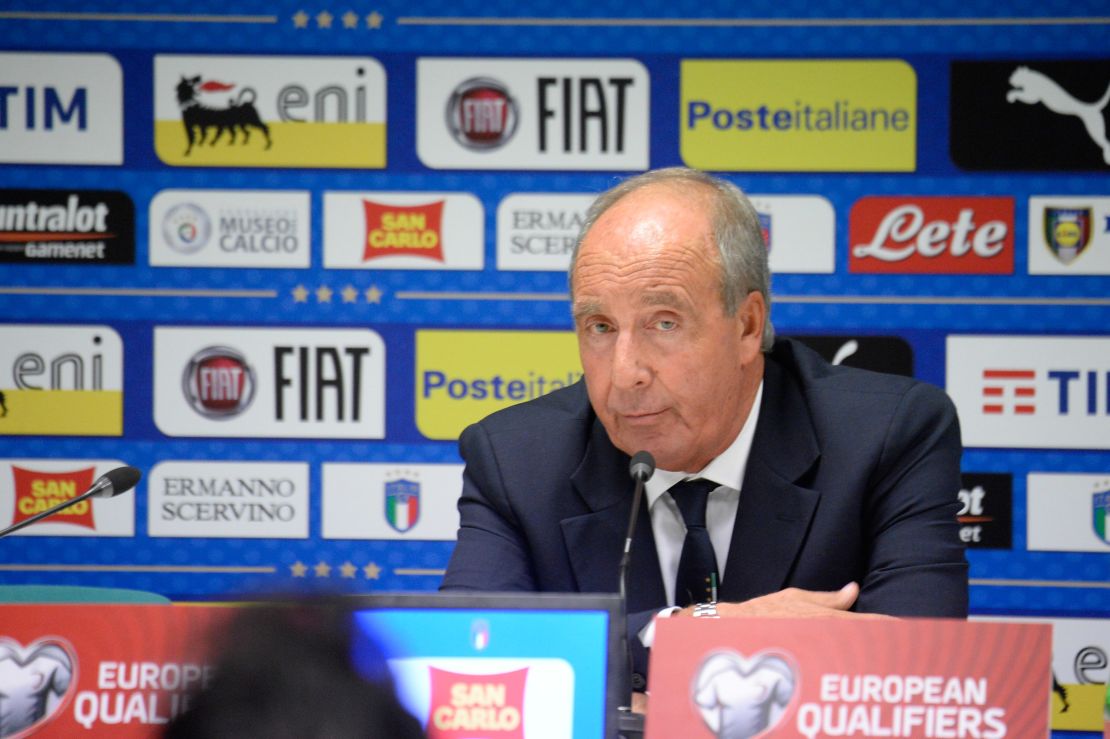 Ventura, 69, who is under contract until 2020, told reporters at a news conference: "I have not resigned because I haven't spoken to the president yet.
"Resignation? I have to evaluate an infinity of issues. We will meet with the federation and discuss it."
Sweden celebrates
Playing in front of 70,000 fans, Italy were the dominant side – enjoying 75% of possession and 23 shots on goal compared to Sweden's four – but they could not overturn Sweden's first-leg advantage.
Sweden coach Jan Andersson told reporters: "We had no weapons left. We just had to sit there and hope we could hang on.
"We couldn't do it in any other way, they are so skilful."
At the end of the match, as they celebrated reaching the World Cup for the first time since 2006, the Swedish team destroyed the broadcaster Eurosport's pitch-side desk .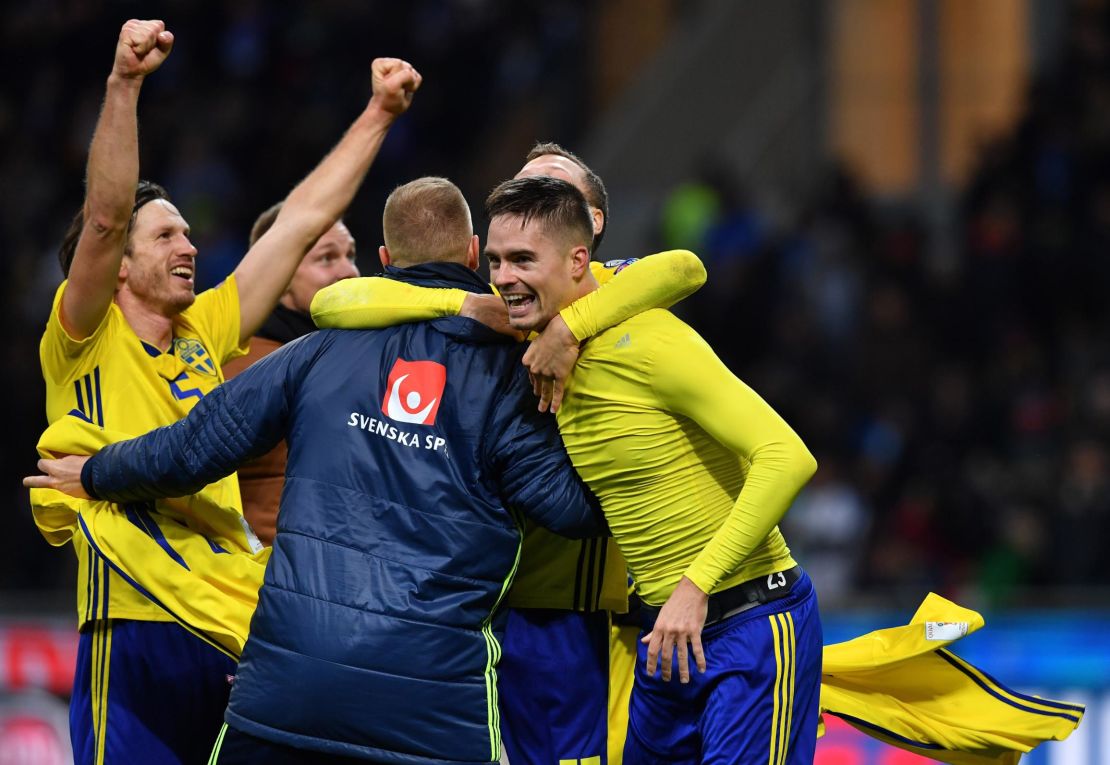 Sweden's qualification opens the possibility of the return of one of Europe's most high-profile players into the international fold.
Manchester United striker Zlatan Ibrahimovic, who hasn't played for his country since retiring after Euro 2016, could reverse his decision to retire from international football.
Following the Swedes' qualification, Ibrahimovic tweeted a photo of the squad with the words: "We are Zweden."
READ: Being No.1 is difficult – Ibrahimovic
Other big hitters stumble
Italy will not be the only major nation missing from next year's tournament in Russia, which starts on June 14.
The Netherlands, back-to-back South American champions Chile, the United States, which had been a fixture at the finals for the last seven tournaments, and Euro 2016 semifinalists Wales have all failed to qualify.
Elsewhere, Croatia drew 0-0 with Greece but advanced to the finals 4-1 on aggregate, while Switzerland broke Northern Irish hearts by holding on to another goalless draw, advancing 1-0 on aggregate after a controversial penalty in the first leg.
In the coming days, the playoffs continue with the Republic of Ireland facing Denmark, New Zealand traveling to Peru and Australia hosting Honduras to determine the remaining three slots.
Go to CNN.com/sport for more stories & features
The draw for the finals takes place in Moscow on Friday December 1.