When Saad Hariri gave an interview to a TV station he owns from his home in Riyadh on Sunday, the aim was to put to rest the widespread belief that he is being held against his will in the Saudi capital after quitting as Lebanese Prime Minister last week.
But the plan backfired spectacularly. Analysts say viewers appeared to pay less attention to what Hariri said than how he said it, and the uncomfortable interview seemed to reinforce claims that his shock resignation was ordered by the Saudis.
Last week, a high level ministerial source told CNN that Hariri's closest allies "have no idea what's going on," and that members of his own political party believe Saudi Arabia is "restricting" his movements.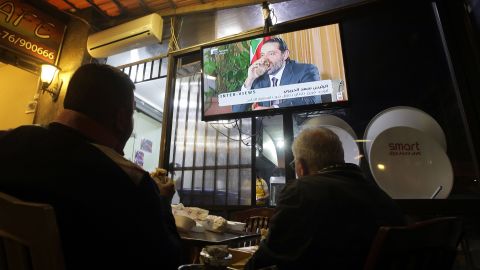 That view that has been propagated from the uppermost echelons of Lebanon's government, including President Michel Aoun, who said Hariri was operating against "his own free will." Aoun warned that Hariri's remarks during the interview would sow "doubt and confusion, and we cannot take it as true or to consider them stances made by Hariri's own free will."
As a result, multiple local news channels, including Lebanese state TV, refused to rebroadcast the interview on Sunday night. Some who were able to tune in barely recognized their Prime Minister.
Hariri chose Lebanon's Future TV, a channel he owns, for his first public remarks since he announced he would quit his post eight days before. Paula Yacoubian, one of his highest-profile TV hosts, flew to Riyadh to conduct the interview.
'Part of this theater'
Sunday's exchange ranged from the tense to the emotional to the downright bizarre, and has already become one of the most commented-on television spectacles in the history of Lebanese social media.
"Today, Mr. Prime Minister, I am unable to convince anybody that you aren't a prisoner in the Kingdom of Saudi Arabia, that you're not a hostage, that you're not under house arrest even though we are in your own house," said the characteristically fiery Yacoubian as she faced Hariri – her boss.
"Even I myself am being accused of being part of this theater," she added, speaking over the Prime Minister as she said it.
It was an 80-minute interview that revealed a pale and somber Hariri who, despite having relinquished his national duties, appeared exhausted.
"I think people who believed (Hariri) was a prisoner will not be reassured that things are fine with Hariri. He seemed to be tense. He seemed to be emotional. He cried so easily," Habib Battah, a media studies instructor at the American University of Beirut and founder of independent outlet BeirutReport.com, told CNN of the interview.
"(Hariri) looked exhausted. If you think about it, he's supposedly not running a country. He's supposedly taking a break and sitting at home. Why is he so tired? Why is he so nervous? Why is he so unhappy?" blogger and long-time Lebanese media expert Claude el Khal told CNN.
Since his resignation, Hariri has held several meetings with senior European and Arab officials including Abu Dhabi's Crown Prince, but there have been no public statements about them.
'You're making me very tired'
Analysts point to several moments in which Hariri seemed to confirm suspicions about his circumstances. Fifteen minutes in, he appeared to choke back tears, leading Yaacoubian to call for an early commercial break. He ended the interview by saying "You're making me very tired."
One of the most widely commented on parts of the interview was Hariri's frequent sipping of water. Yaacoubian made this more pronounced by offering her own glass of water to the prime minister after his had run out.
"You could see in her eyes that she felt sorry for him. It was as if she had gotten in touch with a maternal instinct," said el Khal, who noted that Yaacoubian ratcheted down her combative tone as Hariri began to get emotional.
"Yesterday was a terrible moment for Lebanon no matter what you thought about Hariri," el Khal added.
'The man carrying the note'
Lebanese social media were also awash with speculation about a person who partially appeared in the frame towards the end of the interview. He was carrying a note and Hariri appeared to be glaring at him. Some suggested that the unknown man could possibly be a captor, though analysts say he was most likely a member of Hariri's team breaking with TV protocol.
"It's amazing that that moment has taken on this importance. It shows you how people are easily speculating around this moment. It just shows you that we know so little and it's such a farcical situation," said Battah.
"If the interview was meant to propagate a message that Hariri was in a strong position, that he was in a confident position, then it didn't really do that at all."