Editor's Note: Are you in Zimbabwe? We want to hear how the current situation is affecting you. Contact CNN via WhatsApp at +1 347 322 0415. Please do not put yourself in any danger.
Story highlights
Army spokesman on state TV denies a military takeover underway
President Robert Mugabe and family "safe," army spokesman says
Zimbabwe's military leaders have seized control of the impoverished southern African nation, placing longtime leader Robert Mugabe under house arrest and deploying armored vehicles to the streets of the capital, Harare.
Mugabe, 93, the world's oldest living leader, was unable to leave his home, according to Jacob Zuma, the President of neighboring South Africa. Troops were reportedly stationed at Zimbabwe's Parliament and the presidential palace.
In a dramatic televised statement early Wednesday, an army spokesman denied a military takeover was underway.
But the situation bore all the hallmarks of a coup: The military was in control of state TV in Harare, a significant army presence was at the city's international airport, and Mugabe has not been seen in public.
Key developments
Military in charge: An army spokesman announced on the state-run Zimbabwe Broadcasting Corp. at 4 a.m. that it was conducting an operation to target "criminals" close to Mugabe who were causing "social and economic suffering."
President's location: The spokesman said Mugabe and his family were "safe." South Africa's Zuma later said Mugabe had been confined to his home but was feeling fine. Zuma spoke with Mugabe by phone.
Situation on streets: The capital was quiet, but there were lines outside banks. CNN saw army checkpoints at key locations and armored vehicles on the streets.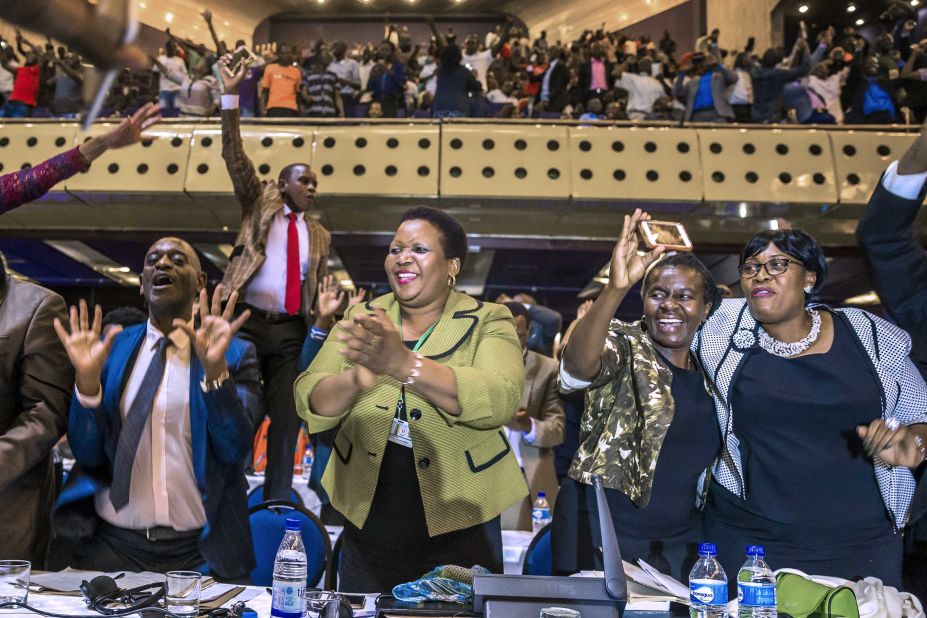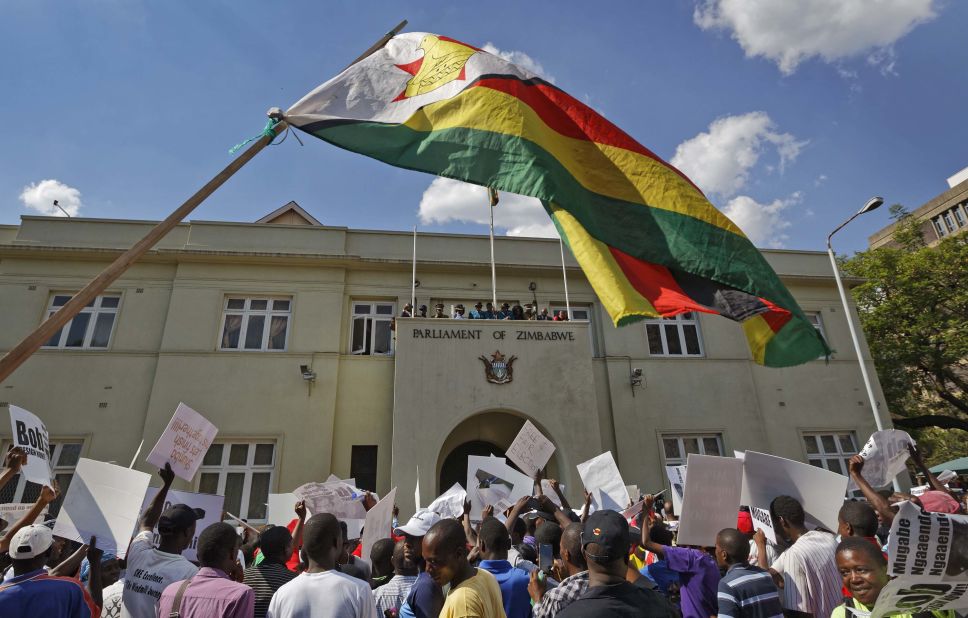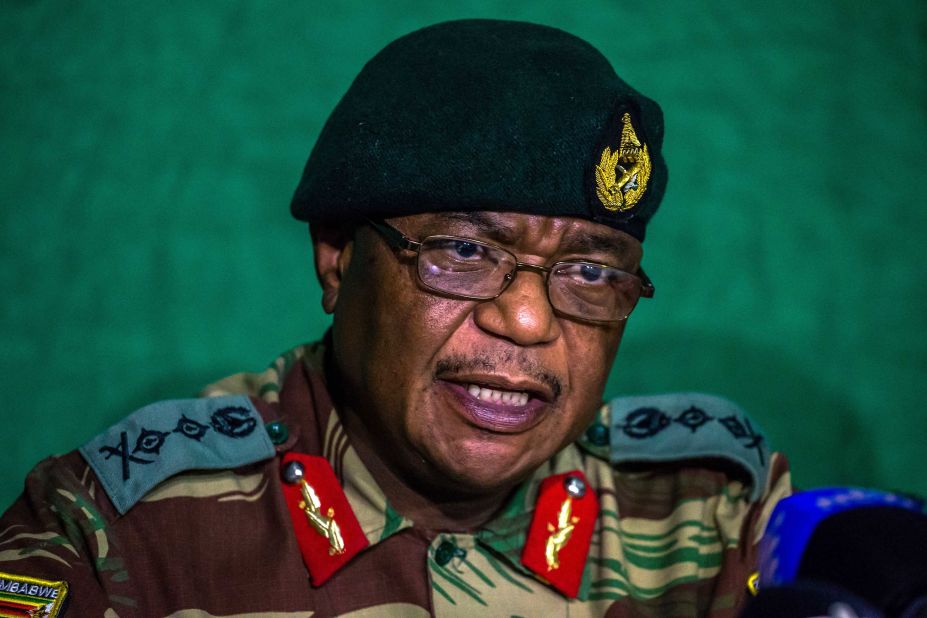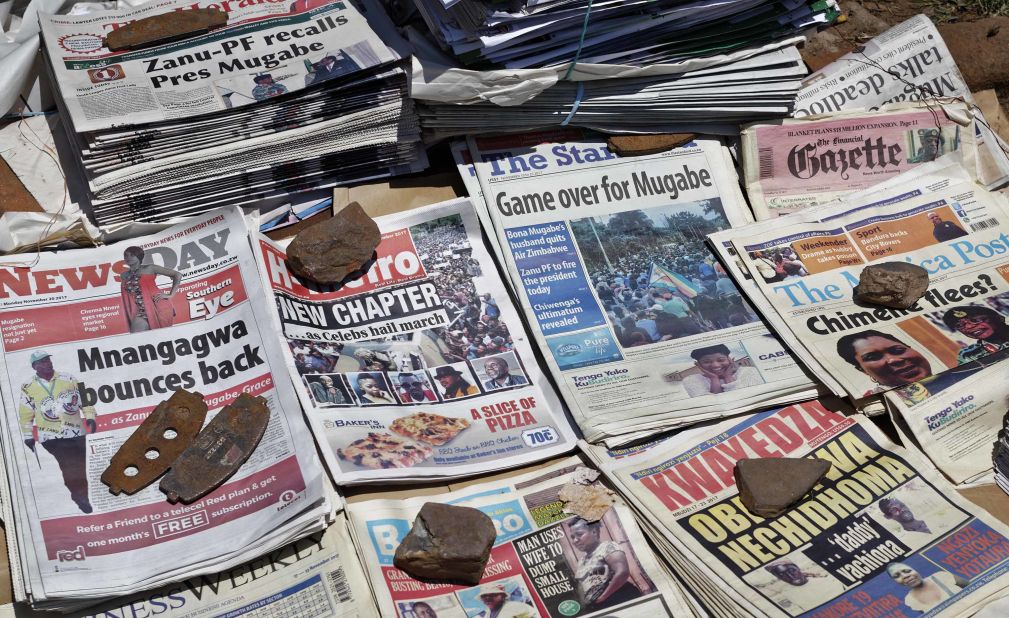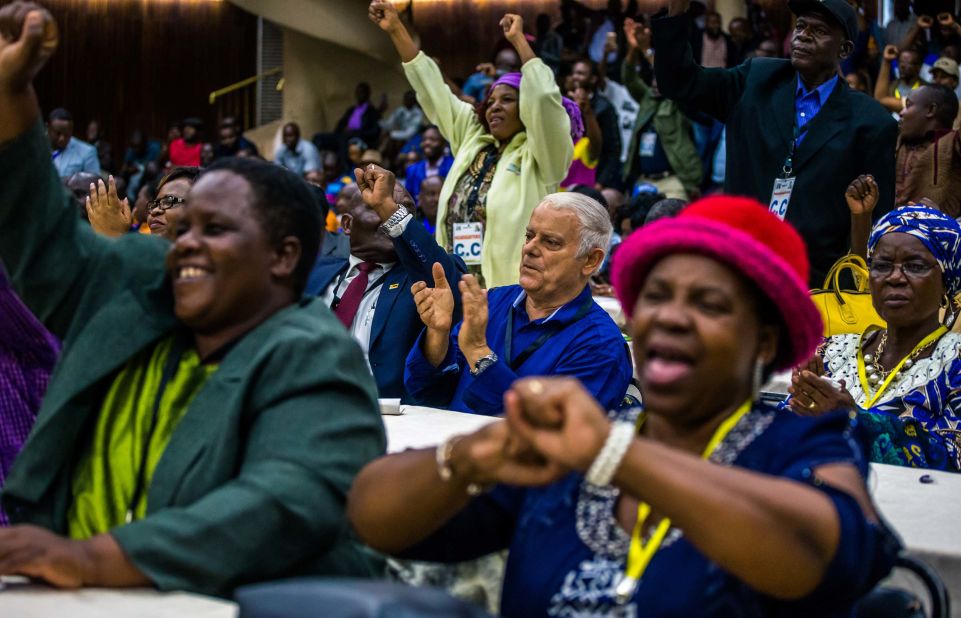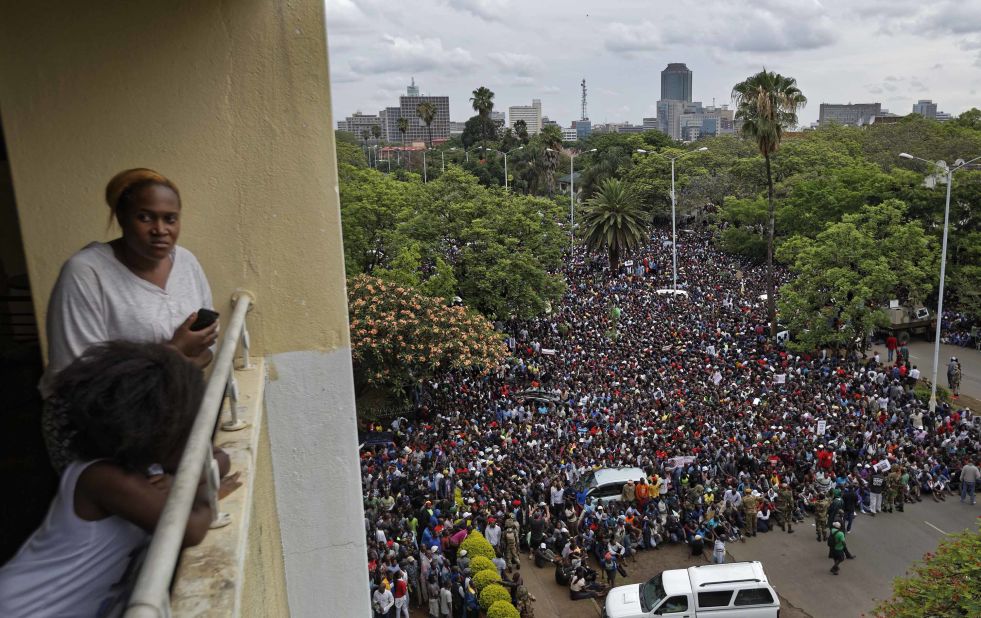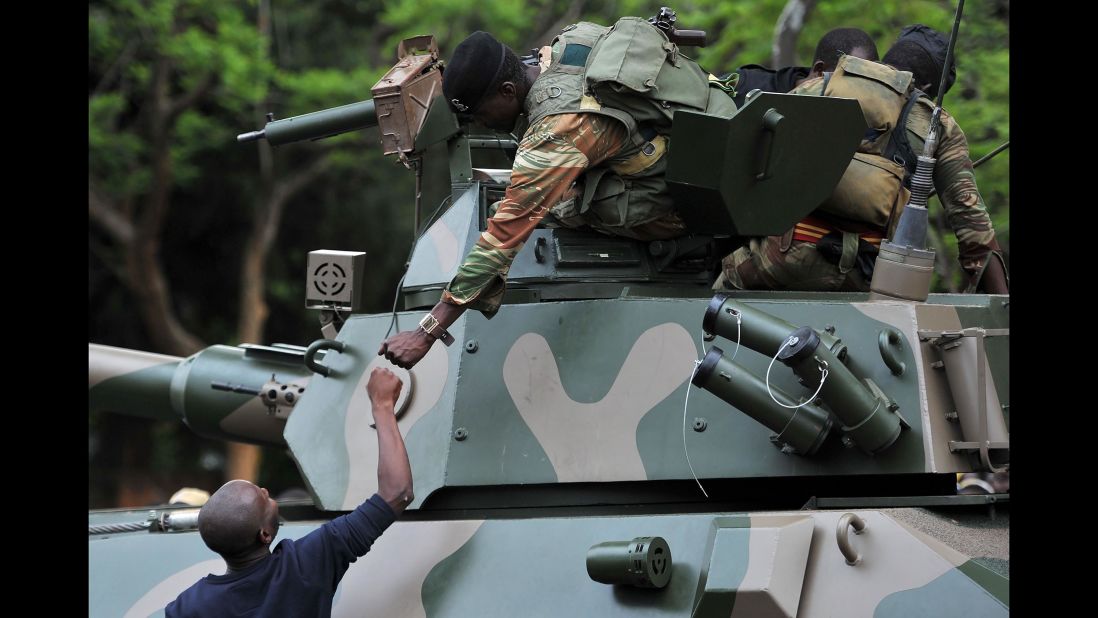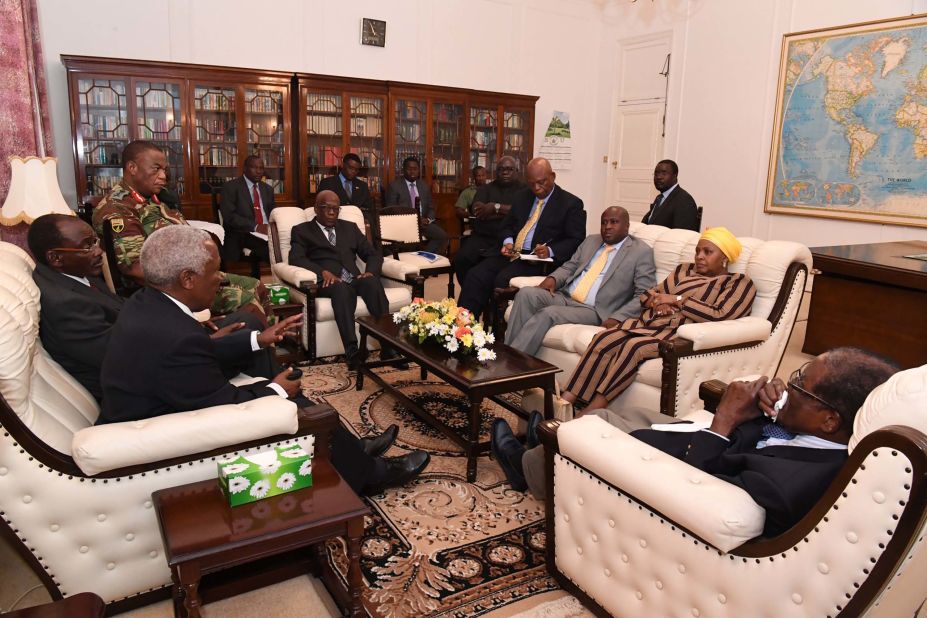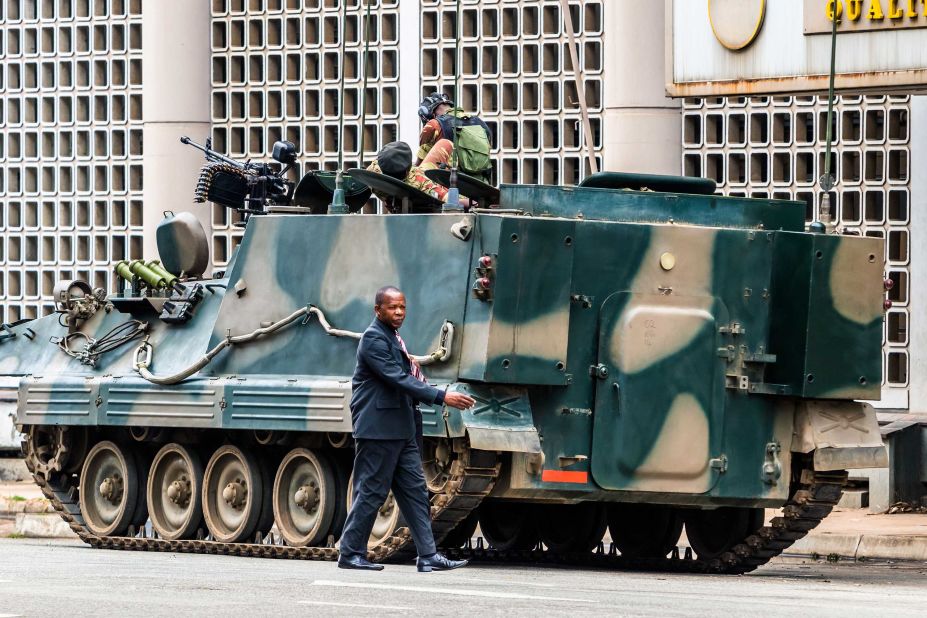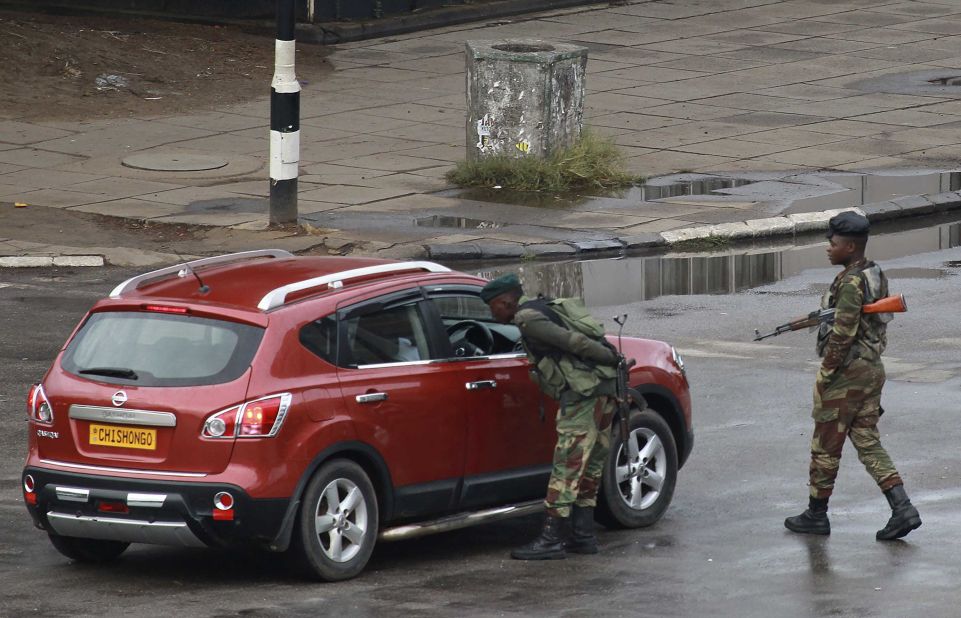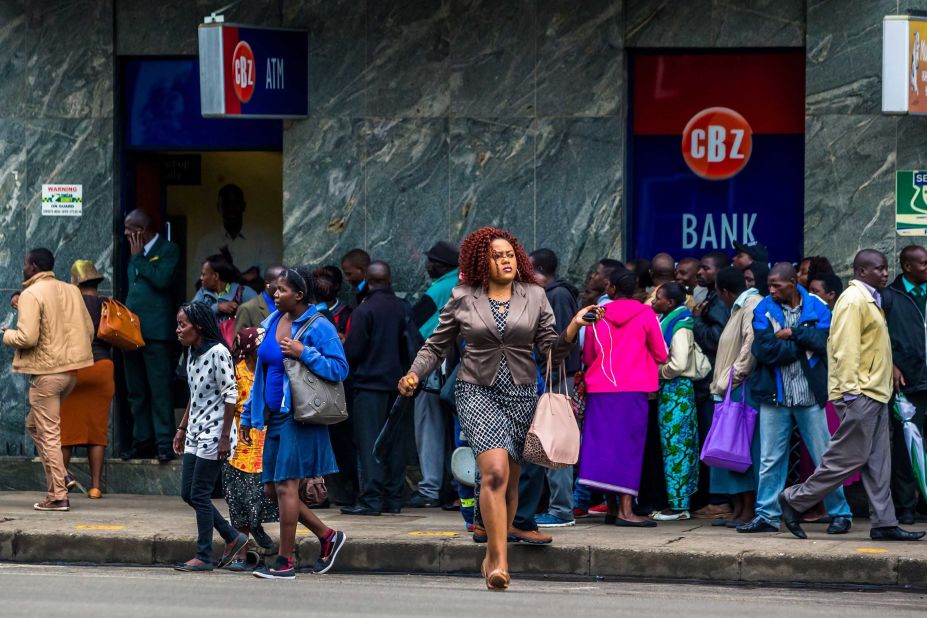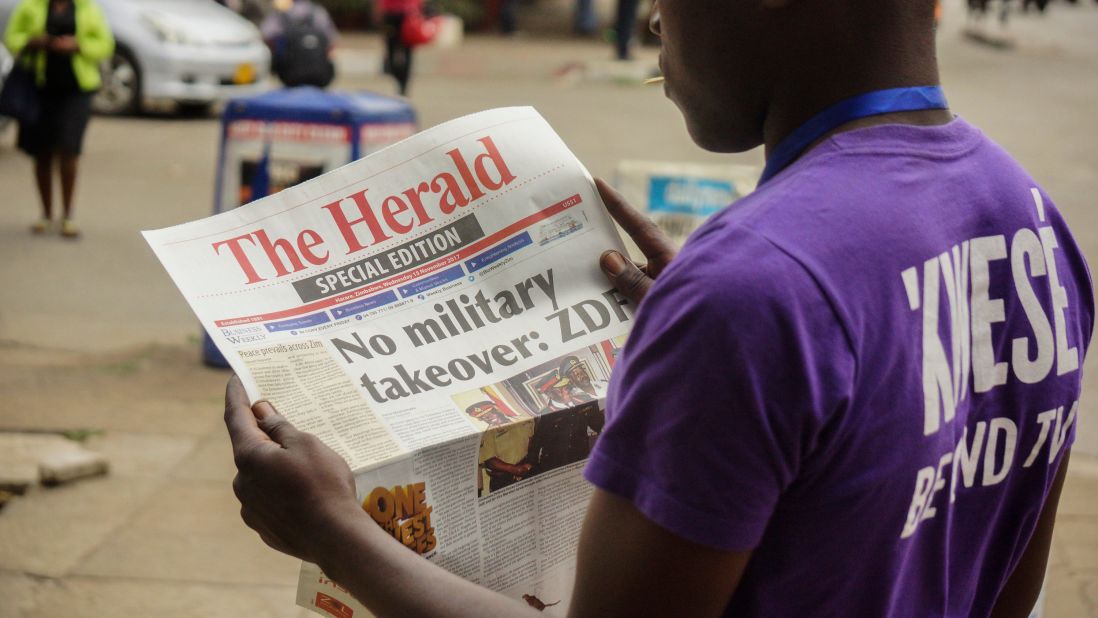 Political upheaval grips Zimbabwe
What happened?
A simmering succession battle in the ruling Zanu-PF party came to a head two weeks ago when Mugabe sacked his powerful vice president, Emmerson Mnangagwa.
Mugabe's decision fueled speculation he was preparing to anoint his wife, Grace, as his successor. Grace Mugabe, 52, is widely disliked within the party's old guard, while Mnangagwa enjoys wide support in the military.
The first signs that a military intervention was underway came Tuesday afternoon as armored vehicles were seen near the capital.
The situation escalated with Wednesday morning's announcement, when Maj. Gen. S.B. Moyo addressed the country on state TV, vehemently denying the operation was a coup.
"To both our people and the world beyond our borders, we wish to make it abundantly clear that this is not a military takeover of government," he said.
"As soon as we accomplish our mission we expect (the) situation to return to normalcy."
Robert Mugabe: What you need to know
Moyo told members of the Zimbabwe Defense Forces that all leave was canceled and soldiers were expected to return to their barracks immediately. He urged Zimbabwe's other security services to cooperate for "the good of our country."
Moyo said the security of Mugabe and his family was "guaranteed" and said the President was safe but gave no information of his whereabouts.
There were reports Wednesday that officials were being arrested.
Eerie quiet
Soldiers secured the Robert Mugabe International Airport and checked vehicles and IDs.
Armored personnel carriers were seen at several locations in downtown Harare, including at the high court and government buildings.
The situation in Harare is oddly "quite calm," a resident told CNN on WhatsApp. He said the appearance of armored military vehicles on the streets was the first he could recall.
"Activities are normal elsewhere," wrote a university student, who passed by military vehicles outside government buildings in central Harare repeatedly on Wednesday. "The military has captured key places."
There was calm, though.
"The soldiers outside the President's office are actually talking to folks passing by," the student said.
Another Harare resident, who watched a cricket match Wednesday evening outside the old presidential house, also wrote on WhatsApp that the city was placid. "(The) Army has been polite and getting on with the people," he said.
People were dropping off food and drink for the soldiers, he said.
"Sure, there is an element of anxiety but we hoping for the best."
There was no sign of the Zimbabwe police force, and the only security forces on the streets were the military. Traffic was lighter than usual.
A resident, who wished not to be named for security reasons, told CNN the city as "very quiet," though shops were open and buses and taxis appeared to be running normally.
"Many people have just stayed home," she said.
She added there was a sense of "excitement in the air" and that social media was humming over what might be happening.
But there were signs of nervousness: Photos showed long lines at ATMs and at banks.
Political reaction
Zuma called on Zimbabwe's Defense Forces to show restraint, adding that he hoped they "will not move and do more damage."
"I am hoping that the situation is going to be controlled so peace and stability comes back to Zimbabwe," the South African leader said.
South African Defense and Military Veterans Minister Nosiviwe Mapisa-Nqakula and State Security Minister Bongani Bongo arrived in Zimbabwe for discussions with authorities, according to the South African Department of International Relations and Cooperation.
UN Secretary-General Antonio Guterres has appealed for "calm, nonviolence and restraint," deputy spokesman Farhan Haq said in a statement to CNN.
In Zimbabwe, political figures once loyal to Mugabe were beginning to turn away from him.
In a statement praising the military, Chris Mutsvangwa, who heads the influential Zimbabwe War Veterans Association, called the move a "bloodless coup."
"We salute the patriotic and gallant forces of Zimbabwe for once again coming to the decisive rescue of the nation," the statement said.
"The populace has long suffered under a self-saving dictatorship that had become an oligarch with dynastic delusions."
Mutsvangwa is an ally of the deposed vice president, but his veterans group has historically been loyal to Mugabe, who led a violent campaign against British colonial rule and was elected Prime Minister after Zimbabwe gained independence in 1980 and then President seven years later.