Story highlights
Leeann Tweeden says she was kissed without her consent by Al Franken
The allegations come at a time when Congress is examining sexual harassment
A female radio news anchor said Thursday that Minnesota Democratic Sen. Al Franken groped and "forcibly kissed" her without her consent during an overseas USO tour in 2006, two years before Franken was elected to the Senate.
The revelations have prompted Franken to apologize and ignited calls for a Senate ethics investigation into Franken's behavior.
Leeann Tweeden is now a morning news anchor on TalkRadio 790 KABC in Los Angeles and posted her story in a lengthy post on the station's website.
"You knew exactly what you were doing," Tweeden wrote. "You forcibly kissed me without my consent, grabbed my breasts while I was sleeping and had someone take a photo of you doing it, knowing I would see it later, and be ashamed."
The revelations come amid a growing national furor over sexual harassment and misconduct, including a remarkable House hearing earlier this week in which lawmakers addressed what they described as a rampant sexual harassment problem on Capitol Hill.
Republican campaign arms have already tied Democratic candidates to Franken, but members of Congress have largely agreed to leave the allegations to a committee investigation. Senate Majority Leader Mitch McConnell and Senate Minority Leader Chuck Schumer have each called on the Senate ethics committee to review Tweeden's account against Franken. Franken has said he would cooperate with an investigation.
Sources briefed on the matter say that Franken was emotional and upset as he apologized to staff Thursday. Franken skipped all Senate votes and the Democratic lunches, where he would have interacted with colleagues. He has not, sources say, spoken to most of them.
What happened in December 2006
In her post, Tweeden says the harassment occurred as the two rehearsed for a USO skit written by Franken in which he was supposed to kiss her. She writes that Franken repeatedly insisted they rehearse the kissing scene despite her protests. When she relented, she says, Franken "put his hand on the back of my head, mashed his lips against mine and aggressively stuck his tongue in my mouth."
"Senator Franken, you wrote the script," Tweeden wrote. "But there's nothing funny about sexual assault."
She also included a photo in which Franken appears to grab her breast while she's asleep.
"I couldn't believe it. He groped me, without my consent, while I was asleep," Tweeden writes. "I felt violated all over again. Embarrassed. Belittled. Humiliated."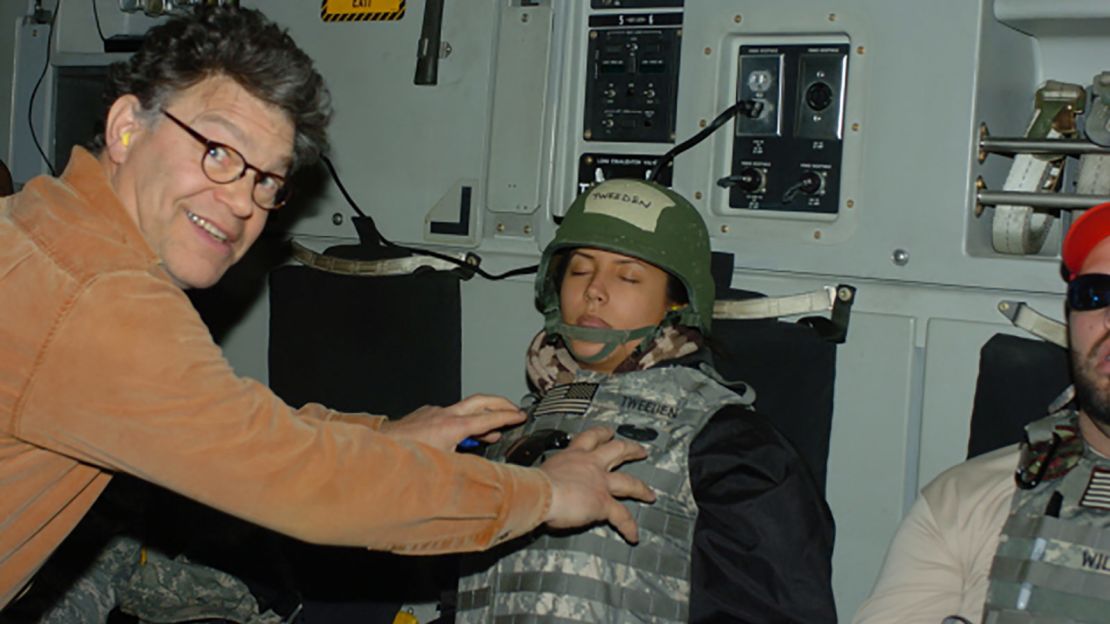 Franken apologizes twice
In a statement to reporters, Franken said he doesn't remember the forced kissing, but that said he shouldn't have behaved the way he did in the photo.
"I certainly don't remember the rehearsal for the skit in the same way, but I send my sincerest apologies to Leeann," Franken said. "As to the photo, it was clearly intended to be funny but wasn't. I shouldn't have done it."
Franken released a longer statement several hours after his initial one, where he delivered a lengthier apology and said he "didn't know what" had been in his head when he took the actions in the photo.
"The first thing I want to do is apologize: to Leeann, to everyone else who was part of that tour, to everyone who has worked for me, to everyone I represent, and to everyone who counts on me to be an ally and supporter and champion of women. There's more I want to say, but the first and most important thing—and if it's the only thing you care to hear, that's fine — is: I'm sorry," Franken said in the emailed statement.
He continued, "I respect women. I don't respect men who don't. And the fact that my own actions have given people a good reason to doubt that makes me feel ashamed."
Franken continued to say he didn't remember the exact actions of the rehearsal skit, but added, "I understand why we need to listen to and believe women's experiences."
Tweeden: 'There's no reason why I shouldn't accept his apology'
At a news conference, Tweeden was asked if she accepted Franken's apology.
"There's no reason why I shouldn't accept his apology," she said. "I wasn't looking for anything."
Tweeden also recounted her 2006 encounter with Franken during the news conference, describing in detail the moment in which Franken kissed her.
She said he stuck his tongue in her mouth "so fast."
"All I could remember is that his lips were really wet and it was slimy. In my mind I called him fish lips the rest of the trip because that's what it reminded me of," she said.
Tweeden said she "pushed" Franken off, and that she almost punched him.
"I pushed him off with my hands, I just remember I almost punched him … Every time I see him now, my hands clench into fists," she said.
After the incident, which Tweeden said she did not report at the time, she said she made sure she was never alone with Franken again.
Asked whether she believes Franken should step down, Tweeden said that "people make mistakes."
"I'm not calling on him to step down," she said. "That's not my place." However, she added that her opinion may change if other women come forward with similar allegations.
Tweeden did not report Franken's behavior, and the USO released a statement saying that it had never been reported to the group.
"We have no knowledge of it," Ashley McLellan, a spokesperson for the USO, told CNN. "The report is deeply disturbing and does not reflect the values of the USO."
Congress confronts harassment and misconduct among its own
The comments about Franken come at a time when Congress is conducting a review of its policy for addressing sexual harassment and how it handles complaints. The House held a hearing on the issue earlier this week, and both chambers now will require sexual harassment training. The changes to Capitol Hill follow the ground-shaking allegations of sexual harassment and misconduct that have swept industries, organizations and institutions worldwide.
Franken acknowledged that cultural change in his revised statement.
"Over the last few months, all of us — including and especially men who respect women — have been forced to take a good, hard look at our own actions and think (perhaps, shamefully, for the first time) about how those actions have affected women," Franken said.
Tweeden said she's coming forward now after hearing testimony from women – including California Democratic Rep. Jackie Speier – who have shared similar stories of men in power who have committed sexual harassment and sexual assault.
"I want to have the same effect on them that Congresswoman Jackie Speier had on me," Tweeden wrote. "I want them, and all the other victims of sexual assault, to be able to speak out immediately, and not keep their stories –and their anger– locked up inside for years, or decades."
Tweeden's revelations about Franken's behavior rocked the Capitol, with a number of lawmakers – Republicans and Democrats – calling for action.
Senate Majority Leader Mitch McConnell, a Republican from Kentucky, said the issue should be referred to the ethics committee.
"As with all credible allegations of sexual harassment or assault, I believe the Ethics Committee should review the matter. I hope the Democratic Leader will join me on this," McConnell said in a written statement. "Regardless of party, harassment and assault are completely unacceptable—in the workplace or anywhere else."
In his own statement, Schumer said that sexual harassment is "never acceptable and must not be tolerated."
"I hope and expect that the Ethics Committee will fully investigate this troubling incident, as they should with any credible allegation of sexual harassment," he added."
Franken has said he would cooperate with the committee's investigation.
Washington Sen. Patty Murray, the highest ranking woman in the Democratic Senate leadership, said Franken's apology "doesn't reverse what he's done or end the matter."
A similarly sharp rebuke came from Sen. Amy Klobuchar, a Minnesota Democrat.
"This should not have happened to Leeann Tweeden," Klobuchar said in a statement. "I strongly condemn this behavior and the Senate Ethics Committee must open an investigation. This is another example of why we need to change work environments and reporting practices across the nation, including in Congress."
The political fallout
The allegations against Franken quickly crossed into politics, with the National Republican Senatorial Committee tying senators running for re-election to Franken and the National Republican Congressional Committee demanding that Democratic candidates who had received campaign money from Franken to return those donations.
Josh Hawley, Missouri's Republican attorney general, who is running for the US Senate, used the event to needle Missouri Sen. Claire McCaskill, who is up for re-election in 2018 and considered one of the most vulnerable Democrats.
McCaskill tweeted that she was "shocked and concerned" and that the behavior described by Tweeden is "completely unacceptable." She also said she supports calls for an ethics investigation.
"This is not enough," Hawley tweeted, calling on McCaskill to join him in calls for Franken's resignation. "Return the money he gave you & the money he raised for @MODemParty."
McCaskill told CNN that returning Franken's campaign donations is "basically under consideration right now."
Several Democrats, including Sens. Kirsten Gillibrand of New York and Tammy Baldwin of Wisconsin, have indicated that they will donate money they've received from Franken.
An aide to Gillibrand told CNN that she plans to give all the money she's ever received from Franken's PAC – which they say totals $12,500 – to the group Protect our Defenders, which combats rape and sexual assault in the military.
Baldwin told MSNBC that she plans to donate campaign contributions from Franken to a women's veteran initiative in Wisconsin.
Montana Sen. Jon Tester, also a Democrat, said he will donate $25,000 from Franken to a Montana organization that supports survivors of domestic and sexual violence.
This story has been updated and will continue to update with developments.
CNN's Manu Raju, Ashley Killough and Jen Rizzo contributed to this report.