Twenty-six matching coffins for the mostly nameless victims of the latest Mediterranean migrant disaster were lined up in two rows in the center of the main cemetery in Salerno in southern Italy on Friday.
Local representatives from the Muslim and Catholic communities blessed each coffin. Local students, refugees and survivors of the incident that killed the Nigerian victims laid white roses on their coffins. Ten were interred in Salerno. The others were put in hearses and taken to area cemeteries.
The 26 women and girls were in a rubber dinghy that capsized in the Mediterranean on November 5. Also on board were 150 or more other people, according to Salerno chief prosecutor Corrado Lembo, who says as many as 100 people are considered missing.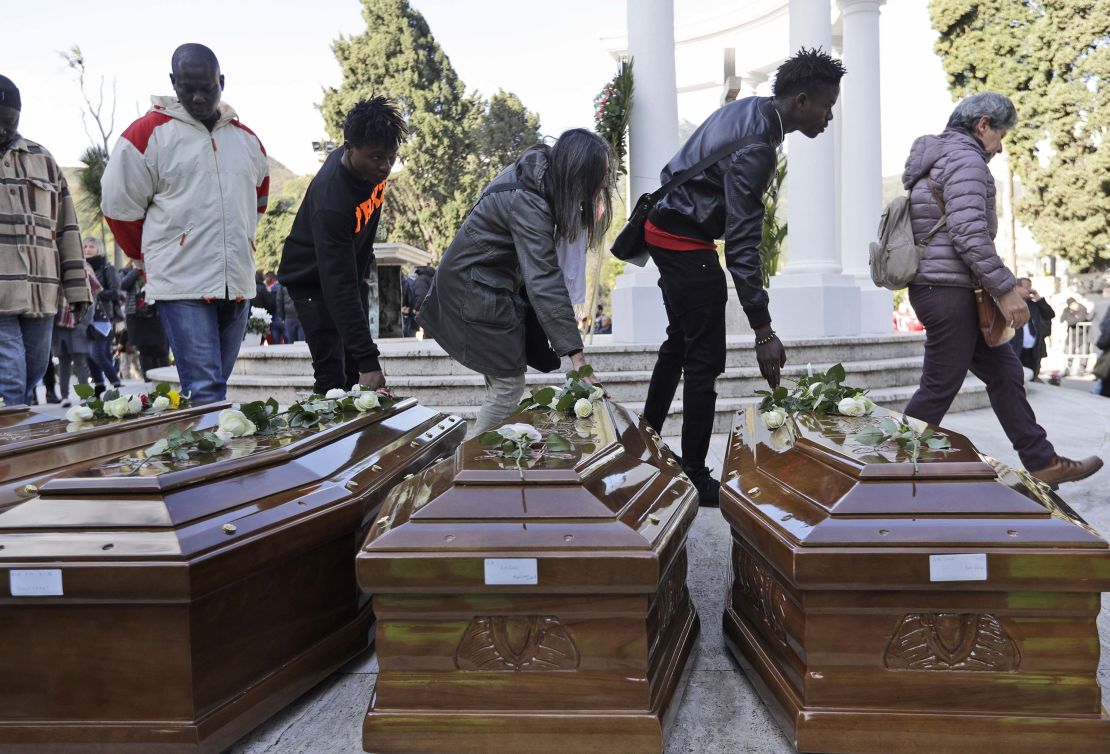 The Spanish vessel Cantabria brought the bodies to Salerno with the 64 survivors of the shipwreck, along with 400 migrants who had been rescued in operations off the coast of Libya.
Monsignor Antonio De Luca, who presided over the ceremony, told the crowds that had gathered that the 26 women and girls and the two "creations of nature" – two of the victims were pregnant, one in the fifth month and the other at six weeks – died looking for a better life.
"They were searching for freedom and they found death," he said. "We hope God can accompany them in peace. Peace that they didn't find on earth."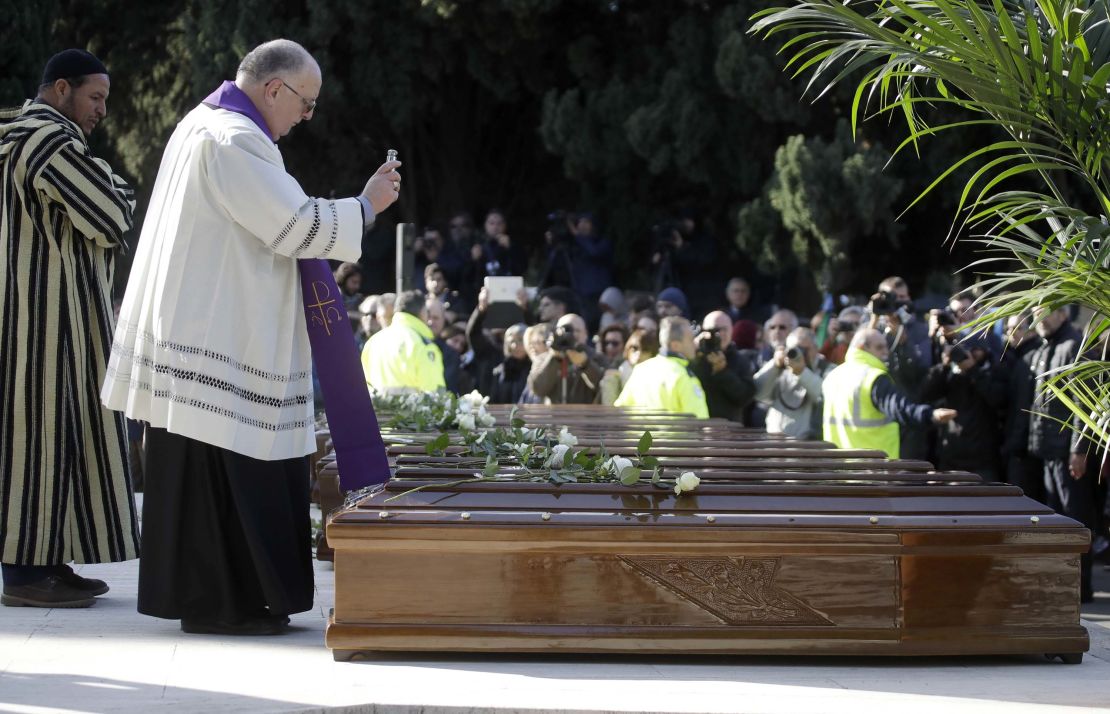 The names of only two of the victims are known. Osato Osaro was identified by her brother who was traveling in the same rubber boat, and Marian Shaka was named by her husband. Both were 20 years old. The rest were buried with a simple white card stating the number of their coffin.
The Salerno coroner's office told CNN that each coffin also contained a picture and an information card with copies of dental scans and a list of traits like tattoos and scars that might someday be used to identify the victim if a family member ever comes looking.
Many of the victims were wearing two layers of clothes, which is common for migrants who are held in Libyan detention centers. Others had manicured fingernails and coiffed hair, which suggests they might have escaped the detention centers. One was wearing a shirt that said, "I am super happy."
In 2017 so far, more than 114,000 migrants have arrived in Italy by sea, and more than 2,700 have died or are missing, according to the United Nations' International Organization for Migration.
Lembo, the prosecutor, said that all efforts now are on finding those responsible for the latest deaths. "I feel a profound sense of pity," he said. I want to shine the light on the phenomenon of the trafficking in the most thorough way possible."