Story highlights
Pepe on the unparalleled atmosphere of Turkish football
Portugal defender calls on compatriot Cristiano Ronaldo to join him
Reveals secrets of Euro 2016 triumph
It was one of the sporting stunts of the summer, reaching over a billion people across social media and engaging football supporters like never before.
"Come to Besiktas" fans implored, taking to Twitter, Facebook and Instagram in their droves to call upon players around the world to join the Turkish club.
The team's official social media accounts also used the "Come to Besiktas" hashtag, joining the race to post the most viral-worthy content to confirm summer signings.
Portuguese defender Pepe was just one that heeded the calls – compatriot Ricardo Quaresma and former Manchester City striker Alvaro Negredo were others – trading the Bernabeu for the "beautiful project" underway on the banks of the Bosphorus river.
Now, while Real Madrid's travails in La Liga make headlines around the world – the Spaniards are 10 points behind leaders Barcelona in the Spanish league – Besiktas are on the verge of reaching the UEFA Champions League last 16 for the first time in the club's history.
"I had many offers from many big, important European clubs," Pepe, who joined the Turkish champions on a free transfer, tells CNN Sport. "When Besiktas came to me with their offer and their project, it grabbed my attention.
"Many, many people sent me messages on social media. I couldn't not go. I couldn't turn my back on all this affection that the people had given me.
"I said I have to go to Besiktas. It's impossible not to go to Besiktas!"
READ: Noisy fans 'intimidates' opposition - Babel
READ: How football's 'Culture' club wins with the help of ballet
Unbeaten at Vodafone Park for two years, the Black Eagles only need a point on Tuesday against Pepe's former club Porto to top Group G of Europe's premier club competition.
"It's like nothing I've experienced before," says Pepe, reveling in the home support – so loud it recently forced a visiting German international striker off the pitch with hearing issues.
"Turkish people live football. Football is a passion of theirs. They demonstrate it with love and affection for their team."
How far can Besiktas go in this season's Champions League? Have your say by tweeting @CNNSport or commenting on our Facebook page
'I'd love Ronaldo to come'
One man who has so far resisted the allure of the reigning Turkish champions is Pepe's compatriot and close friend Cristiano Ronaldo.
During a live video on his personal Instagram page in September, the Real Madrid star was asked to "#ComeToBesiktas" on numerous occasions and took the time to respond to the fans' pleas.
"Pepe's there, and Quaresma!" the 32-year-old forward laughed. "They don't need me!"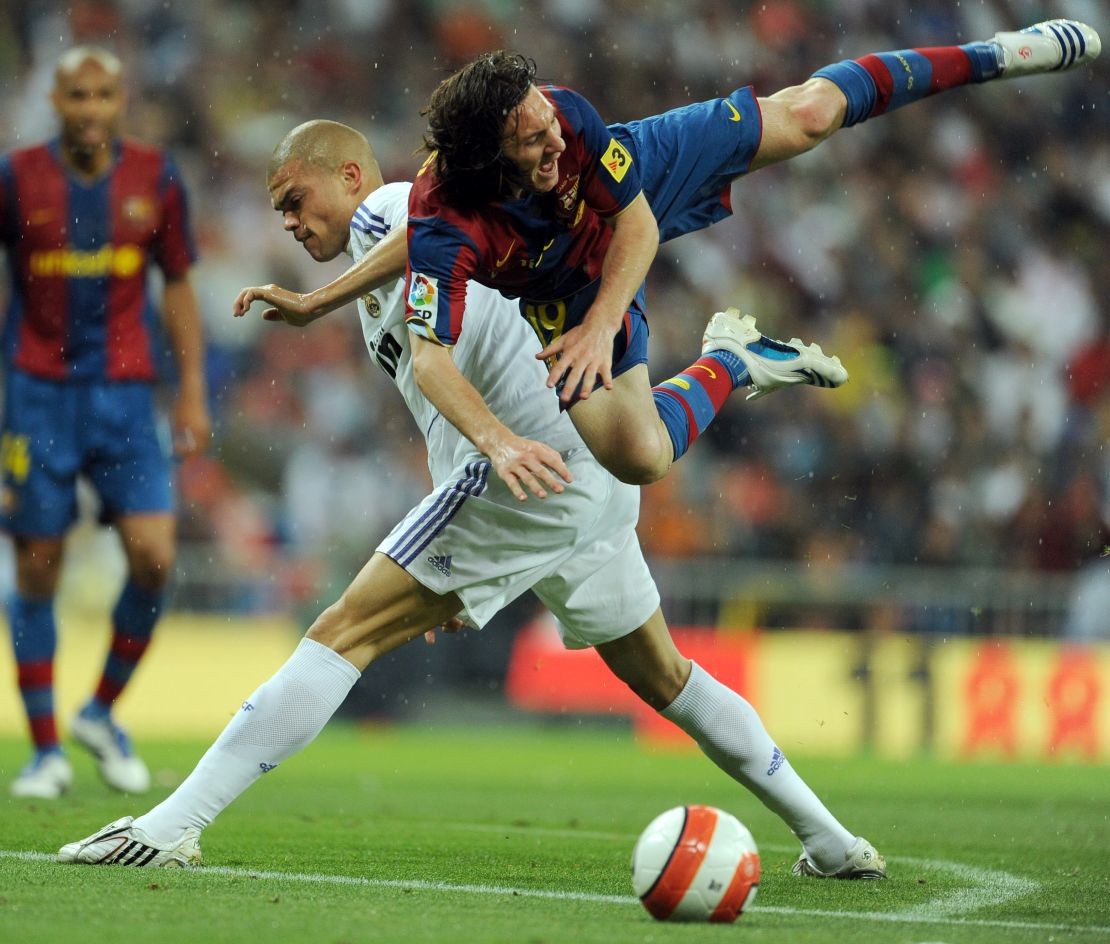 But Pepe would pick his former Real Madrid teammate to join him in Istanbul over any other player in the world.
"Of course I would like for Cristiano to come here," Pepe tells CNN Sport, singling him out as a "more complete" player than Barcelona's Lionel Messi.
"He's a person for whom I have maximum respect; a friend; an extremely important person to me. If it were possible for this to happen, of course I'd love for him to come to Besiktas."
The duo were club teammates for eight years, turning out for Los Blancos over 700 times between them on their way to winning countless honors.
Both are graduates of the Portuguese youth system and both had a hand on the trophy during their nation's finest footballing hour at Euro 2016. Indeed, Pepe was named man of the match as Portugal beat hosts France in the Paris final.
There can be few that know four-time Ballon d'Or winner better.
"Off the pitch, Cristiano is an extremely normal person," says Pepe.
"When something gets out in the media talking about him… I look and I say: 'This can't be. It's a lie.'
"People talk without knowing the real Cristiano. He's a normal person with normal habits like us.
"He likes his relatives. He loves his sons. He stresses the importance of being a father which I think is important. He's does this perfectly and naturally."
READ: The female referee shattering football's glass ceiling