Cross Platform Link: Versión en español
People on this part of the island knew Quintín Vidal Rolón for two things: his white cowboy hat, which he seemed to wear every day of his 89-year life; and his beat-up Ford pickup truck, which he'd been driving for at least 50 years.
It was in that 1962 truck, and wearing that hat, that Vidal spent his days zipping around the mountainous back roads of Cayey, Puerto Rico. He sold hardware from the wooden bed of the pickup. And he used those tools, and a lifetime of sweat, to build houses – always in concrete.
Like him, the material was nothing if not consistent. It was strong enough to stand up to a storm, he told clients and family members. Don't trust anything less durable.
After Hurricane Maria slammed into this US territory on September 20, peeling roofs from wooden homes and amputating branches from trees, the community turned again to Vidal. No one can say exactly how many people survived the storm in the hard-cast structures he helped construct for them, often at little or no cost. But it's likely hundreds, his family said.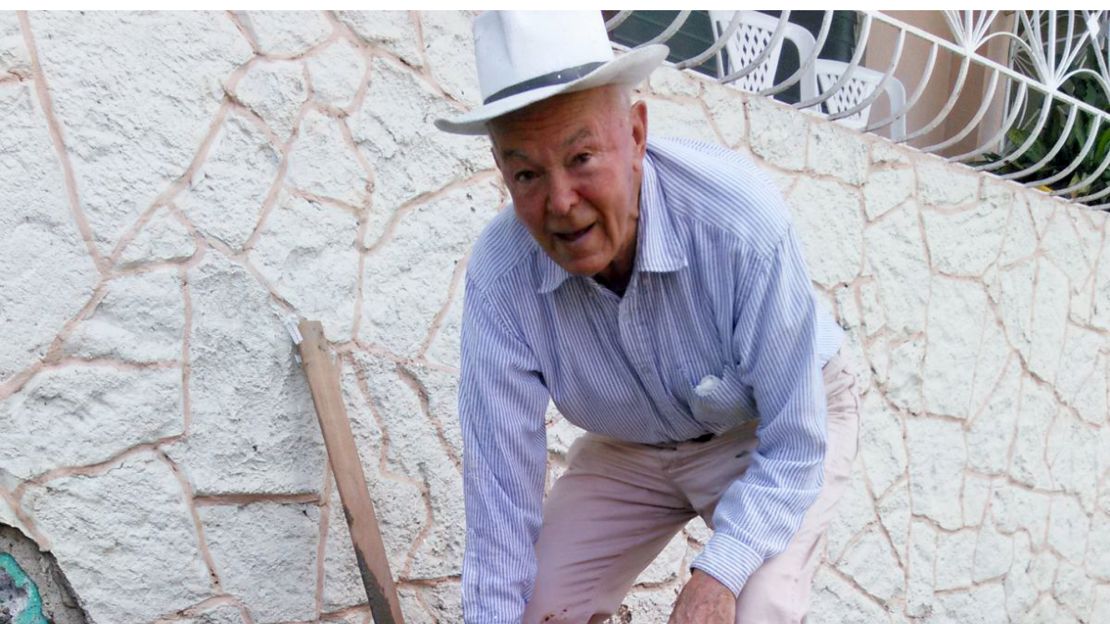 The man who would have been 90 years old in February survived the storm at home alone. Shortly after, he was seen by neighbors clearing debris from roads and flooded houses.
It was the aftermath of the hurricane that would prove fatal.
No one thought much of the lantern at first. Some neighbors noticed the oil-powered flame flickering in Vidal's living room. He'd started using it after the storm hit – a light he lit at dusk, as the coquí frogs began their chorus. Maria's winds had toppled power lines like toothpicks in Cayey; and power service in the town, like on much of the island, has been slow to return amid a government response widely described as inadequate. Only 10% of people here have power today, said Mayor Rolando Ortiz. Vidal needed a way to see in the dark.
It was October 20, one month after the storm, when the neighbors smelled smoke.
Daisy Lamboy stood on her roof, straining to find cellular signal to call emergency responders. Margarita León busted through Vidal's window, releasing a mushroom of heat. It was too late. Vidal's charred remains were found in a blackened "hellscape," as one relative described it – a scene so otherworldly, and so seemingly unnecessary, that one firefighter, Vidal's nephew, fainted.
Several of Vidal's siblings, children and grandchildren, as well as Cayey's mayor, the police chief and the director of emergency management – all say Vidal died as a result of the power outages caused by Hurricane Maria, and that have lingered for nearly two months.
If he'd had power, he wouldn't have been using the lantern with the open flame.
And if he hadn't used that lantern, he'd still be alive, they said.
In general, "indirect" hurricane deaths – in which a person likely would be alive if not for the storm and its aftermath – should be part of the official death toll, according to Puerto Rico's Department of Public Safety, which oversees the count. The list of 55 deaths attributed to the hurricane includes ones from heart attacks and suicides that were precipitated by a storm that shook even the sturdiest of the 3.4 million American citizens who live on this Caribbean island.
Yet Vidal's death – and potentially dozens if not hundreds of others – is yet to be counted by Puerto Rico as it creates a list of mortalities related to the Category 4 storm.
We spent two weeks in Puerto Rico trying to understand why.
The trip included a survey of about half of all funeral homes on the island, which showed the potential for widespread undercounting; interviews with doctors and public officials; and, most importantly, conversations with the family members of Puerto Rico's uncounted dead.
The analysis of the death toll found problems that start at the time of death and continue beyond the grave.
'The official count is 55'
When President Donald Trump visited Puerto Rico on October 3, he praised Hurricane Maria's relatively low death toll – then 16. Officials should be proud of the low number of deaths, and for avoiding a "real catastrophe" like 2005's Hurricane Katrina, Trump said. Later that day, however, Puerto Rico's death toll rose to 34.
Since then, politicians, academics and news outlets, including CNN, have raised questions about the accuracy of the official Hurricane Maria death toll in Puerto Rico. A storm as powerful as Maria would be expected to kill hundreds of people, not dozens, said John Mutter, a professor at Columbia University who reviewed deaths after Hurricane Katrina. San Juan Mayor Carmen Yulín Cruz told CNN's Jake Tapper on November 3 she thought the toll could be 500.
Puerto Rico's uncounted Hurricane Maria deaths
The Puerto Rican government fired back at that estimate.
"In order to support her statement, [Cruz] needs to present the evidence," Héctor M. Pesquera, secretary of the Department of Public Safety, said in a statement. "If she is not willing to do such, it is an irresponsible comment. The government of Puerto Rico certifies the death count based on factual information in concert with all components involved in the process. At the moment, the official death count is 55."
To check the accuracy of the Puerto Rican government's figures, we called nearly every funeral home in Puerto Rico. Funeral home directors are on the front lines of this crisis – they count the dead and they speak with family members about the circumstances. It was through a funeral home director, for instance, that we learned of Vidal's death and others.
Some funeral homes did not answer our calls, and several declined to provide data. CNN was able to collect responses from 112 of the island's funeral homes. That's about half the total number in Puerto Rico, according to Eduardo Cardona, director of the Puerto Rico Association of Funeral Home Directors. (The Puerto Rican Department of Health said it was unable to provide us with a comprehensive list of all funeral homes on the island, saying the computer systems that contain those documents remain down because of the storm).
Those funeral homes identified 499 deaths in the month after the storm – September 20 to October 19 – which they say were related to Hurricane Maria and its aftermath. That's nine times the official death toll. And, again, it represents only about half of funeral homes.
One funeral home director, José A. Molina, in Vega Alta, was so overwhelmed by work after the storm that he died of a heart attack on October 10, according to his son, Luis Alberto Molina. The 31-year-old said his father was under tremendous stress as he tried to run a sanitary business without reliable power or water service. José Molina had to wait in hourslong lines for fuel, his son said. Before the storm, he had high blood pressure but otherwise was in good health, Luis Alberto Molina said. His color and temperament changed. He stopped eating and sleeping. Eventually he complained of chest pains and was taken to the hospital. His son, who now manages the business, the Vega Alta Memorial Funeral Home, handled his father's services.
"Me and my siblings are going to continue his legacy," he said.