Story highlights
Pistorius' sentence increased to 13 years and five months for Reeva Steenkamp's murder
The decision is "justice for Reeva," a family spokeswoman says
Reeva Steenkamp "can now rest in peace," her family said Friday, after a South African high court more than doubled Oscar Pistorius' sentence for her killing.
The Supreme Court of Appeal increased his sentence to 13 years and five months for the murder of his girlfriend, Steenkamp. It issued the ruling after the prosecution appealed his previous sentence of six years as too lenient.
The former Olympic and Paralympic sprinter killed Steenkamp at his home in an upscale Pretoria neighborhood on Valentine's Day 2013 – an act he says was an accident after he mistook her for an intruder. The prosecution called it a deliberate act after the two had an argument.
The court's decision is "justice for Reeva," her family's spokeswoman said, adding that they hope "this is the end of the road and that everyone can move forward."
Prosecutor Gerrie Nel argued that Pistorius' sentence was "shockingly lenient," while the defense sought to dismiss the appeal.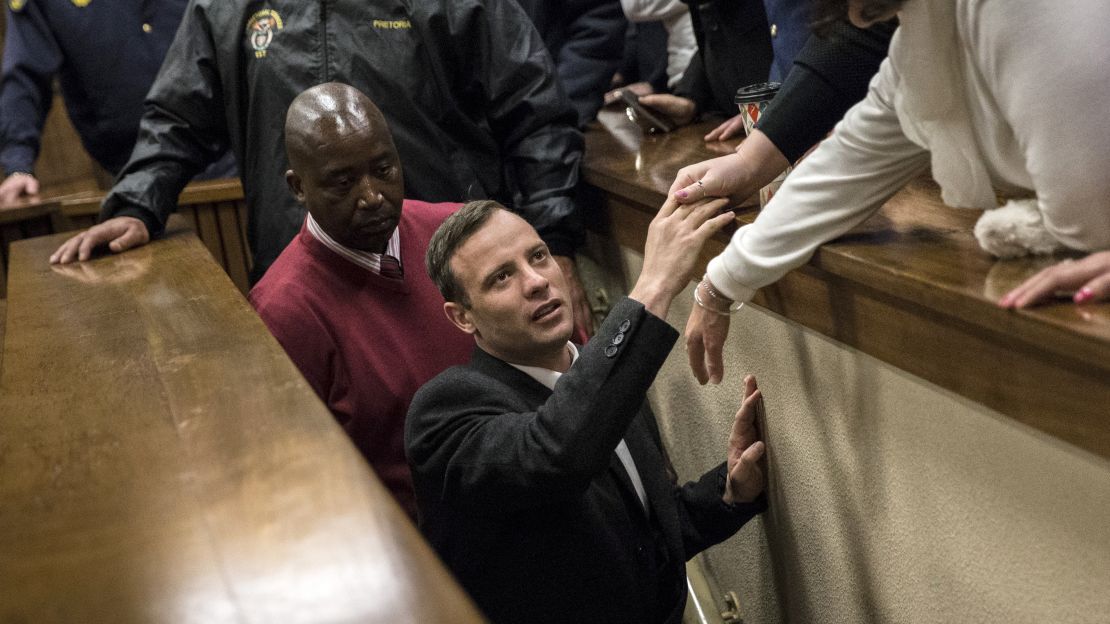 Supreme Court Justice Willie Seriti said Pistorius failed to explain in court hearings why he fired the fatal shots and "does not appreciate the gravity of his actions."
"I find it difficult on the evidence to accept that the respondent is genuinely remorseful," Seriti wrote in his decision.
Seriti said the facts of the case demanded a higher sentence.
"The sentence of six years' imprisonment is shockingly lenient to a point where it has the effect of trivializing this serious offense," he added.
Pistorius can appeal the new sentence, according to Kelly Phelps, an adviser to his defense team, but no decision has been made.
The legal fight
Pistorius originally was convicted of manslaughter in 2014 after months of hearings and sentenced to five years, but a higher court overturned the conviction and changed it to murder a year later.
During Pistorius' sentencing for murder, the trial judge cited mitigating circumstances for a lesser punishment, saying Pistorius was genuinely remorseful and a good candidate for rehabilitation.
The minimum sentence for murder in South Africa is 15 years, but individual judges can lower the sentence if there are "substantial and compelling" reasons to do so.
The judge described Pistorius as a "fallen hero" who will never be at peace and sentenced him to six years in prison.
The Oscar Pistorius trial in 90 seconds
From hero to killer
The Paralympic gold medalist was known as the "Fastest Man on No Legs," and his inspiring story captured fans' imagination at the 2012 London Olympics.
Born with a congenital abnormality, Pistorius had both his legs amputated below the knee before his first birthday, but through sheer determination excelled in world-class athletics.
In 2012, he became the first double amputee to compete against able-bodied runners at the London Olympics, adding to his fame as the "Blade Runner," a reference to his carbon-fiber prosthetic legs.
He failed to win a medal, but Pistorius' presence on the track was hailed as a triumph over adversity and a victory over critics who claimed his blades gave him an unfair advantage over others.
CNN's Sarah Chiplin contributed to this report.