Story highlights
Akihito hinted at his wish to retire in a rare public speech delivered in 2016
The emperor will be succeed by his son, Naruhito, on May 1, 2019
Japan's much-loved Emperor Akihito will stand down on April 30, 2019, becoming the first Japanese monarch to abdicate his post in two centuries.
The decision was made at a meeting of the Imperial House Council and announced by Japanese Prime Minister Shinzo Abe on Friday.
Crown Prince Naruhito, who has already assumed some of his father's duties, will take on the role on May 1, 2019, becoming the 126th Emperor to ascend to Japan's Chrysanthemum Throne.
"I will do my upmost to ensure that the Emperor's abdication and the ascension of the Crown Prince will proceed smoothly with the blessing of all of our citizens," Abe said.
In Tokyo on Friday locals expressed their sadness at the loss of their Emperor but pride in how he'd help mold the country in his image.
"He became emperor when Japan was looking for a new national identity and I think his commitment to peace became symbolic of how Japan tried to be perceived in the world. I hope that will continue," Satomi Kitamura told CNN.
Bank worker Kenichiro Yasuda said he felt a "sad" at the news. "But he is getting older so I understand. It is good that his son is ready," he said.
In August 2016, Akihito gave a rare televised address, where he said his age and fitness level could make it "difficult" to carry out his duties in the future, a plea many took as a request to step aside.
Following his speech, the Japanese parliament in June passed into law a historic bill to allow 83-year-old Akihito to abdicate the throne if he chose.
"When I consider that my fitness level is gradually declining, I am worried that it may become difficult for me to carry out my duties as the symbol of the State with my whole being as I have done until now," he said in 2016, only the third time a Japanese emperor has addressed his people since 1945.
Emperor Hirohito announced by radio that Japan lost World War II and Akihito, his son, addressed the nation on TV after the Fukushima nuclear disaster in 2011.
The emperor is a ceremonial but revered figure in Japan's constitutional monarchy. It is currently the oldest hereditary monarchy in the world, dating back fourteen centuries. Akihito himself is a direct descendent of Japan's first emperor Jimmu, believed to have reigned around 660 BC.
The last emperor to abdicate was Emperor Kokaku in 1817 in the later part of the Edo Period. In general, Japan's monarch is not allowed to step down under Japan's legal framework.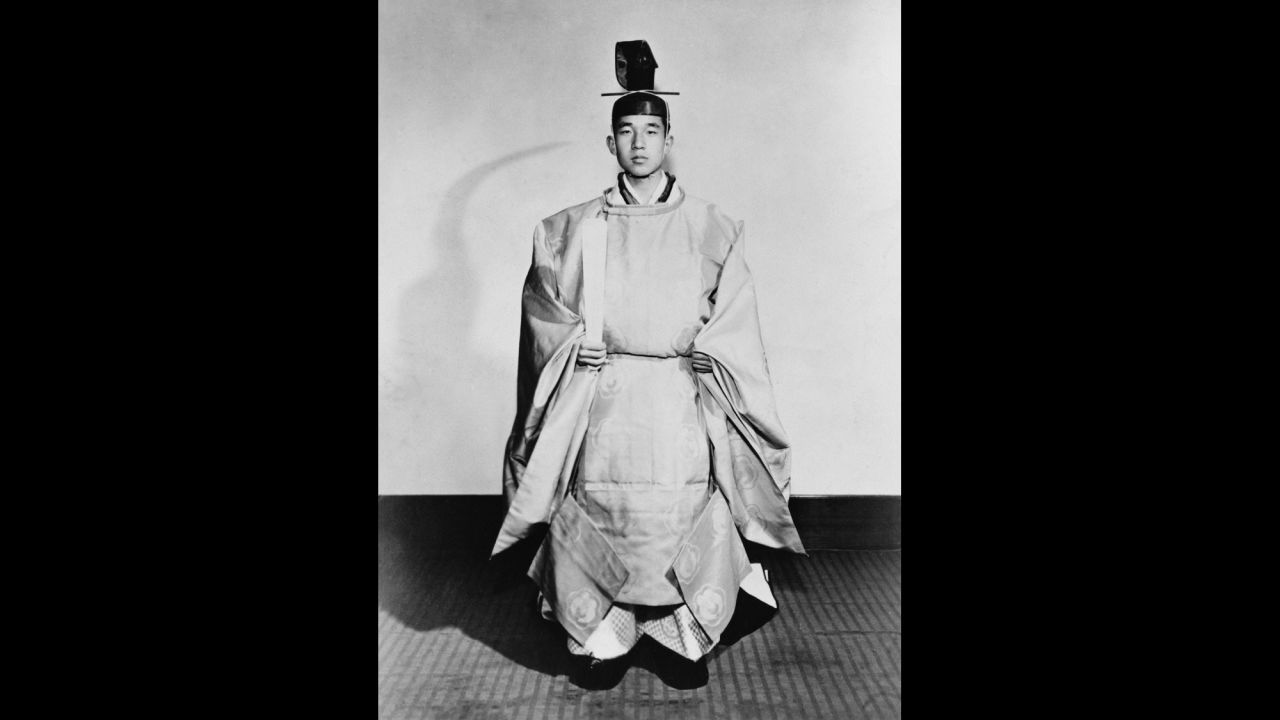 Photos: Japan's Emperor Akihito
Akihito, who was born in December 1933, had been suffering health problems in recent years, including heart surgery and treatment for cancer, which he addressed in his 2016 speech.
"I started to think about the pending future, how I should conduct myself should it become difficult for me to carry out my heavy duties in the way I have been doing, and what would be best for the country, for the people, and also for the Imperial Family members who will follow after me," he said.
Akihito's father was the wartime Emperor Hirohito who presided over Japan's aggression in the first half of the 20th Century.
Akihito has repeatedly expressed remorse for his country's actions before and during World War II, including during his visit to China in 1992, the first ever by a Japanese monarch, although he did not apologize.
"At odds with much Japanese behavior of recent years, ranging from prime ministerial visits to the Yasukuni Shrine, which enshrines war criminals among others, to whitewashing Japanese atrocities in school textbooks, Akihito has been expressing remorse and making gestures of repentance that convey Japan's contrition regarding the nation's regional rampage," Jeff Kingston, director of Asian studies at Temple University Japan, wrote for CNN in 2016.
His son Naruhito has stood by his father's stance on Japan's wartime atrocities, saying his country's activities during the war must be remembered "correctly."
"It is important today, when memories of the war are fading, to look back humbly on the past and correctly pass on the tragic experiences and history Japan pursued from the generation which experienced the war to those without direct knowledge," he said at a press conference in 2015.
Akihito broke more than 1,500 years of imperial tradition by choosing in 1959 to marry a commoner, Michiko Shoda.
His son followed his example in 1993, marrying Harvard-educated diplomat Crown Princess Masako. However, soon after the wedding, Masako began to suffer a stress-related illness and grew reclusive, much to the concern of local observers.
A multilingual former career diplomat, Masako is said to have struggled with the transition to royal life.
"One can only hope that she would be able to provide the stalwart support for Naruhito that Michiko has given to Akihito," Jeff Kingston, director of Asian studies at Temple University Japan, told CNN in 2016.