Story highlights
Houthi rebels claim it was a successful missile test
Saudi Arabia's international airport was targeted in a missile strike in early November
For the second time in a month, the Saudi military has intercepted and destroyed a ballistic missile it said was launched from Yemen on Thursday.
The Saudi Press Agency, quoting Colonel Turki al-Maliki, the official spokesman of the Saudi-led coalition fighting the war in Yemen, said the missile was headed towards the Saudi city of Khamis Mushait on its southwestern border.
It was destroyed without causing any casualties, the spokesman was quoted as saying, but there were no details on how the missile was intercepted.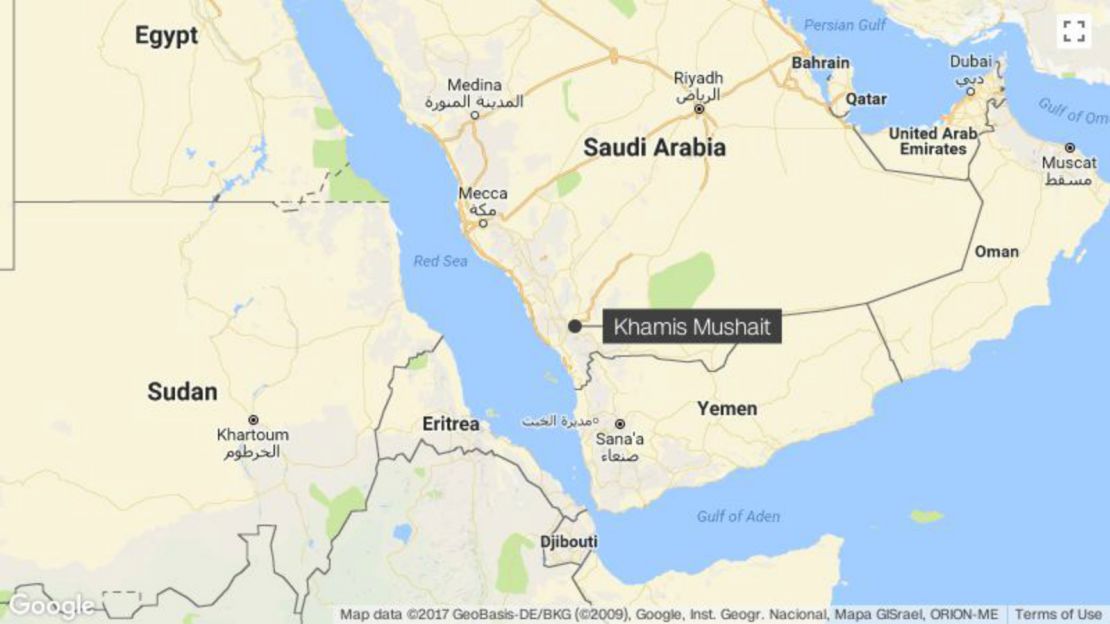 Houthi rebels in Yemen claimed success in the missile launch, saying it was a test firing, according to the pro-Houthi news agency SABA in Yemen.
Weeks earlier, Yemeni rebels fired a ballistic missile towards an international airport in Riyadh, which was intercepted before it struck.
The war in Yemen
Saudi Arabia has been leading a coalition of Gulf states against Houthi rebels who ousted the pro-Saudi, internationally-recognized goverment in Yemen in 2015.
Yemen's one-time president Abdu Rabu Mansour Hadi has been living in Saudi Arabia since the rebels took over the presidential palace in early 2015.
The Houthis, a Shiite tribal militia from northwest Yemen, have been at war with the central government for the best part of a decade. Saudi Arabia and its allies claim that Iran backs and funds the rebels, something the rebels themselves deny.
In March 2015, warplanes from Saudi Arabia, the UAE, Kuwait, Bahrain, Qatar and other allies began airstrikes on rebel positions in Yemen. Since then, countless airstrikes have struck rebel and civilian targets, causing thousands of casualties and decimating infrastructure in the Arab world's poorest country.
Vaccines for kids land in war-stricken Yemen
The UN Human Rights Office has documented over 13,800 civilian casualties, including over 5,000 people killed since fighting began. The numbers are believed to be a fraction of the overall death toll.
Yemen is now facing a near famine and one of the worst outbreaks of cholera in decades. The suspected number of cases has reached 500,000, according to the World Health Organization.
Blaming Iran
Saudi Arabia has blamed Iran in the past for supplying the rebels with weapons. After the November 4, missile strike, the kingdom's foreign minister accused Hezbollah, the Lebanese Shiite militant and political group that is aligned with Iran, of smuggling missile parts into Yemen.
"Operatives from the Iranian Revolutionary Guards and Hezbollah" helped put it back together again and launch it, Foreign Minister Adel bin Ahmed al-Jubeir told CNN.
"This is a very, very hostile act," he said. "We have been extending our hand to Iran since 1979 in friendship, and what we get back is death and destruction."
Iran at the time responded to the Saudi claims of Tehran's involvement with the missile strike. Foreign Ministry spokesman Bahram Qassemi said the Saudi accusations were "false, irresponsible, destructive and provocative," according to the Iranian news agency Tasnim.