Story highlights
South Africa win opening round in Dubai
Blitzboks defeat New Zealand 24-12 in final
Australia beat US in women's gold medal match
New season, same result.
World Series Table - Round One
1 - South Africa (22pts)
2 - New Zealand (19pts)
3 - England (17pts)
4 - Fiji (15pts)
5 - Australia (13pts)
6 - Samoa (12pts)
7 - Kenya (10pts)
8 - Scotland (10pts)
9 - France (8pts)
10 - Spain (7pts)
South Africa won the opening leg of the HSBC World Rugby Sevens Series in Dubai at the weekend, picking up where they left off last year.
The Blitzboks produced an electrifying display of attacking rugby at the Sevens Stadium, topping their pool undefeated before overcoming Fiji, Samoa and finally New Zealand in the knockout stages to lift the trophy.
First half tries from captain Philip Snyman, Player of the Final Kwagga Smith and the prolific Seabelo Senatla helped South Africa to a 24-12 win against the Kiwis in the gold medal match.
The victory means the reigning World Series champions, winners in five of the 10 legs last season, top the standings with 22 points ahead of next week's action in Cape Town.
"A lot of credit must go to the guys," said South Africa head coach Neil Powell.
"Every time they put their boots on and get onto this pitch, there's just this hunger and desire to be successful again. It's brilliant."
Senatla, the 2016 Sevens Player of the Year, added: "It was a great performance from the guys. It's been a while since we all played together but it's so great to win again in Dubai."
Speaking to CNN's World Rugby show ahead of the Dubai tournament, Snyman spoke of the unity among the squad ahead of a busy 2018 schedule.
"The squad has matured, we have the same goal and everyone sticks to the game plan … so hats off to all the guys in the team," Snyman said.
"This is a massive season ahead of us especially with the Commonwealth Games and World Cup at the end of the season. We focus on the results of the game and we believe if we stick to that, if we do everything to our ability we will be successful."
Top Try Scorers - Round One
1 - Darcy Graham (Scotland) 8
2 - Dan Norton (England) 8
3 - Solomon Okia (Uganda) 8
4 - Tomi Lewis (Wales) 7
5 - Seabelo Senatla (South Africa) 7
6 - Johan Demai-Hamecher (France) 5
England edged out three-time Series champion Fiji in the bronze medal match with an industrious display – tries from Phillip Burgess, Ruaridh McConnochie and a double from Tom Bowen earned England a 28-21 win.
"As a first tournament for us this season I'm really proud of the continuous effort and the attitude the boys displayed in every single game," said England head coach Simon Amor.
France beat Spain 21-12 to win the Challenge Trophy with Paulin Riva and Johan Demai-Hamecher crossing the line.
The next leg of the men's World Series takes place at the 55,000-capacity Cape Town Stadium on December 9-10, where England will be aiming to defend their trophy.
READ: Blitzboks and Black Ferns aiming for clean sweep in 2018
Aussies rule, Black Ferns shocked by US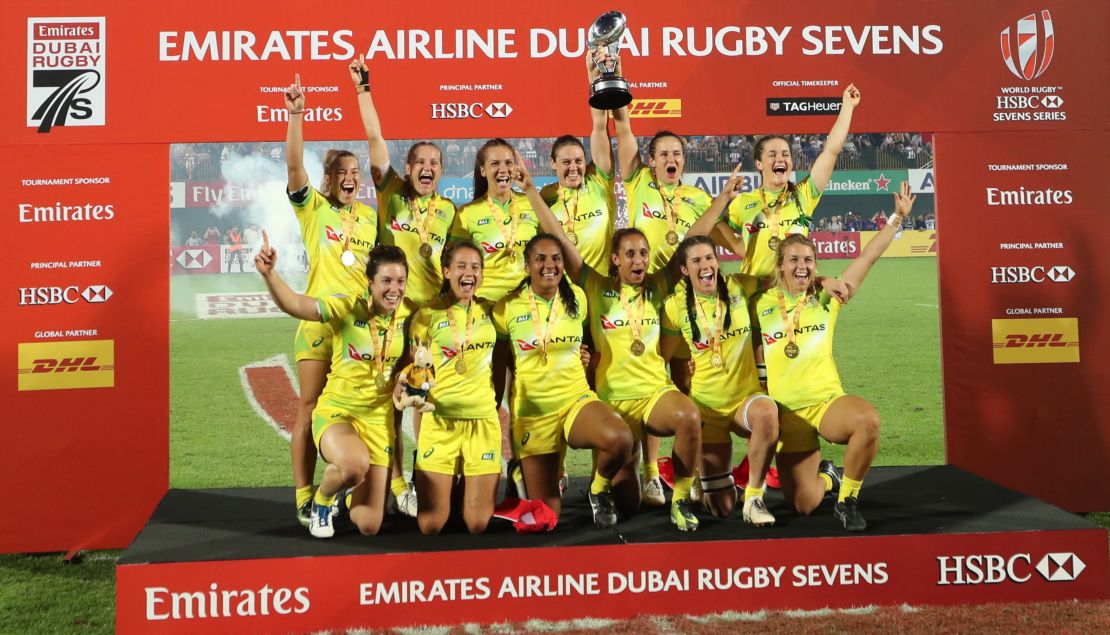 Women's World Series Table - Round One
1 - Australia (20pts)
2 - USA (18pts)
3 - Russia (16pts)
4 - Canada (14pts)
5 - New Zealand (12pts)
6 - France (10pts)
7 - Spain (8pts)
8 - England (6pts)
9 - Ireland (4pts)
10 - South Africa (3pts)
In the Women's Sevens World Series, Australia produced a dominant display overwhelming the US 34-0 in the final to claim their first tournament victory since Atlanta in 2016.
The US women's path to the final included a shock 14-12 win over reigning World Series champion New Zealand in the quarterfinals, but they were powerless against a well-drilled Australian side.
Six unanswered tries in the gold medal match ensured the Olympic sevens champions head to their home event in Sydney top of the standings.
It also continued a pattern that has existed in Dubai since the inaugural Women's Series back in 2012.
Australia's women have always won gold in odd years (2013, 2015 and 2017) while their Kiwi counterparts have always triumphed in even years (2012, 2014 and 2016).
"We're absolutely ecstatic with that win," said co-captain Sharni Williams, who crossed the line in the final along with Dominique Du Toit, Emilee Cherry, Evania Pelite and Player of the Final Emma Tonegato.
"It's been a long time coming since that last gold medal. The girls have worked extremely hard in the pre-season and it's great to get the rewards for that," she added.
Russia finished in third position following a 10-5 victory over Canada in the bronze medal match.
Ireland's women beat South Africa 24-7 to seal the Challenge Trophy.
Visit CNN.com/rugby for more news and features
The second leg of the women's World Series takes place in Sydney on January 26-28 next year.