St Moritz, Switzerland
CNN
—
A number of US athletes have spoken out against Donald Trump during his presidency – and skier Lindsey Vonn has become the latest to have her say.
Targeting Olympic gold at February's Winter Olympics in Pyeongchang, Vonn is in St. Moritz, Switzerland, where she spoke passionately about what it means to compete for the US ski team.
"Well I hope to represent the people of the United States, not the president," Vonn told CNN's Alpine Edge.
The dangers of being an Alpine skier
READ: Vonn and Shiffrin speak out against 'unsurprising' Russian doping
The 33-year-old Vonn is getting ready for the final act of a long and illustrious career.
As well as competing for a second Olympic gold medal in South Korea, she is attempting to break the record of 86 World Cup victories held by Ingemar Stenmark since 1989.
Away from the slopes, Vonn also appears willing to put her head above the parapet and speak out about US politics.
"I take the Olympics very seriously and what they mean and what they represent, what walking under our flag means in the opening ceremony," she added.
"I want to represent our country well. I don't think that there are a lot of people currently in our government that do that."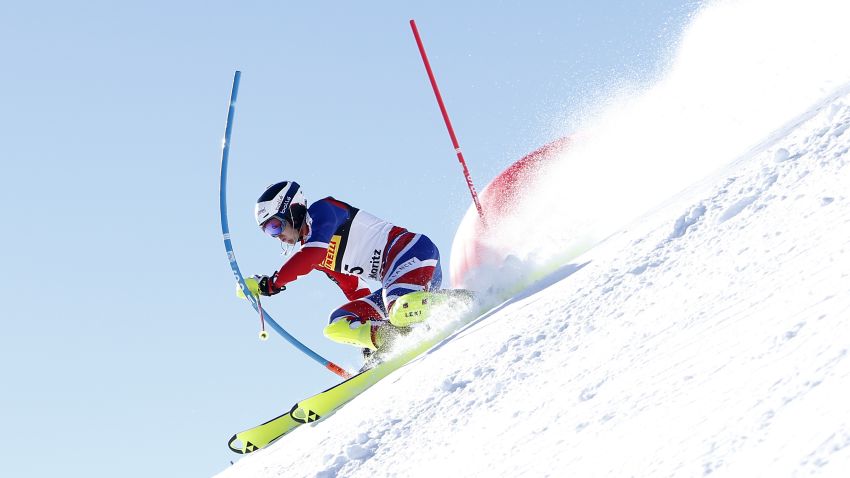 Britain's skiing sensation: Dave Ryding
READ: Are ski fans the craziest in sport?
This year Trump has been embroiled in a controversy with the NFL and some of the NBA's top players – a spat with significant racial and cultural undertones – after he blasted prominent athletes for kneeling during the national anthem and refusing to come to the White House.
And Vonn revealed she wouldn't accept an invitation to the White House if she were to win gold at Pyeongchang.
"Absolutely not," said Vonn. "No. But I have to win to be invited. No actually I think every US team member is invited so no I won't go.
Lindsey Vonn: Greatest female skier retires
READ: Slalom queen Shiffrin scores victory
Serious injuries
It's a testament to Vonn's marketability that she is one of only two skiers – male or female – in that list, with her US teammate Mikaela Shiffrin ranking ninth.
Vonn has battled with a number of serious injuries throughout her career, including a knee injury in 2013 that kept her out of the 2014 Sochi Olympics.
READ: Lindsey Vonn turns fashion designer
READ: Vonn determined to race against men
Last year, she broke her arm and sustained nerve damage during a preseason training crash in the US, delaying the start of her season until January.
Vonn endured an underwhelming start to the new season, crashing out of last week's opening downhill event at Lake Louise.