Two Palestinians were killed Saturday in Israeli airstrikes in Gaza, the Palestinian Health Ministry said, as tensions rose in the region after US President Donald Trump's recognition of Jerusalem as the capital of Israel.
The Israel Defense Forces said aircraft had targeted what it identified as four facilities belonging to Hamas – the Palestinian Islamist group that controls Gaza – early Saturday in response to rockets fired into southern Israel from Gaza.
The aircraft targeted two weapons manufacturing sites, a weapons warehouse and a military compound, according to an IDF statement.
The two Palestinians killed were men, 27 and 30 years old, Palestinian Health Ministry spokesman Ashraf al-Qadra told CNN.
The IDF said Israeli aircraft had also struck a Hamas training compound and ammunition warehouse late Friday in Gaza.
One of the rockets fired from Gaza landed in the Israeli city of Sderot, according to the IDF. There was no mention of casualties.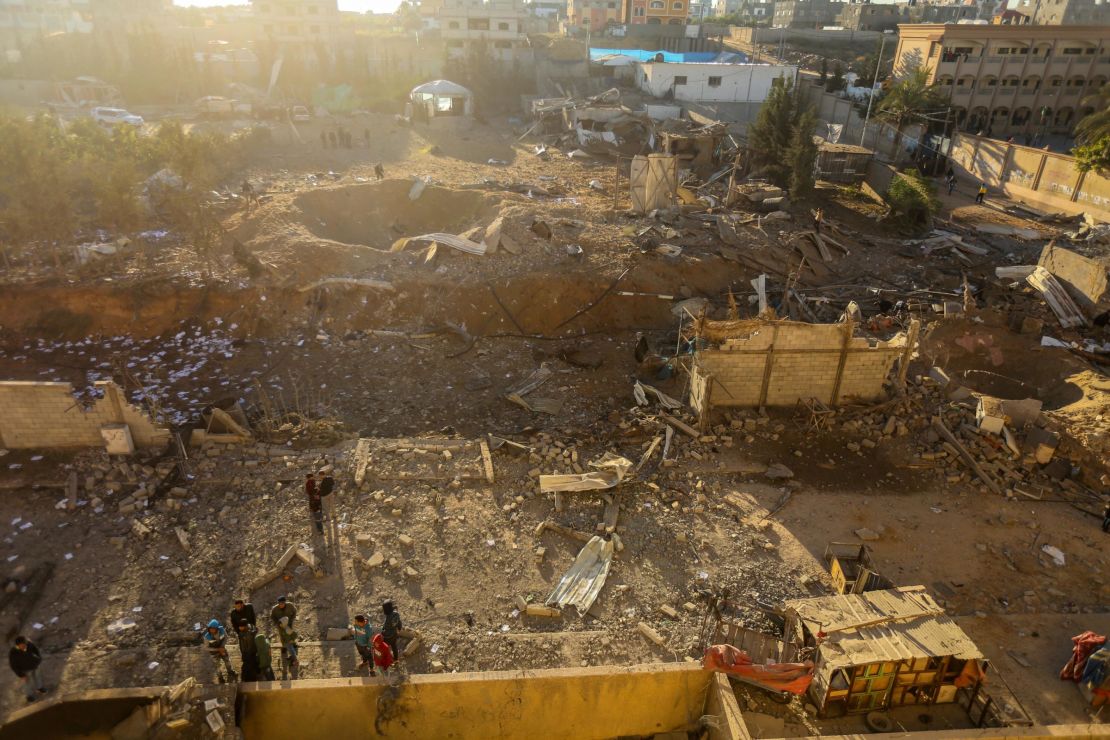 Two Palestinians were killed Friday in Gaza in clashes between protesters and Israeli forces over Trump's controversial move. Mohammad Masry, 30, was killed when fired on by Israeli forces, and Maher Atallah, 54, died of injuries sustained in clashes earlier that day, the health ministry spokesman said.
Both Palestinians and Israelis claim Jerusalem as their capital.
Sporadic clashes erupted Saturday between Palestinian protesters and Israeli forces on a busy shopping street in the eastern part of Jerusalem and in the West Bank towns of Bethlehem and Ramallah.
Israeli forces responded with tear gas, stun grenades and rubber bullets as small groups of protesters threw rocks.
Seven people were arrested during the clashes on Salah el-Din Street in Jerusalem, Israeli police spokesman Micky Rosenfeld said.
Rosenfeld later said via Twitter that four officers were slightly injured by stones and 13 protesters were arrested at the Damascus Gate area.
The Palestinian Red Crescent reported treating 231 people in the West Bank, Jerusalem and Gaza. Of those, 12 had gunshot wounds, 24 were hit by rubber bullets and 172 were treated for tear gas inhalation.
Meanwhile, crowds of mourners gathered in Gaza for the funerals of the four men killed there.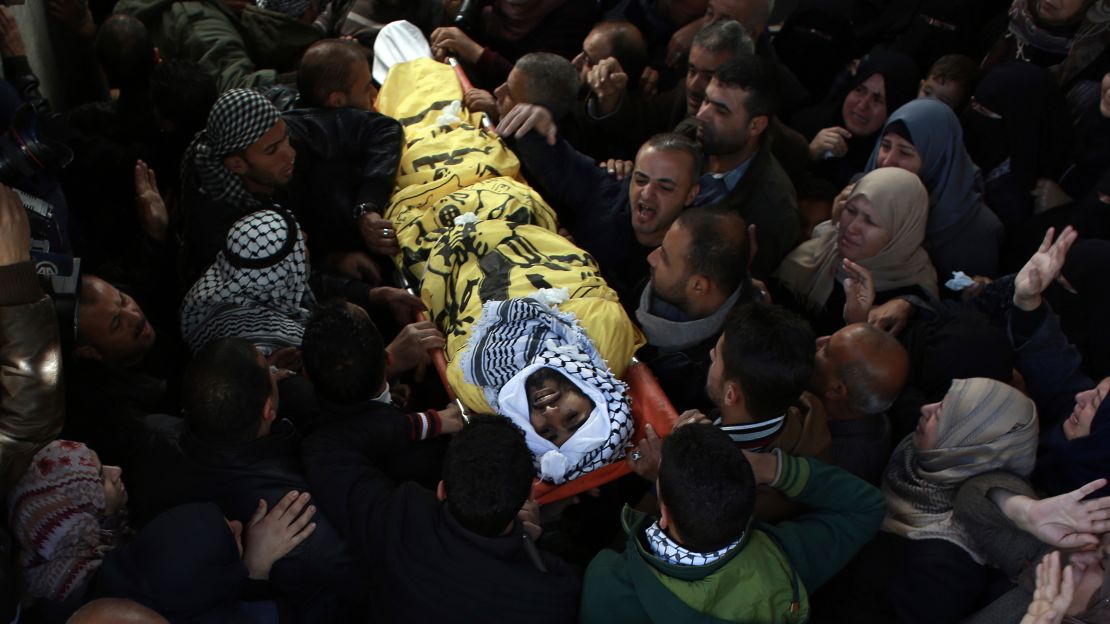 An Israeli army statement said what it called violent riots had broken out Friday in about 30 locations across the West Bank and Gaza. The main disturbances in the West Bank were in Hebron, Al-Arroub, Tulkarm, Ramallah, Qalqilya and Nablus.
More than 300 people were injured Friday across the West Bank, Gaza and Jerusalem, 50 of whom needed hospital treatment, the Palestinian Authority's Health Ministry said.
At least 49 people were injured Thursday during protests over Trump's decision, the Palestinian Red Crescent said.
Trump's move Wednesday to recognize Jerusalem as Israel's capital and commit to moving the US Embassy to the holy city has prompted international condemnation and sparked protests in countries around the globe, from Indonesia and Malaysia to Iraq, Jordan, Turkey and Egypt.
Palestinian Foreign Minister Riad Malki told reporters in Cairo on Saturday that Palestinian Authority President Mahmoud Abbas will not meet with US Vice President Mike Pence during his planned visit this month to the region.
Malki said the Palestinian Authority considers the United States "has withdrawn … from the peace process" and "positioned itself as an actor in the conflict and not as a mediator."
Calling the Trump administration decision "illegal and illegitimate and null and void legally and politically," Malki said there would be no formal communication with US officials.
He said the Palestinian leadership has "no intention of withdrawing from the peace process" and will instead seek a new mediator to work toward a two-state solution.
US envoy to UN defends Trump move
Nikki Haley, US ambassador to the United Nations, defended Trump's decision and criticized member countries for their treatment of Israel during an emergency UN Security Council meeting Friday.
She said the United States has credibility with both the Israelis and the Palestinians and that any peace agreement would likely be "signed on the White House lawn."
"The United States is not predetermining final status issues," Haley said.
"We remain committed to achieving a lasting peace agreement. We support a two-state solution if agreed to by the parties."
Several countries voiced their opposition to the US decision before Haley's comments, including France and Egypt.
Egypt's Coptic Church won't meet Pence
Egypt's Coptic Church on Saturday issued a statement "excusing" itself from receiving Pence during his upcoming visit, state-run Al-Ahram reported, citing a church statement.
"In consideration of the decision that the US administration took regarding Jerusalem, which was inappropriately timed and took no consideration of the feeling of millions of Arab people, the Egyptian Orthodox Coptic Church excuses itself from this meeting," Al-Ahram cited the statement as saying.
Speaking Friday in Paris, US Secretary of State Rex Tillerson said that moving the US Embassy from Tel Aviv to Jerusalem "is not something that will happen this year, probably not next year."
He also said that Trump's decision did not "indicate any final status for Jerusalem," adding that the "final status would be left to the parties to negotiate and decide."
This story has been updated to correct a Palestinian Health Ministry report that originally stated one person was killed in an airstrike Friday. The report was later updated to say that the person died from injuries suffered in clashes, not an airstrike.
CNN's Nic Robertson reported from Jerusalem and Bijan Hosseini from Atlanta, while Laura Smith-Spark wrote from London and Ray Sanchez from New York. CNN's Natalie Gallon, Abeer Salman, Schams Elwazer and Kareem Khadder and journalist Dareen Jubeh contributed to this report.