In a hopeful sign, thousands of firefighters were making headway Tuesday against the vast Thomas Fire in Southern California, with winds decreasing to 15 to 25 mph and the Santa Ana wind event beginning to wane.
The blaze, which is larger than New York City, was about 25% contained Tuesday, according to the California Department of Forestry and Fire Protection, known as Cal Fire.
In addition to diminishing winds, "red flag warnings" are now confined to the mountains of Los Angeles and Ventura counties and cover just over 1 million residents. At the peak of the wildfires last week, the warnings – which signal extreme fire danger – covered nearly 20 million people.
The outlook for rain, however, remains grim. It's expected to stay dry for at least seven days, and another significant wind event could develop by next weekend, CNN senior meteorologist Dave Hennen said.
The wind was cooperating with firefighters Monday and pushing the fire away from nearby communities, Santa Barbara County fire spokesman Mike Eliason told CNN. The breezes had also cleared the air somewhat, leading to improved visibility for fire crews.
"It's still not great. It's bad, but it's a better bad," Eliason said.
"You want the breeze to clear the air, but you don't want the breeze to fuel the fire," he said. "Hope springs eternal. Every day we're going to hope that this (is) progressing and getting closer and closer of being put to bed. But right now we're going to need some rain, and the long-range forecast doesn't show that."
The Thomas Fire is one of six major wildfires torching Southern California. The fires have destroyed more than 1,000 structures since igniting.
The blazes vary in size, but together, they are larger than the cities of New York and Boston combined, or bigger than Singapore.
One of the fires, named Skirball, was caused by an "illegal cooking fire at an encampment in a brush area" near where Sepulveda Boulevard crosses under the San Diego Freeway, the Los Angeles Fire Department said. No arrests have been made.
The Skirball Fire, which broke out a week ago, consumed more than 400 acres, destroyed six homes and damaged 12 others, the fire department said in a statement. It's 85% contained.
The causes of the other major fires have yet to be determined.
Latest developments
Making history: At more than 234,000 acres in Ventura and Santa Barbara counties, the Thomas Fire is now the fifth-largest wildfire in modern California history.
Elevated conditions: Fire conditions are much better than over the weekend, but winds will continue to be a bit breezy at 20 to 40 mph through the middle of the week on higher ridge tops, according to CNN meteorologists. Ventura County and surrounding areas were under an elevated fire outlook through Tuesday. Temperatures will remain in the upper 70s and low 80s for the week, with humidity low.
Warnings: A red-flag warning for Los Angeles and Ventura counties has been extended into Wednesday evening, the National Weather Service said. Elevated fire weather conditions are expected due to gusty winds and low humidity.
Evacuations: At least 95,000 residents have been evacuated in Southern California, Cal Fire said.
Death toll: There has been one death in the Thomas Fire. Authorities said they believe Virginia Pesola, 70, of Santa Paula died in a crash while fleeing the fire. Her body was found last Wednesday.
Firefighters tested
Firefighters were working 24- or 36-hour shifts, typically on two-week rotations, said Eliason, the Santa Barbara county fire official. Saving lives was their first priority, then came property and the environment, he said.
"This is the job they all signed up for, so they're all aware of what can happen and how the job can go," Eliason said. "I think spirits are good; they've made some saves. I think they realize they have a mission here and a job, and they're really working hard."
Limited visibility has made firefighting even more difficult.
It "has really hindered the fixed wing aircraft because they can't maneuver in these canyons if you can't see where you're going, so we've been forced to use helicopters that have been pounding it with gallons and gallons and gallons of water," Eliason said.
The onshore winds were also pushing the fire back up into the canyons. "The longer the fire burns uphill, the bigger the burned area is going to be (behind it) so when the wind does shift, it's not going to have anywhere to burn back down into the community," he said.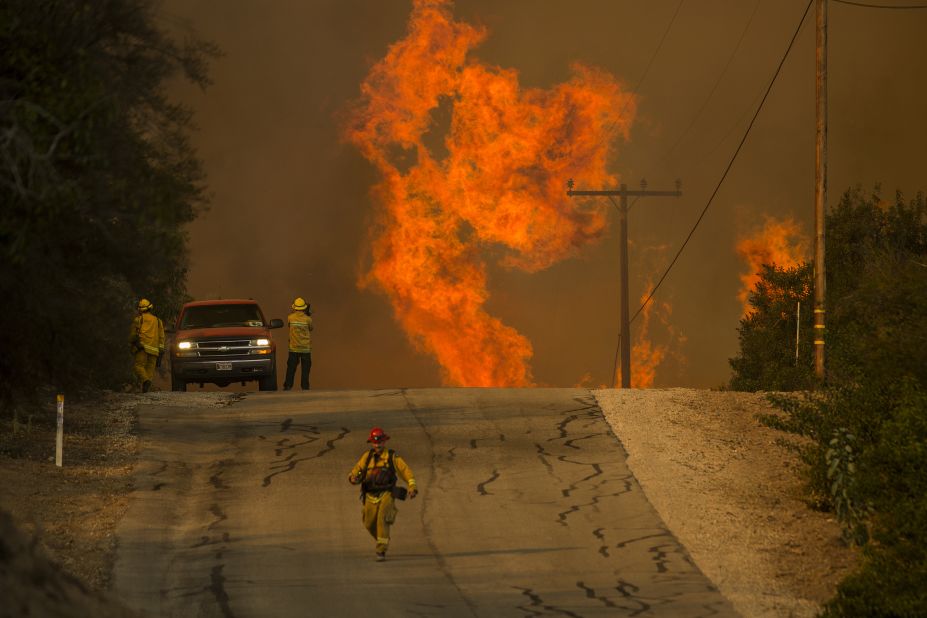 Wildfires spread in Southern California
While the outlook appears more positive, Eliason said he expects the fire to burn for another couple of weeks.
"Our hearts go out to all the folks who have lost homes already. Especially this time of year with the holidays coming, you've got to feel for these folks who've lost just everything," he said. "In some cases they had just minutes before they could evacuate and left with just clothes on their backs. We're trying our best to make that not happen anymore."
'They're nervous'
Megan Tingstrom, owner of Red Kettle Coffee in Summerland, has stayed open most of the week since the Thomas Fire started a week ago.
She has offered free coffee to the firefighters and evacuees who trickle in.
"Some were crying," she said. "They said they lost their homes."
She said residents in Summerland, Montecito, Carpinteria and Santa Barbara are hopeful the blaze doesn't spread to their communities.
"They're nervous," Tingstrom said.
Flames were visible in the hills by Carpinteria on Monday night.
Fire officials said it was a controlled burn.
"We are basically trying to slow it down so all the crews can get in there and stop it from coming down to save these structures," Matthew Cambers with the US Forest Service told CNN affiliate KEYT.
'The worst I've seen'
Flames also burned Monday evening in the foothills on the edge of Montecito.
Barbara Nimmo said she had lived through massive wildfires, including the Zaca Fire that burned more than 240,000 acres in 2007 and one in Romero Canyon more than 40 years ago. She was staying put, she said, even as blaze glowed on the hillside behind her.
7 images show why the Southern California wildfires are so dangerous
"We're from here. We know fires and we feel absolutely dedicated to our clients," said Nimmo, an estate manager for several mansions in the affluent Montecito area in Santa Barbara County. "I'm just devastated overall. This is the worst I've seen."
Man loses 2 homes in wildfires
In two months, Dr. Antonio Wong has lost two houses in two California wildfires.
The anesthesiologist, his wife and son escaped from their Santa Rosa home in October before a wildfire engulfed it.
Weeks after sifting through the charred remnants of that house, Wong learned his other home – one in Ventura that he rents out – burned down last week.
His tenants are safe, but "it was pretty devastating," Wong said Monday from Santa Rosa.
"I still haven't processed the fire down there (in Ventura)," he said. "I have so much to do to rebuild my house here (that) the thought of trying to rebuild a house down there at the same time is overwhelming. I don't know what I'm going to do."
CNN's Ray Sanchez, Carma Hassan, Kyung Lah, Joe Sutton, and Dakin Andone contributed to this report.