Story highlights
North Korean vessel washes up on Japanese shores
Latest incident shines a light onto conditions in the country
Another presumed North Korean vessel has washed up on Japan's shores, bringing the total to a record 83 for the year so far.
Akita prefectural police said that a wooden boat washed ashore in Katagami City on Tuesday afternoon, the second boat discovered on Japanese shores that day.
The following day, police and coast guard officials investigating the vessel found two partially decomposed bodies inside, one of which was wearing a badge with a portrait of former North Korean leader Kim Jong Il on his clothes.
Also on Wednesday, a corpse with a piece of paper bearing Korean characters in its pocket, was found on shore in nearby Akita City.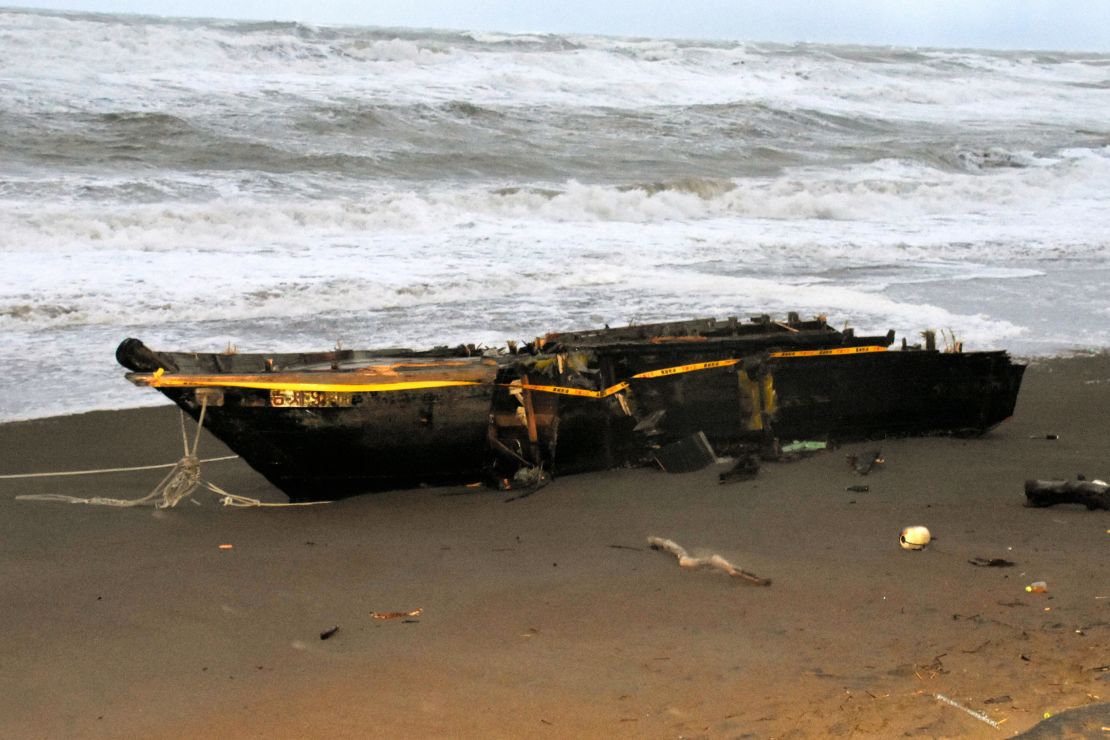 The boat is the latest in a recent spate of so-called "ghost ships" drifting into Japanese waters from the reclusive North Asian nation, raising concerns about the country's deteriorating state in the face of international sanctions.
The discovery came shortly after another suspected North Korean vessel was found in northern Japan.
The 10.7 meter (35 ft) long vessel was discovered on a beach in Kashiwazaki City, Niigata prefecture, early Tuesday morning, a Niigata police spokesman confirmed to CNN. At least one dead body was found on board.
A passerby found the wooden boat, which has numbers and Korean characters written on the bow. A male body, along with a badge bearing a picture of North Korean founder Kim Il Sung, was discovered in the boat, the official said.
Another body was found about 650 meters (around 2100 ft) north from the boat, but the official would not confirm the body was from the presumed North Korean boat.
He added that several bodies had washed up in the northwestern Japanese prefecture lately, including two bodies which were discovered on December 9.
Separately, three bodies were found drifting near the beach in Fukaura, Aomori prefecture on Tuesday morning.
The Coast Guard and police are investigating the identity of the three, and looking into any connection with the numerous drifting wooden boats found in the area.
Ongoing pattern
Ships washing up on the shores of Japan, some with decomposing corpses inside, could be a sign of growing desperation in North Korea as it's squeezed by sanctions, analysts say.
Earlier this month, police in the northwestern Japanese prefecture of Akita discovered two bodies on a beach close to the city of Oga, and later found two wooden boats washed ashore nearby.
Last month, at least four ships were found washed up on Akita's beaches, one with eight skeletons inside. While police would not confirm if the ships were from North Korea, several had surviving crew members on board, all of whom were North Koreans, and they match a pattern which has been ongoing since at least 2013.
Marcus Noland, an analyst at the Peterson Institute for International Economics, told CNN earlier in December that the plight of the ships' crews are a "reflection of the growing desperation in the North Korean economy."
Stringent international sanctions passed in the wake of Pyongyang's nuclear and missile testing ban the sale of North Korean seafood to other countries, meaning the country's fisherman often seek to offload their catches on the black market, according to Noland.
"They're having to rendezvous with foreign vessels in international waters to sell their catches on the high sea so it can be relabeled (as from Japan or South Korea)," he said.
Recent incidents
Dec 12: One body, along with a badge showing an image of North Korean founder Kim Il Sung, discovered in a wooden boat with Korean letters and numbers in Kashiwazaki City, Niigata prefecture.
Dec 7: Two bodies and two boats found on beaches near Oga city, Akita prefecture.
Dec 4: One ship with three bodies is found on the shore near Tsuruokashi, Yamagata prefecture.
Nov 28: A North Korean fishing boat with 10 crew members was found drifting near an uninhabited island off Matsumae, Hokkaido. Police confirmed three crew members have been arrested for suspected theft and questioning is ongoing; one crew member has been hospitalized; while the prefecture's immigration bureau confirmed six other crew members were detained for violation of immigration laws and may yet be deported.
Nov 27: Skeletal remains of eight people found aboard vessel discovered on an Akita prefecture beach.
Nov 23: Eight North Koreans rescued after their boat washed up onshore in Akita prefecture.
Nov 17: Four dead bodies discovered on board a boat which washed ashore on Noto Peninsula in Ishikawa prefecture.
Nov 15: Three North Koreans rescued by the Japanese coast guard off Noto Peninsula. Three dead bodies were found on a boat the following day. All survivors, and remains repatriated to North Korea.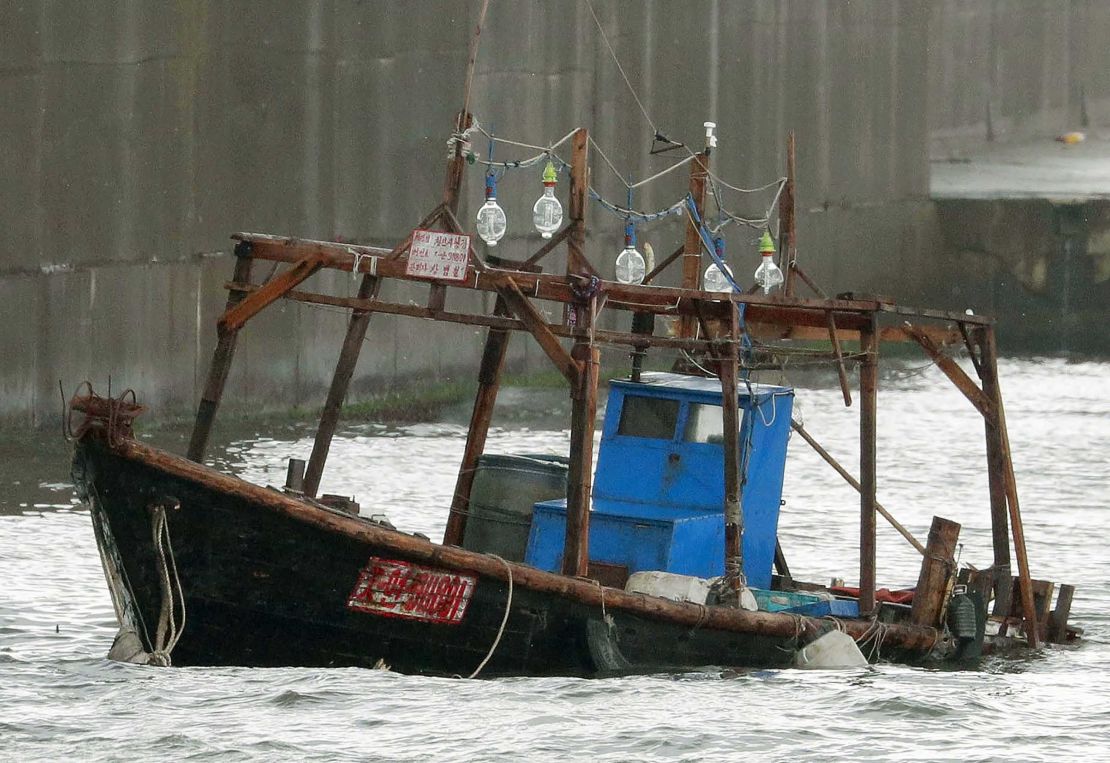 Desperate situation
Satoru Miyamoto, a professor at Seigakuin University and an expert on North Korea told CNN last month there has been a marked increase in ships washing ashore since 2013.
"It's after Kim Jong Un decided to expand the fisheries industry as a way of increasing revenue for the military. They are using old boats manned by the military, by people who have no knowledge about fishing," Miyamoto said.
Robert King, former US special envoy for North Korea human rights, said those crewing the boats are "probably inexperienced … and the result is they're having difficulties when they go out there."
According to a Japan Coast Guard publication, the waters around the country are "subject to great changes in sea as well as weather conditions, and this constitutes a grave threat to navigation."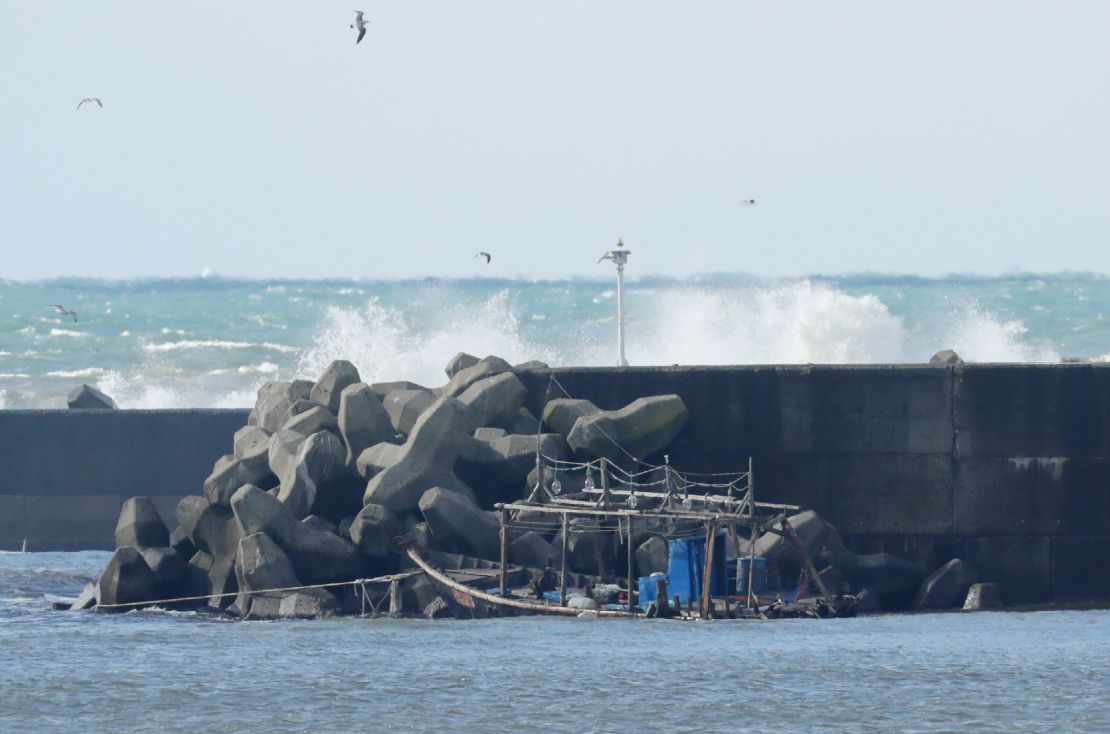 King said the North Korean crews are under incredible pressure to return with a full keel.
"If they don't catch what they're supposed to, if they're behind, if they lose control of the boat, they will be punished," he said.
This can leave crews desperate and taking risks, which can then result in disaster, with the ships stranded on the high sea and running out of food and water.
That desperation was on show on an uninhabited islet near Hokkaido, the few buildings on which Japanese authorities say was ransacked by a North Korean crew who washed ashore there.
According to Japanese public broadcaster NHK, half of the crew have told Japanese authorities they belong to the North Korean People's Army.
"Almost everything that was worth any money was gone, from door knobs to door hinges, anything that was worth anything," Shusaku Yoshida, the island's caretaker, told TV Hokkaido.