Story highlights
Norwegian FA will pay women's team and men's team the same
Agreement signed in London on December 13
Throughout 2017 women's football teams have been standing up for parity with their male counterparts on the international stage – but in London on Wednesday pen was put to paper on a historic deal which could prove significant in the fight for equality in sport.
At the Norwegian Embassy in Britain's capital, Norway's men's and women's captains – Stefan Johansen and Maren Mjelde – and representatives of the Norwegian Football Association (NFF) and Norway's players' association (NISO) signed an agreement on equal pay in a deal thought to be the first of its kind in international football.
The agreement, says the Norwegian FA, will mean a pay rise of 2.5 million Norwegian kroner ($302,750) in 2018 for the women's team, with both national teams receiving six million kroner ($726,900) each next year.
Parity was achieved after the 550,000 kroner ($60,000) Norway's male players receive for commercial activities was switched to the women's team.
"I am proud to be a Norwegian football player," Norway captain Maren Mjelde said in a statement issued on the Norwegian FA's website.
Making the agreement all the more exceptional is that the proposal for equal pay came from the Norwegian FA, which did not officially recognize women's football until 1976.
When the agreement was announced in October, one blogger – froginthefjord – quipped: "Norway, the Country where Men are Feminists. Even Footballers."
Football at 19,000 feet for equality
READ: Female footballers break world record
READ: Sweden's women wear motivational messages
'Recognition for women's football'
Pal Bjerketvedt, NFF's Secretary General, said: "It is very positive that Norway is a pioneer.
"At the same time, this is a recognition for women's football in general, and it's amazing to see how much this means to the players and what enormous attention the issue has gained internationally.
"Players in the women's team are increasingly being used in commercial contexts."
Bjerketvedt was referring to players such as Lyon's Ada Hegerberg and Wolfsburg's Caroline Graham Hansen who are increasingly being used by sponsors and the FA to promote the national game.
READ: The doctor transforming elite athlete's vision
Norway's men's captain, Stefan Johansen, said the women's national team was as important as the men's.
"I think it's very good that the women's national team get the same salary as us to play on the national team," he told the Norwegian FA's website.
"Compared to the women's national team, the national team is very privileged from before. It was not difficult to say yes to give away some of the commercial bonus, as this was taken by both NISO and NFF."
Mona Juul, Norway's ambassador to London, hoped the deal would inspire other associations.
"The agreement that guarantees equal pay for national teams is historic and important for Norwegian football," she said.
"I hope that the agreement can also be internationally inspired and I am proud to host this opportunity."
Two-time European champions Norway have traditionally been one of the most successful teams in women's football, winning the World Cup in 1995.
However, despite having reached the final four years previously, they failed to qualify from their group at Euro 2017.
Norway's men have not qualified for a major tournament since Euro 2000, where they failed to progress from the group stages.
READ: The menstruation app tackling sport's last taboo
The fight for equality
The debate over equality in sport is ongoing and there have been many cases this year of international sportswomen taking a stand.
In April, the US women's national soccer team ended a long-running dispute over pay and conditions by agreeing a new deal with US Soccer, the country's governing body.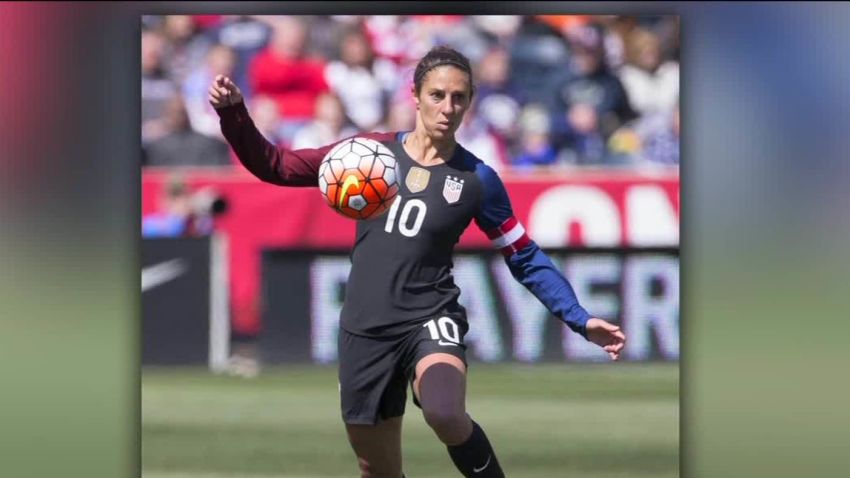 Carli Lloyd: scoring goals, now scoring sponsors
The world champions had long claimed the men's national team unjustly earned more and five high-profile players – Carli Lloyd, Alex Morgan, Megan Rapinoe, Becky Sauerbrunn and Hope Solo – filed a complaint with the Equal Employment Opportunity Commission in March alleging wage discrimination.
Also in April, the Republic of Ireland women's football team threatened to go on strike. Players' representative, Stuart Gilhooly, said they were being treated like "fifth-class citizens" by the Football Association of Ireland.
Go to CNN.com/sport for more stories & features
Denmark canceled a home women's friendly against Netherlands in September because of a dispute over money with the Danish football association (DBU), leading to the men's team offering the women's side $80,000 a year to help cover their costs, while Scotland held a media blackout during a pay dispute in the summer and Nigeria held a sit-in protest in December 2016 over money owed to them.