Story highlights
Kosei Inoue reveals he feels "pressure" ahead of Tokyo 2020
Japan judo coach guided team to 12 gold medals at Tokyo Grand Slam
Former Olympic champion tells CNN: "The battle will always continue"
For Kosei Inoue, reaching the pinnacle of his sport is just the start of the journey.
His team might have won 12 of the 14 gold medals on offer at the recent Tokyo Grand Slam, but the Japanese judo head coach preaches caution.
"The battle will always continue," Inoue tells CNN's Judo World. "It's important for the athletes who performed well at the Tokyo Grand Slam to never be satisfied, to always stay hungry, and to have high goals and expectations for themselves."
It's a message the 39-year-old has always taken to heart, from his early days on the tatami to his current stint inspiring the next generation.
READ: The judoka fighting to keep kids in sport
Inoue would train relentlessly as a child, only stopping when forced by his teachers. At the Sydney 2000 Olympics, the half-heavyweight judoka didn't just content himself with gold, but won every single match by ippon.
Kosei Inoue: 'The battle will always continue'
Such refusal to settle for second best allowed him to dominate the sport, claiming three World Championship titles between 1999 and 2003.
"The Japanese system is like no other when it comes to creating champions," he says. "First, they start judo typically in a school, then they move to middle school, high school, to university, and finally to a company.
Legends of Judo: Kosei Inoue
Bangkok 1998 Asian Games: Gold Birmingham 1999 World Championship: GoldSydney 2000 Olympics: Gold All Japan Judo Championships 2001: GoldMunich 2001 World Championships: Gold All Japan Judo Championships 2002: GoldBusan 2002 Asian Games: GoldAll Japan Judo Championships 2003: GoldOsaka 2003 World Championships: Gold
"Or they become a teacher. And there are many, very enthusiastic and supportive teachers along the way. This is probably one of the biggest fundamental differences compared to other countries – the amount of passionate sensei and instructors."
READ: 'Judo is similar to life itself' - Kosei Inoue
Inoue is one such leader, having transformed Japan's judo fortunes on the international stage since taking over at the team's lowest ebb five years ago.
At the London 2012 Olympic Games, Japan's men's team ended up with zero gold medals for the first time in Olympic history, prompting widespread derision in the birthplace of the sport.
Since lnoue's arrival, everything has changed. Japan topped the medal table at both the Rio 2016 Olympic Games and the 2017 World Championships in Budapest.
"I had the opportunity to become the coach of the men's national team at the age of 34," he recalls. "This is a very young age to become national team head coach, but I was very proud to be given this opportunity after the failure at the London Olympic games."
Legends of judo: Yasuhiro Yamashita
READ: Legends of Judo – Ryoko Tani
Pressure
Inoue contends he's "very inexperienced" even to this day, despite the wealth of medals and global acclaim. And, with Tokyo 2020 on the horizon, he's not afraid to admit he carries the weight of a country's expectations on his shoulders.
One thing he'll never do is rest on his laurels.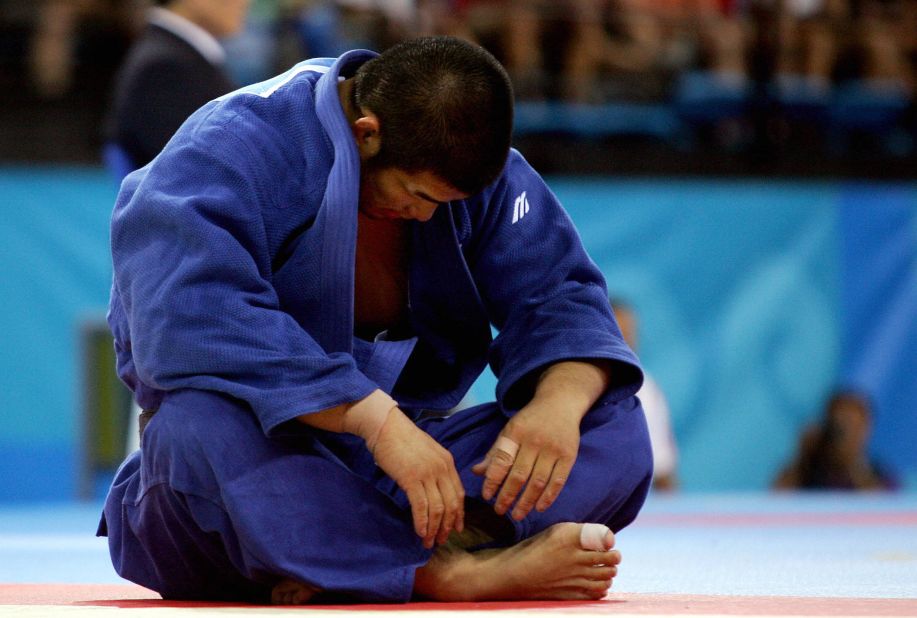 Kōsei Inoue: Judo legend and Japanese supercoach
"As a coach, I feel great responsibility to perform at the Olympic Games," he says. "I'm teaching the athletes to take in the pressure, accept it and to do what they need to do; to think about it as individuals, judokas and lifelong learners.
"I too will continue to study and learn. And this in turn will flow down to the team."
After all, Inoue points out, "judo will continue" beyond the Tokyo Olympics.
"It is very important to think about what judo will be 50 years from now, 100 years from now," he says.
"We always need to constantly think about judo's development. And what we can do to spread the sport and discipline. Through these years, through the long history of judo, there are many people who have had great influence.
Visit CNN.com/judo for more news and features
"It's always important to keep in mind the tradition and the work of the people before, but also to step into new realms and break new ground."