The stats don't lie: No team from Southeast Africa has ever played in a FIFA World Cup.
West Africa is a king when it comes to continental football; South Africa has hosted a world cup, while North Africa is having a moment, with Egypt, Morocco and Tunisia all qualifying for Russia 2018.
From the Southeast region, the only successes are Zambia winning the African Cup of Nations, or AFCON, in 2012 and Uganda finishing runners up – and that was in 1978.
Malawi is no exception. Its national team, nicknamed The Flames, has only qualified for AFCON twice, and it ranks 126th of 206 countries in the FIFA world rankings. But Malawi is football-mad, and with 44% of its 18 million population under age 14, raw talent abounds.
Following in Ravanelli's footsteps
Other nations, particularly in West Africa, have found ways to tap into its youth, turning the Toures, Ayews and Aubameyangs of this world into international stars. Often operating in collaboration with foreign clubs and prominent players – the prestigious Kadji Sport Academy in Cameroon has ties with Seville and Athletico Madrid, for example – they offer a gateway to Europe's big leagues and prosperity.
It's a road map that, until recently, has been lacking in Malawi. The country is the second poorest in the world per capita, according to 2016 World Bank data, and relies heavily on its agriculture sector, while being prone to droughts and floods. Like societies around the world, football is both a mode of escapism and a means to escape poverty.
In 2014, Englishmen George Maguire and Alex Scott founded the Chigoli Football Academy, a nonprofit organization based in the capital Lilongwe. Advised by Right to Dream Academy, a hugely successful football program based in Ghana, the duo scout talent primarily at ages 8-10, inviting Malawian boys and girls with potential to their training center.
"(Football) touches every village, every town," says Maguire. "It's massively under-resourced and so players find it hard to access decent coaching and competitive game experiences for them to learn through."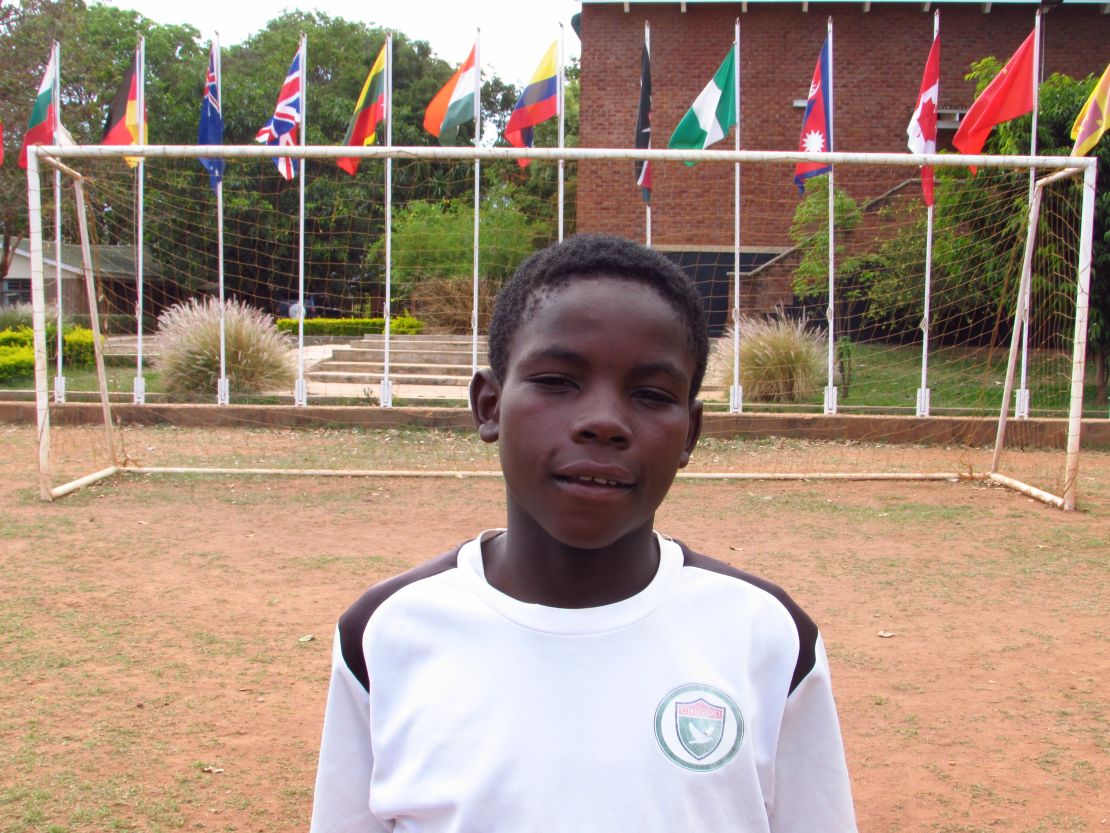 The academy casts a wide net. One of their upcoming players, 13-year-old Ravanelli Badere (named after the former Italian international), was found playing in the Dzaleka refugee camp, run by the United Nations refugee agency, UNHCR.
The locale is home to nearly 28,000 people from the Democratic Republic of Congo, Burundi, Rwanda, Somalia and Ethiopia, among other nations, and while Badere, known affectionately as "Vava," now lives outside the camp, his mother, Furaha, remains.
"They killed his father," she says, referring to conflict back home in the DRC. "When they killed him, we looked for a way to get to a camp. We got to the camp and he (Vava) would always play football. He would run away from me and go and play."
"We saw him playing and he was very, very skilled," says Scott. "He had that little arrogance that the best players always have."
Vava was selected for trials, and Scott would go on to make arrangements with the UNHCR to become his guardian outside the camp. For the past 18 months he's been living in a boarding house managed by Chigoli head coach Thom Mkolongo.
Training three times a week at an international school, and with access to some of the country's top coaches, players are given every chance to make it. But even the best support network is no guarantee of success. Maguire and Scott, both of whom were part of English Premier League academies in their teens, know the path from youth player to professional is fickle, and often determined by the finest of margins.
Chigoli continues its holistic approach, with private school scholarships, ensuring a rounded education in a country where only 14% of children complete secondary school, according to UNICEF.
Malawi's best football export
That being said, Chigoli has already facilitated the start of one professional career.
Tabitha Chawinga, an international for Malawi women, started in the Swedish league in 2014 and has since gone on to sign for top flight club Kvarnsveden IK. In her first season she became the league's top scorer, slotting 26 goals in 22 games, and claimed the title of best forward at the 2017 Swedish Women's Football awards – beating the FIFA Women's Player of the Year in the process. Chawinga was also nominated as African Women's Player of the Year.
But Chigoli doesn't measure its success merely on the pitch. It's about creating the ambassadors of tomorrow.
"We believe football has the power to take people of good character, elevate into very influential positions to benefit countries and generations to come," says Maguire.
"Just look at a couple of cases on the continent: Didier Drogba was part of calling a ceasefire in Ivory Coast. George Weah in Liberia, standing for president. We see examples of footballers just transcending boundaries."
"We're looking to create a channel to nurture talent and really go and represent Malawi and build positive role models for future generations here," he adds. "Football is the vehicle, role models is the end goal."