Story highlights
Emma Wren Gibson, conceived within a year of her mother, was delivered November 25
A "snowbaby" is an embryo frozen and left in storage for possible later birth
The longest known frozen human embryo to result in a successful birth was born last month in Tennessee.
Emma Wren Gibson, delivered November 25 by Dr. Jeffrey Keenan, medical director of the National Embryo Donation Center, is the result of an embryo originally frozen on October 14, 1992.
Emma's parents, Tina and Benjamin Gibson of eastern Tennessee, admit feeling surprised when they were told the exact age of the embryo thawed March 13 by Carol Sommerfelt, embryology lab director at the National Embryo Donation Center.
"Do you realize I'm only 25? This embryo and I could have been best friends," Tina Gibson said.
Today, Tina, now 26, explained to CNN, "I just wanted a baby. I don't care if it's a world record or not."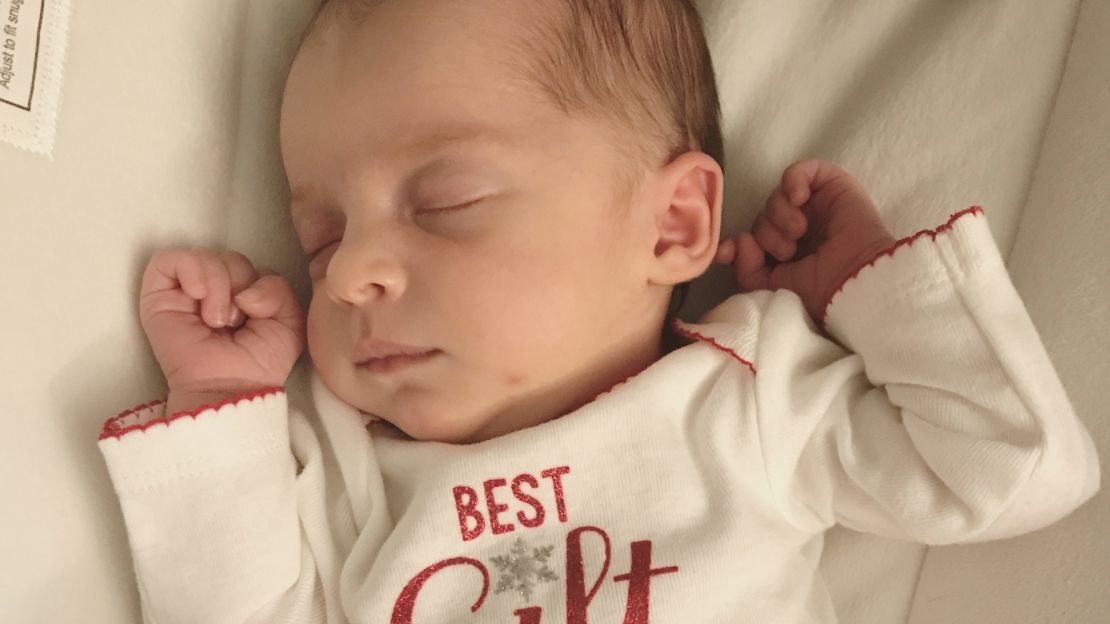 Sommerfelt said the birth is "pretty exciting considering how long the embryos had been frozen." Previously, the oldest known frozen embryo that came to successful birth was 20 years old.
Weighing 6 pounds 8 ounces and measuring 20 inches long, Emma is a healthy baby girl, and that's the only thought on her parents' minds.
"We're just so thankful and blessed. She's a precious Christmas gift from the Lord," Tina said. "We're just so grateful."
Despite not sharing genes, Benjamin, 33, said that Emma feels completely like his own child. "As soon as she came out, I fell in love with her," he said.
Emma's story begins long before the Gibsons "adopted" her (and four sibling embryos from the same egg donor). Created for in vitro fertilization by another, anonymous couple, the embryos had been left in storage so they could be used by someone unable or unwilling to conceive a child naturally.
These are "snowbabies," lingering in icy suspension, potential human lives waiting to be born.
Infertility and fostering
Seven years ago, the Gibsons married, refusing to allow a dark cloud to shadow their love. "My husband has cystic fibrosis, so infertility is common," Tina said, adding that they had found peace with it. "We had decided that we were more than likely going to adopt, and we were fine with that."
Before trying to implant an embryo, they fostered several children and enjoyed doing so.
During a break between fosters, they decided to take a week-long vacation. As they were dropping off their dog at her parents' house, Tina's father stopped them.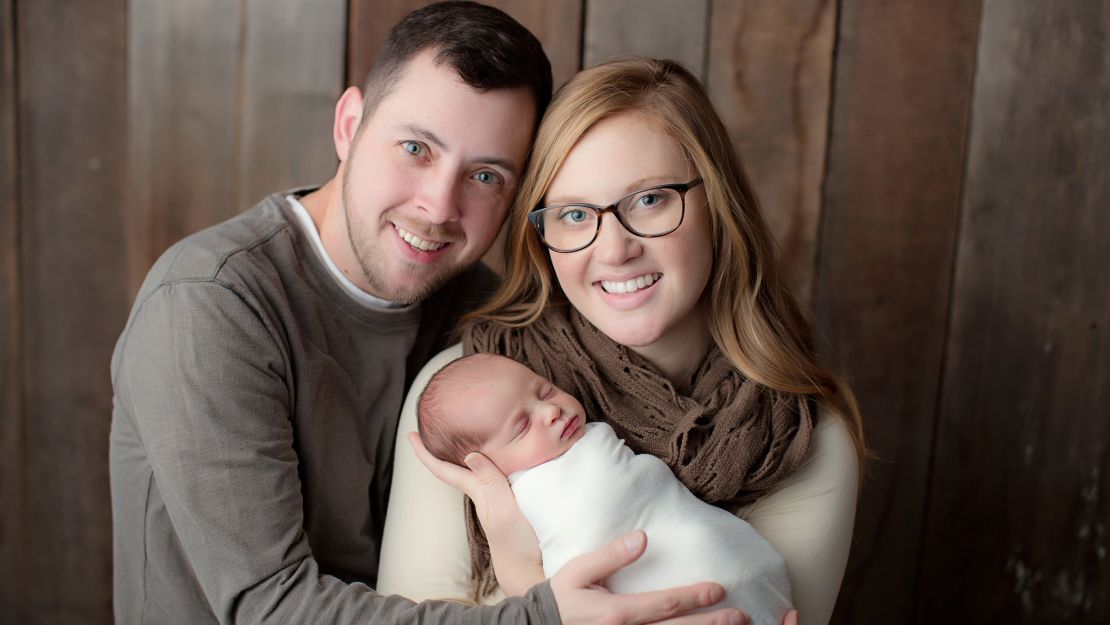 "I saw something on the news today. It's called embryo adoption, and they would implant an embryo in you, and you could carry a baby," he told his daughter.
"I was like, 'Well, that's nice, Dad, but we're not interested. We're knee-deep in foster care right now,' " Tina recalled with a laugh. "I kind of blew it off. I had no interest in it."
But during the eight-hour car trip, Tina could not stop thinking about her father's words. "It was playing in my mind over and over and over," she said. Hours into her journey, she turned to Benjamin and asked what he thought about "this embryo adoption." He too had been thinking about it "the whole time."
Tina started researching on her phone, sharing information with Benjamin as he drove. "I knew everything about it before I got off that vacation," she said. She knew, for instance, that the National Embryo Donation Center was based in Knoxville, Tennessee, and could facilitate a frozen embryo transfer.
Still, she was not immediately ready. Weeks passed.
"During August of last year, I just came home one day; I looked at Benjamin, and I said, 'I think we need to submit an application for embryo adoption,' " she explained. "On a whim, we filled out an application and submitted that night."
"It's a world record!'
By December, she was on medication to do a "mock transfer": essentially a series of medical examinations to see whether her uterus would be physically capable of receiving an implanted embryo. In January, the tests were complete, and though Tina required a small procedure to remove a polyp from her uterus, she was eligible for implantation.
Next, a home study was performed, said Mark Mellinger, marketing and development director for the National Embryo Donation Center. This part of the process, conducted by a partner organization run by a social worker, is "just the standard home study that mimics any home study that anybody would go through in a traditional adoption process."
Families who have been approved by the state generally pass the requirements set by the donation center. "Very rarely does a review find a red flag," Mellinger said.
Finally, the Gibsons were ready for the implantation procedure in March. But they had to choose an embryo, which required viewing donor "profiles" listing the basic genetic information about the genetic parents. "We literally had two weeks to go through 300 profiles," Benjamin said.
"It was overwhelming," Tina said. "There was so many, and it's like, how do you pick?"
The couple started with one small detail just to "narrow it down in an easy way," she said. Since she and Benjamin are physically small, they began by looking at profiles based on height and weight. "Then we started looking at some of the bigger things, like medical history.
"Long story short, we picked our profile," Tina said, but that embryo was not viable, so their second choice was used.
Only when they "were fixing to go for the transfer" did her doctor and Sommerfelt explain "It's a world record!"
"I didn't sign up for this," Tina said, laughing.
In fact, no one knows that it's definitely a record.
"Identifying the oldest known embryo is simply an impossibility," said Dr. Zaher Merhi, director of IVF research and development at New Hope Fertility Center, which is not involved to the Gibson case. American companies are not required to report to the government the age of an embryo used, only the outcome of the pregnancy, so "nobody has these records."
Other experts, though, cited the study on a 20-year-old frozen embryo that came to successful birth.
Sommerfelt said she had unthawed three "snowbabies," all of them adopted from the same anonymous donor. Surprisingly, all three survived. Normally, there's about a 75% survival rate when unthawing frozen embryos.
Though Keenan transferred all three to Tina, only one implanted. This is normal, since successful implantation rate "normally runs about 25% to 30%," she said.
The transfer "worked out perfect," Tina said. "It's a miracle. First time."
Problems encountered during pregnancy were due to Tina having a short cervix, which could have prevented her from successfully carrying her baby. That did not happen, and just after Thanksgiving, Tina began 20 hours of labor. All the while, Emma's heart beat normally.
"So it all just fell into place," said Tina. "It's our new normal; it's crazy to think about it."
Odds of success
Dr. Jason Barritt, laboratory director and research scientist at the Southern California Reproductive Center, said that only about "15% to 20% of the time there are additional embryos" not used in IVF. Due to the high success rates of the IVF process, which has been scientifically explored in animals for more than half a century, fewer embryos are now created. Louise Brown, the first human resulting from an IVF procedure, was born in July 1978.
"Usually, couples have leftover embryos because they have completed their families and no longer need additional embryos," Barritt said. His center was not involved in the Gibson case. "They remain frozen until the patient asks for some other disposition."
Disposition options – what is done with the additional embryos – include simply leaving them cryopreserved in liquid nitrogen storage tanks, disposing of them in an appropriate way, donating them to research or training for the advancement of the field of reproductive medicine, or donating them to another couple.
The final option is rare, Barritt said, "due to a variety of additional steps and guidelines that must be met," such as infectious disease screening and meeting US Food and Drug Administration donor eligibility regulations, "and significant legal documentation that must be met."
Mellinger said the National Embryo Donation Center is a faith-based organization founded in 2003. "We say that our reason for existence is to protect the sanctity and dignity of the human embryo," he said. "We are big advocates of embryo donation and embryo adoption."
If you want to donate an embryo, it will handle the details for free.
"We will contact the fertility clinic where the embryos are stored, and they are happy to work with us," Mellinger said. A special storage container is shipped, the fertility center places the embryos inside and sends it to the the donation center, and then the embryos are stored in the lab in Knoxville.
"We will adopt out an embryo whenever," he said. "Sometimes, embryos have been in storage for a few weeks, maybe a few months. Sometimes, it's literally been decades."
The adopting couple pays all the fees, amounting to less than about $12,500 for a first try, according to Mellinger.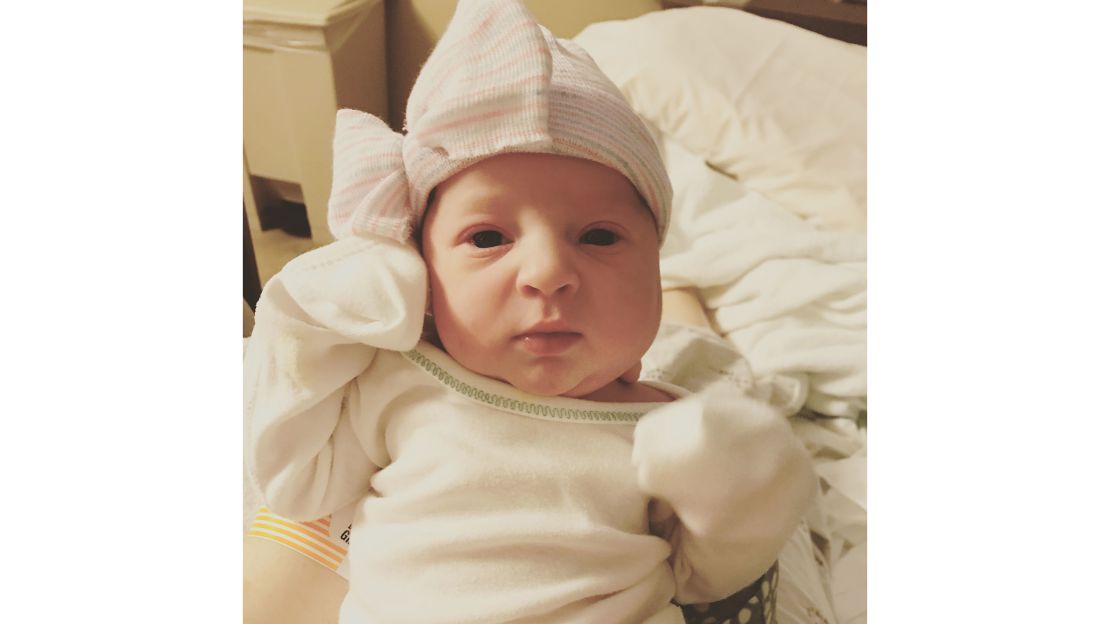 Recalling the birth of her special daughter, Tina's voice dissolves into tears.
"We wanted to adopt, and I don't know that that isn't going to be in our future. We may still adopt," she said. "This just ended up being the route that we took. I think that we would have been equally elated if were able to adopt. "
Asked whether they might try again with the remaining two embryos – Emma's sisters or brothers – Tina said she absolutely would have said "yes" two months ago.
"But after having natural childbirth, I'm like, 'I'm never doing that again!' " she said. "But I'm sure in like a year, I'll be like, 'I want to try for another baby.' "