Story highlights
Tüvshinbayar Naidan wins Hohhot Grand Prix
Heavyweight judoka is Mongolia's first ever Olympic champion
His success has spurred thousands to take up the sport
Mongolia's Tuvshinbayar Naidan rolled back the years at this weekend's Hohhot Grand Prix, winning his first title on the IJF World Judo Tour for over two years.
The 33-year-old heavyweight overcame Brazil's world No. 1 David Moura on the way to the final, where he threw compatriot Duurenbayar Ulziibayar with an ippon seoi-nage for gold.
The Grand Prix signalled the start of qualification for judo's homecoming at the Tokyo 2020 Olympic Games – an event Naidan refused to rule himself out of following his latest victory.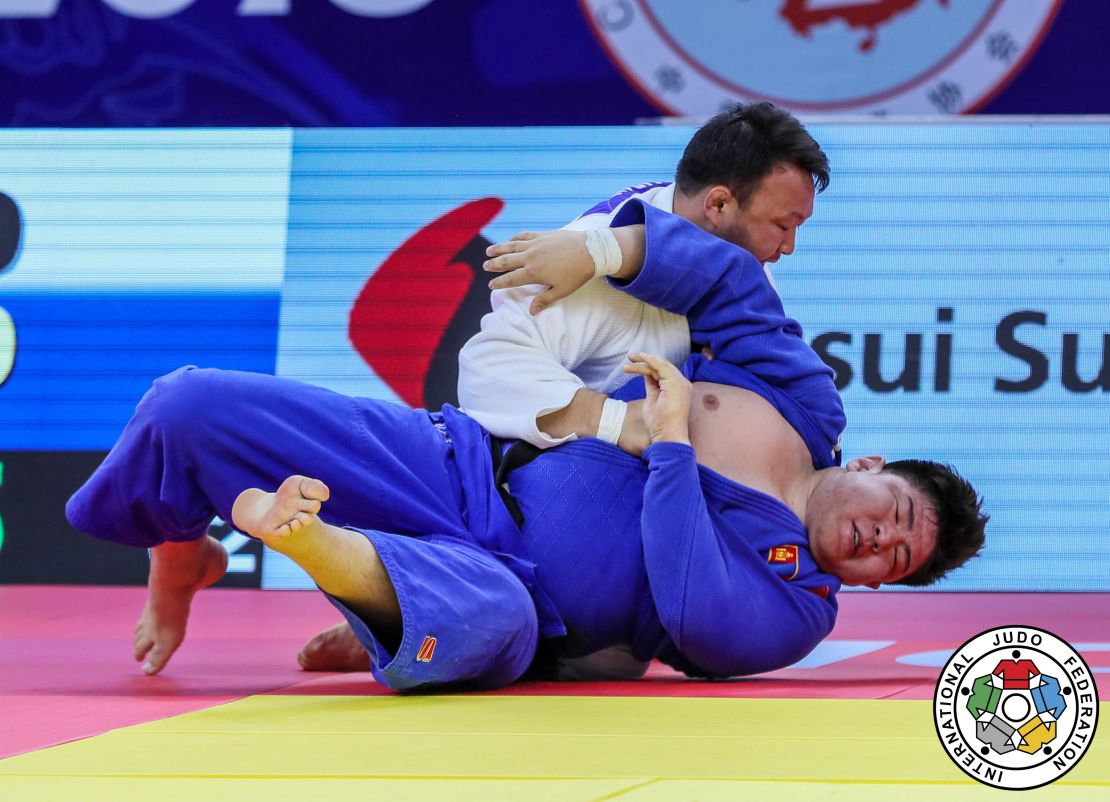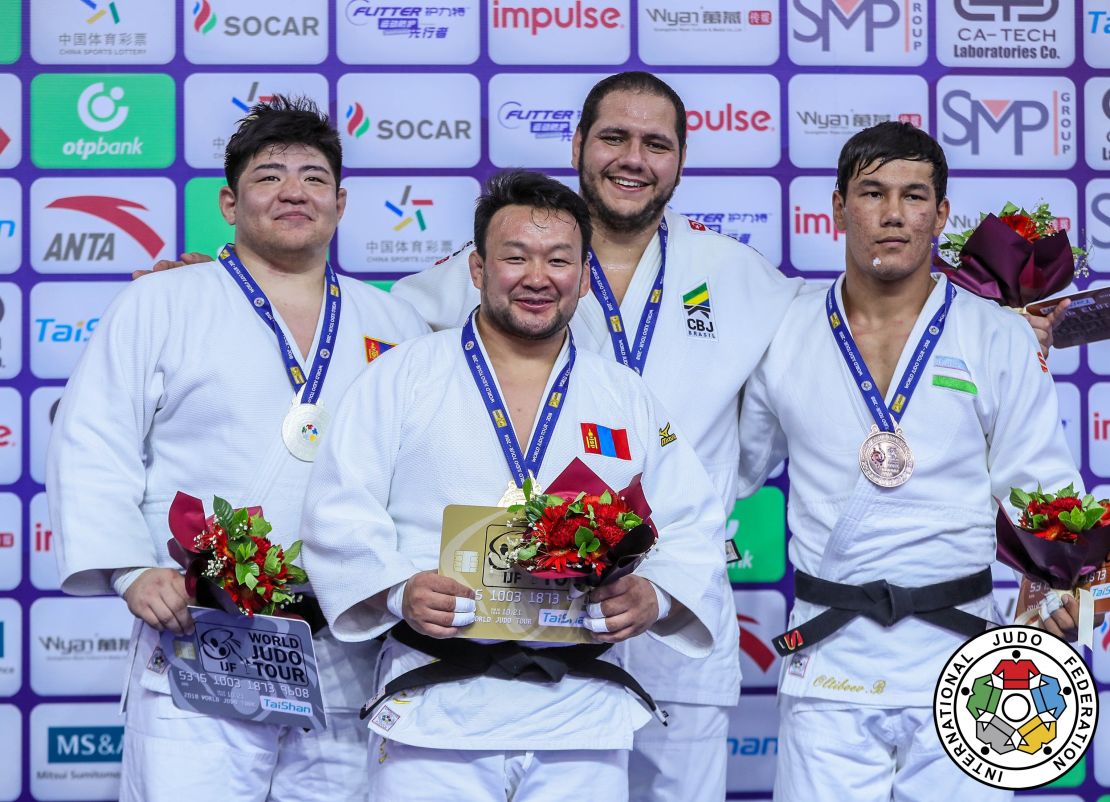 "I am so happy as we brought a big team here, and I want to say thank you to all Mongolians and Inner Mongolians for all the help and support we received," said Naidan, in quotes carried by the International Judo Federation.
"I just want to enjoy today. I am sure I will fight again."
A Mongolian legend
Mongolia has punched well above its weight in judo circles for years, belying a population of just three million to finish third in the overall table at the most recent World Championship in Budapest. There only Teddy Riner's France and Japan – creators of the sport – could boast a better haul.
But in a country dominated by grassy plains where winter temperatures often drop as low as minus 20 degrees Celsius (minus four Fahrenheit), such success has not always come easily.
In recent times, judo has flourished in the land of Genghis Khan largely thanks to the exploits of one man.
Enter Naidan, crowned Mongolia's first ever Olympic champion at Beijing 2008, 44 years after the east Asian nation's debut at the Tokyo 1964 Games.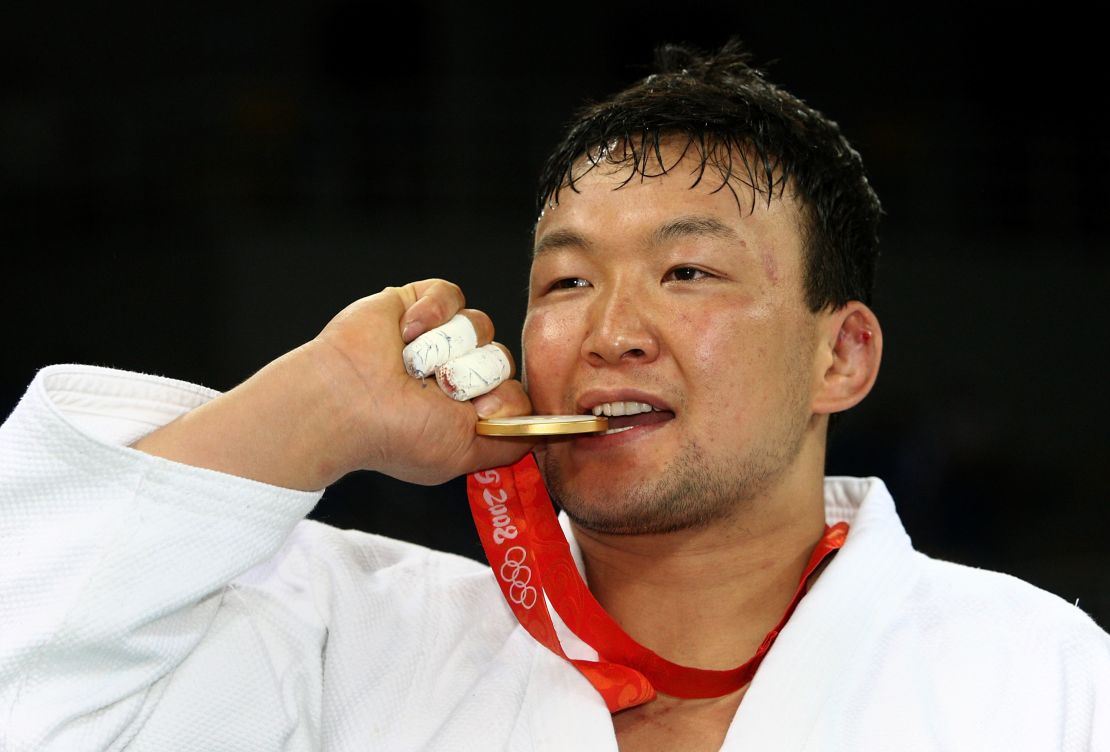 Legends of Judo: Tüvshinbayar Naidan
Beijing 2008 Olympics: Gold (-100kg)London 2012 Olympics: Silver (-100kg) Paris 2012 Grand Slam: Gold (-100kg)Jeju 2013 Grand Slam: Gold (-100kg)Incheon 2014 Asian Games: Gold (-100kg)Qingdao 2015 Grand Slam: Gold (-100kg)Tashkent 2015 Asian Championships: Gold (-100kg)Budapest 2017 World Championships: Bronze (+100kg)
Born into a family of nomadic herders in the Bulgan province, Naidan grew up wrestling on the Great Steppe while tending to his family's livestock.
He only tried judo for the first time aged 18 after seeing the Asian Championships on television.
Only six years later, he was ascending the podium in the Chinese capital with an Olympic gold medal around his neck.
"The first thing I thought of was my parents and my coach," said Naidan then. "Everyone in Mongolia is celebrating my gold medal."
His victory united a nation, healing a rift between feuding political parties as thousands gathered in the main square of the capital Ulaanbaatar.
Legends of Judo: Yasuhiro Yamashita
Legends of Judo: Masashi Ebinuma
London 2012
Mongolia had finally won Olympic gold at the 11th time of asking – Mongolia was one of the 14 nations that boycotted Los Angeles in 1984 – but Naidan wasn't done yet.
Four years later at London 2012, combining natural fortitude with the wrestling skills he'd honed at Mongolia's traditional Nadaam festivals, the half-heavyweight looked set to defend his crown … until disaster struck.
During a semifinal encounter with South Korea's Hwang Hee-tae, Naidan tore the anterior cruciate ligament in his left knee – one of the worst injuries an athlete can suffer.
The reigning champion managed to get through the match and into the final.
But barely able to walk let alone fight, Naidan was defeated by Russia's reigning world champion Tagir Khaibulaev.
Reportedly in so much pain he didn't recognize his own father, Naidan was flown back to Mongolia and consigned to a wheelchair for two months.
Still he had won silver and to this day, the 33-year-old is his country's only two-time Olympic medalist.
Legends of Judo: Driulis Gonzalez Morales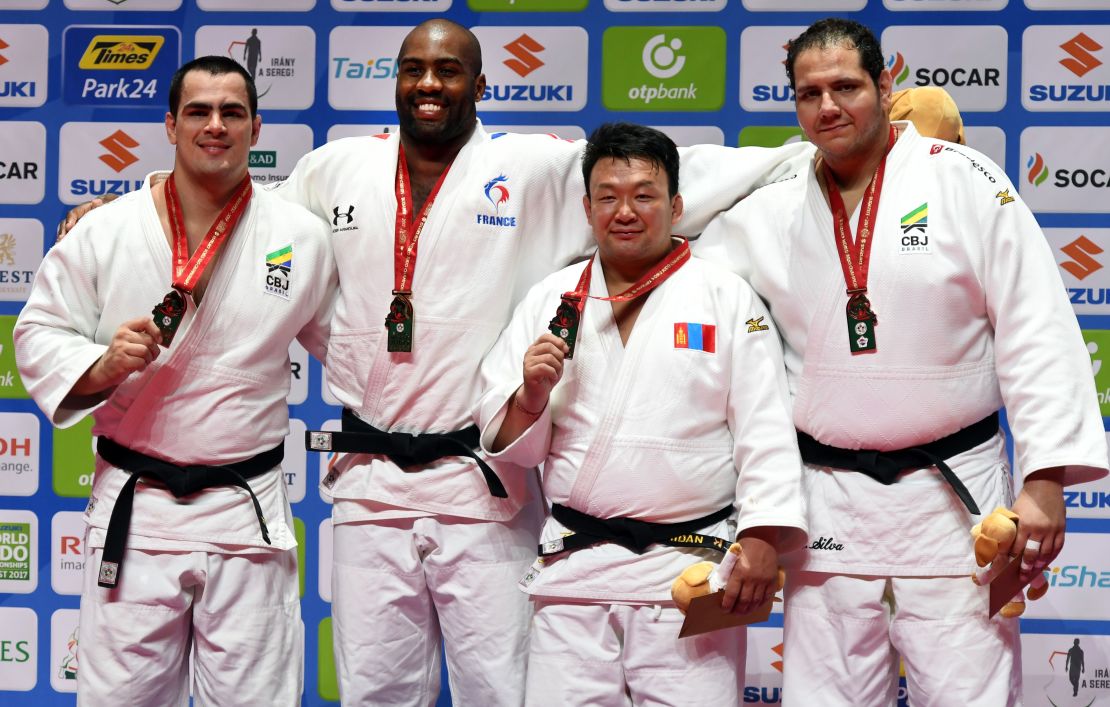 Standing just 5-foot-10, Naidan added a bronze medal in the heavier +100kg weight category at the Budapest 2017 World Championships, toppling far larger men – including Georgian star Guram Tushishvili – to reach the podium once more.
Visit CNN.com/judo for more news and features
His success has spurred thousands to pick up judo in his homeland and is set to inspire countless more to come.